---
Creepy, Squirmy, Crawly Fun
"If people don´t buy one the first time, they always come back. I can´t keep enough in stock." — Derek Sanders, owner of Toys, Toys, Toys

Sea-Monkeys, butterflies and ants — oh, my! Kids and creepy crawly things; every budding scientist starts somewhere, and live-animal kits have been perennial sellers for almost 50 years, starting when Uncle Milton introduced the Ant Farm. The capricious Sea-Monkeys followed that, and the rest is toy history. So, should you sell nature in your store?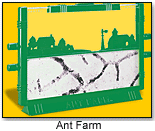 "Of all the toy categories out there, nature/learning toys were one of only two that increased sales last year — in fact, it had the number one growth at 19%," according to Reyne Rice, Toy Trends Specialist for the Toy Industry Association. As Pam Mikula of The Nature Store says: "Trends come and trends go, but curiosity is always there." And the #1 selling nature toy out there? Butterflies!
"My hottest seller, specifically for the girls," said Star Toys owner Leonard Lieberman, "is the Butterfly Garden. They fly off the shelf."
Randi Jones of the Butterfly and Nature Gift Store concurred about the winged wonders: "Butterfly Pavilion by Insect Lore is the best seller, by far. It started off strong 5 years ago and has been growing in sales since, now creaming everything. And another friend's store shows the same pattern, though her best seller is the Butterfly Garden."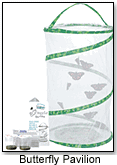 John White, of Insect Lore, the makers of both the Butterfly Pavilion and the Butterfly Garden sees a trend: "Catalogue and on-line, because of the slightly higher price, tend to favor the Pavilion, but our number-one best seller is the Butterfly Garden. The nicest thing about these habitats is that they work, from larvae to adult butterfly. We have nothing but good response." And the future: "We're working on a few very interesting live things for Toy Fair."
Getting back to basics, the Ant Farm is a constant seller year in and year out. Uncle Milton keeps refining the product, using less breakable plastic, redesigning to stop "ant-escapes" and constantly pushing the "play factor" in their toy.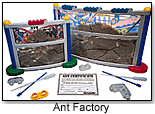 There are a few competitors, like Educational Insights´ (ToyDirectory) Ant Factory. George Atamian (president of EI's Amazing Live Sea-Monkeys branch) even invented his own escape-proof ant habitat: "I got fascinated, tried to do better, and here it is."
And speaking of Sea-Monkeys: It's war under the water (see Side Bar: Underwater War!). Sea-Monkeys have the brand recognition, but Triops are faster sellers. Both bring in revenue.
Selling to customers who don't have a "green thumb" with underwater animals? The Small Pod EcoSphere can come to the rescue. This higher-end, completely self-contained, doesn't need a thing but sunlight eco-ball is a mini-world under glass. "I have two on my counter," explained Derek Sanders, owner of Toys, Toys, Toys in Washington D.C., "and kids and adults both will stand there for tens of minutes, staring, completely captivated. Those things are their own best advertising. If people don't buy one the first time, they always come back. I can't keep enough in stock."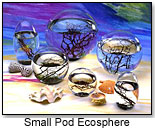 Nature toys are on the rise, but a word to the wise: shipping and handling for animals is extra and can take anywhere from a week to a month. Many retailers suggest contacting the manufacturers and ordering animals to have on stock for big occasions: summer runs, special sales and Christmas. That way the buyer can have instant gratification. Having a "live" toy on the counter is a big help to sales, too. It's hard to resist the lure of nature.

The following products reflect the live animal growing kit trend: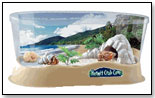 MSRP: $29.99

Age Range: 8 and up





This live hermit crab habitat allows children to watch as real live hermit crabs, which they can send for by mail, sit on the beach and take a dip in the local watering hole. It comes with a kit that makes decorating the hermit crabs' shells a cinch.

ToyDirectory Product ID#: 3133

(added 3/3/2005)

.

AD
---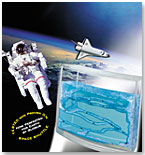 This micro universe is yours to control, yet requires virtually no maintenance. Perfectly replicating the habitat created for ants by NASA scientists in 2003, Super Antquarium allows you to observe a fascinating microcosm of life. No feeding, no watering; the ants create dozens of intricate, unique 3D tunnels through a special nutritional gel. Because this is a natural process, no two Super Antquarium sets are ever the same, so your desktop universe will be a genuine one-off. It´s amazing just how engrossing the progress of your colony becomes.

ToyDirectory Product ID#: 1977

(added 12/22/2004)

.

AD
---






This net habitat (almost like a Chinese lantern) encloses caterpillars, food and the setting for a caterpillar's eventual metamorphosis. It requires mail-sent larvae. "The Butterfly Garden not only shows actual insect metamorphosis, but it does so in just three weeks' time. Many other animal habitats can take up to six months for any changes to occur. This makes it a perfect item for kids who have short attention spans and is an ideal science project for any classroom," John White, marketing director of Insect Lore, told

TDmonthly

.

— Fred Rosenberg of On the Park in Kingwood, Texas, named this as his No. 1 seller in May 2008, with sales of 50 to 60 units monthly. "I just can't keep them in stock right now," he told

TDmonthly

. "We have a display on our counter with the real butterflies so people can see it go through the process," said Kim Emigh, VP of e-commerce at

Growing Tree Toys

in State College, Pa.

— 25% of 64 retailers surveyed in August 2008 named this as their top-selling nature toy, reporting average sales of 12 per month. Five of 38 retailers named Insect Lore's butterfly habitats as best-selling science and nature products in late summer 2009. In an August 2010 survey, 21 percent of 43 specialty retailers said Insect Lore is a top-selling science and nature brand. Five retailers specifically cited Butterfly Garden as a best seller.

— As of 5/21/2012, the Butterfly Garden had spent more than 1,600 days in the top-100 best-selling toys and games at Amazon.com and has 4.4 out of 5 stars from 461 reviews.

AWARDS: 2010 TDmonthly Top Seller

ToyDirectory Product ID#: 3975

(added 7/18/2005)

.

AD
---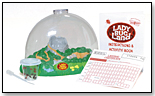 This clear, sturdy hard plastic dome makes it tough for budding biologists to go "hands-on." Like the Butterfly Garden, it includes mail-sent larvae.

ToyDirectory Product ID#: 3976

(added 7/18/2005)

.

AD
---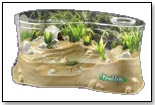 This frog habitat is a place where children can watch live tadpoles magically transform into frogs, then swim in their own pond and explore the surrounding rain forest habitat. Kids learn why frogs play an important role in the environment and the world in which we live. It is a science project in a box.

ToyDirectory Product ID#: 3977

(added 7/18/2005)

.

AD
---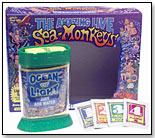 A Zooquarium with its own mini-searchlight (Sea Monkeys always head towards light), it comes with everything one needs to start a Sea Monkey preserve. Easy to raise (if you let the water dry out, the Sea Monkeys go dormant — add water, and voila: back in business), this is a fascinating toy for families on the go.

ToyDirectory Product ID#: 3978

(added 7/18/2005)

.

AD
---
THIS BANNER IS AN AD:
---
---