---
Matching Special Toys With Special Needs
Toys for Disabled Kids Have Challenges of Their Own
"The toy industry hasn't really done anything for physically challenged children." — Dr. Steve Kanor

In an industry focused on mass producing the next big thing, it can be challenging to provide toys for the more than 6.2 million children in the United States classified as disabled or special needs. But that doesn't mean no one is trying, TDmonthly Magazine learned.

ATTEMPTS FOR AUTISM

At least two new DVDs, "Kibbles Rockin' Clubhouse" from Noteabilities Inc. and "Skill-Building Buddies" from Mazzarella Media, are designed to teach children with autism disorders and will debut in April — National Autism Month.


One in 150 children have some form of autism, pointed out Owner and Vice President Alexander Provda of The Pencil Grip, whose Development by Design brand encompasses products targeted to those kids, and their parents, too.

DbD employs iconology — symbols that represent gross- and fine-motor skills, sensory processing, coordination, visual perception and more — to help caregivers know how they're working with a child.

A GROWING MARKET?

According to Safe Kids USA, 13 percent of the U.S. population under 18 years of age has been diagnosed with special needs. And the Wall Street Journal reported Jan. 7 on a California Department of Public Health study confirming that rates of autism have risen steadily over several years.

Meryle Lehn developed SticKids software to help children who have sensory processing challenges, such as autism, due to sensitive nervous systems. The program includes 120 activities — taking a deep breath or biking, for example — that parents or teachers can encourage children to do.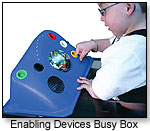 ARE TOYMAKERS DOING ENOUGH?

Despite pointed efforts, there's concern that most toymakers aren't interested in special needs products.

"The toy industry hasn't really done anything for physically challenged children for 30 or 40 years," Founder Steve Kanor of Enabling Devices told TDmonthly.

He called the Toys "R" Us' Guide for the Differently-Abled Child "a crock," commenting that the recommended toys "are effective for some children, but they certainly won't work for a deaf-blind child."

Executive Director Diana Nielander of The National Lekotek Center, a non-profit organization that evaluates the toys selected for inclusion in the Toys "R" Us guide, acknowledged that there's certainly a "little underworld for specially adapted toys."

But, she countered, "It's a mistake to think that toy manufacturers are going to create toys that are specifically for this market when the channels … are horribly underdeveloped."



GIVING TOYS A MAKEOVER

That's where Enabling Devices comes in, modifying mainstream toys by adding motors, lights and sounds, and connecting cords and switches so that physically limited and wheelchair-confined children can use the products.

Lekotek recently partnered with Rokenbok and Crane Industries to create 1,000 Rokenbok sets specially designed for disabled children.

But further efforts aren't underway because resources are scarce. Rokenbok CEO Paul Aiken believed in the project, Nielander said. "Unless somebody is behind it with such a passion, you can't get it off the ground financially."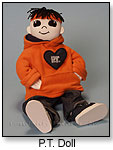 Though it hopes to advise toymakers on making better products for all children, Lekotek developed the AblePlay rating system to help guide parents of children with disabilities toward appropriate choices.

Parents might also be comforted to know that addressing special needs is sometimes as much about attitude as it is about the kind of toy. Dolls and books by Possibility Thinker and Kids With Possibilities, for instance, respectively teach children about being themselves and discovering their strengths through new activities.

"As an educator who has worked with children of varying abilities and challenges," Kids With Possibilities Founder Laurie DesRosier said, "I have learned never to underestimate a child's potential."

See developmental and special needs-related toys below:







This product attaches to most swing frames to eliminate the need for pushing. One swing puts the other in motion, so that parents can easily swing along with their children, and older siblings can swing younger siblings.

.

AD
---






.

AD
---






.

AD
---






.

AD
---






This plastic plastic device features engraved (or raised) grooves that form a path. Since the fingertip is a superhighway to the brain, fingertip movement along the paths provides tactile brain stimulation. Brainpath uses the fingertip's touch receptors (over 3,000) to stimulate the brain in the same way Braille stimulates the brain. Available in a variety of sizes, shapes and configurations, Brainpath tools will teach kids to focus — a skill they will need when learning to read. This product is a 2007 Creative Child Magazine Seal of Excellence award winner. Launch date: October 2007.

.

AD
---






.

AD
---






.

AD
---






These textured blocks are a weighted foam alternative to classic blocks. The extra weight and unique texture provide increased motor control, and the non-standard, interlocking shapes help avoid self-stimulatory behavior and encourage creativity in building. The blocks come in an eight-piece starter set that includes a booklet featuring easy, medium and challenging play options.

.

AD
---






Created by Meryle Lehn Occupational Therapist, this software and activity kit offers user-friendly treatment strategies that support children with challenges related to sensory processing, sensory integration and motor skills. It allows parents, teachers and therapists to create unlimited trackers, planners, games and activity cards to help one or more kids throughout the day. "Kids whose nervous systems are exceptionally sensitive need to have a whole menu or sensory diet of these activities," Lehn said. SticKids helps the child cope with those sticky sensory moment throughout their day. The program comes in one version "For school, Home and Everyone."

.

AD
---






.

AD
---






Children can push the buttons or pull the switches on this brightly colored box to activate lights, music or vibration. It's designed to help develop fine motor skills, eye-hand coordination and gross arm movements. The product measures 10.5" x 5.5" and requires 2 C batteries.

.

AD
---






.

AD
---






This colorful system comes with a colorful panel that fits in the child's lab and connects wirelessly to a receiver that hooks into the TV. The signal work from 9 feet away, and parents can choose from three grow-with-me play modes – Play Time, Watch & Learn, and Learn & Explore. The system works with Baby Smartridges, which each feature five learning games with 10 different baby signs. This product was named one of the Top 100 Best Children's Products of 2006 by Dr. Toy, and requires 4 AA batteries.

.

AD
---






.

AD
---






DbD Play Packs offer great skill-based game ideas that individuals can do at home or school. The games use readily available supplies and can be easily adjusted for a range of abilities. Play Packs are perfect for parents, caregivers, teachers and other professionals. The Social Interaction pack for large groups includes 15 skill-based cards and six information cards.

.

AD
---






.

AD
---






Developed for children with Austism Spectrum Disorders, this 40+-minute video features fun characters that learn how to express themselves using their voices and bodies, in situations such as being told "no" and needing to calm down. It includes karaoke songs as well as a segment by music and speech therapists addressing therapeutic benefits. Featuring Kibbles, a loveable dog puppet, his friends Handy Sam and Angela, and a cast of children, the "Kibbles Rockin' Clubhouse" series helps teach children with ASD social techniques and self-care through music, games and stories. Launch date: April 1, 2008.

.

AD
---






.

AD
---






Tieramid CircleSet offers a multifaceted educational toy system. Its main feature is a unique 22-piece set of circular puzzle blocks. They fit together to make a cylinder that is 4.5" high and 7.5" wide with non-toxic coatings featuring six brilliant colors. It also includes a full-color deck of 48 Tieramid Pattern Cards (Volume 1). Each Pattern Card has an image that represents a possible configuration of the blocks. The cards have three levels of difficulty and are also multilingual.

.

AD
---






VTech's new portable Whiz Kid Learning System lets kids choose from 40 activity pages, place the page into the Whiz Pad, and it comes to life with more than 120 activities. The Whiz Kid grows with young readers through a series of learning curriculum that meets the user's skill level. The "Story Bytes" activity, for instance, encourages beginning readers to read along with the story and sound out words. Kids can also connect the Whiz Pad to their computer to play activities, track their progress or replace lost or damaged activity pages by printing out new ones. Whiz Kid includes the Wondertown Whizware™ (software) title, which features a focused reading program and activities that help teach counting and encourage creativity. Older kids can even transform the Whiz Pad into a piano keyboard or typing keyboard. Additional Whizware titles include character favorites such as Bob the Builder, Dora the Explorer, Spider-Man and Friends, Scooby-Doo, and Thomas & Friends (ERP: $19.99 each). Launch date: Fall 2007.

.

AD
---






.

AD
---






.

AD
---






Little kids can huddle, hike, pass and snuggle with this soft, playful football featuring all-new ribbons. Launch date: February 2007.

.

AD
---






Magnetic Tangoes® Jr. brings the fun, creativity and problem-solving challenges of Tangoes® to a unique toy designed specifically for kids. With a large playing surface, seven magnetic puzzle pieces and recognizable puzzles, children can create 11 classic tangram images. Each double-sided puzzle card has two levels: on Level 1, the individual geometric shapes that comprise the image are identified; the same image appears on Level 2, but only as a silhouette--making it more challenging as the child gets older. All seven puzzles pieces store in the side drawer and all 12 puzzle cards store beneath the playing surface. Tangoes® Jr. features an integrated carry handle, making it great for on-the-go fun.

.

AD
---






.

AD
---






.

AD
---
Catalog Request Form
THIS BANNER IS AN AD:
---
---