---
Celebrities Pay Greenbacks for "Green"
Eco-Friendly Materials Give Stores an Edge
"They don't hurt the little babies." — 4-year-old Majorca Espinosa

Ellen West extols the detailed craftsmanship of the Käthe Kruse toys she sells at the Acorn Store in Santa Monica, Calif. Lifting a blond, pony-tailed doll from the shelf, she revealed to PlayZak that the little beauty even has a sweet pink blush to her tiny behind.

The many celebrity shoppers at Acorn, in this tony seaside city, go for the detail, too. But that's not all. Many of these dolls are made of organic wool and cotton. Green, as in sustainability, is what gets movie and television stars leaving greenbacks at Acorn.

SAYING NO TO PLASTIC

"I've never carried plastic toys or computer games," West told PlayZak, adding that celebrity shoppers also like her wooden animals and toys by HABA and Ostheimer, companies that use eco-friendly vegetable dyes and sustainable woods. "They're very magical and creative."

Four-year-old Majorca Espinosa, loading HABA fruits and vegetables into her mini-shopping cart at Acorn, knows the eco score, as well, preferring wood over plastic any day. "They don't hurt the little babies," Majorca confided to PlayZak.

To protect their privacy, West won't name her celebrity clientele. But it's no secret that many of the same glitterati championing the cause to stem global warming are spreading the gospel to short people, too. This has resulted in the Hollywood set's creation and purchase of a plethora of green books, toys, video games and more.

GREEN TAKES TO THE ROAD

Laurie David a producer of Al Gore's Oscar-winning environmental documentary, "An Inconvenient Truth," recently published "The Down-to-Earth Guide to Global Warming," one of several new eco-themed books for youths.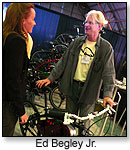 Ed Begley Jr., star of HGTV's very green "Living With Ed," is endorsing iZip electric bicycles. And, according to TreeHugger.com, Microsoft plans to unveil Project Gotham Racing 4, an XBox 360 featuring the Tesla Roadster, a high-speed all-electric sports car that's expected to debut early next year and has already been purchased by the likes of Leonardo DiCaprio and George Clooney.

Begley appeared with an iZip hybrid electric bike at Santa Monica's Alternative Energy and Transportation Expo in late October. While the speedy bike's not for young children, "it's probably good for anyone in their double-digits," he said, meaning preteens and teens.

Begley chatted at the expo with Chelsea Sexton, a key figure in "Who Killed the Electric Car," the popular 2006 documentary. Sexton's 9-year-old son, Chris, plays with LEGOs and Hot Wheels, but if she could find the new Tesla XBox video by Christmas, she'd switch gears. "I'd buy it for him in a heartbeat!" she said.

SOWING ECO SEEDS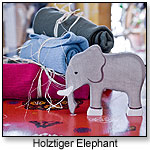 Meanwhile, actress Soleil Moon Frye, best known for her title role in the 1980s TV series "Punky Brewster," was so intent on giving her newborn natural toys that she co-founded The Little Seed, a new store in Los Angeles that carries eco-friendly and organic products, including Holztiger figurines, made of European hardwood and colored with water-based paints.

"We wanted to create a physical space — and an accompanying website — where parents had the option to purchase stylish organic and eco products exclusively," Moon Frye says on her website.

Check out the products (both green and non-green) mentioned in the article, plus several eco-friendly options:







.

AD
---






.

AD
---






.

AD
---






Manufactured by Mattel, this 1:18 scale red die-cast collectible model features metal construction and is individually packed in a window box. Launch date: June 18, 2007.

.

AD
---






This kit includes everything required to build a space rocket and more. It comes in an eco-friendly box with printing on the inside so that children can create a project out of the box itself, and is designed to encourage manual dexterity, parental interaction, creativity and recycling. It includes seven language translations.

.

AD
---






.

AD
---






.

AD
---






In each round of Head1Liners, players privately write a news headline to a shared, mysterious "front-page" photo card. Straightforward journalistic attempts or satirical, funny headlines alike are equally encouraged. Headlines are read in random, anonymous order by the round's editor, and every player votes for a favorite headline (not their own). Writers move one space for each vote received. Later rounds include intentionally surprising theme assignments that often result in hilarious headlines. According to Owner Tony Kvale, Good Natured Games is the only eco-friendly board game publisher manufacturing mainstream game concepts locally within the United States. The company's website offers a free sample round of play. Launch date: November 2006.

.

AD
---






.

AD
---
THIS BANNER IS AN AD:
---
---