Whether costume manufacturers provide the tools necessary for children to become fairies or the President of the United States, this year most agree that it's the customers who decide what is new in costume play.

Fairy Fun
"We try to listen to what our customers tell us is working and what is missing and fulfill those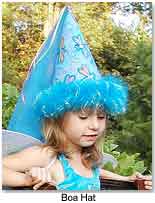 needs," says Susan Berns, owner of Fairy Finery (ToyDirectory). "In today's economy, customers are looking for the best value for their dollar. Parents want costumes to be basic components of their child's toy box, brought out on a regular basis instead of only for special occasions."

For 2004, Fairy Finery customers requested variations on existing products, as well as non-commercially inspired dress-up costumes for boys. The manufacturer obliged and released the Fairy Flower Dress ($48, sizes 2-4x), Boa Hat ($21, toddler and standard sizes) and Knights Tabard & Hood ($34, toddler and standard sizes) in March. Another new costume is the Fairy Flower Tulle Dress ($48-56, sizes 2-6x). The company also extended their color palette and sizes for the Roman Crown and other princess hats and existing costumes, and added earring kits to their high-quality jewelry line.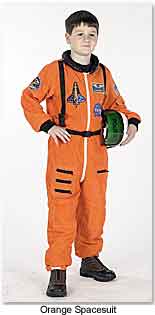 Quality in Demand
Mark Levine, president of Aeromax Toys, says of its Get Real Gear, "Our experience is that the consumers are willing to spend money for a quality product. The things that make us stand out are the quality of our fabric and our construction of the costumes."

In January, Aeromax Toys introduced three new costumes: the Jr. Astronaut Suit ($49.95), which comes with an embroidered cap featuring a spring loaded mechanical face shield; the Jr. Air force Pilot ($49.95) outfit that will be sold as a green, one-piece jumpsuit with accompanying helmet; and the new version of the Jr. Fire Fighter Suit ($59.95). Originally only in black, this company top seller is now available in tan. Each costume comes in 4 sizes (2-3;4-6; 8-10;´12-14).

Holidays and Report Days
"Parents are starting to care and are noticing that costumes are great for other than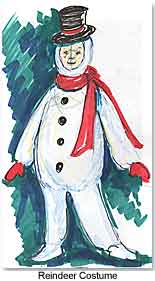 Halloween," says Rich Williamson, president and owner of Pierre's Costumes. "I'm happy to see dress-up coming back. People are turning back to better quality, better design."

To comply with customers' requests, Pierre's is adding nearly 20 new costumes this year. For the holidays, the manufacturer is adding gender-neutral Snowman and Reindeer costumes, and various other seasonal and "non-denominational" quality costumes, each running from $50 to $100 (sizes 3 to 10). They will also add 10-15 lower-priced "book report" character costumes ($20-$45) for parents who don't want to pay a lot of money for a class project. This product line instantly transforms a child "into a Victorian gentleman or a medieval lady," adds Williamson. All additions are scheduled for release immediately following Labor Day.

Penny Goins, marketing director from Elope, Inc., reported that customer demand was for more commercial inspiration. The manufacturer will be creating a pirate hat, a Dr. Seuss Knit Hat & Scarf set, more Harry Potter inspired hats, and theme inspired variations to their classic princess hat, such as a snow princess, butterfly princess and flower princess.