This year's Western States Toy & Hobby Representatives Association (WTHRA) Show was a strong indication that manufacturers of toys have been hard at work, creating fun and innovative new products. Below are some of our top picks:

Silent but Deadly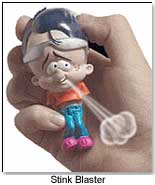 With a character line up that includes varieties such as "Blue Cheese Charlie," "Butt Breath Bob," and "Sweat Sox Sammy," Stink Blasters ($4.99; ages 5+) by Spin Master are the latest stench in collectible figures. When kids squeeze the head of one of these 24 characters, a brilliantly tasteless odor is released, one which corresponds with the name of each figure. The character designs and expressions are wacky, creative and oddly likeable. Included in each package is a trading card and "Stink Sticker." Although Stink Blasters may just be the smelliest toy around, they are an otherwise non-offensive way for kids to entertain themselves.

The Cat Wants Mice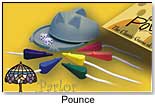 Keen listening, sharp arithmetic and quick reflexes are all valuable traits when playing Pounce ($12.95; ages 5+) by Parlor gamez. In this highly competitive game, one person is a cat and the rest are mice. The cat calls out a number or two and then rolls the dice. If the cat's number comes, the mice must move away before the cat can trap them. However, if the mice move when they're not supposed to, the cat gets them. The game can be learned in less than a minute and provides hours of amusement.

Who Said What?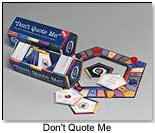 While many games are fun, some games are both fun and informative. In Don't Quote Me™ by Wiggles 3D Incorporated (ToyDirectory), players must identify speakers of famous quotations. The game cards contain biographies of the various speakers along with amusing facts that are associated with each quote. The various categories include Leaders, Life & Literature, Pop Culture, The Arts, and Sports. There is also a second game, the Don't Quote Me TV Guide Edition, which features memorable lines from TV and movie personalities. The categories for this game include Comedy, Drama, News/Talk/Sports, Movies, and Stay Tuned.

Marvelous Marbles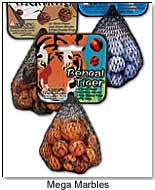 Mega Marbles (ToyDirectory) has created several lines of marbles, which are unique in that they are grouped in nets according to theme. For example, if a kid has an interest in sharks, he might buy one of the shark themed nets; all of the marbles therein will be vividly white and blue, like the color of sharks. The marble nets are packaged with a colorful and appealing header cards and there are a total of sixty styles to suit the interests of even the most discriminating of children.
Kids Will Be Tracking This Artifact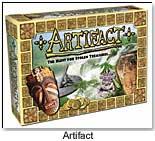 Outset Media (ToyDirectory) has released a new and exciting interactive board game called Artifact. This entertaining game of strategy sends players around the world to recover missing treasure. One of the most valuable assets of this game is its versatility as both entertainment and educational worth. Artifact provides players the opportunity to gain knowledge of other cultures, histories and traditions by way of memory, negotiation skills and luck. Players must form artifact recovery teams and earn money by learning facts and passing challenges. Artifact, for ages 12 & up, 2 to 6 players, also includes alternate rules for ages 6 and up and a memory game for ages 3 and up.

Toys with Personality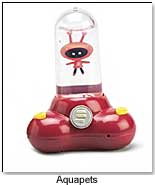 The more you play with Aquapets (ages 5+; 9.99-14.99) by Wild Planet, the smarter they get, the more they dance and play games. They are undoubtedly among the most personable of toys currently on the market. One likes chocolate, another likes bubbles, and yet another likes rain. They respond to the voices of humans as well as to those of other Aquapets. Each have their own sounds, personalities, and moods. Wild Planet is planning to release more of these fascinating interactive characters each month to keep their customers coming back for more of these toys with personality.
Coodju Lite Makes Spelling F-U-N!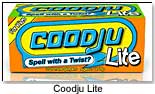 Anomaly Games' Coodju Lite gives children a spelling game in which they can spell words in crazy ways. Players can spell words forwards, with just the vowels or consonants, with only the first and last letter and in other fun ways! By using the Coodju Spinner, players determine which of 5 unique spelling twists (vowels, skip a letter, forward, consonants and first & last letter) they must try to complete for that round. This fun game has been recognized with awards from Fun Magazine, The Bernie Award and EdPlay Magazine. While this game is fun for all spellers, weak spellers will quickly gain confidence in this fast moving, fast thinking educational game. Coodju Lite cards can also be used with the original Coodju game and vice versa, to involve all members of the family with different spelling abilities.

Innovative New Trivia Game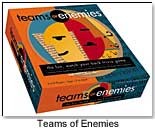 Teams of Enemies® by Big Toe Games, Inc. (ages 12+; 4-8 players; $29.95) has broken new ground in the arena of trivia games. While other trivia games often end up being played in teams which are uneven, Teams of Enemies allows players to play in temporary and ever-changing teams, making each question a completely different and fresh experience. In addition, the questions are unique, highly specified, and multi-dimensional. For example, other trivia game questions might merely ask one to identify a state's capital, yet Teams of Enemies might ask one to put a list of state capitals in order from west to east. The game categories include film, music, sports, science & nature, literature, history & events, animals, geography, and television. The game has been highly acclaimed by The Chicago Review and was deemed one of the "Best Party Games for 2002" by Games Magazine.
Cards That Don't Blow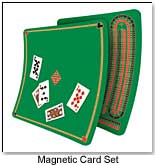 Family Games Inc. is receiving a great response for their Magnetic Card Set which is ideal for travel, play outdoors and indoors. Since the cards are magnetic, they will not blow away or shift. The Magnetic Card Set includes 1 double-sided magnetic mat (Cribbage board on reverse side), 1 magnetized card deck, 9 magnetic counters & 1 nylon travel bag and is for ages 8 and up.

Get Outdoors with Endurance Publications!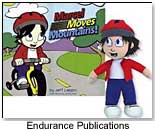 Jeff Lappin, author of "Simon Makes Waves" and " Marcel Moves Mountains" (both $15, ages 3-7) offers fantastic, easy-to-understand books about a champion surfer and cyclist in the making. The books will delight children while teaching them the importance of bike and water safety, and wearing helmets. Each page is full of colorful illustrations and has interactive questions at the bottom of each page to get kids involved in the story. At the end of the book, Lappin has included Marcel and Simon's biking and surfing tips and glossary to get young surfers and cyclists started on the right foot.
Unscramble Anagramania!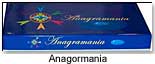 The definition of an anagram is: a word or phrase formed by re-arranging the letters of another word or phrase. Anagramania by Karmel Games is a challenging word game for 2-6 players, ages 13 and up. Players try to solve clues by unscrambling words in order to move forward on the play board. A correct answer enables the player to move forward 2 squares. A wrong answer penalizes that player to move 1 square backwards. If a player chooses not to answer, his or her pawn is left on the same square. The winner of Anagramania is the first person to reach the center of the board. Anagramania is extremely competitive and interactive as all players are playing each other simultaneously each round.
Eye-Catching Wooden Toys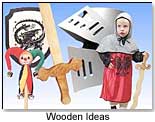 While there continues to be a surge in the area of high tech toys, there also appears to be a demand for basic, high quality toys that inspire the imagination. M. Chalais Associates has already experienced tremendous success representing, Wooden Ideas (ages 4-10, prices range from $6-16), a line of wooden toys by the German company, Bartl. The toys are of extremely high quality and consist of daggers, shields, and other products associated with knights, as well as Indian bows and arrows, pirate hats, eye patches, sabers etc.
Pens You Won't Want to Lego Of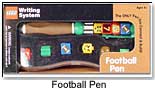 The CDM Company, through a license with Lego, has created a remarkable line of pens ($9.95 to $14.95) that may help inspire children to do their homework. The pens range in themes from Lego sports characters, including snowboarders and skateboarders, to pens that carry Lego themes, such as Racers and World City Police. The line up of pens also includes "Harry Potter," "Spider-man 2," characters from "Star Wars," and even Halloween and Christmas-themed pens.

Build a Buddy
Every kid, and even adults who were once kids have dreamed of building their own life-sized robot friend. Robotics and Things (ToyDirectory) has a series of Robitix sets, which are Motorized Modular Contruction Systems for building one's own life-sized robot. The sets come with parts and an instruction manual along with high and low speed motors that can be added to the wheels, mouths or limbs of the robot to make it move and communicate. The Robotix 5000 Robot Commander ($299) comes with five motors and enough components to build a 5' tall robot. The Robotix Education Booster Pack ($169.99) includes over 150 parts that can be used with all robot models, a 5-switch integrated controller, a 1-switch controller, 4 high-speed motors, and 7 power cables. There is no end to the educational potential of this product, with so many accessory sets, robots can be very elementary or engineered at the most advanced levels.

Rollercoaster of Your Dreams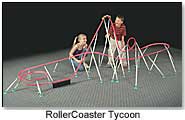 Winner of "The Toy Man's Choice: Best of Show" Award, is the "RollerCoaster Tycoon" RollerCoaster Construction Set ($159.95) from Miniature Amusements (ToyDirectory). The set allows construction of a highly detailed, physically functional mini coaster, where carts race down the track, just like they do on those thrilling metal monsters in the amusement park. A full line of accessories are available and there are numerous possibilities in circuit design.

Portable Fun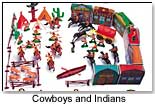 Awesome Kids, LLC has released a variety of well crafted "Toys In a Box" (ages ; approximately $21.95 to $24.95) which are not only amusing to kids, but also provide them with an efficient resource for cleanup. Since the toys come in a box that is portable and stackable, cleanup requires no great strain. Some of the boxes include Cowboys and Indians, an American Revolution box, a Princess Ballerina box, a Rodeo box, and a Doll House box. The boxes also include the company's staple characters, which are featured on their web pages. These characters are the Awesome Professor, his sidekick, Mervin the mink, and six awesome kids.