Teens, Tweens and fashion-trendy women are adorning themselves with The Original bodydots, a fashion-chic, stick-on, reusable line of accessories for those who appreciate jewelry and permanent body art, but are uneasy about making the commitment. Bodydots are also for anyone who simply enjoys adding a creative flair to their style.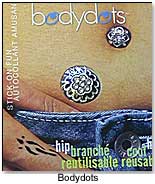 Twist Marketing (ToyDirectory) introduced The Original bodydots line in 2002, recognizing the popularity of henna paints as alternatives to tattoos. Michael Rinaldo, vice president and partner of Twist Marketing, says bodydots are the perfect addition to a young women's wardrobe when going out to a party or "someplace that requires a little glitter and glamour."
Bodydots are available in tiny and large designs, suitable for face, ankles, shoulders, or any other body part that might enjoy an artistic accent. The aesthetic gems and prints come in trendy and classic shapes, sizes and symbols, ideal for summer, when the most essential part of every wardrobe is skin. Bellydots offer two sparkly jeweled options to catch light and draw eyes toward the naval. There are also six assorted wrap-around rings, designed to dazzle fingers and toes. The Rounds and Bands are larger tattoo-esque shapes like a Peace Band, Tribal Suns, a Butterfly and more. Bodydots also give people the power to express their individual nature with Astrological and Chinese Symbols. Twelve different symbols take cosmic enthusiasts through the Astrological and Chinese Lunar Calendars.