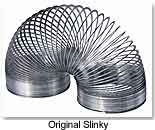 Since acquiring James Industries in 1998, Poof-Slinky, Inc (ToyDirectory). is best known for its famous Slinky® toys. This manufacturer still carries the perennial favorite metal Slinkys® made on the original machines in Hollidaysburg, Pennsylvania, as well as new products such as colorful plastic Slinkys®, including the Slinky® Dog made famous in the Toy Story movies, plush pets, expandable banks, batons, tea sets, and building toys.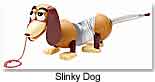 Also a world leader in outdoor toys, Poof-Slinky's soft foam balls are a mainstay of the company. Footballs, soccerballs, basketballs and volleyballs come in a wide selection of colors and varieties. Their newest products include a line of motion-activated "fire" footballs and soccerballs that light up at night, and a "create your own" football and soccerball that come with paint and stencils. Poof-Slinky also offers safe action
and flying toys such as foam rockets, darts, kites, and airplanes. The RamRocket, a 10-year-old hot-seller, flies up to 100 feet in the air, and the Reel Planes fly in a 20-foot radius. The Dart Launcher and the Blow Gun can be used indoors or outdoors.

"The greatest influence on our success is the basic nature of our toy lines," says Barbra Wells, Poof-Slinky's marketing director. "They are low-tech, year-round fun, not affected by the seasons. The greatest change we´ve seen has been the resurgence of ´retro´ toys."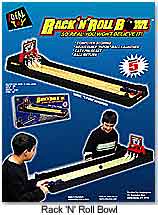 Poof-Slinky recently acquired Ideal Toy, offering an assortment of classic tabletop games, including Rack ´N´ Roll Bowl, Skeeball and Rock ´N´ Pocket Pool that young parents and baby boomers remember playing. "They are buying them for their kids and playing too," says Wells. "There is also an Ideal Classics division bringing back our best-loved toys, like Howdy Dowdy and Mr. Machine."

Thousands of retailers from drugstores to the Smithsonian sell Poof-Slinky's merchandise worldwide. The company's products are also available online through their website and from hundreds of third-party sites. "Our nostalgia toys, like Slinky®, attract men and women of all ages as well as the 5 to 12-year-olds that our products target," she says.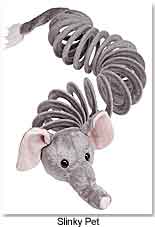 Sales of their foam balls and flying toys keep growing. "We have seen spikes in Slinky® Dog sales that coincide with the [Toy Story] movies," says Wells, "and growth is expected in Slinky® Pet sales in 2005 with the planned release of two full-length animated films and a cartoon series featuring the Slinky® Pets. We also expect a rise in Slinky® sales during the same time because we will be celebrating the 60th anniversary of the Slinky®."

Wells warns entrepreneurs to steer clear of fads and stick to the basics. "Give a kid a video game and he´ll play video games. Give a kid a Poof Flare Launcher, and he´ll be an explorer…a captain…a hero. We sell imagination and imagination sells."
As this manufacturer moves into the coming high-tech years, their future looks bright. Wells comments, "We are well positioned."