This Robot Knows Karate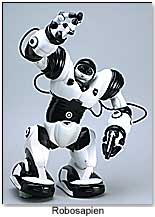 Robosapien by Wow Wee Toys Ltd. ($99) is not only the smartest robot in the toy store, but also the most life-like. He is the first robot that was created based on the science of applied biomorphic robotics, which gives him that humanistic edge over his android contemporaries.
Using the ergonomic remote control, Robosapien can be commanded to perform up to 67 pre-programmed functions. For example, he can pick up cups, socks, pencils, and various other small light objects. He can also be commanded to throw various items. The entertainment doesn't stop there; he knows how to whistle, high-five, dance, and yes, this automaton can defend himself with three different karate moves.
Robosapien not only acts like a human, he walks like one too. His pendulum walking motion and flexibility give him that hard-for-robots-to-achieve human strut. He walks at two different speeds.
Robosapien also has an impressive memory, as he can be programmed to perform a complex chain of commands such as walk a certain distance, make a turn, then go over and whistle at your cat (not recommended).
Four D and three AAA batteries will enable Robosapien to function for over six hours. If he has been idle for more than 20 minutes, he will smartly shut himself down.
Robosapien will be walking throughout toy stores this summer.