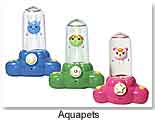 Journeying from the distant AquaPlanet, Aquapets by Wild Planet Toys will arrive in America in the fall of 2004. Before living on AquaPlanet, three of the creatures originally resided in Japan and were know as Puku-Puku Angels. Wild Planet Toys secured a deal to introduce Kiko, Puku and Tu to the rest of the world. Aquapets have since multiplied to a total of twelve characters, each with their own distinct personality.
These charismatic electronic pets are more interactive than fish but with a built-in sleep mode, they're even easier to care for. Talk to the Aquapet to learn how to care for it and it will respond in more than fifty different ways. Communicating more with the pet will unlock new games and different songs as their personality traits are unveiled.
The Aquapets may live off of virtual snacks, they require but real love. They can get lonely, and when neglected, tend to throw a bit of a tantrum. But being the little social creatures that they are, two or more Aquapets together will start chatting amongst themselves. Best of all, Aquapets can live forever!
Aquapets come self-contained in their own aquatic home. Average retail price: $9.99 - $14.99.

PRODUCT SEARCH: Click here to use the advance search