David and Suzanne Silverglate are new to manufacturing, but they aren´t novices in the toy industry. For 14 years they have been toy inventors, licensing products to Oddzon, Hasbro, Fisher-Price, Kidpower and Prime Time. With a degree in physics from the University of California at Santa Cruz, David has used his expertise to create toys that fly,

float, roll or play better. He holds nine patents in toys and opto-electronics. With a field-sales background in telecommunications, Suzanne has applied her business sense to their company, Rhino Toys (ToyDirectory).

"We decided to start our own toy manufacturing company because we believe that we can do a better job of bringing our concepts to market as a manufacturer, compared to licensing products to other companies," says Suzanne. "Because of consolidations in the toy industry and the rise of old toy concepts slapped with a licensed character, it has become increasingly difficult to license toy concepts to manufacturers, and it is frustrating to have no control over the execution of licensed concepts."

Running their own company has allowed them to bring innovative products to the specialty market. "Specialty stores help bring dynamic growth and diversity into communities," she says. "We believe that they will begin to thrive again as people realize that toys with high play value are the best."

The Silverglates´ persistence has paid off. They have over 1,700 accounts with international sales in Canada, Japan and New Zealand. They sell to both adults and children. "Our emphasis is on healthy, active play," says Suzanne. "We design gender neutral, open-ended toys that appeal to a wide age range of individuals."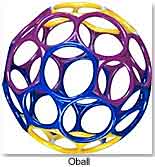 Oball appeals to infants 6 to 12 months of age, but it sells to adults as well. Easily transported, it consists of colored compressible loops. "The Oball has a great following in office supply stores and the special needs market as well," says Suzanne. "Adults use an Oball as a stress release ball and as an office room toy to get the creative juices flowing. It is an all season toy, and it is also good for children and adults who have motor skills disabilities."

New for 2004 is the Oball All-Sport, available in a new sporty color pattern and sold in a soccer ball box. Advertised as the world´s first packable sports ball, it requires no pump and can go anywhere, even underwater. It´s seven and a half inches in diameter and retails for $13.95.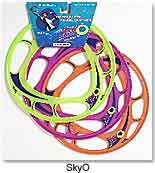 SkyO and Sky Blaster are two aerodynamic toys that debuted in 2003.

The SkyO has big holes in the ring that enable it to fly straight using a patented, porous airfoil structure. The toy is made of a tough rubber and is indestructible. Popular among 5- to 15-year-olds, it retails for $5.95.
The Sky Blaster is the company´s highest performance product. Constructed with fins that can be bent to make the rocket spin, it can fly over 120 feet. The toy whistles in flight.

When asked how to maintain sales, Suzanne replies, "In a down economy people are looking for the best value for the price. We design innovative, high-quality, fun, non-gimmicky toys."