Flight is a hobby for many, whether pilots, flight enthusiasts, or children with their heads in the clouds. The diversity of flight-related toys on the market today is astounding, and the technology behind such toys, whether models, gliders, or remote control vehicles, is better than ever.
Model airplanes have always been a hot seller for hobby shops. Only the complexity of the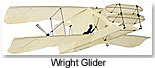 models has changed, with die-cast aircraft so authentic looking that they appear to be shrunken versions of the actual craft. History appears to be "in" for sellers and collectors of the miniatures, with several companies, including UK model manufacturer Corgi's collection of 100 Years of Flight. The collection commemorates 100 years of flight with a comprehensive collection of 20 pioneering and iconic aircraft from the previous century (approximately $6 each). Some of the models include the Write Flyer-Kitty Hawk, the U.S. Navy´s F-14 Tomcat used in Operation Desert Storm, and even the Space Shuttle Columbia.
With the centennial celebration of the Wright Brothers' first flight comes a variety of toys and models to commemorate the special event. Indiana-based Plum Creek Marketing, an associate company of TrainTown Hobbies and Crafts, offers several model versions of the original Wright plane, including a paper glider and several kite varieties.
Whereas history is a top seller among model aircraft enthusiasts, it seems as though remote control aficionados prefer looking towards the future. New designs and trends focus on the aerodynamic, the gyroscopic, and even the saucer-like. Though most companies that specialize in electronic flying toys do make military models, the popular trend seems to include ultra-modern innovations. One such product is Dragonfly Toys' Dragonflyer IV, which is considered a helicopter, but looks more like a UFO. The toy is gyro-stabilized, making it easy to build and to fly.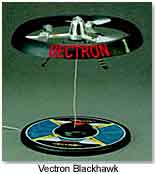 The Hobby People, a common name among RC enthusiasts, boasts a diverse array of flying machines, from the aerobatically inclined Modeltech Magic Extra to the space-aged Bowen Hill Vectron Blackhawk. The latter spent four years in development, and it utilizes the latest military flight technology.
One toy that is setting the standard for even military technology is the X-Stream Future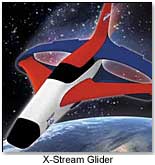 Glider by Iwa Toy Co. (ToyShow), which glides through both air and water. Its designer, Robert Carr, has been approached by the military about designing an engine-powered version of the foam flying toy.
This past year has been a prolific one for developing hobby enthusiasts' interest in flying. The coming year will see an advancement in toys currently on the market, from laser cut balsa and die cast aircraft models, to fully functioning flying and hovering remote controlled machines.