What's more fun for a kid than a bubble bath?
Thanks to a new, patented squeeze foaming technology and the zany imaginations of Life of the Party's (ToyDirectory) Funworks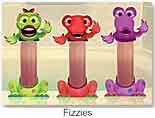 Lab, kids can enjoy foaming bath adventures with Bubbleupagus and Friends. These imaginative, squeeze-foamer playmates provide two-in-one play: First, in the foamer's tummy, kids mix Sudsley's special soap solution with a "WonderColor" fizzie. Right before your eyes, the effervescent fizzies "magically" change the color of the soap solution and begins to fizz. When the fizzie is done swirling, bubbling and delighting kids of all ages, with a squeeze of the foamer, Bubbleupagus will turn soap solution into foam.
The Funtastic Foamer sets ($7.99; ages 3 and up) come with a foaming friend, Sudsley's soap solution and WonderColor fizzies powder.