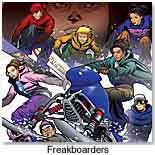 They're wild and stylish and arguably the most maneuverable action figures ever to hit the market. In fact, each figure is designed with twelve realistically bendable joints. Freakboarders snowboard action figures by CDC are designed to move in the contorted ways that snowboarding professionals move when out on the slopes. The 3.8 inch tall figures each come with their own set of motley eccentricities such as pink hair, neon green baggy pants, tattoos and checkered snowboards.
Figures come complete with a video CD containing various styles of popular music, a computer game, a three dimensional animation clip, and a jump/slide ramp, as well as a pack of stickers. With every purchase, you also get a comic book which outlines each of the seven characters' unique personalities. They are manufactured as limited editions of only 5,000 units per character so, besides being extremely fun, they're bound to become collector's items. There are also Freakboarders keychains, miniature versions of the originals that can be taken anywhere.
The suggested retail price for Freakboarders action figures is $14.99, and $1.99 for the keychains.