LevyMann Entertainment is less than two years old, but the company has already formed product agreements with such recognized names as Toys 'R' Us, Penguin Young Readers Group and Fruit of the Loom.
LevyMann Entertainment was started by entertainment industry veterans, Shuki Levy and Anita Mann. Levy was a creative driving force behind the children's entertainment phenomenon, Mighty Morphin' Power Rangers, and Mann offers her talent as an Emmy award-winning choreographer. The two met while working on a musical and have since united to form a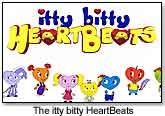 production company that distinguishes itself through a strong musical foundation with a core philosophy to "do things from the heart."
Building off this foundation, in 2002, LevyMann Entertainment launched itty bitty HeartBeats, an animated musical series for girls and boys ages 2 though 6. The series features seven "itty bitty" heart-shaped characters that sing songs and live in a place called HeartLand. Since its debut, the itty bitty HeartBeats has been widely successful and in 2003, LevyMann teamed up with Toys 'R' Us to release a combo pack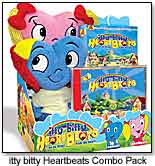 that includes a VHS tape with four eleven-minute episodes, a musical CD and two plush characters.
LevyMann Entertainment hopes to instill a positive attitude in young children with itty bitty HeartBeats.
"Anita and I have coined the phrase ´we do things from the heart,´ because we want to get kids thinking and acting with their heart from an early age," says Levy.
As a company focused heavily on music, songs from itty bitty HeartBeats are written by Levy and are key in the company's mission to produce "quality" family entertainment. "Kids know every word to their songs, so the message is reinforced in the lyrics," says Mann.
LevyMann Entertainment concentrates on musical projects with a "feel good" message. The company is working on several other musically based children's projects with this message.
Currently in pre-production is Beep Bop Babies, a music video for infants and parents that features toddlers dancing along to popular music.
Also in development is Circus of the Flying Gladiators, an animated action-adventure comedy. In line with LevyMann's positive message, the Flying Gladiators use Karma energy to protect the Earth. Mann says the cartoon will be marketed as an ongoing series touching on the notion that the energy put out in the world will come back full-circle, whether it is positive or negative.

The marketing campaign for itty bitty HeartBeats has been extensive. LevyMann recently sealed a three year deal with Wormser Company and Fruit of the Loom to create a line of children's sleepwear and underwear for itty bitty HeartBeats.
Children can also read about the itty bitty HeartBeats starting spring of 2005. Grosset & Dunlap, a division of Penguin Young Readers Group, will publish a line of books based on the animated series.
Additionally, LevyMann is presenting the series to television networks in hope of securing a broadcast deal that would expand the itty bitty HeartBeats to an ongoing series.
"We are really launching this brand to be a classic brand," Mann says.