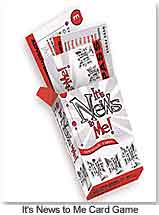 From the creators of the It's News To Me board game comes yet another nifty learning device. It's News To Me Newsflash! Cards ($10.95) by Newsline Publications, Inc. (ToyDirectory) inspire children ages 10 to 18 to open a newspaper in order to find the answers to an array of practical yet pertinent questions.
Parents will soon notice their children become experts in quickly finding the various sections of the newspaper as well as sharpening their skills in creative and critical thinking. The game encourages the discussion of current issues, advertising strategies, and makes them savvy with regard to newspaper terminology. The cards can be used simply in a question and answer format such as regular flash cards, or in the context of a game for which players compete by answering questions and being the first to spell N-E-W-S.
What's great about Newsflash Cards is that the questions are designed in a way so that the game is never outdated. For example, one question reads, "How many front page stories are national? How many are local?" Since the game only requires a deck of cards and a current newspaper, it is among the most compact yet effective educational games on the market. It also meets the National Educational Standards for the skills in which it teaches.