The recent release of Mel Gibson's film, The Passion of the Christ, has stirred many conversations both in and outside the sanctuary. The film's ability to stir such a buzz over its religious content and carry that fervor over into the secular world is to say the least, "miraculous." Products traditionally favored by more conservative markets are finding themselves "born again" on previously uninspired shelves. Whether some of these products are purchased for spiritual, historical or purely entertainment value, retailers can take this opportunity to tap into an array of products.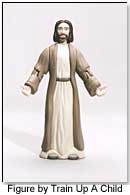 Andre Kalich, president of Train Up a Child, which creates biblical action figures, says "A very small percentage of people actually shop for toys in a Christian bookstore. It has been our experience that people will buy inspirational toys in mainstream retail shops."
In addition to Jesus and Mary action figures, Train Up a Child offers 6" figures of Adam and Eve, David and Goliath, Moses, Solomon, Job and an Angel ($6.95 each; $59.50 set of ten). Each figure comes with a background scene, reinforced with laminated paperboard, portraying the character's role in the Bible.
More Biblical characters are available from Faith Kidz, a division of Cook Communications. The Children's Discovery Bible Action Figures feature David and Goliath, Daniel and the Lion ($16.99), Samson, Jesus ($7.99), and Moses ($8.49).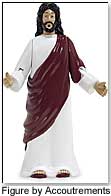 Accoutrements, the company that gave us the librarian action figure and Ceramic Smoking Baby, advises retailers not to place their 5" Jesus Action Figure ($8.96; ages 3 and up) on the kitsch shelf. The "Outfitters of Popular Culture," as they refer to themselves, place the Jesus Action Figure as number two on their list of the Top 25 Items.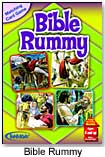 Merging pop culture and Biblical themes, Faith Kidz has a series of games for everyone to enjoy. The Bible Rummy Jumbo Card game ($5.99; ages 4 and up) shows beautifully sketched scenes from the Bible; Jonah Go Fish ($7.99; ages 4 and up) has cartoon illustrated cards with verses from the Bible.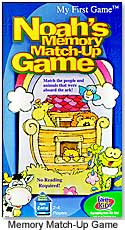 The My First Game line from Faith Kidz encourages young children to learn the stories of the Bible in a simple and familiar game form. Noah's Memory Match-Up Game ($8.99, ages 4 and up), teaches children to match the people and animals "two-by-two" aboard the Ark. Bible Bingo ($8.99; ages 4 and up), features squares with Biblical images, along with Bible versus and extra squares titled, "Because Jesus Died for Me", for a complete game of Bingo.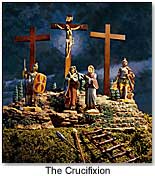 Fontanini, a brand of Roman, Inc. has been a long time staple of religious bookstores, but is also fitting for any hobby store. The Crucifixion from Fontanini's Life of Christ series starts the hobbyist with a resin base, crucifix and 2 crosses. Mother Mary, Christ figure and Apostle John figures are included in the set.
Character Building
Faith Kidz Books has more than a few publications, intended to teach moral lessons that anyone can appreciate. Humble Bee ($12.99, ages 6-10, 32 pp.) teaches a lesson on excessive pride. The bees go wild over Humble Bee´s delicious snack until he becomes consumed with his own success.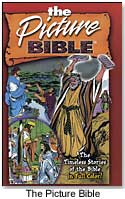 The Learn-to-Read Bible ($19.99), for reading levels 1 and 2, teaches lessons and stories of the Bible, with extra large type and nearly full-page spread, color illustrations. The company's Rocket Readers Series also includes a series of teaching-style reading materials for pre and levels 1 through 4 (levels 1-3, $8.99 per set; level 4, $4.99). Cook Communications' best seller, The Picture Bible, has enjoyed a significant amount of success, with over 75 million copies distributed worldwide. The Picture Bible presents a collection of Bible stories in comic strip format and comes in paperback ($12.99) and hardback ($14.99) covers. A New Testament version is also available ($14.99).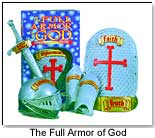 Some children might prefer to act out biblical stories, rather than read about them. The Full Armor of God: Christian Character-Building Costume ($25.99; ages 3 and up), from Faith Kidz, aims to teach kids the "Word of God," through role-play. The Armor includes everything physically needed for "spiritual warfare," such as: A Helmet of Salvation; Sword of the Spirit; Breastplate of Righteousness; Belt of Truth Beltbuckle; Shield of Faith; Gospel of Peace Shin Guards. The set also includes activities and Bible Scripture verses in a Parent Guide, designed to encourage family faith sharing. Faith Kidz' other role-play sets include Noah and the Ark ($15.99) and David and Goliath ($13.99).

Also from Cook Communications Ministries, is the Learning ATM ($29.99, ages 5 and up), an electronic toy and tool that teaches kids full fiscal responsibility, including charity. Deposits are tracked on an LCD screen and may be divided between "Giving," "Savings," and "Spending." Kids can decide what percentage of their earnings to devote to each purpose.