Click here to read more TDmonthly_Top_10_Most_Wanted_Lists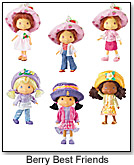 1. Strawberry Shortcake: Berry Best Friends 5.5 " ($8.99, 4+) by Bandai. Yum! Each girl is back with her little signature scent.
Listed as the #8 most searched doll in the last month on Lycos 50.
Sold 1.2 billion (including accessories) in the 5 yrs of its first run.
80% of women 18-35 recognize the brand according to American Greetings.
2. Disney Mini Princess Play Set Deluxe ($19.50, ages 3+) by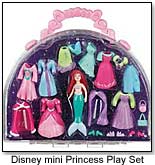 Disney. Wardrobe change! Clothes are the most important part of any movie and these dolls certainly fit the roll.
A new set of Disney Princess DVDs will be out in September.
Disney Princess magazine sells 10 million copies worldwide.
Disney and their licensees sell 25,000 princess-themed products, according to USA Today.
3. 5-Sies by MGA Entertainment These 1.5" babies are perfect for little ones who are not quite ready for Bratz.
MGA had 650 million in sales last year.
Accessories are age appropriate like milk bottles and teething rings.
Currently a finalist for the Family Fun Toy of the Year Awards announced at the end of September.
4. My Little Pony: Glitter Pony Ponies ($4.99, 3+) by Hasbro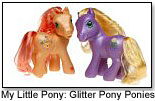 Every girl wants a pony and this one comes with a brush to style her mane.
NPD group ranks it the #3 mini doll property for tweens.
According to CNNmoney, Garbage Pail Kids Are Back "It became a multi-million dollar product for the toy maker and spawned a televsion show…"
Early Adopter product #42 on Amazon.com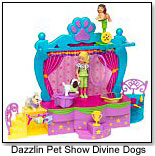 5. Polly Pocket: Dazzlin Pet Show Divine Dogs ($14.99, age 3+) by Mattel
Credited as founding the mini craze, Polly's playsets are still strong performers.
Polly Pocket won the 2003 Nation Retail Federation Award.
Top mini doll property for tween girls according to the NPD group.
Pet show is a common factor in comparison of Bestsellers on Amazon.com and KBToys.com (8.9.04).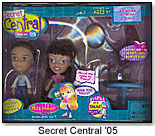 6. Secret Central: Class of 05' (Approx $4.99, ages 4+) by Hasbro
Move over O.C., this high school drama plays out on handwritten notes and online messages.
The interactive website features 80 second cartoons and gets 1 million visitors a month.
A live-action-direct-to-video will be released this fall.
Girls can unlock the characters' locker and read their diaries. Approximately 300,000 new lockers have been created.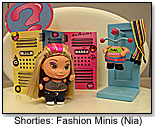 7. Shorties: Fashion Minis (44.99, 6+) by Mattel
Go ahead and exaggerate in this 2.5" hilarious world filled with unique proportions.
In These Dolls Really Stink by CNNmoney, Consultant Chirs Bryne says, "I think these are very clever….Shorties will be a strong niche product."
They are popular among girls 7-10 surveyed.
Inspired by Japanese animation, they're featured as "What's Japanese and Hot" by BusinessWeek, July 26th.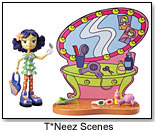 8. T*Neez: Scenes ($4.99, ages 4+) by Bandai
The name says it all for these petite fashionistas with Japanese inspired looks and themed accessories like a digital assistant.
They have unique "magic feet" that are magnetic and trigger light or sound features.
There will be a "comprehensive marketing campaign" launched in the fall according to Bandai.
Japanese street culture influences today's cutting edge teen fashions.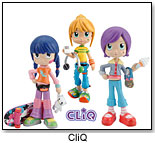 9. Cliq ( $7.99, age 4+ ) by Manley Toy Quest
These five trendsetters each represent a high school clique; even the book-worms and rebels are included.
Rated well among girls ages 7-10 surveyed.
In a company test of the products, girls liked the functionality.
Already on shelves at Toys R US, and at Walmart in September; a national TV ad to be aired soon.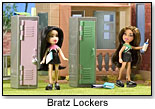 10. Lil Bratz:Lil´ High School Lockers (Approx $9.99, 4+) by MGA Entertainment
Lockers are the best place to socialize in high school, but these even have essentials like books and pens.
#1 selling mini doll in the UK according to MGA.
Bratz won 8 of the top 100 overall best sellers in 2003.
Included above, Lil' Bratz Pax ranked as #2 in the mini category.
Click here to read more TDmonthly_Top_10_Most_Wanted_Lists