Magic kits conjure up fantasies of fooling logic and altering perception. Through routine practice, these tricks can deceive even the cleverest of minds. The following kits, devised for ages seven and up, will fuel the imagination and funnel creativity without breaking the bank.

Because demanding tricks can prove to be frustrating, these kits were tested for easy use to guarantee their popularity for a longer period of time. It is interesting to note that the classic tricks of old still ring true for each generation. The packaging may be more commercialized to compete with the hyperactivity of video games, but the elements of surprising family and friends remains the same.



Please take notice that most kits are designed for the younger set, as more experienced practitioners of magic and the illusionary arts will pick tricks individually to meet their specific needs. Still, these kits contain all the rudimentary elements to keep a youngster practicing for hours on end with favorable results. It is also noted that the variable cost range is from $13.99 to a heady $79.99.

Ripe for the holidays, the Soc-O Magic Set #1 is the perfect stocking to hang over the mantel. For ages seven and up, it contains a magic cup and ball, rope trick, cards, coin slide wand and booklet. Starting for a mere $13.50, it is a nice holiday gift for the budding magician. (Available online at Dr. Bob's Magic Shop)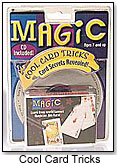 An excellent kit for beginners is the Cool Card Tricks Magic Set, as the accompanying CD-Rom (Windows & Mac) shows a live performance with explanation of all 12 tricks. A booklet is also included as well as, of course, the trick deck. Starting at only $15.00, it is also a best seller and magic shops.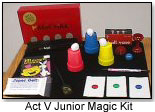 The attractively packaged Act V Junior Magic Kit, priced at $24.99, includes 101 easy to learn tricks. It contains the classic cup and balls, magic ball and vase, and super gel that has multiple uses along with a magic paddle wand that changes color.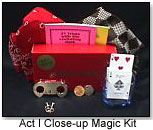 For those whose expertise warrants a greater investment, try Act-1 Close-Up Magic Kit. The inclusion of props makes this a wise choice. This kit includes over 30 effects such as a levitating deck, the great escape, scotch and soda cans and a booklet. Again, this kit prides itself on tricks and illusions that are easy to learn. At $79.99, it is a sound investment for the serious young magician who may need a prop or two forthe full effect.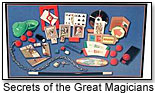 The ever popular and expertly crafted, Royal Magic Set: Secret of the Great Magicians by Fun, Inc. ($25.00, Ages 7 and Up) includes over 100 classic tricks for beginners: cards, balls and cup, coin hide, chain escape, magic wand and penetration frame and features pictures and posters of many of magic´s most prominent practitioners of yesteryear, including Houdini, Cardini, Kellar and Herrmann. Printed instructions are included, as well as an instructional DVD.

Almost every magic shop has the obligatory Eddy's Magic Set, with many different sets marked by age group and level of difficulty that contain the standard cups and ball trick, cards, and disappearing coin trick among others. The easy to understand instructions and low price of $13.99 have made them a best seller for years, according to merchants that specialize in magic retail.