Doll Wars: Mattel's Flavas Take on Bratz in a Battle for Tween Girls' Dollars
By Tim Connolly
August 2003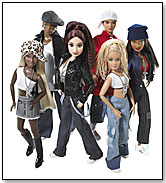 Mattel's Flavas
Fa-shizzle: the Flavas crew rocks, bling bling!
If you're a girl between the ages of 8 and 10, no doubt you understand the above sentence. For that reason, Mattel is betting you'll be down for their new Flavas dolls, which just landed on store shelves in July.
In an attempt to counter MGA's highly successful Bratz dolls, Mattel has done the unthinkable and created a competitor to its enduring Barbie line. The six hip-hop-styled dolls have varied heights (10 to 11.5 inches), each with a unique facial sculpt, skin tone, hair, makeup and even eye color. Each doll comes with two authentic outfits, letting girls create their own Flavas look.
Mattel will have to hit the ground running to catch up with Bratz, which currently has 130 licensees worldwide and projected sales of $520 million for 2003. According to NPD, Bratz Assortment was the top selling doll in 2002 and the number three best-selling toy the same year.
"The reaction was instant," said Dave Malacrida, director of public relations for MGA since 1999. "We premiered them during the Licensing Show of 2001. The following week, we sold 4,000 pieces in Spain alone. It's only gone up from there." In Japan, the dolls now have their own TV show, and the Bratz Pack will soon star in a direct-to-video animated feature for North American audiences in 2004.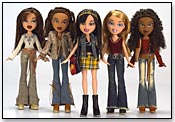 Bratz
Asked about competition from Mattel's Flavas, Malacrida questions whether the company may have gone too far in creating the dolls' urban hip-hop look. "I can only think that Mattel is hoping to drive sales with controversy," said Malacrida.

Isaac Larian, CEO of MGA Entertainment, has similar concerns. "Bratz are fashionable and fantasy and trendy. They don't portray the 'bad girl' image that, in my opinion, Flavas does. I don't think the majority of kids ages 6 to 12 aspire to be what Flavas are portraying, nor would this sit well with the majority of parents."

Regarding the possibility of the Flavas eroding Bratz' market share, Larian is equally confident. "Mattel first tried to attack Bratz with My Scene [Barbie] which is truly a not-well-made imitation. But despite a 'buy one, get one free [promotion],' free CD and heavy TV [advertising], there was little or no effect."

But Mattel is hardly on the ropes. Barbie still dominates the age 3-7 doll market, with last year's sales totaling $1.7 billion. However, overall sales were down 2 percent in 2002 and 14 percent in the first quarter of 2003, a trend that Mattel CEO Robert A. Eckert has moved swiftly to curtail.
Eckert's focus on shorter development schedules drove the new Flavas dolls from drawing board to store shelves in only three months, hopefully giving the Flavas time to catch on with Tween girls before they start on their Christmas lists.
For a more recent report on this trend, check out the following update.
To Read more about Flavas, click here.
To Post/Read Comments, click here.
---