Flava of the Month or Here to Stay?
Mattel has High Hopes for its New Hip-Hop Dolls
By Tim Connolly
September 2003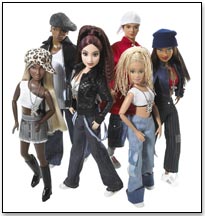 Mattel's Flavas (click photo to enlarge)
Julia Jensen is a busy woman these days. As vice president of public relations for Mattel's Girls' Division, the launch of the company's new Flavas dolls in July has kept her Palm Pilot humming. But when describing a recent visit to the Toys R Us flagship store in Times Square, Jensen is as enthusiastic as one of her 8-year-old customers.
"People kept coming up to [Flavas designer] Dom Brown and I and asking about the dolls," said Jensen. "What surprised me was the overwhelming response we were getting from parents. One woman came up to me with a doll in her hand and said, 'This is exactly what my eight-year-old son wears!'"
"An 8-year-old's reaction to hip-hop is very different from a 38-year-old's."
It's that kind of recognition that Jensen and the Flavas design team were striving for. "If you listen to the way girls talk, you hear 'Keep it real,'" said Jensen. "We wanted to stay true to that sense of authenticity."
But what about concerns that the Flavas, with their exposed mid-riffs, "bling-bling" and baggy pants, present an inappropriate role model for young girls?
"An 8-year-old's reaction to hip-hop is very different from a 38-year-old's," said Jensen. "They don't read the newspapers and associate the music with bad behavior. They hear the music and see the dancing, and to them it's just about fun.
"What's been reassuring is the reaction we've gotten from girls and from retailers," Jensen continued, "and that's all been positive."
According to Jensen, part of Flavas success can be attributed to good timing. "Hip-hop is 20 years old now, but even five years ago it was still mostly for an MTV college-aged listener," said Jensen. "Today, Disney radio has 7-10 hip-hop inspired songs it plays daily."
Neither Jensen nor Mattel see the Flavas as competition to the institution that is Barbie. "Our intent [with Flavas] was to create a brand that could live outside Barbie," said Jensen. "Barbie had $1.7 billion in sales last year. She's known and loved worldwide."
Besides, says Jensen, the age group Flavas is being marketed to have different wants than do Barbie fans. "For girls ages 3-6, it's all about fantasy and nurturing," said Jensen. "It's cool to wear a ball gown to go to Ralph's supermarket to buy milk. It's role-play activity, but still based in fantasy."
What the 8-12 crowd wants in a doll, claims Jensen, is the aforementioned authenticity, and there's more of that to come from Flavas. "We have a whole new line of dolls and accessories coming out for spring that will take us into a new slice of life in the hip-hop world." Jensen wasn't at liberty to go into detail about the new line, only saying that it will be "very clever and very true to hip-hop."
Flavas ship worldwide this week, so Mattel will soon find out if Tween girls in other countries will embrace hip-hop dolls as passionately as they've embraced Barbie. Looking to the future, Jensen is sanguine. "Good toys come and good toys go, but venerable brands endure. We are a house of brands."

To read about Flavas v.s. Bratz, click here.
To Post/Read Comments, click here.
---