---
New & Notable Toys: Remote Control
Check out these new and noteworthy toys.
R/C Stunt Vehicle by DARON WORLDWIDE TRADING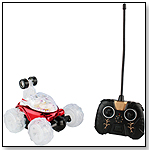 Remote Control Stunt Vehicle. Assorted colors, Red or Blue. Comes with 5 sounds and mute. Does flips and stunts. Instructions for advanced moves on the packaging. 8/3/2015 (Price: $21.95) [Add to my Inquiry Basket][?]



eBird - x2 Channel RC Flying Bird by MUKIKIM

This Bird Flies by actually flipping its wings and making bird's sounds! State of the Art Micro Flight Technology. Recharge through Transmitter (Remote). Charging Time: 5-10 Minutes: Working Time: 10-15 Minutes.

8/28/2014 (Price: $34.99) [Add to my Inquiry Basket][?]



Sonic & All Stars Racing Transformed RC Car 27MHZ - Sonic by NKOK INC.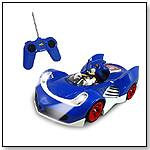 Sonic All-Stars Racing Transformed is the latest racing game in the fan-favorite series starring Sonic the Hedgehog. Now the video game racing has escaped the game console for a new series of radio-controlled racers! The latest series features Sonic, Knuckles, and Tails in vehicles that also boast working lights! Burn rubber with Sonic! Each sold separately!
— In a July 2014 survey, one out of 14 retailers told TDmonthly that the R/C Sonic cars were their store's best-selling electronic / battery operated toy. 7/30/2014 (Price: $24.99) [Add to my Inquiry Basket][?]



GYRO Hercules 3.5CH Electric RTF RC Helicopter by HOBBYTRON/WORLD TECH TOYS


Introducing the GYRO Hercules 3.5CH Electric RTF RC Helicopter! The WORLD'S FIRST AND ONLY UNBREAKABLE RC HELICOPTER. This RC helicopter has super strong polymer frame. The Helicopter's body can take up to 200 pounds of force! You can even step on it and it won't break. This awesome Helicopter comes with the greatest advancement in Helicopter Technology, a Gyro! No more crashing, no more replacing parts, the GYRO has changed the Helicopter industry completely, making this RC Helicopter super easy to fly. Great for people of all skill levels, this bad boy features a coaxial rotor a single rear rotor for precise movement and a GYRO for increased stability whether flying or hovering. Controlling the Hercules is a breeze. It can go forward, backward, up, down, left, right and hover. What really makes the GYRO Hercules stand out is the built in gyroscope making it automatically stabilize allowing you to focus on flying instead of trying not to make it crash. This product is ready to fly, there is no assembly required. Just put in 3 AA batteries into the transmitter and charge the helicopter's rechargeable battery with the included wall charger and you are good to go! Be the coolest kid on the block by getting the GYRO Hercules Unbreakable 3.5CH Electric RTF RC Helicopter! 1/13/2014 [Add to my Inquiry Basket][?]



Turbo Twister by MINDSCOPE PRODUCTS INC.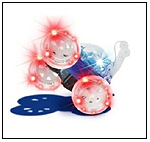 This RC Stunt Car with lights on the wheels comes in its original box. Highly detailed features make this car one of a kind. It comes with a fully functional remote which allows the car to move forward, reverse, left and right.
— Megan Pettit, manager of The Toy Maven in Dallas, Tex., told TDmonthly in a July 2013 survey that the Turbo Twister is her store's overall best-selling toy.
— In a July 2013 survey, two out of 12 retailers told TDmonthly that the Turbo Twister was their best-selling electronic or battery-operated toy.
— In a Fall 2013 survey, Mike D'Andrea, manager of e-commerce at Hardware Center & Toys in Paoli, Pa., told TDmonthly that Turbo Twister was one of their best-selling novelty toys. 7/30/2013 (Price: $29.99; Age: 3 and up)



Marvel - The Avengers "Hero Team Chase" Race Set by CARRERA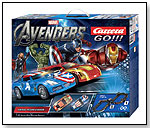 Inspired by the hit movie, the Carrera Go!!! Marvel - The Avengers Hero Team Chase Race Set lets kids ages eight years and up recreate the excitement of their favorite heroes at home. The starter set includes 15 easy-to-assemble bolt system track pieces, Captain America Stormer and Iron Man Tech Racer, and 2 turbo speed controllers for added racing boost. Each car features high-quality detailing and is fitted with double contact brushes for secure, powerful racing play. 12/11/2012 (Price: $79.99; Age: 8 and up) [Add to my Inquiry Basket][?]



iLaunch Thunder by DREAM CHEEKY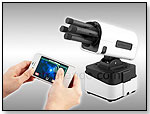 The Dream Cheeky iLaunch Thunder is a Missile Launcher made for iPod touch, iPhone, or iPad. Strike fear into the hearts of fellow cube-dwellers with the iLaunch Thunder. Wirelessly controlled by an iPod touch, iPhone, or iPad, the iLaunch Thunder combines the best of Bluetooth technology and extreme innovation with a bit of insanity…With a 270 degree horizontal rotation, a vertical flexibility of more than 40 degrees and a shooting distance of around 25 feet, the iLaunch Thunder will cover more than 1,400 square feet of their workspace. That definitely gives users more than enough coverage to declare some serious office warfare. Launch date: December 2011. 10/10/2012 (Price: $79.99; Age: 8 and up)



Air Hogs Hover Assault Radio-Controlled Helicopter, Black by SPIN MASTER TOYS

No target is safe from the pinpoint accuracy of the missile-launching Air Hogs Hover Assault Radio-Controlled Helicopter. Children can take aim and blast with the push of a button. Kids can use the arsenal of plastic missiles to attack stationary targets or engage in full on air-to-air combat. With Steady Fly Technology, kids can engage targets like never before. Turn any room into the ultimate battleground with the Air Hogs Hover Assault Radio-Controlled Helicopter. Launch date: 2012. 9/19/2012 (Price: $39.99; Age: 8 and up) [Add to my Inquiry Basket][?]



Hot Wheels Terrain Twister Radio-Controlled Vehicle, Green by MATTEL INC.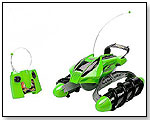 No terrain is too tough for the Terrain Twister vehicle. The possibilities for excitement are endless. The vehicle is equipped with pontoons sporting corkscrew-shaped treads rather than wheels that help this vehicle handle any environment. Children can conquer snow, water, dirt, grass and other tricky terrains to ride off into any adventure. Launch date: 2012. 9/19/2012 (Price: $84.99; Age: 8 and up) [Add to my Inquiry Basket][?]



BAT-POD by THINKWAY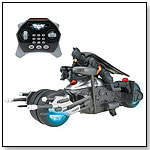 Infrared remote control BAT-POD motorcycle with light-up wheels and SFX. Front wheel pivots right and left for turning and drifting action. Control the bike's movements with the joysticks on the wireless remote or use control buttons to maneuver forward, reverse, left or right. Send instant commands or a preprogrammed actions to the BAT-POD via the infrared remote control. Programmable remote control with over 1000 action combo sequences. Remote requires 3 x AA and BAT-POD requires 4 x AA alkaline batteries (4 x AA batteries included for demonstration only). Battery life may be impaired. Replace with new batteries (not included) for full function play. 9/18/2012 (Price: $44.99; Age: 4 and up) [Add to my Inquiry Basket][?]



Illumivor Mecha-Shark by SKYROCKET TOYS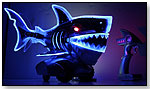 The Illumivor Mecha-Shark is a glowing radio-controlled predator with animated chomping teeth, a smooth moving tail and ominous sound effects. Menacing in the light, these mechanized carnivores really come to life in the DARK, when they appear to be swiftly swimming across the the floor. Illumivor Sharks are huge, measuring 18 inches from nose to tail. Control the attack with a cool Shark Fin Controller (included). 9/18/2012 (Price: $89.99; Age: 6 and up) [Add to my Inquiry Basket][?]



Remote Control Shape Sorter - Animal Express Train by THE LEARNING JOURNEY INTERNATIONAL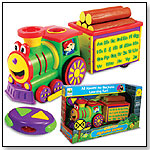 All aboard the Animal Express Train to learn about animal shapes and colors. Animal Express Train has three play modes- Learn the Color and Animal Shapes, and Find It! that are played by simply inserting the plastic animal shapes into their proper slots. Mode three allows children to control the train by using the infrared remote control to move the train forward and backward. While the train chugs along it plays melodies, the wheels move and the nose blinks. The animal shape pieces can be stored in the handy storage compartment inside the train. Animal Express Train also has an automatic shut-off feature that preserves the battery life of the required three "AA" batteries for the main unit (included) and two "AA" batteries for the remote(not included). Launch date: 2012. 9/7/2012 (Price: $34.99; Age: 1 and up) [Add to my Inquiry Basket][?]



Ultra-Micro MD 500D CX 100 by ARES RC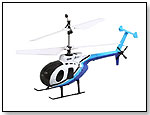 The Ares™ Ultra-Micro MD 500D CX 100 is perfect for first-time and experienced pilots looking for an ultra-scale and ultra-stable heli they can fly indoors almost anytime and anywhere. The highly-detailed MD 500D scale body is equipped with LED lights and is available in two attractive trim schemes while the included decals allow for quick and easy customization as a News, Rescue, Fire or Police helicopter. The MD 500D CX 100's coaxial, counter-rotating blade design offers excellent control and unsurpassed stability that will have any first-time pilot hovering like a pro in no time. The ultra-micro size and low weight make it possible to fly indoors in just about any bedroom, living room or office, and best of all the heli is 100% factory-assembled and ready-to-fly right out of the box. Also in the box is everything needed to fly including AA batteries for the 4-channel transmitter equipped with interference-free 2.4GHz technology, an LCD screen, dual rates and digital trims, a 220mAh 1S 3.7V LiPo battery and DC USB charger for charging from almost any computer or 5V USB power source, plus an AC adapter for quick and convenient charging from almost any outlet.
— In a Summer 2012 survey about electronic and battery operated toys, Mark Rosenblum from Hobbytown in Fairfield, Conn., told TDmonthly that he sells 20-30 RC helicopters from E-Flite and Ares each month. 7/5/2012



Wi Spi Helicopter by INTERACTIVE TOY CONCEPTS LTD.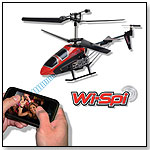 This remote control helicoptecan be flown using an iPhone or Android app and includes a built-in camera that beams live feeds to the mobile device. "Spy" videos can also be recorded and uploaded to social networking sites. 6/22/2012 (Price: $99.99) [Add to my Inquiry Basket][?]



Cyber Cycle by KID GALAXY INC.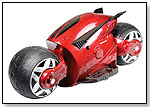 The Cybercycle is full function RC and powered for sleek-riding slides and maneuvers. Designed with hidden wheels that prevent falling over, this motorcycle has front and back wheels that are independently controlled for the coolest of maneuvers. Drive this cycle real fast up to 25 feet or perform power slides and sleek maneuvers. (

Watch Video) 6/21/2012 (Price: $39.99; Age: 5 to 15)



Regal Elite Force Flyer by REGAL ELITE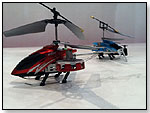 Regal Elite launches its new "Glove Force" technology, which allows users to direct their 'copters by turning their wrists left or right, with the help of a small thumb-controlled throttle. Launch date: Spring 2012. 2/14/2012 (Price: $49.95) [Add to my Inquiry Basket][?]



CarBot by DESK PETS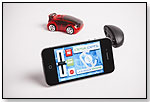 Features 4 modes, Smartphone control mode, maze navigation mode with infrared obstacle detection and demo mode and battle mode. Recharged from USB port by integrated USB flip out USB connector. Fast and furious control using a Smartphone for drift and power slide maneuvers. Shoot at an other Carbots and hear the machine gun sound as your phone vibrates and your opponent. Carbot does spins and swerves from side to side. Shipped with dual transmitter iDesk Pet Universal Remote Control Smartphone adapter (Android and iOS) for increased control distance. Each Carbot three different user selectable frequencies (A,B,C) allowing for up to three Carbots to race and battle. Launch date: August 2012.
— "This little guy not only runs rings around their TankBot from earlier, but continues to give you the choice of autonomous control or letting your smartphone (iPhone/Android) take the lead as to where it can go and how it's going to get there...the little guy moves so fast (good set of wheels working) that I started to run after it at one point...the CarBot is an affordable cool little RC vehicle that you can control or let go off on its own. The battery lasts for plenty of time before a quick USB recharge is needed too." - Review and 4.5 star rating from Marshal Rosenthal at GadgetReview.com. 2/13/2012 (Price: $29.99; Age: 8 and up) [Add to my Inquiry Basket][?]



Syma S109G Apache AH-64 3-Channels Mini Indoor Helicopter by TOY WONDERS INC.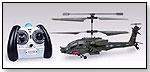 The Syma S109G is a palm size 3-Channels Helicopter. The S109G has a Co-Axial structure which is specially made for first time flyers. The S109G is built with a thick plastic body. The Syma S109G is equipped with a 4-in-1 receiver (Gyro, ESC, Mixer, Receiver), which allows the helicopter to move in all directions: clockwise/anti-clockwise, forward/backward, and up/down. Features: Apache 3-Channels AH-64 Helicopter. Double protection. Head lights. 3D full function. Built-in GYRO. Helicopter can be charged through computer USB socket. 1/12/2012 (Price: $49.99; Age: 14 and up) [Add to my Inquiry Basket][?]



My Web RC - Wiki Rally Street - Souped-up Jitney 1:24 - Ready to Run by MY FUNKY PLANET CORP.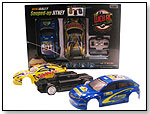 The My Web RC - 1:24 - Wiki Rally Street - Souped-up Jitney - Ready-to-run includes online My Web RC game card for user access. With exchangeable body, full function.
— In a November 2011 survey, Stephanie Dupuy from Playville in Covington, La., told TDmonthly that they sell six units from the Wiki Rally line each month.
— Greg Bonner, owner of Heights Toy Center Inc. in Little Rock, Ark. told TDmonthly in a Summer 2012 survey that he sells just over a dozen My Funky Planet racing cars each month, making them his best selling electronic/battery operated toy. 11/7/2011 (Price: $19.99) [Add to my Inquiry Basket][?]



Air Swimmers Flying Fish - Shark by WILLIAM MARK CORP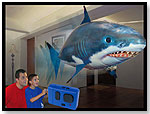 These helium-filled shark balloons are remote controlled to "swim" through the air. The infrared remote functions include climb, descend, and tail fin control. Up to a 40 ft range. 57 inches long, 36 inches high.
— As of 10/14/2011 this product had 2.8 out of 5 stars from 19 reviews on ToysRUs.com. Pros: Visually striking. Cons: Difficult to assemble; flimsy; does not stay inflated very long.
— Mike McCollum, owner of Learning Express in Hoover, Ala., told TDmonthly in November 2011 that Air Swimmers are becoming one of his best selling flying toys. He said that since September 2011, he has sold 16 of the sharks and 7 of the clown fish. (

Watch Video) 10/14/2011 (Price: $41.99) [Add to my Inquiry Basket][?]



Infrared Control Flying Spaceman by MASTER TOYS AND NOVELTIES, INC.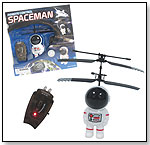 Infrared control flying spaceman with twin rotor propulsion, bright diode lights and ultralite micro components. "We haven't seen another item that is similar to this one," Ernie Wong, president of Master Toys & Novelties, Inc., told ITDmonthly. Launch date: January 2011. 9/2/2011 (Price: $24.99; Age: 3 and up) [Add to my Inquiry Basket][?]



HEXBUG Spider by INNOVATION FIRST LABS, INC.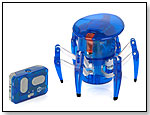 This not-so-creepy crawler features 360 degree steering, an LED forward eye, and two-channel, user selectable infrared remote control. The two-channel remote control enables users to operate multiple bugs independently or at the same time. As the largest member of the HEXBUG family, the complexity of its internal mechanisms and six-legged crawling motion is truly hypnotizing. 3/4/2011 (Price: $29.99; Age: 8 and up) [Add to my Inquiry Basket][?]



Web Runner by FANTASMA TOYS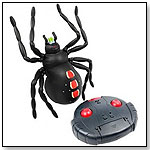 This spider has realistic fully functioning articulated legs, glowing red eyes and can move over any smooth surface. Having 360 degrees of spin motion it will move on floors, walls and even upside-down. Its advanced air suction technology allows the spider to cling onto walls. The spider is completely controlled wirelessly via its combination remote control and charging station (6 AA batteries not included). Each spider comes with its own limited edition collector's comic book as well as a lifelike spider bite temporary tattoo. 2/22/2011 (Price: $39.99) [Add to my Inquiry Basket][?]



Electrix Circuit Electric Ready-to-Run 1/10 Stadium Truck by HORIZON HOBBY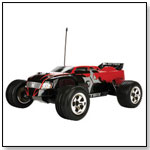 This rugged stadium truck is easy to use, but it's also hard to abuse. It's built from a strong, durable nylon composite material. You can customize the body with the included decal sheet. And thanks to the standard components and mounts, you can hop the Circuit up with additional bodies, tires, and parts and accessories. Nylon composite material gives it high strength and durability. Clipless battery retaining system means there are no body clips to lose. Oil-filled shocks provide great handling that is also adjustable. AA batteries also included. 12/21/2010 (Price: $179.99) [Add to my Inquiry Basket][?]



D-FLY XL Alloy with Gyro Helicopter by EMIRIMAGE CORP.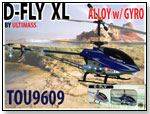 The D-FLY XL Alloy with Gyro Helicopter, is an extra large sized remote control helicopter, approximately 1.5 feet long. It comes with LED Rockets, easy to fly, and very stable for indoor and outdoor flight. Features a Li-Po battery for longer flying time. 11/5/2010 (Price: $140.00; Age: 13 and up) [Add to my Inquiry Basket][?]



Iron Man 2 Whip-It Racer RC Vehicle by SILVERLIT TOYS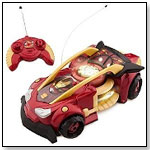 A fun remote-controlled car based on the movie. Red and yellow with a big thick bumper in the front, this car is easy to steer.
Awards: Oppenheim Toy Portfolio Best Toy Award, Gold Seal, 2010. 10/14/2010 (Price: $39.99; Age: 5 to 12) [Add to my Inquiry Basket][?]



Star Wars Millennium Falcon Remote Control by HASBRO INC.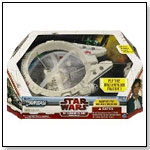 Star Wars fans are likely to have this remote controlled Millennium Falcon on the top of their wish list. It is very lightweight and takes a certain amount of practice to get it to fly well. It's not the type of toy that you can hand off to your 8 year old and they will be good to go right from the start. That said, tween and teen testers really liked adjusting the trim and working on their own ability to work the remote control.
Awards: Oppenheim Toy Portfolio Best Toy Award, Gold Seal, 2010. 10/14/2010 (Price: $49.99; Age: 5 to 15) [Add to my Inquiry Basket][?]



Nascar Lights and Sound Car by JADA TOYS INC.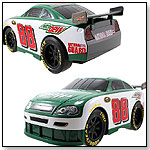 This miniature car makes realistic racing sounds when the doors are pressed and activates its headlights when the hood is pressed. the car measures 7.5." 8/17/2010 (Price: $12.99) [Add to my Inquiry Basket][?]



Science & Nature Radio-Controlled Tarantula by WILD CREATIONS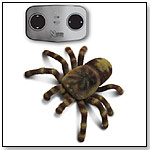 This lifelike 10" RC tarantula is fully directional and can even spin on its legs. (

Watch Video) 8/11/2010 (Price: $28.99) [Add to my Inquiry Basket][?]



Syma S107 Mini Indoor Built-in Gyroscope RC Helicopter by RC TOY HOUSE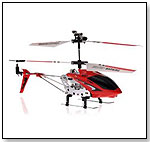 Equipped with gyroscope technology, this helicopter can fly up, down, left, right, forward and backward. It measures 7.5" x 3.8" x 7.5," and can be charged by transmitter or USB cable.
— As of 7.26.2010, this product had 4.5 out of 5 stars from 44 reviews on Amazon.com, and was listed No. 15 in the top 100 best-selling toys and games. PROS: Moves in multiple directions and is durable and stable. Comes with LED lights and a USB charger. CONS: Moves somewhat slowly. USB charger can mean a longer recharge time. 7/26/2010 (Price: $59.99) [Add to my Inquiry Basket][?]



R/C Tarantula by UNCLE MILTON INDUSTRIES INC.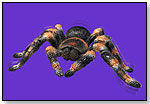 The R/C Tarantula from Uncle Milton puts control of this large, realistic spider in the palms of kids' hands. The flocked texture and detailed coloring of its legs and body give it a lifelike texture, and all eight legs move as it rolls along on wheels concealed under its abdomen, for a convincing scurry. Even the remote control is a creepy spider egg. The Tarantula works best on smooth, flat surfaces and requires two AAA and two AA batteries (not included).
― "[We carry] some battery operated R/C toys. The most popular is the [Tarantula] from Uncle Milton," Patti Tepper-Rasmussen, owner of Learning Tree Toys in Oklahoma City, Okla., told TDmonthly about her best-selling electronic toys in June 2010. 7/21/2010 (Price: $24.99; Age: 6 and up) [Add to my Inquiry Basket][?]



Cobra Elite Mini RC Helicopter with Gyro by COBRA RC TOYS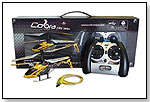 This mini Alloy 3.5 channel helicopter is a premium precision RC aircraft that can be charged via battery or by USB connection. The L99267 also includes a Gyroscopic control chip that maximizes stability during flight.
— Kim Emigh, manager of e-commerce at Growing Tree Toys in State College, Pa., told TDmonthly that "We do not sell many, if any, hobby items;" however, "We did bring in the Cobra RC Helicopter this year."
— Though Kim Emigh, VP of e-commerce at Growing Tree Toys in State College, Pa., told TDmonthly in a Fall 2012 survey that they don't carry many hobby items, she said they have the Cobra Elite Helicopter and it sells well. 6/28/2010 (Price: $49.99; Age: 10 and up) [Add to my Inquiry Basket][?]



Ferrari 599XX, Radio Control Model by AUTOTEC SALES INC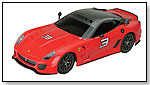 This 1:18 scale RC model is designed to look just like a real Ferrari 599XX, and is fully functional. It includes working headlights and tail lights, as well as a rechargeable battery pack and charger. 5/20/2010 (Price: $39.95; Age: 12 and up) [Add to my Inquiry Basket][?]



Mini HoverDrone by THINKGEEK INC.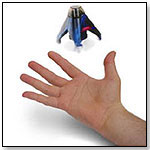 This impressive flying R/C device has a diameter not much larger than a silver dollar and a single propeller on the bottom. The HoverDrone floats in the air as it spins and flashes its blue LED. The simple slider control allows only up-and down movement, making it so easy to fly that anyone can instantly control it. Launch date: 2010.

Product Features:

Incredibly tiny flying r/c toy looks like a Mini-UFO
Up/Down slider on remote controls hovering height
Blue flashing LED on the top
Charges from remote
10 minute charge time. 5-7 minute fly time
Requires 6 AA batteries (not included)
Two different channels allow you to fly two HoverDrones at once
Dimensions: 60mm in diameter, 65mm high
4/22/2010 (Price: $28.99) [Add to my Inquiry Basket][?]




R/C Helicopter by SKYWIDE LIMITED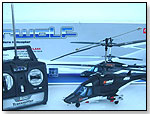 Three channel remote-controlled helicopter with gyroscope technology. Launch date: 2010. (

Watch Video) 3/30/2010 [Add to my Inquiry Basket][?]



Imaginext Bigfoot the Monster by FISHER-PRICE INC.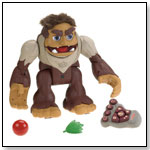 FISHER-PRICE follows up its remote controlled Imaginext Spike the Ultra Dinosaur with the elusive yet irresistible Imaginext Bigfoot the Monster. Kids command Bigfoot with a foot-shaped remote, making him walk, flip, and express emotions. With just the press of a button, Bigfoot roars, snores, talks, eats, works out, and throws his ball. Launch date: June 2010.
— As of 1.07.2011 this product had 4.5 out of 5 stars on Target.com and was listed as one of the site's bestsellers. Pros: Durable; Interactive; Entertaining. 2/14/2010 (Price: $99.99; Age: 3 to 8)



Tomy R/C Tarantula by INTERNATIONAL PLAYTHINGS LLC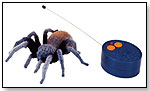 This large, hairy spider comes with a remote control to direct its movement. For a realistic effect, each leg moves separately. It requires two AAA batteries.
— Fred Rosenberg, owner of On the Park in Kingwood, Texas, said in fall 2009 that these R/C Tarantulas are popular at his store.
— Two of 40 retailers mentioned International Playthings when answering a TDmonthly survey about best-selling R/C and hobby items. 11/9/2009 (Price: $34.99; Age: 6 and up)



THIS BANNER IS AN AD:
---
---