---
New & Notable Toys: Clocks & Watches
Check out these new and noteworthy toys.
LEGO® Star Wars™ Darth Maul™ Watch by LEGO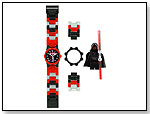 Now kids can build their own LEGO® Star Wars™ watch. Start with the red and black face, then add red, black and gray links to build the watch band in any pattern they like. Includes an illustrated image of a LEGO Star Wars Darth Maul™ minifigure on the face. The two links around the face feature standard LEGO studs for attaching the additional LEGO elements that are included. Add the studded bezel and minifigure, and kids are ready to tell time the LEGO Star Wars way.
— In a Fall 2012 survey, two out of 12 retailers told TDmonthly that kids' watches were one of their best selling accessories. 10/4/2012 (Price: $24.99; Age: 6 and up)



Discovery Kids Digi Fruit Clock by GAMENAMICS INC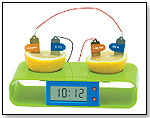 Kids learn the process of electrolysis. When fruit juice is used as an electrolyte conductor, along with copper and zinc, it completes a circuit to produce energy. The clock will continue to tell time for the life of each fruit that's tried. 9/18/2012 (Price: $9.99; Age: 8 and up) [Add to my Inquiry Basket][?]



Children's Quartz Watches by SOLO TIME


Children's quartz watches feature: 3 Dimensional bands; some are teaching time dials, other have minute increments; Battery good for approximately 2 years (can be replaced); Bands are available in several hundred designs; Moving disc on dial. "We have several hundred designs in stock including some that have teaching time dials," Ricky Wilhelm from Solo Time Ltd. told TDmonthly.
— Karen Laroche, manager of Kid's Ketch in Lews, Del., told TDmonthly in a Fall 2013 survey that they sell 15-20 Solo Time watches each month, making them a best-seller in the jewelry category.
— Shirley Reilly, owner of Let's Play in Hillsboro, Ore., told TDmonthly in an October 2014 survey that Solo Time watches were her store's best-selling jewelry and accessories item. 7/3/2012 (Price: $11.99; Age: 3 to 10) [Add to my Inquiry Basket][?]



Zazoo Photo Clock by ZAZOO KIDS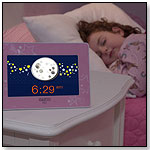 The Zazoo Photo Clock is a multi-media photo alarm clock that visually shows children when they should stay in bed or when it is time to get up and start the day. The photo clock comes pre-programmed with two sets of awake and asleep images. The photo clock can be personalized by parents so that the awake and asleep images feature digital photos of their own children. Can also be used by older children, offering rotating photo frame, alarm clock, video, MP3 and calendar features. The photo frame supports SD, MMC, xD and MS cards and also features a built-in speaker, headphone jack, and USB port. 3/8/2011 (Price: $89.00; Age: All Ages) [Add to my Inquiry Basket][?]



Design-It -Yourself Clock by MARK FELDSTEIN AND ASSOCIATES INC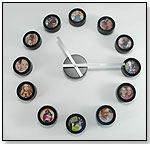 Children can personalize this clock. The clock brings out the creative side of a child by having them cut out and insert their favorite photos, personalized art or favorite quotations into the 12 individual Black Display Frames, one for each hour. The mechanical dial can be mounted to any wall surface; surround it with the display frames to complete designing the clock. Launch date: February 2011. 2/9/2011 (Price: $19.95; Age: 3 and up) [Add to my Inquiry Basket][?]



KWID Learning Watch by CLAESSENS' KIDS/LIVE LOVE DREAM INC.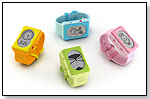 The KWID Learning Watch teaches kids to read digital and analog time by displaying them together so kids can connect the two. The KWID also teaches time management skills, thanks to a digital hourglass timer that is great for tracking privileges, chores, tooth brushing time and more. When the digital hourglass empties, a song plays and a cute animation pops up. In addition, kids can control the playing of five different entertaining animations when they push the "kid" button that is just for them. Launch date: September 2012. 1/12/2011 (Price: $29.99; Age: 4 to 9) [Add to my Inquiry Basket][?]



Popochos™ Watch Skins by POPOCHOS WATCH SKINS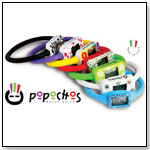 Popochos™, Columbian slang for "cool" or "sweet", is the watch skin made to accompany the silicon sports watch. This watch accessory is stylish, colorful and simple to click on and off of the sports watch. The diverse collection of watch skins includes several trendy designs for Fall including: plaid, animal print and camouflage. 12/8/2010 (Price: $16.00; Age: 12 and up) [Add to my Inquiry Basket][?]



Uglydoll BABO White Ceramic Watch With Swarovski® Crystal by PRETTY UGLY LLC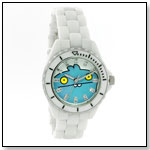 Check out Ugly any time of day with a new line of high-end ceramic watches from the Ugly Doll people. As of 11/29/10, watches were not yet available for purchase, but could be pre-ordered. 12/3/2010 (Price: $495.00; Age: 100 and up) [Add to my Inquiry Basket][?]



Colorful Darkness Watch by Flik Flak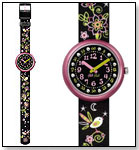 The Colorful Darkness model combines enchanting birds, exotic flowers, twinkling stars and a crescent moon. The pink, green and white designs stand out clearly on the black strap, and the black watch face, with 12 crystals, adds to the magical aspect. It has a fabric strap, and for a bit of extra help telling the time, the hands are color-matched to the hours and minutes on the dial. Flik Flak watches are Swiss made and equipped with a robust aluminium case and scratch-resistant mineral glass. Their Swiss-manufactured quartz movement is designed to guarantee precision time-keeping. They are shock-resistant and can even be machine-washed at 40°C. This Flik Flak Preschool comes with a giant cardboard clock for learning to tell the time. 7/15/2010 (Age: 5 and up) [Add to my Inquiry Basket][?]



Animal Flip Top Watches by STREAMLINE INC.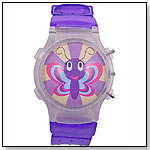 This flip-open watch has a "secret" flashing light and easy to read digital clock topped with a signature animal graphic. Designs are fun for everyone and the battery is included.
Available designs: Butterfly (Purple), Monkey (Red), Dog (Blue), Cat (Orange) 5/28/2010 (Price: $9.99) [Add to my Inquiry Basket][?]



Trend Lab Soccer Ball Clock by TREND LAB, LLC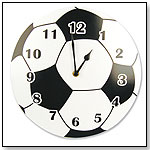 The Trend Lab Soccer Ball Clock has an 11" diameter. AA battery not included. "The unique design and look of our decorative clocks make it easy for parents to decorate their child's room," Marchelle Lyons, marketing coordinator for Trend Lab, told TDmonthly. Launch date: October 2009. 3/24/2010 (Price: $19.95; Age: All Ages) [Add to my Inquiry Basket][?]



"ptown" | PTN2120 | SR195 by MORSE CODE JEWELRY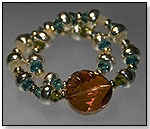 "Ptown," what natives call Provincetown, Mass., is made with the blue of the ocean, the green of the waves, the opalescence of the sand, and the copper fire of the late summer sun. Creamy solid 14k gold and solid .925 sterling silver set the Swarovski crystal ablaze in the handmade piece, designed to be as splendid as that point on the outermost point of Massachusetts' peninsula. The piece is handmade in New England. "morse code jewelry® is bracelets and necklaces with the components laid out in the dot-and-dash pattern of Morse code to 'spell' words," Annie Fields, founder of morse code jewelry®, told TDmonthly. Launch date: September 9, 2009. 10/29/2009 (Price: $195; Age: 12 and up)



Backwards Watch by ACCOUTREMENTS


While this watch can't its wearer back in time, it does create the illusion that time is running backwards. The numbers on each 1.25" round clock face are arranged counter-clockwise and the hands move counter-clockwise as well. The watch has a leather strap and metal casing. It is designed to fit most adult wrists. Launch date: January 15, 2009. 3/31/2009 (Price: $24.95; Age: 12 and up)



OK to Wake! Clock - Flower Design by AMERICAN INNOVATIVE LLC
The clock glows green signaling to children that it is now okay to wake up. Great for parents who want to maximize their available sleeping time. This clock features the flower faceplate. 2/27/2009



Birdhouse Alarm Clock by HEADSUP DESIGN CO.


Even the early bird needs a little help now and then. These charming alarm clocks play the sound of a songbird when the alarm sounds. To snooze or illuminate the clock face, simply press down the perch at the front of the house. "This is the only birdhouse-shaped alarm clock that plays a birdsong when it sounds. [It's] perfect for birdlovers and those who want to bring in a bit of the great outdoors," Daniel Koval, general manager of HeadsUp Design Company, told TDmonthly. Launch date: April 25, 2009. 1/23/2009 (Price: $35.00; Age: 5 and up) [Add to my Inquiry Basket][?]



Telly the Teaching Time Clock by THE LEARNING JOURNEY INTERNATIONAL


Let Telly The Teaching Time Clock help your child learn to tell both analog and digital time using two quiz modes in two languages. In the learning mode, Telly teaches time in five minute increments by moving his hands and updating his LCD screen. In the quiz mode, Telly asks your child move the hands on his face to match the time displayed on its screen. Telly also features a night-light and comes with a fun digital watch. Learning to tell time has never been so much fun! Requires three "AA" batteries (included), or an optional 4.5 V AC Adapter (not included). Recommended for ages three years and up. Telly The Teaching Time Clock is available in yellow or pink. 12/10/2008 (Price: $29.99; Age: 3 and up) [Add to my Inquiry Basket][?]



Wall Clock Plane by COLORI USA/TATIRI
A simple, yet colorful clock with a cartoonish plane to decorate the background of the clock. 11/19/2008 [Add to my Inquiry Basket][?]



Transformers Watches by SEIKO WATCH CORPORATION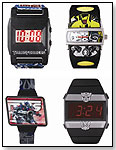 Seiko's jumping on the Transformers bandwagon with cool, kid-friendly timepieces. Some have magnetic lenticular dials and pop out from the back (Optimus changes to a semi; Bubblebee to a Camero, etc.). Tiffany Carr, product developer at Seiko, explained: "They have great toy value. And my favorite has a twist strap with a red digital display that can turn into four different displays!" If you're gonna show your support for Optimus Prime, or wave Barricade in someone's face, this is a cool way to do it. Suggested retail prices range from $7 to $55, depending on the model. 5/25/2007 (Age: 6 and up)



Ultra XP3 Clock by FASCINATIONS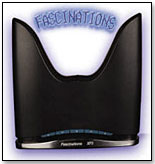 This eye-catching clock uses persistence-of-vision technology to create an image that appears to hover in mid-air. Four custom messages of up to 200 characters each can be programmed. No batteries are required. 12/22/2005 (Price: $59.95; Age: 8 and up) [Add to my Inquiry Basket][?]



Atomic Betty Watches by ARMITRON WATCHES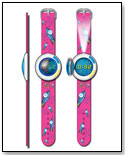 Armitron Watches introduced a line of watches and clocks that feature characters from the hit television show "Atomic Betty" as previously seen on Cartoon Network. The watches remind kids of the lovable and brainy defender of the galaxy, Atomic Betty. Launch date: Fall 2005. 3/16/2005 [Add to my Inquiry Basket][?]



Simone Cat Clock by ANIMATED CLOCK CO


The hottest-selling collection of reproduction vintage circa 1950´s clocks from the Spartus Collection is here. As retro decor sweeps the nation, these clocks are a must-have. "Simone" is a black and white cat clock that´s fashionable enough for the living room or creative office, while charming enough for kids´ rooms and recreation areas. Battery-operated for non-stop style. - Aire Norell 12/22/2004 (Price: $39.95)



Walt Disney Comics Watch Collection by SEIKO INSTRUMENTS USA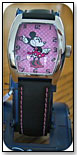 This broad line of watches highlights scenes from classic Walt Disney comics strips reproduced on a round or rounded square dial in a metal case and either side of their leather or silicon (jelly) straps. Disney cast includes Cinderella, Alice in Wonderland , Snow White, Dumbo, Pinocchio, vintage Mickey Mouse and Donald Duck. Each in the Comics Watch collection comes in a collectible tin.  12/7/2004 (Price: $45; Age: 3 and up)



Elvish Ladies Watch by FOSSIL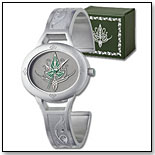 Fossil pays tribute to "Lord of the Rings" Queen Arwen with this 2,000 limited edition Elvish Ladies Watch with a bracelet band. This timepiece´s metal case and band are engraved with vines of the Elfin woods. Upon the metal dial, a green second hand sweeps over an engraving of the pendant that symbolize Arwen´s undying love for Aragorn. 12/7/2004 (Price: $115) [Add to my Inquiry Basket][?]



THIS BANNER IS AN AD:
---
---