---
New & Notable Toys: Play Houses
Check out these new and noteworthy toys.
Driving School Dome Tent by PACIFIC PLAY TENTS INC


Whether your child wants to play driving school or race with theirfriends, they won't need a driver's license to drive this durable tent! Your kids can use their imagination and zoom around the provided race tracks or make up their own games as they play. This "Driving School" tent was designed for car lovers. With enough space for your child and toys, they can play with their toy cars inside or outside.

There is also a 19" tunnel port to add more fun!

7/9/2015 [Add to my Inquiry Basket][?]



Deluxe Puppet Theater by MELISSA & DOUG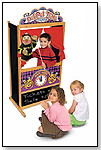 It's show time! This wooden puppet theater has been designed with a sturdy, non-tip base and plenty of room inside for a puppeteer or two! The stylized theatrical graphics and plush, velvety curtains will inspire creativity and expression in any child. Including a clock with movable hands and a chalkboard panel for playbill information, it's a stage just awaiting imagination!
— Bebe Feimster, owner of Big Smile Toys in Paoli, Pa., told TDmonthly in a June 2015 survey that Melissa and Doug's Deluxe Puppet Theater is one of their best-selling furniture items. 6/30/2015 (Price: $89.99)



Kidoozie Royal Princess Play House by INTERNATIONAL PLAYTHINGS LLC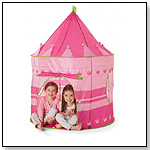 Your little princes and princesses will enjoy hours of fun while playing in the Kidoozie Royal Princess Playhouse. The Kidoozie Royal Princess Playhouse is easy to assemble and big enough to fit two or more little ones. With a front flap door and two mesh windows, the Kidoozie Royal Princess Playhouse is made of durable materials. A carry case is included with the Kidoozie Royal Princess Playhouse.
— In a June 2014 survey, two out of 10 retailers told TDmonthly that the Kidoozie Royal Princess Play House from International Playthings was their best-selling play house.
— In a June 2015 survey, three out of 10 retailers told TDmonthly that the Kidoozie Royal Princess Play House from International Playthings was their best-selling play house. 6/29/2014 (Price: $29.99)



VW Camper Van Play Tent (Pink) by THE MONSTER FACTORY USA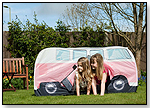 Not to be outdone by their parents, these new licensed T1 VW Camper Van Play Tents are just what every hip and happening kid needs this summer. Perfect indoors and outdoors, these new mini-me versions of the iconic 1965 Split Screen VW Camper Van are too cool for school. Available in light blue and baby pink, they are packaged in a stylish and easy to store VW Wheel bag. Each tent accommodates up to three children comfortably.
— In a June 2014 survey, Dean Smith, owner of JaZams in Princeton, N.J., told TDmonthly that their best-selling play house is "a VW Camper Tent which is selling at a rate of about 10 per month."
— In a June 2014 survey, Dean Smith, owner of JaZams in Princeton, N.J., told TDmonthly in a June 2015 survey that the VW Camper tent is their best-selling playhouse. 6/29/2014 (Price: $59.99)



Princess Rosalina Play Tent by HABA USA/HABERMAASS CORP.
Rosalina and her friends welcome you to an afternoon tea party at their brand new castle! What a lovely space for your child's imagination to run wild. Measuring 35 1/2" L x 20 3/4" W x 43 1/2" H, this tent will fit great in just about any playroom. Children will adore the vibrantly-colored and nicely detailed scene depicted on the outside of the tent! Tent material is made of polyester and frame is made of plastic rods, making both setting up, putting away and storage a quick breeze. 5/14/2014 (Price: $85.49) [Add to my Inquiry Basket][?]



Life-Size Castles by NEAT-OH! INTERNATIONAL LLC


The Knights and the Princess Castles are part of Neat-Oh!'s new 2014 line of Life-Sized Castle products. At 52" inches, the castles stands over 4' tall when assembled, and create a true life-sized arena for fantasy play. These beautiful castles are sturdy, fully printed cardboard structures that can be assembled in endless ways. Multiple castles can even be combined to expand the kingdom. When playtime is finished, the castles collapses flat for easy storage. Like every Neat-Oh! product, the Life-Sized Castles are manufactured to the highest quality and safety standards. 1/23/2014 [Add to my Inquiry Basket][?]



Hide & Seek by PHARMTEC CORP.


Can you find all the items hidden in the graphics? Diamond rings, Banana, Baseball and Bat, Umbrella, Whistle, Comb, Ruler, just to name a few! Children will spend hours searching for the hidden items cleverly disguised in the graphics of this cozy playhouse! Playing house is always fun for kids and even more so when they get to decorate it themselves. Constructed of sturdy cardboard, the single-piece playhouse folds up and down in one easy step. Let kids create their own custom-design home with the set of 8 Jumbo washable markers included (Warning choking hazard not for children under age 3). For ages 3 years and up. Keep cardboard dry. MADE in USA. 43.5Lx28Wx35H". US Patent No. 7,552,563 5/30/2013 (Price: $29.90; Age: 3 and up) [Add to my Inquiry Basket][?]



Happy Villa by HAPE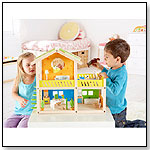 Encourage playing with friends as well as solo play. Listen to the stories a child will tell as they play with this bright and cheerful wooden doll house. 1/4/2013 (Age: 3 and up) [Add to my Inquiry Basket][?]



Deluxe Townhouse by KIDKRAFT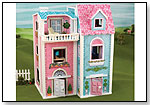 Our Deluxe Townhouse allows young girls to play and explore in a whole new world without leaving the house. This adorable wooden dollhouse comes with 30 accessory pieces and makes a great gift for any occasion. It's so much fun to play interior decorator and move the different furniture pieces from room to room. Features include: 27 pieces of furniture & 3 mini dolls; Folds up for easy storage; Outdoor patio area; 3 levels and 12 rooms of open space; Vivid, detailed backgrounds; Made of composite wood materials; Packaged with detailed, step-by-step assembly instructions; No assembly required.
— Isaac Judd from Magic Beans in Brookline, Mass., told TDmonthly in a June 2013 survey that they usually sell one of these houses during the holidays. 12/5/2012 (Price: $169.00) [Add to my Inquiry Basket][?]



Jake and the Neverland Pirates - Bucky Play Structure by PLAYHUT INC.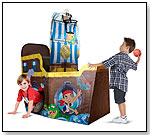 This pirate ship from Jake and the Never Land Pirates assembles in seconds thanks to patented Twist N Fold technology. The sail doubles as a basketball hoop for the mini basketball (included), and there are 2 tunnel ports with roll-up flap doors for easy access and expansion. Approx. 54'L x 29'W x 60'H. Easy adult assembly. Made of non-woven fabric, nylon, mesh and steel. 11/15/2012 (Price: $44.99; Age: 3 to 8) [Add to my Inquiry Basket][?]



Glow in the Dark Crazy Forts by CRAZY FORTS INC.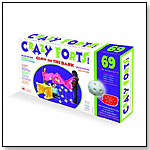 Glow in the Dark Crazy Forts are a unique, award winning, building and creative toy. Glow in the Dark Crazy Forts come with 69 child-safe glow in the dark toggles and rods that join together to build any play space from your child's imagination. Create a "Cave" one day, an "Igloo", "Pirate Ship" or "Castle" the next . put the pieces together in different configurations, cover with bed sheets and "voila." kids have a unique new play space every time. Crazy Fort is powered by a child's imagination. Each Crazy Fort Kit contains 25 geometrically precise balls that glow in the dark and 44 sticks that connect to create a multitude of possible play structures. The Glow in the Dark kit contains balls that glow in the dark for hours when held to the light. 10/22/2012 (Price: $69.99; Age: 5 to 15) [Add to my Inquiry Basket][?]



Little People Disney Princess Songs Palace Play Set by FISHER-PRICE INC.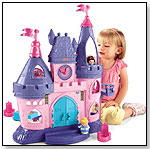 The Little People Disney Princess Songs Palace is a detailed, interactive play set that brings Disney Princesses to life in a special way. The palace features seven play areas. When kids place any Little People Disney Princess figure on a special location on the magical dance floor, it recognizes the specific princess and responds with her name, character phrases and a song from her movie. Includes Snow White and Cinderella pieces. Other princess figures sold separately. Launch date: 2012. 9/19/2012 (Price: $44.99; Age: 1 to 6)



Crayola Imagination Tent by GIGA TENTS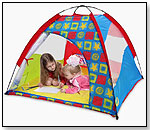 The Crayola Imagination Tent boasts it's very own Art Display System which allows kids to showcase their artwork. Clear mesh panels offer 360º views so kids can see their masterpieces from anywhere. Tent made from Crayola inspired design and graphics. Equipped with a storage pocket for art supplies. Easy to set up. Comes with Carry Pouch. Launch date: November 2011. 3/5/2012 (Price: $19.99; Age: 3 to 12) [Add to my Inquiry Basket][?]



Play House by PLANTOYS


This three-story house comes with furniture and two dolls for various imaginative play. The two-sided play mat serves as a wall and roof, or can be laid down to become a garden. Tools and screws not required. Made of PlanWood and solid rubber wood. 1/20/2012 (Price: $80.00)



PRIMO Play Yard Cabana by PRIMO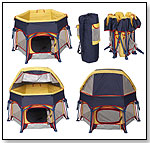 Sleep and Play Anywhere. PRIMO's PLAY YARD CABANA is for indoor and outdoor use. It comes complete with a removable sun-proof cabana cover and travel bag. It has waterproof fabric, a padded bottom, is lightweight, comes fully assembled, and is portable. Extra large size offers plenty of play room for up to 2 children. Great for home, park, beach, grandma's house. For ages Newborn to 3 years. Launch date: February 2012. (

Watch Video) 11/29/2011 (Price: $199.99; Age: 0 to 3) [Add to my Inquiry Basket][?]



Fire Station Play Box by BOX-O-MANIA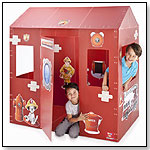 This box can be decorated with the custom stickers to look like a fire station. They can also be drawn on and erased using washable markers. The play box consists of six (6) pieces: a front panel, a back panel, two side panels, the roof and the floor, which locks everything into place. The play box weighs approximately 16 lbs. Once assembled, the play box's dimensions are 55.75" L x 36" W x 57.5" H. Once stored, the play box and carrying case's dimensions are 53.25" L x 20.5" W x 3.5" H. The play box is 100% corrugated plastic, made of High Density Polyethylene (HDPE). (

Watch Video) 10/5/2011 (Price: $99.99) [Add to my Inquiry Basket][?]



Calacasa by Calafant by CREATIVE TOYSHOP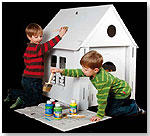 Kids can paint and decorate their dream house, and have their dolls, stuffed animals and friends move into their new cozy home! Just like all other CALAFANT models, this big playhouse can be easily assembled with the special CALAFANT slot-and-groove system – no need for any other tool or glue. The playhouse is particularly sturdy because of the special roof construction, the double-sided walls and the 4 corner pillars. Easy to carry with the recessed grip in the roof. Made from recycled cardboard. Size: abt. 36" x 31" x 38." Launch date: September 2011. 8/29/2011 (Price: $39.99; Age: 3 to 7) [Add to my Inquiry Basket][?]



Playspaces by MUDPUPPY PRESS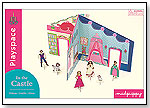 Playspaces come in a decorative envelope but become a 3-D play scene. Two sturdy interlocking boards create four areas to populate with pop-out characters with stands. The reclosable envelope measures 9-3/4 x 15" and has a string closure. 100% recycled paper is used for the product greyboard. Playspaces are designed for children ages four and older. They have small parts, and are a choking hazard for children under 3 years of age.
Awards: A Dr. Toy Best Green Product for 2011 4/27/2011 (Price: $10.00; Age: 4 to 8) [Add to my Inquiry Basket][?]



Adventure Castle by CRAFTY KIDS PLAYHOUSES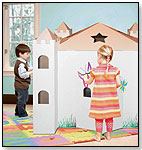 This cardboard playhouse is made in the U.S.A using 100% recycled cardboard material. The Adventure Castle will take any child on an enchanting adventure every day. The unique design allows for a sturdy drawing surface and reliable stability during play. From brave knights in shining armor to carriage riding princesses, every child will enjoy creating there own.The Adventure Castle is eco-friendly and encourages creative play. This playhouse is perfect for birthday parties, play dates, everyday play and rainy day fun. Made from very sturdy 44ECT corrugated cardboard. Measurements (Assembled): 48"L x 48"W x 48"H 4/25/2011 (Price: $49.95; Age: 3 to 12)



Princess Carriage by BOX CREATIONS LLC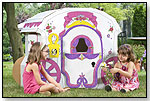 The inside play area of this Princess Carriage easily accommodates 2-3 children. Carriage comes complete with 2 authentic lanterns, swinging carriage doors and a sunroof. Carriage has detailed pre-printed line work and includes colored markers. 3/22/2011 (Price: $34.99; Age: 3 to 8) [Add to my Inquiry Basket][?]



Pop N' Play Castle by BuildaDream Playhouses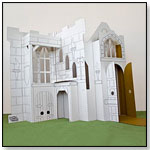 BuildaDream Playhouses give children the gift of creativity. The unique products are lightweight, sturdy and easy-to-assemble with no adhesive or fasteners required. The cardboard is printed with black graphics on white corrugated cardboard made from 80-percent recycled materials, to allow children to decorate with creative accents, making it their own. 12/8/2010 (Price: $59.95; Age: 3 to 9) [Add to my Inquiry Basket][?]



Kids Crooked House - Pirate Ship Playhouse by KIDS CROOKED HOUSE


Kids Crooked House can customize a playhouse specifically to the interests or needs of a child. Custom-designed playhouses are handcrafted and built to individual requirements. Parents can turn to the company's existing designs for inspiration or ask their kids (or inner kid) to describe their dream playhouse. Launch date: June 2009. 7/17/2009 (Price: $7300.00; Age: 1 to 12) [Add to my Inquiry Basket][?]



Le Cafe by TIME TO PLAY CORPORATION LIMITED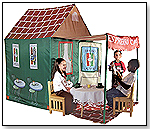 Le Cafe is the perfect place to share a cup of coffee or tea. This 48' x 48" x 70" playhouse features an awning, roll-out patio and swinging front door with a roll-up window. The cover is made of high-quality polyester in bright, vibrant colors. Shock-corded poles make for easy set up and storage. It includes an apron. Launch date: January 4, 2008. 8/27/2008 (Price: $49.99; Age: 3 to Adult)



Lilach Doll House by PASTEL TOYS


This two-floor, open-plan doll house with a base and slanting roof features window openings at the back. It is styled from composite wood (MDF) and comes with sanded corners that give it a traditional look. Dimensions are 69 cm H x 30 cm D x 60 cm W. Launch date: 2006.
Display Ideas: Display with a few items of doll furniture that will show off the versatility of the layout. 7/18/2008 (Price: $97.00; Age: 1 and up) [Add to my Inquiry Basket][?]



Crawlerpillar by INSECT LORE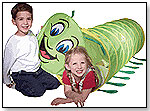 This 5'-long crawl-through tunnel comes with a removable Caterpillar face and is made of sturdy material.
—"The Crawlerpillar always does really well in spring. I probably go through a dozen of those a month," Lynn Sanchez, owner of Wiz Bang Toys in Lake Oswego, Ore., told TDmonthly when asked about best-selling furniture and playhouses in June 2008.
— Five of 62 specialty retailers mentioned tents and tunnels from various manufacturers.
— Insect Lore also offers a Butterfly Bungalow tent. 7/10/2008 (Price: $21.99; Age: 4 and up) [Add to my Inquiry Basket][?]




Ryan's Room Carry 'n' Play Dollhouse by SMALL WORLD TOYS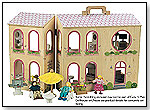 Outfitted with magnetic closures, this portable dollhouse with a wooden handle comes with a kitchen unit, a table, a rug, a fireplace, a sofa and other accessories.
— "We sell playhouses — wood playhouses from Ryan's Room," Kathy Goeddy, manager of JaZams in Pennington, N.J., told TDmonthly when asked about best-selling furniture and playhouses in June 2008.
— One other retailer, out of 62, mentioned dollhouses from Ryan's Room as a top-selling item in that category.
— The Ryan's Room brand offers several different styles of wooden dollhouses. 7/10/2008 (Price: $80.99) [Add to my Inquiry Basket][?]



Circus Tent by BAZOONGI KIDS


Our Circus Tent is fun with vibrant colors for hours of indoor and outdoor play. 9/21/2007 (Price: $124.99; Age: 3 and up) [Add to my Inquiry Basket][?]



Tent Combo Set by SCHYLLING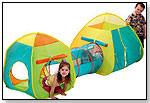 This combo set includes two colorful pop-up tents that pop up and down in seconds, plus a sturdy polyester tunnel that connects them. It includes hold-down pegs and a "Go Anywhere Bag."
— Joe Berardoni Jr, owner of Pun's Toys in Bryn Mawr, Pa., told TDmonthly in a June 2013 survey that they don't sell traditional playhouses, but they do sell these nylon play tents from Schylling. 7/6/2007 (Price: $59.90; Age: 3 and up)



Super Fort by CRANIUM INC.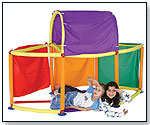 Kids can supercharge their imagination with Cranium's Super Fort building system. Hundreds of structures can be built with the Super Fort, including submarines, fantasy castles and more. The fort can be built safely and easily using quick-snap magnetic connectors and foam tubes, and it comes with floor and fabric panels, clips and large and small storage bags.
— "Probably the best [play house] we've got going now is the Super Fort from Cranium," said Dan Willis, owner of Communique Toys in Seattle. "We probably sell a couple a month."
— Two of 62 retailers TDmonthly spoke with in spring 2007 specifically cited Cranium forts when asked about customer favorites in play houses and furniture.
— "As opposed to fantasy-based play delivered by traditional small-scale construction toys, Super Fort delivers a stronger role-play experience where kids can actually climb into the 'rocket' they just built, for example," said Cranium Head of the Hive Heather Snavely. 6/15/2007 (Price: $39.99)



Doorway Playhouse by THE STEP2 COMPANY
Turn any room into a playhouse with this unique playset. This indoor "playhouse" can be used in a doorway or freestanding to create a playhouse as big as your child's imagination. "We just make sure that things are very bright and colorful," Jacklyn Warrick, marketing coordinator for Lumisource, said of the company's furniture. 5/22/2007 (Price: $59.99)



THIS BANNER IS AN AD:
---
---