---
New & Notable Toys: Preschool
Check out these new and noteworthy toys.
Amphibious Vehicle by HABA USA/HABERMAASS CORP.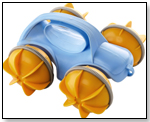 On land or in the sea ... wherever, playing is just fun with this vehicle. It's ability to glide across the water will make your bath or beach time engaging. 7/20/2015 (Price: $14.99; Age: 1 and up) [Add to my Inquiry Basket][?]



Laugh & Learn Piggy Bank by FISHER-PRICE INC.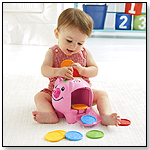 Count on plenty of learning fun and musical rewards with this delightful friend. Baby will learn about counting, colors, animals and sizes with songs, music, speech, and activities that respond to baby. There are 10 colorful coins to drop into the slot while counting along, comparing big and small, and discovering mommy and baby animals. Press the piggy's snout for musical responses, open the door for put-and-take play, and enjoy fun sing-along songs. Make learning more fun with the Laugh & Learn collection of toys. With rich music, sing-along songs, and lots of activities, they combine early academics and everyday experiences—for the way kids really learn! Requires 3 "AAA" alkaline batteries (included). 5/28/2015 (Price: $24.99; Age: 0 to 3)



Ambi Toys Lock a Block Sorting Box by GALT TOYS


This strong lockable box comes with two sets of three-dimensional sorting blocks for hours of shape and color matching activity. Mention ToyDirectory for special considerations

3/24/2015 (Age: 1 and up) [Add to my Inquiry Basket][?]



Janod Princess Palace by JURATOYS US CORP


Colorful cardboard carry case opens to two-level castle. Imaginative playset features a 16 piece reversible puzzle playmat and 28 accessories, including wooden characters, horses, and coach. For ages 4+ years.

1/27/2015 (Age: 4 and up) [Add to my Inquiry Basket][?]



Lite-Brite® 200 by SCHYLLING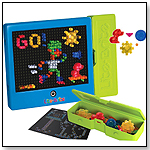 Lite-Brite®, the classic toy that's been letting kids create with light since 1967 is being reintroduced with updates! 200 shaped pegs, light effects, 6 reusable templates, and removable storage tray insure that generations to come will continue to be delighted and inspired by this childhood favorite. 8"x 11.5"x 0.5". 11/13/2014 (Price: $26.00)



Squigz Benders by FAT BRAIN TOY CO.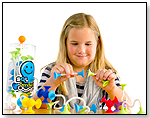 Squigz Benders join Squigz imaginative construction. These Fun Little Suckers bend, twist and loop their way into creative play! Connecting to each other and to any solid, non-porous surface - Squigz are a species all their own. They flex. They stick. They suck people into creativity. Once they take hold, it takes some pull to separate them. When Squigz POP! in protest - you'll have to admit… your hands and ears are shamelessly delighted! 11/13/2014 (Price: $24.95)



Dino Cars by PLANTOYS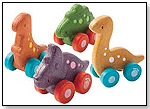 Cute Dinosaur baby cars match perfectly with small baby hands. Baby will enjoy rolling it around. 5/29/2014



Nubble Rumblers by BEGINAGAIN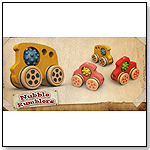 This chunky and funky wooden vehicle has a tactile Nubble "driver" made from natural rubber. The six-inch-tall, red Nubble Rumbler Truck encourages kids to play actively and is great for developing fine motor skills. Made from sustainably harvested rubber wood with non-toxic, child safe stains. For 18 mos+ 4/28/2014 (Price: $15.00; Age: 1 and up) [Add to my Inquiry Basket][?]



Green Tones Monkey Glockenspiel by HOHNER


An eye catching design with an adorable face that children love. The all natural Rubberwood body is easy to hold and play. Featuring eight precision tuned bars arranged in a C scale provides an authentic musical experience and pleasing soundscape. Can be played flat on a surface or vertical.

2/11/2014 [Add to my Inquiry Basket][?]



Caillou Firetruck Set by IMPORTS DRAGON


Caillou Firetruck Set - a play set featuring Caillou and fire-fighting accessories.

1/20/2014 [Add to my Inquiry Basket][?]



Pop! Pop! Piano™ by PATCH PRODUCTS INC.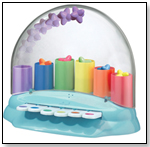 When children press a key on the piano, they not only hear a sound, they see stars pop up! The clear arch guides the popped stars onto a different pipe so when another note is played, they'll pop some more! Adults can remove the arch to allow the stars to land on the floor, encouraging children to crawl after them. Pop! Pop! Piano measures 9" x 11" x 5.34" with clear arch attached. For ages 12 months and up.
— Dean Smith, owner of JaZams in Princeton, N.J., told TDmonthly in a January 2015 survey that Pop Pop Piano is their store's best-selling musical toy. They sell around 10 each month.
— Dean Smith, owner of JaZams Toys in Princeton, N.J., told TDmonthly in an April 2015 survey that the Pop-Pop Piano is their store's best-selling infant & toddler toy. They sell around 12 each month.
7/11/2013



Imagine I Can Lace & Play Fish by MANHATTAN TOY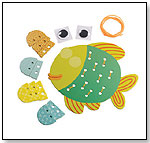 Lace and play fun is in store. This fabulous fish lace and play character is great for play time fun or as a decoration to hang when done. Lacing activity supports the development of hand-eye coordination fine motor skills. 2/20/2013 (Price: $5.00) [Add to my Inquiry Basket][?]



Puzzle Match - The Pet Shop by WOWOPOLIS LLC


Different from traditional memory games in which two identical cards are matched, Puzzle Match has kids search and match three puzzle piece parts of one image to complete the match. For example, players search for puzzle pieces of the head, body and claws of a parrot to make the match. As an added value, once kids finish the memory game and match the interlocking pieces, the pieces can be assembled into a giant, beautifully illustrated scene. "Unlike traditional memory games in which two identical cards must be found for the match, Puzzle Match - The Pet Shop has players searching and matching three different parts of one full picture to make the match," Ari Weinstock, CEO of Wowopolis, told TDmonthly. Launch date: May 2013.
Awards: 2012 Dr. Toy Best Picks New Products 1/8/2013 (Price: $14.99; Age: 3 and up) [Add to my Inquiry Basket][?]



First Builders- Billy Beats Dancing Piano by MEGA BRANDS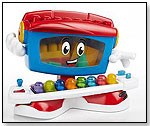 Sounds just like a real piano with transparent keys that light up. Moves and dances to the beat. Removable cap to store blocks. Launch date: Fall 2013. 12/20/2012 (Price: $39.99)



YouTurns by B. toys by BATTAT INC.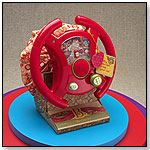 Get the road trip started as you steer your little car around the B. town on the screen, which lights up for night driving. Shift through forward, neutral and reverse. Both the engine and the horn make actual sounds. The LED blinkers let everyone know where your little driver is headed. Your child can push the music button to hear 3 driving songs in 3 unique styles. The YouTurns also make the perfect car seat toy – flip it over and it doubles as a pillow.
Awards: 2012 Dr.Toy Best Picks 12/14/2012 (Price: $19.99; Age: 1 to 5)



Charles the Airplane by RUBBABU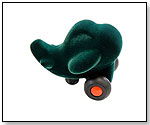 This special assortment of 8 fuzzy colorful durable, safe and fun toy vehicles includes plane, car, fire engine and bus. They are the perfect size for little ones to grab onto. With all the different colors and shapes they provide endless hours of pretend play and story telling. Rubbabu toys are made of soft, squishy rubber foam, which is organic, hypo-allergenic, and completely biodegradable. They are covered with the brightest, best-quality Swiss flock for a surface your child will enjoy playing with. This is a safe, durable and fun toy for preschoolers to enjoy at home and on travel. They are also available as a Little Vehicle Assortment B and the new Shape Sorter Bus.
Awards: 2012 Dr.Toy Best 20 for $20 12/14/2012 (Price: $19.95; Age: 0 to 6) [Add to my Inquiry Basket][?]



Animal Tower Growth Chart by eeBoo corp.


eeBoo's long awaited Animal Tower Growth Chart, illustrated by children's book illustrator Melissa Sweet, is finally here. The Growth Chart features an enchanting tower with a smiling animal at each window, so that with each growth spurt, children will come eye-to-eye with a new animal friend. Comes with 32 fun stickers to mark birthdays and other important events. Other great eeBoo Growth Charts include Space, Hot Pink Flower, Growing Like A Sunflower, Up in the Castle, Musical Fairy Tree, Baseball, Birds in a Birch Tree and Firemen. 12/7/2012 [Add to my Inquiry Basket][?]



Forest Babies Beginner Puzzle by PETIT COLLAGE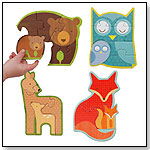 Progressive puzzles grow with kids. As preschoolers master the 3-piece puzzle, they then progress to the 4-piece, 5-piece, and 6-piece puzzles. Four puzzles included in each set. Easy slide box allows for quick clean-up. Large chunky puzzle pieces measure about 2x3" each. Made with 80% recycled content and printed with vegetable based inks. Conforms with CPSIA and ASTM standards. 12/4/2012 (Price: $13.00; Age: 4 and up) [Add to my Inquiry Basket][?]



Magic Castle Princess Carrying Case by PLAYMOBIL INC.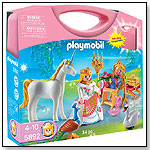 Kids will have fun when they are on the go with the Princess Carrying Case. This easy to take-along playset comes with a figure, unicorn, peacock, swan, vanity, and other accessories.
— Peg Scholtes, owner of Capitol Kids LTD in Madison, Wis., told TDmonthly in a December 2014 interview that Playmobil take-along sets, particularly princess and pirate, are some of their best-selling play sets. 10/24/2012 (Price: $10.99; Age: 4 to 8) [Add to my Inquiry Basket][?]



green start™ chunky wooden puzzles: big and little by INNOVATIVEKIDS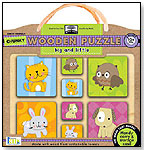 Each fun animal piece is the same shape, but four are large and four are small. Kids can match the big pieces with the little pieces or mix them up to make different pairs or patterns. Skills in this puzzle: Recognition of size relationships; Understanding of sorting, matching, pairing, and patterning; Slight visual support in wells. 10/23/2012 (Price: $12.99) [Add to my Inquiry Basket][?]



SET Junior by SET ENTERPRISES INC.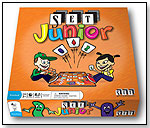 SET Junior is two games in one box. Its two-sided game board allows kids to start playing as young as age 3. Side one is just matching. Match each tile to its square on the board using colors, shapes and numbers. Players earn point chips for each SET they complete. When ready, flip the board over and race to find SETs on their own. On side two, there are no turns and no luck. This game is fun, competitive and educational. Launch date: July 2012. 10/17/2012 (Price: $12.99; Age: 3 and up) [Add to my Inquiry Basket][?]



Bounce Bounce Tigger by JUST PLAY LLC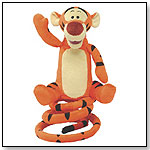 Enjoy countless hours of fun with a toy based on Tigger from the Winnie the Pooh series. The colorful black-and-orange tiger rests on his bouncy tail and plays the "Bounce Bounce" song for listeners. Tigger waves and bounces as the music plays. The doll is made of sturdy polyester and features a control unit, allowing you to set the appropriate volume for the toy's song. 10/11/2012 (Price: $39.99; Age: 3 and up) [Add to my Inquiry Basket][?]



Free Play Magnatab by KID O PRODUCTS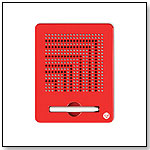 Let the magnetic stylus be your pen and the bead board be your paper. Use your imagination to draw shapes, letters and pictures, popping individual beads to the surface. Erase with the tip of a finger.
— Dean Smith, owner of JaZams in Princeton, N.J. told TDmonthly in a July 2014 survey that the Free Play Magnatab was their store's best-selling toy. 10/4/2012 (Age: 3 and up) [Add to my Inquiry Basket][?]



Tolo First Friends Scooter with Puppy by REEVES INTL. INC.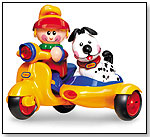 Great free wheeling scooter comes with a First Friend and a Puppy. Encourages interaction and imaginative play. Strong and durable.
— As of 10/01/2012 this product had 5 out of 5 stars from 2 reviews on Amazon.com. 10/1/2012 (Price: $29.00; Age: 1 to 5) [Add to my Inquiry Basket][?]



Rock 'n Table by EDUSHAPE LTD.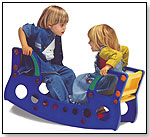 Edushape's new Rock 'n Table is an adorable play table for two toddlers, but turn it upside down and it instantly converts to a see saw. Brightly colored and extremely sturdy, it is a toddler's dream for both indoor & outdoor play. Launch date: August 2012. 7/5/2012 (Price: $100.00; Age: 2 to 5) [Add to my Inquiry Basket][?]



Night-Owl Portable Night-Light with OK to Wake by AMERICAN INNOVATIVE LLC

He glows softly at night in yellow, blue or pink providing comfort in the dark. As an added bonus, Night Owl also features Onaroo's "OK to Wake!" green light in the morning. Toddlers can take this cuddly friend beneath the covers or to the potty. The Night Owl lives in his included AC-powered tree branch base or runs on ordinary AA batteries when removed for take-along fun. When Night Owl is placed on his tree branch, batteries are not drained at all. This dual-power arrangement maximizes battery life while still providing a portable friend that toddlers can carry wherever they go. 6/8/2012 (Price: $36.00; Age: 3 and up)



Scooter & Me Yoga Story DVD series by MOVE WITH ME ACTION ADVENTURES


Follow-along yoga story classes on DVD for ages 3 - 7 that enhance fitness, focus and coordination while also teaching self-regulation techniques called Adventure Skills. Launch date: November 2010.
Awards: 2010 Telly Award; 2011 Creative Child Magazine Exercise DVD of the Year; 2011 NAPPA Gold; 2011 Parents Choice; 2011 Mom's Choice 5/11/2012 (Price: $129.95; Age: 3 to 7) [Add to my Inquiry Basket][?]



Yoga Motion Bundle by NAMASTE KID LLC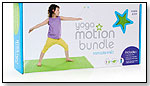 The Yoga Motion Bundle contains a Yoga Motion DVD, a Shining Star stainless steel water bottle, and an apple green child-sized yoga mat. Yoga Motion engages children in active play, while they exercise their bodies and expand their imaginations. The DVD contains 10 chapters, each is a complete 3-4 minute yoga routine. Children can play Yoga Motion from beginning to end as a long yoga workout, or mix-and-match chapters for a unique yoga experience. Product designs are clean and modern. Launch date: October 2011.
Awards: 2012 Parents Choice Award 5/11/2012 (Price: $45.00; Age: 2 to 8) [Add to my Inquiry Basket][?]



Quercetti Georello Basics by INTERNATIONAL PLAYTHINGS LLC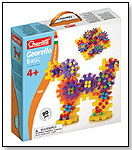 Allows children to learn about cause and effect and simple principles of mechanics. Build a base by attaching the interlocking plates and attach gears to form a chain reaction. Turn the handle to set everything in motion. Soft plastic with round edges, totally unbreakable and safe. 80 pieces. 4/24/2012 (Price: $19.99; Age: 4 and up)



ABCs Memory Game by BRAINY BABY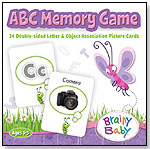 This modern take on the classic memory game is especially designed to build kids' recognition, memory and matching skills with letters and everyday object association. Includes 24 picture and letter cards that make 12 complete matching pairs. 4 puzzle sks available: 123s, ABCs, Animals, Shapes & Colors. 2/29/2012 (Price: $9.99; Age: 1 to 5) [Add to my Inquiry Basket][?]



iBuKu Pets by ARBORCUBE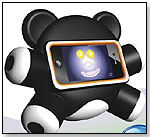 iBuKu Pets are fun, lovable characters that turn any smartphone into a cuddly pet. iBuKu Pets are not just a protective holder for mom or dad's new iPhone (although they work well in this scenario too), but iBuKu Pets are intended to breathe life back into older used smartphones that have been placed aside in a drawer somewhere. Why not give that used smartphone to a child as a learning tool? One major issue with older phones is that their batteries often don't hold the charge they once did. iBuKu Pets will have versions with not only a secondary battery inside, but also with the ability to wirelessly charge the batteries by simply setting the iBuKu Pet on a charge pad. Image a child never having to remove the phone from his iBuKu Pet, but rather setting him on his bedside table to charge at night. While charging, the iBuKu Pet will turn itself on as a nightlight when it hears the child wake up, or it will be an alarm clock for school-aged children. And when they wake in the morning, the iBuKu Pet is charged and ready for a new day of learning activities. Launch date: April 2012. 2/13/2012 (Price: $39.99; Age: 3 to 12) [Add to my Inquiry Basket][?]



Melissa & Doug Deluxe Latches Board by MELISSA & DOUG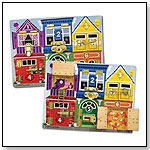 Kids undo a latch, swing open the numbered door, and see the picture beneath revealed on this wooden play board. Build fine motor skills while learning colors, numbers, animals and more. Measures 15.7" x 11.7" x 1.6".
— As of 10/26/2011 this product had 4.4 out of 5 stars from 130 reviews on Amazon.com. Pros: Helps develop manual dexterity; durable; pieces are attached and can't get lost. Cons: Sharp edges on latches; fingers can get pinched in the latches. 11/17/2011 (Price: $24.99; Age: 3 to 5)



Wooden Hamburger Educational Stack Toy by CHARLIE'S WOODSHOP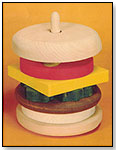 The Wooden Hamburger is a non-sequential educational stack toy that delights kids of all ages, from 1 yr to 101+. Hand/eye color coordination, finger dexterity, and non-sequential stacking capability, can all be measured with our stacking wooden Hamburger. There's no right or wrong way to stack it. Made of rugged Western Ponderosa White Pine. The colors are non-toxic stain-like impregnated finishes. Launch date: September 1980. 8/29/2011 (Price: $39.95; Age: 3 and up) [Add to my Inquiry Basket][?]



Thermobaby Kiddyloo Toilet Trainer by JUVENILE SOLUTIONS, INC.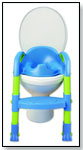 Thermobaby has invented the Kiddyloo for toilet training from 18 months old. Allows the child to do what grown-ups do. The Kiddyloo is very comfortable and its enveloping shape reassures the child. Features include: Soft surface ensures pleasant contact with skin; Ergonomic handles; Non slip step with two settings; Feet adjust to different height toilets; Non slip skids under feet offer stability. Case Pack: 4 units. Min order: 12 units. Colors can be assorted: Blue/Green,Black/White Plum/Lilac, Grey/Green. 8/10/2011 (Price: $43.00; Age: 1 to 4) [Add to my Inquiry Basket][?]



The Sneaky, Snacky Squirrel Game(TM) by EDUCATIONAL INSIGHTS INC.


Kids spin the spinner, squeeze the matching colored acorn with their Squirrel Squeezers, and place it in their log. The first to fill their log with delicious acorns wins. But players need to look out - they could spin "steal an acorn" or "lose an acorn." 3/4/2011 (Price: $19.99; Age: 3 and up) [Add to my Inquiry Basket][?]



Talk of the Farm by ALEX BRANDS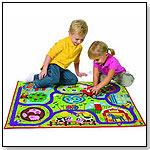 The play mat, Talk of the Farm, is designed for children to learn while they play, reinforcing the concepts of counting, learning colors, and animal sounds and helps children learn to follow directions.
Awards: Dr. Toy 100 Best Children's Products - 2010 10/11/2010 (Price: $47.99; Age: 1 to 3) [Add to my Inquiry Basket][?]



Teach My Preschooler by TEACH MY TODDLER INC.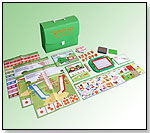 Teach My Preschooler – Get Ready To Read, Print, Count to 100, Add & Subtract, All-In-One Kit. Teach My Preschooler is the multi-award winning, all-in-one learning system for preschoolers. The kit has all the educational tools necessary to help prepare preschoolers for kindergarten. The kit is divided into four sections – Ready to Read, Ready to Print, Ready for 1-100, and Ready for Math – each fully-coordinated with books, flashcards, posters, a print guide and magic drawing board. Developed with education consultant, Judith Rowlands, M Ed., Teach My Preschooler is designed to give preschoolers a head start, develop fine motor skills, encourage parent/child interaction and increase school readiness skills. "The unique selling feature is the 'One Stop Shop' all-in-one learning kit format! Preschoolers can master reading, printing numbers to 100 and early math, with just one kit," Christy Cook, founder of Teach My Toddler, told TDmonthly. Awards— iParenting Media Award 2010; Dr. Toy 100 Best http://www.youtube.com/watch?v=WMlB0bTIUr8.mp4 8/24/2010 (Price: $49.99; Age: 3 to 6)



PLAYSKOOL Wheel Pals Busy Lil Garden Pal Bee by HASBRO INC.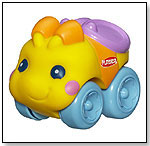 Kids can squeeze and push this free-rolling play figure with a cute character face. The soft, brightly-colored bumblebee is designed for on-the-floor fun. 7/5/2010 (Price: $3.99; Age: 1 and up) [Add to my Inquiry Basket][?]



Dwizzle Dee - Colors, Sizes, Songs & Imagination! by CINEMA WERX LLC


Created to entertain and educate preschool children through colorful and lovable live-action puppet characters and animation, the DVD teaches fundamentals such as colors, sizes and shapes with the help of its distinctive characters.
Awards: 2010 Dove Foundation; 2009 KIDS FIRST! Coalition For Quality Children's Media 6/4/2010 (Price: $14.95; Age: 2 to 5) [Add to my Inquiry Basket][?]



LifeStyle™ Comfort Kitchen™ by THE STEP2 COMPANY

This realistic kitchen and dining counter has a dual-sided design for multi-child use. Its modern features include a "stainless steel" oven, refrigerator and serving utensils. Also included are a 39-piece accessory set, lots of storage, two electronic sound features, and a deep sink. 5/20/2010 (Price: $99.00; Age: 2 to 10)



Grasshopper Preschool Prep Kit: Getting Our Hands Ready by GRASSHOPPER INC.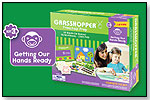 The Grasshopper Preschool Prep Getting Our Hands Ready Kit is packed with playful games and an illustrated guidebook to get children ready for early writing and grasp. Children can feed bugs to Mr.Crunch, play with dozens of reusable stickers, dough stamps, stretchy dough, and more. The Grasshopper guidebook gives parents the tools they need to give their children a head start for school success. Rachel Rudman, President of Grasshopper Inc., told TDmonthly this is "the only product on the market to get kids ready for preschool without electronics and without workbooks ... all fun!"
Awards: Dr. Toy 100 Best Children's Products - 2010 (

Watch Video) 4/28/2010 (Price: $29.95; Age: 3 to 5) [Add to my Inquiry Basket][?]



THIS BANNER IS AN AD:
---
---