---
New & Notable Toys: Board Games

Check out these new and noteworthy toys.




Pokemon Trading Card Game Battle Academy by POKEMON USA
Prepare for a Pokémon battle with the ready-to-play Pokémon Trading Card Game Battle Academy! The Battle Academy includes everything two players need to play, with guides to the decks so your first game is easy to follow.



You can choose Charizard or Pikachu to lead your team in a heads-up battle against another Trainer. Then, switch up the decks to play Mewtwo against Charizard or Pikachu, and lead a different team of Pokémon into the arena! With a little strategy and a little luck, you can battle with the best!




The Pokémon TCG Battle Academy includes:

3 complete Pokémon TCG decks (60 cards each)
Each deck includes a powerful special Pokémon: Charizard-GX, Raichu-GX, or Mewtwo-GX
2 tutorial guides to play right away
1 two-player game board
3 deck boxes to keep the cards organized
1 rulebook
1 large metallic coin
1 set of damage counters
A code card for the Pokémon Trading Card Game Online

More Details:

Country Of Origin: Printed in the USA. Coin made in the USA.
Materials: Paper / plastic
Recommended Age: 6





8/17/2020




The Sleepover Party Game by ENDLESS GAMES


Break out the sleeping bags and leave the lights on. It's a SLEEPOVER PARTY and we're staying up late! Spin the spinner and attempt to complete one of over 200 ACT IT, WORK IT, or PARTY Challenges. Be the Human Mirror and copy everything another player does! Take Part in the "Funny Sound Competition" and make the most ridiculous noise you can!! Try to lick your own elbow!!! Being silly and having fun is the name of the game at this Sleepover, so be prepared to sing, laugh, perform, and make a general fool of yourself! Don't fall asleep early, or you'll miss out on earning the most cards and staying up all night! Kids rule at the SLEEPOVER PARTY, but mom and dad can play too… if they behave! 1/20/2015 (Price: $19.99) [Add to my Inquiry Basket][?]



Pentago Jubilee 10th anniversary edition by MINDTWISTER USA

Pentago 10th anniversary commemorative Jubilee Edition is a two player, five in a row strategy game. A stylish, sleek black and white board is wrapped in an elegant smoky black cover; the marbles are a glamorous black and gold to make a powerful visual impression on all players. Pentago Jubilee is packaged in a clear clamshell packaging to show off the beauty of the game itself, the showy clear visual of the game, framed by a graphically appealing box that communicates the many awards Pentago has claimed over the decade. 12/18/2014 (Age: 6 and up) [Add to my Inquiry Basket][?]



Morphology by PLASMART INC.


Pick it, build it, animate it, guess it. Get ready to make sounds, act out words and race against the other teams to see who can guess the mystery word. A laugh-out-loud game that challenges players to use 35 pieces to build words for their teammates to guess. The first team to reach the final lily pad wins.
Awards: 2014 TDmonthly Magazine Top Toy Award 9/24/2014 (Price: $29.99; Age: 8 and up) [Add to my Inquiry Basket][?]



Snake Oil Party Potion by OUT OF THE BOX PUBLISHING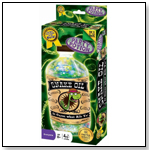 Party potion is the easiest way to get started with Snake Oil. The same crazy fun of the original Snake Oil Game with all new content formulated for children as young as eight years old while still great for the entire family. This edition can be played as a stand-alone game or mixed in with another Snake Oil edition for millions of hilarious new combinations!

6/2/2014 (Price: $14.99; Age: 8 and up) [Add to my Inquiry Basket][?]



CrossWays - The path to victory is not always a straight line! by USAOPOLY


CrossWays™ is a fresh, light strategy game that hooks kids, adults and gamers with its addictive challenges. It's an easy game of playing cards, placing markers, and making paths across the board. But watch out! CrossWays™ is packed with offensive and defensive surprises, and the path to victory is not always a straight line! 2-4 Players or Teams. 15-30 Minutes Play Time. Launch date: Summer 2013 6/6/2013 (Price: $24.99; Age: 8 to 99) [Add to my Inquiry Basket][?]



Bella Loves Bunny by ABRAMS BOOKS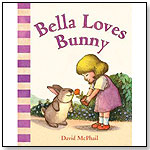 A companion board book to Ben Loves Bear, Bella Loves Bunny shares the sweet story of friendship between a little girl and her beloved stuffed bunny rabbit, from morning till night. Bella and Bunny do everything together. In the morning, they play piano and dance (and hop!). In the afternoon, Bella has lunch and Bunny has carrot cake. At night, they pick out Bella's favorite pajamas and snuggle close until they fall asleep. Launch date: March 2013. 1/11/2013 (Price: $8.95; Age: 1 to 4) [Add to my Inquiry Basket][?]



The Biking Game by EDUCATION OUTDOORS


The Biking Game is a multi-generational game that allows every member of the family to play together. Themed around the legacy of biking with one of the more iconic biking companies on the planet, Schwinn, the Biking Game promotes an active lifestyle while educating and inspiring a future generation of bikers. The Biking Game was created to inspire families and bike enthusiasts to get outside and enjoy one of America's greatest recreational activities together. The game is designed to grow with the player, starting at level one questions, which are primarily identification of basic bike parts and riding etiquette. As the players increase in their knowledge about biking culture they grow into the higher level questions. A fun & educational game where parents & children can race to see who can get their bike through multiple terrain and back home first. 12/18/2012 (Price: $24.99; Age: 4 and up) [Add to my Inquiry Basket][?]



Flip2BFit - Fitness Board Game by FLIP2BFIT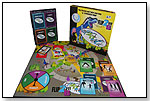 Flip2BFit is the first and only fitness board game in the market today! Flip2BFit helps to fight childhood obesity and encourage a healthy lifestyle through an interactive board game – no gym or video game needed! Kids learn about nutrition, develop self-esteem, confidence and leadership skills by performing the activities in the game. The object of Flip2BFit is to travel through the park to meet "Springer" the dinosaur at the playground. To do this, each player is required to perform a yoga pose, stretch, cardio move or strength training exercise. Learning is achieved through the discovery of movement.
Awards: 2012 PTPA - Parent Tested Parent Approved; 2012 Kidlution - Solutions for Kids 11/16/2012 (Price: $34.95; Age: 6 and up) [Add to my Inquiry Basket][?]



Sukugo Color + Number Sudoku Game Set by SUKUGO LLC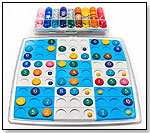 The Sukugo game set is for social Sudoku game. Designed with balance in mind, our innovative approach to Sudoku equally engages both halves of the brain - the left side works on numerical challenges and reasoning while the right side focuses on color patterns and creativity. Although the large game board and colorful numbered pieces are designed to be enjoyed collaboratively with a partner, it's just as fun to play individually. Launch date: October 2012. 11/16/2012 (Price: $24.99; Age: 7 and up) [Add to my Inquiry Basket][?]



Twister Dance by HASBRO INC.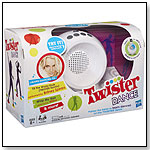 Rock the spots to today's hottest music with the Twister Dance Game. Learn dances by following the Twister spots to songs like "Till the World Ends" by Britney Spears or "Whip My Hair" by Willow. Or kids can dance to their own music by connecting the game to any MP3 player (sold separately). 11/15/2012 (Price: $34.99; Age: 8 and up) [Add to my Inquiry Basket][?]



8 in 1 Game in Wooden Box by NATICO ORIGINALS INC.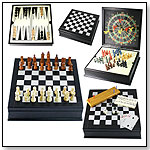 This handcrafted 8 in 1 game includes Backgammon, Checkers, Chess, Chinese Checkers, Cribbage, Dominoes, Magnetic Darts and Poker. The pieces for each game are individually wrapped in black drawstring pouches and stored inside the beautiful black wooden box for safekeeping. Instruction guide included. Dimensions: 10 ½" square x 3". Launch date: December 2012. 10/25/2012 (Price: $75.00; Age: 8 and up) [Add to my Inquiry Basket][?]



Kulami by FOXMIND GAMES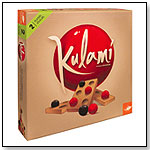 Kulami is a fun, tactile game of strategy for two players. Ten wooden tiles are arranged to form an ever-changing board on which opponents compete to capture the largest number of tiles. Cleverly placing marbles on these tiles will limit adversary's possible moves, while allowing to gain an advantage to clinch the victory. Launch date: 2012. 10/18/2012 (Price: $29.95; Age: 10 and up) [Add to my Inquiry Basket][?]



Space Checkers by WIGGLES 3D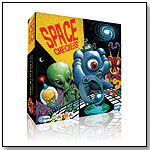 Space Checkers combines the luck of dice with the strategy of checkers. Players capture opponents' flying saucers by jumping over them. The first race to collect any 10 ships wins the game. Launch date: June 2012.
Awards: 2012 Tillywig Best Family Fun Award 10/17/2012 (Price: $15.99; Age: 6 and up) [Add to my Inquiry Basket][?]



Pass-Ackwords by R&R GAMES INC.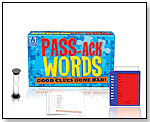 A game for 4 players in which players attempt to give their opponent clues from a list of words that all relate to the secret hidden word. First team to guess the hidden word wins the round and first to win three wins the game. The challenge is to make sure players don't give the easiest clues too early or their opponents may steal the word. Launch date: July 2012.
Awards: 2012 Games Magazine TOP 100 - Word game category 10/16/2012 (Price: $19.95; Age: 12 and up) [Add to my Inquiry Basket][?]



KerFlip! by CREATIVE FOUNDRY GAMES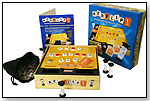 KerFlip is a fun, fast anagram word game that families and word nerds can claim as their own. KerFlip's innovative flip-scoring system rewards players for constructing words FASTER than their opponents can. And cleanup has never been simpler: just sweep used letters into the tile chute and funnel them into a collection cup at the end of the game. "KerFlip features a completely original and innovative way to score, called "flip-scoring." The first time a tile is used, it's worth 10 points. Once it's been scored, flip it to its orange side. Now it's worth only 5 points to other players," Damon Tabb, inventor and owner of Creative Foundry Games, told TDmonthly. Launch date: May 2012.
Awards: 2013 TDmonthly Seal of Approval, GAMES Magazine BEST Word Game for 2013; Oppenheim Toy Portfolio Gold Seal Best Toy Award; 2012 Dr. Toy: 10 Best Educational Products for 2012; Creative Child Magazine: 2012 Game Of The Year; 2012 Majorfun.com: Major Fun Award; 2012 Playonwords.com: PAL Award. 10/2/2012 (Price: $24.99; Age: 8 and up) [Add to my Inquiry Basket][?]



Hive Pocket by SMART ZONE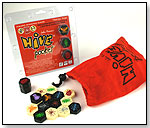 Players must surround their opponent's queen bee while trying to block their opponents from doing the same. Each insect has a unique way of moving (as in chess) and resembles the movement of the insect depicted on the tile.
Awards: 2006 Mensa Select 10/2/2012 (Price: $24.95; Age: 8 and up) [Add to my Inquiry Basket][?]



Smell-O-Rama: Nab Nana's Num-Nums by FAT BRAIN TOY CO.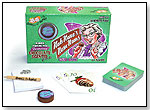 Chocolate cards are played and nabbed, and played and nabbed right back. Players score points by reasoning out which confectionary card combinations will give them the most sweet satisfaction. TOOTHACHE cards, CARROT cards, and BOX-O-CHOCOLATES cards keep the game lively and surprising. 9/17/2012 (Price: $12.95; Age: 8 and up)



Urbania by MAYFAIR GAMES INC.


Urbania is a game of city renewal where players try their hand as a famous urban planner who is working on the re-development of a run-down city. To accomplish the job players must: hire the best specialists and designers. They must submit plans and create blueprints. Players must construct new and dynamic buildings to bring the city back to its former glory. If players can manage your projects well, they will become the most renowned planner and take credit for the city's amazing turnaround. Launch date: 2012. 9/17/2012 (Price: $35.00; Age: 10 and up) [Add to my Inquiry Basket][?]



A House Divided™ - 4th Edition by MAYFAIR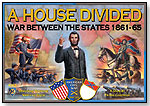 A House Divided simulates the epic struggle of the American Civil War that was fought over the twin issues of slavery and state's rights. The period from 1840 to 1861 saw these issues brought to a boil, and in 1861 the nation became tangled in a terrible war that lasted four long years. The game depicts the war between North and South from the First Battle of Bull Run (or Manassas Junction) to Lee's surrender at Appomattox Courthouse (or Grant's surrender at Harrisburg…). Each player leads one of these two nations and makes the strategic decisions which determine the outcome of the war. The game board represents the United States, north and south and from the Atlantic coast to just west of the Mississippi. Including Missouri, Iowa, Illinois Indiana, Ohio, Pennsylvania, New York, New Jersey, Delaware, Maryland, Virginia, North Carolina, South Carolina, Georgia, Florida, Alabama, Mississippi, Louisiana, Arkansas, Tennessee, Kentucky and West Virginia. The play map contains a number of boxes, each representing a city, town or locations important to the war. These boxes are connected by transportation lines – blue for rivers, tan for roads and black for railroads – which provide the paths to victory or defeat. Playing Time: 60 minutes. Launch date: 2012. 9/13/2012 (Price: $30.00; Age: 12 and up)



Dominion Dark Ages Expansion by RIO GRANDE GAMES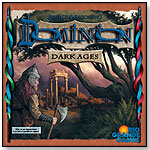 Times have been hard. To save on money, you have moved out of your old castle, and into a luxurious ravine. You didn't like that castle anyway, it was always getting looted, and never at a reasonable hour. And if it wasn't barbarians it was the plague, or sometimes both would come at once, and there wouldn't be enough chairs. The ravine is great, you get lots of sun, and you can just drop garbage wherever you want. In your free time you have taken up begging. Begging is brilliant conceptually, but tricky in practice, since no one has any money. You beg twigs from the villagers, and they beg them back, but no one really seems to come out ahead. That's just how life is sometimes. You are quietly conquering people, minding your own business, when suddenly there's a plague, or barbarians, or everyone's illiterate, and it's all you can do to cling to some wreckage as the storm passes through. Still, you are sure that, as always, you will triumph over this adversity, or at least do slightly better than everyone else. This is the 7th addition to the game of Dominion. It is 500 cards but is not a stand-alone. It adds 35 new Kingdom cards to Dominion, plus new bad cards you give to other players (Ruins), new cards to replace starting estates (shelters), and cards you can only get via specific other cards. The central themes are the trash and upgrading. There are cards that do something when trashed, cards that care about the trash, cards that upgrade themselves, and ways to upgrade other cards. 8/23/2012 (Price: $44.99; Age: 13 to 15) [Add to my Inquiry Basket][?]



I Never Forget An Animal Face Matching Game by eeBoo corp.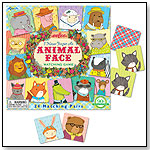 Easily recognizable animal faces are fun to find as players turn over pairs of tiles, searching for a matching pair. Children and adults alike enjoy this game of memory and observation skills. 24 pairs to match. Box is 9"X9". 8/23/2012 (Age: 5 and up) [Add to my Inquiry Basket][?]



No Stress Chess by WINNING MOVES GAMES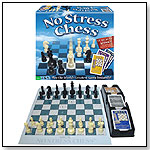 Unlike any other Chess teacher, No Stress Chess teaches kids how to play using illustrated cards and an illustrated 2-sided board. Once players become comfortable with the moves and powers of each piece, flip the two-sided board over and play standard game of chess. For 2 players. Contains a 2 sided chess board, 17 charcoal pieces and 17 ivory pieces, 56 action cards, black plastic card tray and instructions. 8/8/2012 (Price: $17.99; Age: 7 and up) [Add to my Inquiry Basket][?]



MyPlate Food Bingo Game by SMARTPICKS INC.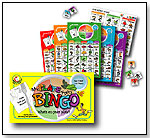 Eating is one of life's greatest pleasures, but poor food choices and eating habits can lead to a lifetime of obesity and other health problems, low energy, general malaise, and even poor self-esteem. MyPlate Food BINGO is a fun, easy way to teach 9 year olds and up how important it is to eat healthy and grow up feeling energized and feeling great. Based on the USDA's revamped MyPlate food categories - vegetables, fruit, whole grains, protein and dairy - this gustatorial game's 95 different foods will get everyone involved considering different options, portion sizes and combinations.
Awards: 2012 Tillywig Brain Child Award; 2012 Parent's Choice Approved Award; 2012 Dr. Toy's Best Vacation Product; 2012 Dr. Toy's Alumni Award of Excellence; 2012 Family Review Center Gold Award; 2012 Creative Child Magazine Game of the Year Award.
— "So much packed into this little package. Great for teachers to incorporate into a classroom activity and great for at home too...An overall great learning tool, that promotes healthy standards in an easy to understand and easy to implement manner." - a review on Family Review Center. 8/8/2012 (Price: $39.95; Age: 9 and up) [Add to my Inquiry Basket][?]



Laughing Stock by MILLIWIK LLC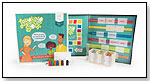 Hilarity ensues in this fast-paced race to become the Laughing Stock™ of the group. Invent the funniest punch lines to over 3.4 million joke combinations and deliver friends' gags with flair. Perfect for parties and family nights, this gut-busting game will have everyone laughing and learning at the same time. "Unlike traditional card games, this one has over 3.4 million possible joke combinations. The game will never get old," David Williams, president of Milliwik told TDmonthly. Launch date: February 2012.
Awards: 2012 Game of the Year award 7/26/2012 (Price: $24.95; Age: 6 and up) [Add to my Inquiry Basket][?]



Mentagy Box Set & Book by PASCO GAMES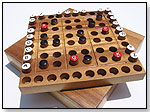 Hand crafted from hardwood the 38 piece hand held version of Mentagy measures just over 6" x 6". To play simply mark the blank spaces with the black pegs and seed letters with the red letters. Players are now ready to use the remaining white letters to solve the puzzle. One advantage of the wooden Mentagy ™ set is that players can solve the puzzles without using an eraser. If a player is in the middle of solving a puzzle and has to stop, they simply place the top on the base and the pegs cannot move. Take the Mentagy ™ set anywhere and continue where the game was left off.
Awards: Summer 2012 Tillywig Award Winner
— As of 12/6/2012 Mentagy: The Next Puzzle Craze (the book) had 5 out of 5 stars from 4 reviews on Amazon.com. 7/18/2012 (Price: $35.99; Age: 8 and up) [Add to my Inquiry Basket][?]



CampAntics by BEREB ENTERPRISES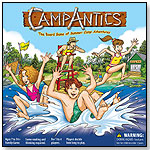 CampAntics™ is the children's board game of summer camp adventures. Each trip around the board is one day at camp, where players participate in daily activities (sailing, baseball, etc.), get into mischief, follow the camp director's announcements, and try to avoid the Forbidden Forest. Primarily for children 5 to 11 years old; also loads of fun for older siblings, parents, and grandparents. Special features include: comic book instructions, many opportunities for social interaction, and single player rules. Launch date: February 2011.
Awards: 2011The Toy Man Award of Excellence; 2011The Noise on Toys Award of Excellence; 2012 Tillywig Toy Awards Sterling Fun Award; 2012 Dr. Toy Best Vacation; 2012 Family Review Center Gold Award 7/13/2012 (Price: $24.95; Age: 5 and up) [Add to my Inquiry Basket][?]



Pride and Prejudice Trivia by MARINA GAMES


Pride & Prejudice Trivia is a fun trivia game based off the novel by Jane Austen. Game includes 300 trivia cards, including 8 bonus Jane Austen trivia questions, score pad, die. Test your knowledge of the book while having fun. Do you know how long Mr. Bingley looked at Netherfield before letting it? If you do, wish you did, or know someone who might, this is the perfect gift. Launch date: May 2010. 7/10/2012 (Price: $19.99; Age: 8 and up) [Add to my Inquiry Basket][?]



xPirate Game by EXIM GAMES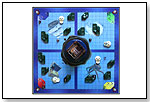 EXIM Games is introducing the world's first and only board game with integrated game play through the use of an Apple iPhone, iPod touch or iPad, patent pending. Only EXIM Games can give kids the ability to use the unique xPirate board game with multiple Apps and mobile platforms. Welcome to xPirate. Players have been recruited as Captains of their own xPirate ship. In this strategic pirate quest for hidden treasure, victory is awarded to the xPirate ship that finds all its hidden treasures and returns home first. Launch date: November 2011.
Awards: 2012 - 2012 Creative Child Awards Program, 2012 Game of the Year Award 7/10/2012 (Price: $49.99; Age: 8 and up) [Add to my Inquiry Basket][?]



Robbin' Eggs by HAYWIRE GROUP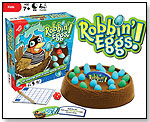 Robbin' Eggs is the eggciting game of math, memory, and luck. Each egg has a number on the bottom - some positive, some negative. Players turn over eggs trying to get the sum as close to the rolled number on the die, all while following sometimes silly rules on the cards. Meanwhile, opponents might have a "rob" card and can steal the egg other players need. Players try to remember the location of numbers as the game progresses…that is, until another player scrambles the locations with a drawn card. The player with the lowest score at the end wins the game. "This game is much more than just an educational math game or a memory game. Because it adds these components together along with the uniqueness of the nest and eggs, and the randomness of the action cards, this game becomes an entertaining family game that happens to help players hone their math skills," Tami Murphy, marketing manager at The Haywire Group, told TDmonthly. Launch date: June 2012. 7/3/2012 (Price: $19.99; Age: 7 and up) [Add to my Inquiry Basket][?]



Catch a Falling Star by PLAYROOM ENTERTAINMENT


A mysterious shooting star has fallen to earth and is stuck on the clothes line. Now players can try to give back the rays to the little star as carefully as possible, without letting any pieces fall down. Some rays will stick to the star, while others will not. For 1-5 players. (

Watch Video) 6/21/2012 (Price: $35.00; Age: 5 and up) [Add to my Inquiry Basket][?]



Kindness Kingdom by MARVELOUSLY WELL-MANNERED LLC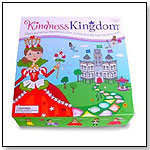 This marvelous manners game encourages empathy, develops social skills and nurtures a kindness of spirit that will help each player lead a more enjoyable and thoughtful life.
— As of 10/4/2012 this product had 5 out of 5 stars from 5 reviews on Amazon.com. (

Watch Video) 6/21/2012 (Price: $35.00) [Add to my Inquiry Basket][?]



Madd Capp Checkers - Dogs by E11EVEN LLC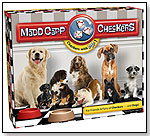 MADD CAPP™ CHECKERS adds a strategic twist, more risk and more fun. What's the twist? A unique dice popper means players can move their own dog bowls and even their opponent's bowls.
— As of 12/6/2012 this product had 5 out of 5 stars from 1 review on Amazon.com. (

Watch Video) 6/21/2012 [Add to my Inquiry Basket][?]



Quadefy by MARANDA ENTERPRISES LLC.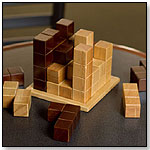 Easy to learn and quick to play, Quadefy uses visual spatial skills and strategies to keep players on their toes. When playing Quadefy, players have to think a little bit strategist and a little bit puzzle builder. Players take turns stacking their game pieces on the base, each attempting to keep their entire game piece "in bounds." "In bounds" means that the piece must be completely over the game base and no more than four "cubes" high. The first player to force their opponent to have to play out of bounds wins. Every move is both offensive and defensive. The rules have been drafted so that there is always a winner, no ties, stalemates, or cat's games. Hand crafted from high quality hardwoods, Quadefy is pretty enough to be left out on the coffee table or bookshelf to be played again and again. Playing time: 3-5 minutes; 2 players.
Awards: 2012 Dr. Toy Best Classic Toys 6/19/2012 (Price: $29.99; Age: 6 to 12) [Add to my Inquiry Basket][?]



The Castles of Burgundy by RAVENSBURGER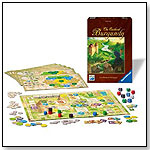 15th century princes from the Loire Valley devote their efforts to strategic trading and building in order to bring their estates prosperity and prominence throughout Burgundy. Two dice set the action options, but the players always make the final choices. Trading, livestock farming, city building or scientific research many different paths lead to the prosperity and prominence of the players. The many ways to gain victory points in this building game require careful thought and extensive planning ahead. The different estates ensure that no two games are alike and that the game remains challenging for long time. 5/25/2012 (Price: $39.99; Age: 12 to 15) [Add to my Inquiry Basket][?]



Polar Eclipse™ by TURN4TURN INC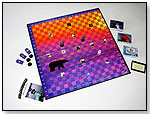 Polar Eclipse is an educational board game created to raise awareness about climate change and lifestyle choices. Published in 2011 by turn 4 turn llc. based in Park City, Utah, the game is created for global citizens 8 years and older. Designed, tested and re-tested with students who attend a Utah K-8 charter school, the game offers players the opportunity to add their ideas to the discussion and move toward their survival by doing so. The game board is a warm to cool, and past to future grid; a game about time and temperature. The object of the game is, as one of five species, to make it into the future and get cooler, to survive. If you hit 100 your species becomes extinct and you are out of the game. The motivation to create this game comes from the inventors background as an elementary teacher and the concern for the natural world. By playing the game, it is hoped that the mix of experience that sparks awareness, concern and stewardship to protect the natural world will expand. Knowledge is power. The game includes a die to set your place in time, 184 event cards to experience cause and effect, 64 arctic cards to offer open-ended and multiple choice questions, five players/species, the game board and a rules and reference booklet. Playing time ranges from twenty to forty-five minutes depending on the set of cards you play and number of players. Eight blank event cards are included to create your own events to add to the game. A secondary activity is to sort the event cards into sets of eight cards, by a symbol on the card, and assemble puzzles that make up the photographs on the cover and sides of the game box.
Awards: 2012 Dr. Toy Best Green Toys 5/18/2012 (Price: $24.95; Age: 8 to 12) [Add to my Inquiry Basket][?]



Treasure Hunt - Objects & Shapes Game by BEGINAGAIN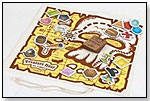 This 65-piece set features five game ideas that introduce and teach shapes and objects with unique tactile game play. Little pirates will be ready for games like "The Sneaky Seeker", "The Blindfold Grab", matching games, and more. For a traditional favorite, flip the game board over and play a classic game of Checkers. Clean up is easy as the 18"x18" game board has a Velcro pocket for storage and play. The gameboard is also a great map for role play adventures. BeginAgain uses plant-based and recycled materials whenever possible. The treasure map game board is made from natural (unbleached, unprocessed) cotton and the 20 game cards and 20 matching game pieces are made from recycled paperboard and colored with water-based inks. The 24 treasure coins are made from natural rubber (from rubber tree).
Awards: 2012 Dr. Toy Best Green Toys 5/18/2012 (Price: $25.00; Age: 3 to 6) [Add to my Inquiry Basket][?]



Off Your Rocker by STRATUS GAMES LLC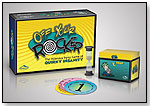 Players and the rest of the group all share a quirky problem that is interfering with their lives, so they have gathered together and invited a psychiatrist to figure out what's wrong. Will the psychiatrist be able to diagnose the problem, or will he end up just as crazy as the players? Launch date: July 2012.
— "This is that rare party game that combines zany interactivity with a solid yet simple mechanical structure. As a patient, it's a lot of fun to learn your secret prompt and know that the psychiatrist player doesn't know it. As the psychiatrist, it can be challenging and hilarious to watch your friends act crazy." - a review on Wired.com. 4/27/2012 (Price: $24.95; Age: 12 and up) [Add to my Inquiry Basket][?]



Forest Animal-opoly by LATE FOR THE SKY PRODUCTION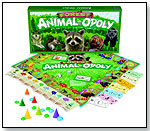 In Forest Animal-opoly, players buy their favorite animals and learn to be caretakers of the forest by providing food and water for their animals. Whether it's a huge bison or a tiny weasel, all the animals in the forest are important to the natural cycle of life, therefore, fines are enforced for littering and polluting their habitat. On the reverse side of each property deed find cool facts & unique characteristics for each forest animal. "Forest Animal-opoly is made in the USA, printed with vegetable based inks and made using recycled paper," Carla Miller from Late for the Sky Production Co., told TDmonthly. Launch date: April 2012. 4/27/2012 (Price: $24.95; Age: 8 and up) [Add to my Inquiry Basket][?]



Dino Bump by LUVYDUVY CORPORATION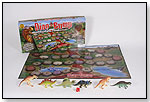 A fast paced game for the entire family. Race to the Dino-Cave but don't be sent back to the Dino-Bath. Large 5" dinosaurs that kids jump and switch, will have kids screaming in minutes. "Beautiful color graphics and an over-sized playing board," Don Rosenthal, president of LuvyDuvy Corporation, told TDmonthly. Launch date: January 2009.
Awards: 2009 Creative Child Magazine Seal of Excellence; 2010 National Parenting Magazine Seal of Approval; 2011 Parents' Choice Fun Stuff Award. 4/24/2012 (Price: $24.99; Age: 5 and up) [Add to my Inquiry Basket][?]



Telepathy Jr by LMD GAMES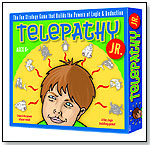 Telepathy Jr is the younger version of the Telepathy board game. Telepathy Jr teaches kids how to use logic and deduction at an early age and is important in the area of critical thinking. Game plays in around 10 - 15 minutes. "There are not a lot of logic/deduction games for youngsters out there and Telepathy Jr will help kids practice their deductive skills," Derek Chinn, owner of LMD Games, told TDmonthly. Launch date: June 2012. 4/24/2012 (Price: $19.99; Age: 6 and up) [Add to my Inquiry Basket][?]



Basher Science: Oceans: Making Waves! by KINGFISHER BOOKS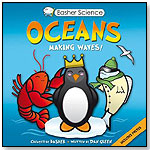 From Basher, the illustrator who showed the periodic table in a whole new light and gave us his fresh spin on physics, biology, astronomy, rocks and minerals, planet earth and chemistry, comes a book that shines its light into our magical and mysterious oceans. Not content to stay on dry land, Basher takes to the high seas in this friendly guide to everything above and below the oceans. Meet the members of the Shoreline Gang, the Deep-down Dandies, and the characters in the Open-water Crew. Encounter deep trenches, curious creatures, mountains taller than any one will find on land, and the mixers and stirrers that keep the water flowing. Throughout it all, Basher's bold, cheerful artwork pairs with rock solid scientific information to personalize readers' understanding of Earth's mysterious underwater world. Bonus: includes a pull out poster of the oceanic characters. Launch date: March 27, 2012. 3/20/2012 (Price: $14.99; Age: 10 and up) [Add to my Inquiry Basket][?]



Dixit Journey by ASMODEE EDITIONS

Dixit Journey is the version of the award-winning game of storytelling through imagination and clues where one picture is worth a thousand words. In this new version featuring a gallery of artistically designed cards that offer simple images for easy individual interpretation, younger players now have the chance to stretch their imaginations and incorporate their best vocabulary skills, all in the fun of creative play. The challenge is for the leader of the round to give a clue that is subtle enough to ensure that at least one player (but not all) will understand which card is his/hers and vote for that card. Points are scored in relation to the identification of the storyteller's card. The players move their icons on the scoring track based on the number of points they earn each round. Launch date: June 2012. 2/10/2012 (Price: $29.99; Age: 8 and up)



Ghost Blitz by LION RAMPANT IMPORTS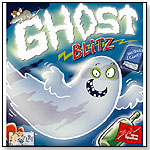 A lightning fast shape and color recognition game for kids, families and gamers alike. In Ghost Blitz, five wooden items sit on the table waiting to be caught: a white ghost, a green bottle, a cute grey mouse, a blue book, and a comfortable red chair. Each card in the deck shows pictures of two objects, with one or both objects colored the wrong way. With all players playing at the same time, someone reveals a card, then players grab for the "right" object - but which object is right? The first player to grab the correct object keeps the card, then reveals the next card from the deck. If a player grabs the wrong object, she must discard one card previously collected. Once the card deck runs out, the game ends and whoever has collected the most cards wins. Launch date: 2011.
Awards: 2011 Deutscher Lernspielpreis "6 years and up" Nominee; 2011 Golden Geek Best Children's Board Game Nominee; 2011 Spiel des Jahres Recommended. 12/12/2011 (Price: $17.99; Age: 8 and up) [Add to my Inquiry Basket][?]



The Gate by OOFDAH! GAMES INC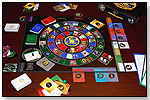 The Gate is a challenging strategy game for 2 to 5 players. It's two games in one: beginner and advanced. The Gate combines the fun of a classic board game with the fantasy of a role-playing game. Fight dragons and other monsters, escape encounters, or buy weapons from the gnome. The stakes intensify as players advance through 3 exciting levels. Earn special fighting dice; battle friends for treasure. The first player to the Gate wins, but they mustn't forget their key. Launch date: November 2011. 12/9/2011 (Price: $59.95; Age: 11 and up) [Add to my Inquiry Basket][?]



Chaotic Connections by CHAOTIC CONNECTIONS LLC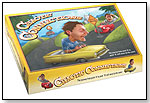 Chaotic Connections is a brand new board game that takes players on a chaotic cross-country road trip without them leaving their living room. Each player is dealt four cities on the map and attempts to connect the roads to the cities as quickly as possible. The first player to connect all four wins. However, there will be road blocks, detours, extra cities and other obstacles along the way. Chaotic Connections can be played with 2-6 players and will enjoyed most by players ages nine and up. Launch date: August 2011. 12/8/2011 (Price: $29.99; Age: 9 and up) [Add to my Inquiry Basket][?]



Slooooks! by ASHARE PATTERSON DESIGN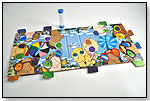 Slooooks! is a new game that's a cross between eye-spy and a scavenger hunt. The rules are simple and all ages can play together ... and the game board folds up like a book so it can be taken anywhere. "It's never the same game twice," Kate Patterson of Ashare Patterson Design told TDmonthly. Launch date: May 2011. 12/2/2011 (Price: $17.95; Age: 3 and up) [Add to my Inquiry Basket][?]



Cosmic Karma Game by COSMIC KARMA GAME PARTNERS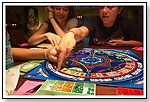 This beautifully crafted board game is an educational and insightful presentation of the principles of karma. 2 to 4 players. It's Monopoly but with karma instead of money; Chutes and Ladders but for adults; and The Game of Life but the life of the soul. 30-90 minutes. Features "Artistic presentation of sophisticated concepts that even a 5th grader can understand," Linda Look, game developer at Cosmic Karma Game Partners, told TDmonthly. Launch date: February 2012.
— As of 10/5/2012 this product had 4.7 out of 5 stars from 3 reviews on Amazon.com. Pros: Well designed; helps to illustrate the concept of karma; thought provoking. 11/29/2011 (Price: $38.00; Age: 13 and up)



Godzilla Kaiju World Wars Board Game by TOY VAULT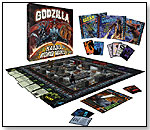 The Xiliens have pitted Godzilla, Rodan, Gigan and King Ghidorah against each other in a catastrophic battle and only one monster will emerge victorious. In Godzilla: Kaiju World Wars, players pick a monster and a scenario, stomping over terrain and destroying buildings on their warpath - all while fending off aggressive military attacks, bombs, traps and, of course, other KAIJU. Special abilities are used to eliminate the competition or to tuck their tail between their legs and run away before they are taken out. The game is jam-packed with pieces sure to please any gamer. Along with the four fully painted 2 3/8 inch plastic Kaiju figurines, the game also includes 90 stackable plastic tiles for building skyscrapers, four individual monster playmats, 86 terrain and power tokens, and much more. Launch date: May 2011. 11/16/2011 (Price: $69.99; Age: 14 and up) [Add to my Inquiry Basket][?]



Swivel by PATCH PRODUCTS INC.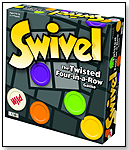 This is a "Twist on the Classic Four-in-a-Row Game." It's full of secret colors, sneaky moves and wacky wild tokens that make players Swivel. Just when one player is about to get four in a row, another player may have to twist a level of the 3-D board and change everything. Launch date: 2011. 11/4/2011 (Price: $19.99; Age: 8 and up)



WiseMoney The Town of Financial Literacy Spanish Card Set by DESTINA INC.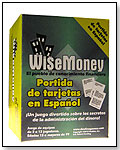 Destina Inc. has released its first expansion to the Wise Money board game: the Spanish Card Set. The Spanish Card Set is a direct translation of all the card decks in the original WiseMoney board game, from Banking and Investing to Identity Protection including directions in Spanish. The Spanish Card Set is an extension of the board game that uses all of the same basic game elements (board, spinner, dice, etc.) of the original English version. "Our product addresses the financial literacy needs in the Hispanic community," Jan Noah, director of R&D at Destina, Inc., told TDmonthly. Launch date: August 2011. 11/3/2011 (Price: $12.99; Age: 13 and up) [Add to my Inquiry Basket][?]



Road Trip by DADDY-O PRODUCTIONS, INC.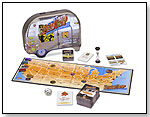 Players must complete each word challenge and motor across the USA. "Rest Stop" cards add to the fun along the way, with lucky breaks and the occasional pothole. Road Trip game contains 120 Challenge Cards, 40 "Rest Stop" cards, 7.5" x 20" Vintage Road Map Board, 30-sided Alphabet die, and 4 retro Station Wagon movers.
Awards: 2015 TDmonthly Magazine Top Toy Award; 2011 Oppenheim Toy Portfolio Gold Award for Best Toys
— As of 10/21/2011 this product had 5 out of 5 stars from 3 reviews on Amazon.com. 10/24/2011 (Price: $24.99; Age: 8 and up) [Add to my Inquiry Basket][?]



Angry Birds on Thin Ice Board Game by MATTEL INC.

The game of exciting skill and action game based on the best-selling phone app, Angry Birds On Thin Ice, lets players build, launch and destroy with fun features, including pigs with helmets, breakable ice block building pieces, an "exploding" TNT box and the large red bird character. Players draw a card and build the structure shown before their opponents launch Angry Birds in an attempt to knock down the structure-and the pigs-to win points. Includes 2 Angry Birds, 3 green pigs, 1 slingshot-style catapult launcher, structure pieces and mission cards. 10/5/2011 (Price: $19.99; Age: 5 and up) [Add to my Inquiry Basket][?]



Codigo Cube by FOUR CLOWNS GAME & TOY CO. LLC

Codigo Cube is a socially interactive trivia game that uses players' web-enabled camera phone, a free app, and a patent-pending 2D bar-coded die. Codigo Cube is updated with new questions daily. Whenever breaking news happens Codigo Cube gets updated. Playing is fun and easy. Players simply download a free QR code reader for their phone, then scan any side of the cube. Roll the cube, scan the code, and answer the question from a list of four multiple choice answers. Guess correctly and re-roll. Guess wrong and the cube is passed to the next player. Launch date: October 2011.
Awards: TDmonthly Top Toy Award, January 2012; 2011/2012 The Toy Man Award of Excellence; 2011/2012 The Toy Man eChoice Award; 2011 The Toy Man Top 50 Toy Of The Year Award.
— Why it won: Codigo Cube is harnessing new technology for an innovative and inexpensive new game. Players simply scan the QR code on the die with their Smartphone to access a trivia question online. The trivia questions are constantly being updated, so the game never gets old.
— As of 9/21/2012 this product had 4.7 out of 5 stars from 23 reviews on Amazon.com. Pros: Easy to use; more variety than a traditional trivia game because questions are always being updated. Cons: Needs to be played in a well-lit area or the QR code readers can scan the codes properly. (

Watch Video) 9/26/2011 (Price: $9.99; Age: 13 and up) [Add to my Inquiry Basket][?]



Black Gold by FANTASY FLIGHT GAMES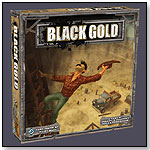 Black Gold is a game of drilling and discovery for 2-5 prospectors, in which players try to gain more wealth than their fellow competitors by exploring the terrain for oil wells, surveying the possible sites, and building derricks. Players earn the most money if they can transport their oil to one of three companies and win the right to sell at auction. Immersive and detailed game components, powerful Action cards, and a modular board make Black Gold a thrilling challenge. During the game, a ruthless Oil Baron draws ever closer, his train counting down the rounds of the game's thrilling ride. Players race against their opponents to earn the most wealth before he reaches his last track. Players must outbid, out-bluff, and out-strate- gize their opponents to become the next tycoon. "The tiny plastic oil wells that have tiny plastic oil drops that click into them, giving the appearance of oil spouting out of the derricks, is delightfully fun," Molly Glover, sales associate at Fantasy Flight Games, told TDmonthly. Launch date: July 2011. 9/2/2011 (Price: $59.95; Age: 13 and up) [Add to my Inquiry Basket][?]



Wooden Marble Game Board - Aggravation by CHARLIE'S WOODSHOP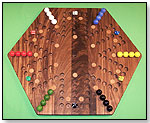 The Aggravation Game Board is a 20" Hexagon, made of solid Black Walnut, with the addition of (24) Inlaid Birch Pegged Spots, and with a beautiful wood grain enhanced by a non-toxic hand rubbed natural oil finish. The set includes: (24) 25mm (1") dia. solid opaque glass marbles of which there are (4) each of (6) different colors, plus (6) colored Dice to match the (6) sets of colors of the glass marbles. Plus instructions along with a velour pouch with a double drawstring. "The game board is designed to be able to set out permanently on display as a decorative piece when not being played with. This type of setting invites family participation more often. The family that plays together enjoys life a lot more," Charles H. W. Hall, owner of Charlie's Woodshop, told TDmonthly. Launch date: July 2009. 8/29/2011 (Price: $162.00; Age: 4 and up) [Add to my Inquiry Basket][?]



THIS BANNER IS AN AD:
---
---