---
New & Notable Toys: Science & Nature
Check out these new and noteworthy toys.
CCRY - Candy Crystal Growing Kits by GEOCENTRAL


What can be better than science you can eat! Each kits shows you how to make your own sugar crystals or rock candy. Educational booklet includes instructions on how to do the experiment and information about how crystals grow in nature. 12/10/2015 [Add to my Inquiry Basket][?]



Geek & Co Space Farm by THAMES & KOSMOS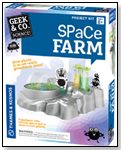 Geeks in space! Explore what it would take to set up an extraterrestrial farm on another planet. Experiment with a nutrient gel to grow garden cress in hydroponic tubes without soil. In the greenhouse dome, grow the alien-like succulent Tiger's Jaws (Faucaria tigrina). Find out what plants need in order to grow and how those things might be provided on another world. Geekstronaut figures tend to your space farm while it grows. 11/3/2015 (Price: $19.99; Age: 8 and up) [Add to my Inquiry Basket][?]



Scientific Explorer Ultimate Bubble Gum Fun Kit by ALEX BRANDS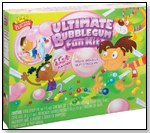 Bubble gum for days! Includes everything you need to create massive amounts of your own gum! Recommended for children ages 8 years and older. Includes corn syrup, gum base, confectioner's sugar, citric acid, and watermelon, vanilla, raspberry, extreme mint, blueberry, fruit punch flavor powders, along with silver foil wrappers, recipe cards and activity manual. Make 19 flavors. 11/3/2015 (Price: $49.99; Age: 8 and up) [Add to my Inquiry Basket][?]



ReCon 6.0 Programmable Rover by SMARTLAB TOYS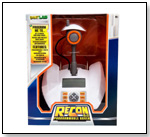 The Programmable Rover is a toy, a robot, and a tool for learning. A child programs ReCon 6.0 to navigate specified courses that can deliver a treat to a pet, surprise a family member with a personalized message, carry a soda, guard a bedroom, or just dance. NO COMPUTER REQUIRED! Batteries: 3 C, not included. Ages: 8+.
Awards: 2011 Parents Magazine Best Toy Award, 2011 Great Schools Golden Apple Award, 2011 Dr. Toy 100 Best Children's Products Award, 2011 Parents' Choice Silver Honor Award, 2011 Best Electronic Toy Award from Bestcovery 10/20/2015 (Price: $69.99; Age: 8 and up) [Add to my Inquiry Basket][?]



Think Box Glowing Science by Horizon Group USA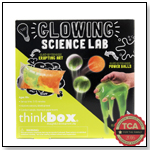 Illuminate your child's knowledge by combining simple chemistry with glowing power. Let them create their own glow-in-the-dark toys and science experiments from molding bouncing balls to watching the pressure build in erupting colors! Explore the basics of chemical compounds and reactions with this hands-on Glowing Science Lab! This kit includes a ball mold, glow-in-the-dark power ball crystals, zinc sulfate, baking soda, citric acid, guar gum, sodium tetra borate, resealable bags, glow-in-the-dark paint, a mixing stick and a fun poster with instructions! 10/16/2015 [Add to my Inquiry Basket][?]



Classic Basic EcoAquarium™ by FUNOLOGY INNOVATIONS LLC


The Classic EcoAquarium brings nature up close & personal. Includes 4x4x5 tank with 2 Frogs or 1 Betta Fish, Lucky Bamboo Plant, Decorative rock, Living Gravel, your choice of Colored Gravel. The natural mix of plant, animal & microbes work together to establish a sustainable mini-ecosystem. Easy to maintain, easy to care. 9/30/2015 (Price: $28.99; Age: 6 and up) [Add to my Inquiry Basket][?]



Smithsonian Human Skeleton Casting Kit by SKULLDUGGERY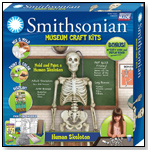 First, mix the PerfectCast mold mix in the 'mix and pour' bag and pour it into the molds. While it sets enjoy the fun, games and learning in the activity book! Unmold your creation, paint the parts and set them onto the display background - now it's ready to show off on the easel! Children will have a hands on learning adventure they can share with everyone! The Smithsonian Museum Craft Kits by Skullduggery combine creativity, discovery, and learning in one exciting artistic journey. Each kit includes everything needed to create an educational masterpiece. 8/31/2015 [Add to my Inquiry Basket][?]



Hologram Kit by LITIHOLO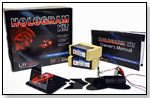 Real Holograms - You can make holograms right in your own home or classroom! Step-by-step instructions make the hologram process easy, educational, and fun!

Litiholo C-RT20 film is a holographic film for making holograms with no chemicals and no development processing.

Everything you need to make real 3D laser holograms - it's so simple, you could be making your first hologram in about an hour! Best of all, with the Litiholo "Instant Hologram" Film Plates, you spend all your time making holograms, not developing them.

7/6/2015 (Price: $99.99) [Add to my Inquiry Basket][?]



Sound by SCIENCE WIZ / NORMAN & GLOBUS INC.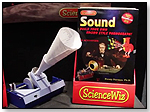 This great new science kit from Science Wiz lets kids accomplish college-level experiments with sound by building an Edison-Style phonograph and downloading free apps from the web. There are twenty different activities that kids can do with this kit.

2/15/2015 [Add to my Inquiry Basket][?]



Dinosaur Stomping Ground by NEAT-OH! INTERNATIONAL LLC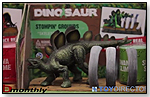 Dinosaur habitats include a high-quality figurine, and environmental base, and prehistoric slime, like lava, swamp slime, tar, or swamp water! Dinos can be slimed, and demo beautifully thanks to their themed base and hands-on slime.

2/14/2015 [Add to my Inquiry Basket][?]



Edison Kit by LIGHTUP, INC.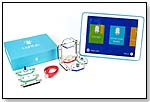 LightUp combines the best of both worlds by bringing together an engaging hands-on electronics platform with an interactive iOS mobile app. LightUp kits introduce key STEM (Science, Technology, Engineering, Math) concepts, teaching kids how to explore their world with electronics and code. Snap together magnetic blocks to build circuits in seconds (no soldering or wiring needed). Download the free LightUp Learning iOS app for project ideas and personalized guidance. See electricity flow with the in-app augmented reality LightUp Lens. Learn 100+ key STEM concepts about electricity, circuits, and engineering with the Edison Kit. 2/14/2015 (Price: $49.99) [Add to my Inquiry Basket][?]



SunArt Paper 8x10" by TEDCO INC.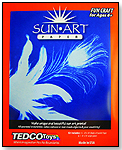 All you need is sunshine, water and your creativity to make unique and beautiful sun art prints! Place natural objects like flowers, leaves, shells or even man-made objects on the sun-sensitive paper. Set outside on a sunny or overcast day or even indoors in a sunny window. Sit back and watch as the sun turns the paper a beautiful blue! Includes 15 sheets of paper and a clear acrylic sheet to hold your art in place. Perfect for school art project, science fair or for home schooled creative fun! Available in three sizes. Made In USA!
Award: 2014 TDmonthly Magazine Top Toy Award 12/5/2014 (Price: $14.00; Age: 6 and up) [Add to my Inquiry Basket][?]



Grow 'n Glow Terrarium by CREATIVITY FOR KIDS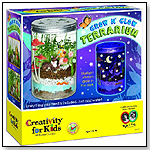 Turn this plastic mason-style jar into your own little habitat with real plants and tiny figurines. Set includes a 5" h x 3 ¼" w jar, decorative lid, potting mix, organic chia and wheat grass seeds, garden figurines, decorative sand, river stones and a plant mister. Add dimension to your garden with translucent and glow-in-the-dark stickers – hold it up to the light and watch the fireflies glow.
— In a September 2014 survey, three out of 11 retailers told TDmonthly that this product was one of their top-two best-selling science & nature toys.
— Barbara Fineblum, owner of Barston's Child's Play in Baltimore, Md., told TDmonthly in October 2014 that this was one of her store's best-selling jewelry and accessories item.
Awards: 2014 TDmonthly Magazine Top Toy Award 9/29/2014 (Price: $14.99; Age: 6 and up) [Add to my Inquiry Basket][?]



HEXBUG Aquabot 2.0 with Fishbowl by INNOVATION FIRST LABS, INC.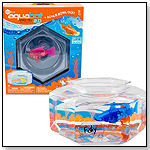 Part pet, part toy, the HEXBUG Aquabot 2.0 provides kids with the fun experience of having a pet fish, without all the messy clean-up. The portable fishbowl allows kids to bring their pet fish with them wherever they go! Includes repositionable background and name tag. HEXBUG Aquabot 2.0 is available in two styles, the Angelfish and Hammerhead Shark, and ten translucent colors. The Aquabot 2.0 swimmers are equipped with an inner pulsating LED glow and a hi-tech sensor allowing you to wake the sleeping fish by tapping on the tank. Styles and colors are selected randomly at time of shipment based on availability.
— Mary Tague from Toy Town in Key Biscayne, Fla., told TDmonthly in an April 2015 survey that the Aquabot was their best-selling bath toy. 9/22/2014 (Price: $19.99; Age: 3 and up) [Add to my Inquiry Basket][?]



4M Tin Can Cable Car by TOYSMITH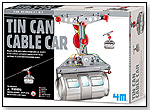 Use a recycled soda can to make a fun and educational motorized gondola cable car. Assemble the support and motor, attach a soda can and decorate it with the included stickers. Set up the cable string and watch your gondola travel along the cable. Requires 2 AAA batteries, not included. Made by 4M - Toysmith.
— In a March 2015 survey, two out of 10 retailers told TDmonthly that 4M from Toysmith is their best-selling line of eco-friendly toys. 8/28/2014 (Price: $15.99) [Add to my Inquiry Basket][?]



Engino 40 Model Set with Motor by ELENCO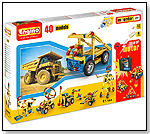 The multi-model cabability of ENGINO TOY SYSTEM is proportional to the number of parts contained in the sets. The inventor pro series is the ultimate range more suitable for intermediaste and advanced users who literally "play to invent" ! The models created with these sets are bigger and more elaborate and can move with the new compact dual output motor. The series starts with the 40 models set and goes all the way to the 100 models set which has 2 motors and extra gears for even more complex builds. Each set contains printed instructions for selected 10 models while the rest can be downloaded free from engino's website. 7/31/2014 (Price: $79.95; Age: 7 and up) [Add to my Inquiry Basket][?]



Cubelets KT06 Kit by MODULAR ROBOTICS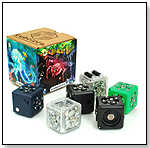 The KT06 kit contains 6 Cubelets and is a great way to get started with modular robotics. With KT06, you can create simple mobile and reactive Cubelet robots. 6/23/2014 [Add to my Inquiry Basket][?]



Genes in a Bottle by Bio Rad Laboratories by BIO-RAD LABORATORIES INC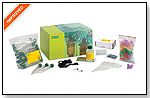 Introductory DNA classroom study kit, includes buffer, protease + salt, test tubes/holders, disposable pipets, curriculum, and all materials to make DNA necklaces, for 36 students; education use only. 4/29/2014 (Price: $167.50)



Sphero 2B by ORBOTIX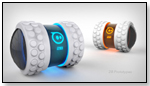 This budget successor to Orbotix's popular smartphone-controlled ball is fast, handles well and can stop on a dime. The iOS and Android controlled Sphero 2B was first shown off at the Consumer Electronics Show last month. It's in the prototype stages, but it still works like a charm. 3/12/2014 [Add to my Inquiry Basket][?]



DIWire by PENSA LABS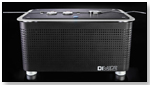 Includes the DIWire, DIWire software, 1/8 inch and 1/16 inch bend heads and feed wheels. Shipping and sales tax paid separately. Currently, the DIWire will only ship to the United States, Canada, the EU and Australia. All shipments to New York state addresses are subject to an additional 8.875% sales tax. Shipping is estimated $65 - $160 (and up to $400 for international) depending on your location. Charges will not be applied until your unit ships. We will be contacting you at least one week prior to shipping. 3/12/2014 [Add to my Inquiry Basket][?]



BugAlien™ by BugAlien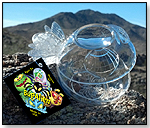 Invade Earth, check out life, and set it free. But if bugs aren't your thing, don't worry, these snapping jaws still equal pure fun all day long! Swoop in on action figures, collect & inspect tiny treasures, grab your sister's feet, or just bite up everything in sight! With sparkling looks and beaming personality, BugAlien – The Best Bug Catcher Ever – captivates every age, every time! 100% Made in the USA: Right down to the packaging and spring. EVERYTHING is made in the USA. See the companies in the right hand column. 2/11/2014 (Price: $6.49) [Add to my Inquiry Basket][?]



Make Your Own Microscope Projector by ARTEC EDUCATIONAL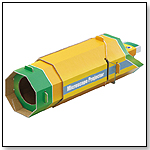 Includes a prepared slide (Daphnia). Dive into a microscopic world from the comfort of your own room. 9/20/2013 (Price: $9.99; Age: 8 and up) [Add to my Inquiry Basket][?]



SmartGlobe Horizon by OREGON SCIENTIFIC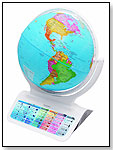 This is a new trendy desk SmartGlobe™ —the SmartGlobe™ Horizon explores the world through 30 activities in the comfort of your own home. There is a wealth of information to be discovered through 30 different educational activities. The entire family can join in on the fun with the multiplayer games—challenge one another and see who can identify the most country capitals in a minute. Have the choice to customize levels between three age groups, so learners of all ages can enjoy the experience. Use the wireless talking Smart Pen to interact with the product and hear about fascinating topics ranging from capitals, population, currency and even world leaders. To keep the information up-to-date with current events, simply link it to your computer via a USB cable and refresh the contents. Additional activities are available by connecting the SmartGlobe™ with the MEEP! tablet (also compatible with iPad®*). 2/20/2013 (Price: $99.99; Age: 5 and up) [Add to my Inquiry Basket][?]



Pop Top Rockets by BE AMAZING!

Just add water, snap the lid shut and stand back. The bubbling action of the chemical reaction builds up pressure inside the can until the top POPS and flied through the air. Kids can mix up their own top-popping fuel mixture and put the Snap Cans to the distance test. Attach the foam rocket to the Snap Can and shoot the rocket high into the air. 12/5/2012 (Price: $24.99; Age: 8 and up) [Add to my Inquiry Basket][?]



Extended Kit by LITTLEBITS ELECTRONICS INC
The littleBits Extended Kit is the third and biggest kit by littleBits. We hand picked all of the most fun, mechanical Bits and crammed them into one double-decker kit. This kit contains all the Bits one needs to make littleBits creations. It features a dc motor, motion trigger, buzzer, 2 wires, and more. 11/2/2012 (Price: $149.00) [Add to my Inquiry Basket][?]



Worm-Vue Wonders by HSP NATURE TOYS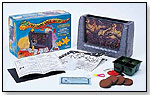 Peek into the underground world of earthworms and discover their earth-saving secrets. See how they turn waste into soil and dig tunnels to create drainage for plants. Perform experiments to demonstrate how worms live and work underground. Have fun with the "Super Squirmin" character cutouts. Made in the USA and Safety Approved. Double-sided viewing, Worm Facts and Anatomy Poster, experiment booklet, and 2 foot Super Squirmin worm cut-out with Superhero hats. Mail-in certificate (send $12.95) for live worms, soil wafers and starter food shipped Priority Mail year-round in the USA, excluding Hawaii. 10/23/2012 (Price: $34.95; Age: 4 and up) [Add to my Inquiry Basket][?]



THIS BANNER IS AN AD:
---
---