---
New & Notable Toys: Trading Cards
Check out these new and noteworthy toys.
Bella Sara Sunflowers by HIDDEN CITY ENTERTAINMENT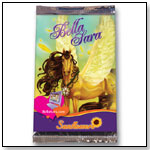 Legend says that once upon a time three noble sisters traveled to distant lands and became the patrons of their own herds of horses. What happened to these herds? The first of these were the flower, tree and plant horses rooted in the magic of nature. Girls can join Emma as she searches the Jasmine forest for the horses of herd Sunflower. "Rather than capitalizing on the insecurity of girls and making them feel a constant state of emptiness and envy, Bella Sara is geared toward helping girls realize their potential through positive thought and inspirational stories. Bella Sara depicts realistic characters that girls can relate to, rather than presenting characters that display unattainable perfection," Johanna Stern, Marketing Manager, Hidden City Entertainment, told TDmonthly. "Through interactive game play, Bella Sara products teach girls the importance of introspection, cooperation and personal responsibility. The positive messages and themes of positive self worth and caring for others through game play encourage young girls to feel comfort in expressing their feelings and emotions." Launch date: March 2, 2010. 2/4/2010 (Price: $2.99; Age: 5 to 13)



ChatterChix Starter Set by CHATTERCHIX INC.


Girls can easily start collecting and trading ChatterChix cards with this set that includes the following: a ChatterChix binder with five pages to store cards, flower stickers, a tracking map and three card packs. 12/15/2008 (Price: $19.99)



Bankai - Shonen Jump Bleach Trading Card Game by SCORE ENTERTAINMENT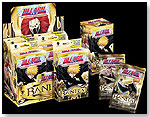 In this 6-pack of Shonen Jump Bleach trading cards, each starter-set contains two hi-tech Guardian cards, one preconstructed deck of 70 cards, two bonus booster packs, one full-color rulebook and a playmat. This is an improvement on the original Bleach trading card game by introducing into the game, "Bankai", which is the inner power of the Soul Reapers, of which the main character Ichigo unlocks in his efforts to save Rukia during the Soul Society story arc. 6/25/2008 (Age: 13 and up)



Chaotic Trading Card Game Zenith of the Hive Booster Series by 4KIDS ENTERTAINMENT


With the exciting new stories centered on Illexia, the terrifying Danian Queen, Zenith of the Hive introduces new game mechanics and features new army powers including, Infection, Disarm, Defender and Element Proof as well as new twists on existing powers such as Invisibility and Hive. Zenith of the Hive adds 100 new Chaotic Cards into circulation, including 35 Creatures, 10 Battlegear, 20 Attacks, 10 Locations and 25 Mugic™. Each pack includes nine cards with two rare foil cards. Additionally, one in three booster packs will include a Parasite Token Card to track the Hive's infestation. Launch date: April 16, 2008. 6/16/2008 (Price: $3.99) [Add to my Inquiry Basket][?]



Team Trading Cards by ART FUTURES INC.


The licensed trading card sets are available for various professional and college football, baseball, basketball and hockey teams. Launch date: February 2008. (

Watch Video) 4/11/2008 [Add to my Inquiry Basket][?]



Sabertooth Games Street Fighter Card – Shotokan Fireball by SOTA TOYS INC.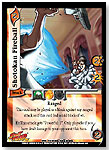 The card is part of a line of trading cards released by Sota Toys and Sabertooth Games. The characters are based on Street Fighter Universe's Revolutions action figures. Over a dozen cards are available. 1/31/2008 [Add to my Inquiry Basket][?]



Xeko Mission: China by MATTER GROUP LLC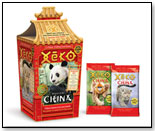 The animal trading card game stimulates kids' interest in math, science and nature. Players use cards to match wits against opponents, casting actual animal species as the heroes and basing game play on fragile ecosystem relationships. The starter-set game includes 130 cards, an oversized game mat, a rule book and play guides, all packaged in a heavy-duty storage box decorated with imagery reflective of ancient Chinese culture. This product received a 2008 iParenting Media Award. Launch date: July 2008. 12/11/2007 (Price: $24.99; Age: 8 to 12)



Buffy the Vampire Slayer 10th Anniversary Premium Trading Cards by INKWORKS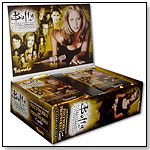 A new 90-card premium base set from Inkworks includes images from the "Buffy the Vampire Slayer" series that have never before appeared on trading cards. The product also includes randomly inserted Pieceworks costume cards, a special Propworks card that includes a slice of the stake used on Buffy the Vampire Slayer and much more. Cards are available in packs of eight, as shown. "This set gives collectors the opportunity to own pieces of costumes and a stake from the show as well as cards that offer exclusive insights into the series from creator Joss Whedon," Any Modlin of Inkworks PR told TDmonthly. 8/16/2007 (Price: $3.49; Age: All Ages)



Webkinz Trading Cards by GANZ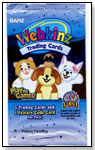 Kids can collect, trade and play awesome games with these cards. The first series of Webkinz Trading Cards includes 80 base-set cards featuring favorite Webkinz pets, characters, items and recipes to collect and enjoy. Kids can also collect three exciting subsets of cards: Challenge Cards, Curio Shop Curiosities and Webkinz Doodlez. Each set comes with 10 packs of cards and six cards per pack. Other amounts and booster packs are also available.
— When asked about the current hot-seller in her store, Kate Tanner, owner of Kidstop Toys & Books in Scottsdale, Ariz., said, "Webkinz of all kinds —from the Googles and Chihuahua to the trading card games and booster packs."
— "I would probably have to say any Webkinz by Ganz accessories," Bill DeFusco, owner of Toyz Toy Store in Chesire, Conn., told TDmonthly, when asked about what he predicted would be his store's most popular stocking stuffer. "Whatever accessories for Webkinz can be found—lip glosses, body spritz, trading cards."
—Eleven of 58 retailers who spoke with TDmonthly cited Webkinz accessories as highly popular stocking-stuffer items. 7/27/2007 [Add to my Inquiry Basket][?]



Wayne Rooney DVD Card by SERIOUS USA INC.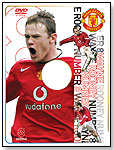 Rooney is a first team striker for Man Utd., who has arguably become the club's most important player. This officially licensed card is packed with interactive video, photos, trivia and strategy games, and it is one of 10 available from the Manchester United 2006 collection. DVD Cardz are PS2, Xbox and DVD player compatible. New features allow users to create a competitive Fantasy Premier League, adding players by purchasing cards. The cards make handy resources for young European and Asian soccer fans who routinely bet on matches. So far, these interactive cards have been highly successful: The product is the number one seller for under-$20 items at Man Utd.'s official store. Serious just signed on for two more years with the license and has begun working with other Premier clubs to produce interactive cards for their teams. 7/31/2006



Red Sox Team Set by C & I COLLECTIBLES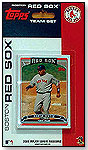 This specially packaged assortment of baseball cards includes 14 players from the 2006 Red Sox line up. Now fans can collect all players from their favorite team without having to sort through numerous packs of baseball cards. 7/31/2006 (Price: $5.99) [Add to my Inquiry Basket][?]



U Go Grl Mood Enhancing Air Fresheners by LOCASMARTS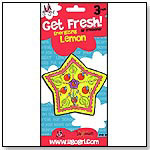 These mood-enhancing air fresheners come in six scents: Energizing Lemon, Refreshing Citrus, Uplifting Pine, Cheerful Strawberry, Calming Lavender and Soothing Vanilla. These vibrant, high-quality air fresheners appeal to everyone, especially the young female customer looking for a stylish way to freshen up her car, room, closet or gym locker. "We've realized that in our position we've got to be more creative," said president Shirley S. James, of the departure from trading cards. Going forward, she sees her company as a lifestyle brand, with hopes to expand into jewelry, clothing and stationery. 7/31/2006



Axis & Allies Miniatures Set II by WIZARDS OF THE COAST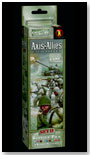 This exciting 45-figure expansion for the Axis & Allies Miniatures skirmish game introduces three new unit types (snipers, paratroopers and cavalry) as well as troops from China, Poland and Romania. Each booster pack contains nine fully randomized miniatures for use in the Axis & Allies Minis game system. 3/14/2006 (Price: $14.99) [Add to my Inquiry Basket][?]



Robotech by HERO FACTORY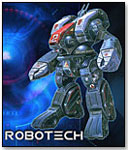 Since the 1985 debut in U.S. syndication, "Robotech" has retained a vast, solid fan base devoted to its saga of giant fighting robots. It has a storyline spanning multiple generations and is filet mignon to "The Transformers"´ Big Mac in sophistication. Hero Factory recently entered an agreement with Harmony Gold, USA, owner of the Robotech trademark, to produce a collectible card game for the cult classic series. Beta-set cards may appear as soon as July, 2005. 4/11/2005



Fullmetal Alchemist by RC2 BRANDS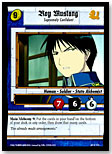 Based on the FUNimation license, The Fullmetal Alchemist Trading Card Game chronicles the (mis)adventures of two orphaned brothers and their search for the fabled Philosopher's Stone. Players take the role of their favorite hero or villain and race to find the Stone and its unlimited power. Created by an award-winning RC2 design team, the secondary market for the cards is growing daily, with select singles selling for over $150! The game launched in August of 2005, with four expansion sets to date. The fourth, Alchemists' Gate is available now to mass market and specialty retailers, and the fifth, Seven Deadly Sins, comes out November of 2006 with an MSRP per 11-card blister pack of $3.49. 4/11/2005 (Price: $3.49) [Add to my Inquiry Basket][?]



Zatch Bell by BANDAI AMERICA INC.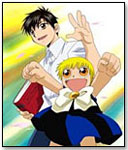 The series premiere of "Zatch Bell" – the latest anime sensation on Cartoon Network – was watched by more than one million viewers. The second episode that aired two weeks later drew an audience of 2.5 million. In addition to the series' overwhelming surge in popularity, the game has a unique feature: it uses a spell book to hold players´ cards and count their life points. Players lose when they flip to the last page in the spell book. It sells for $9.99 a starter deck, $3.99 a booster pack and $3.99 a spell book. 4/11/2005 (Age: 6 and up)



THEME MONOPOLY, YAHTZEE, GIANT PEZ DISPENSERS by SPORTSLINE DISTRIBUTORS, INC.
USAopoly games available in NY Yankees, Elvis, Harley-Davidson, NASCAR and many others. Yahtzee versions in H-D and Coca-Cola. Giant Pez in Homer, Bart, Marge, Garfield, Snoopy, and many more. 12/7/2004 [Add to my Inquiry Basket][?]



THIS BANNER IS AN AD:
---
---