---
New & Notable Toys: Vehicles- Riding
Check out these new and noteworthy toys.
Easy Steer Sportster by THE STEP2 COMPANY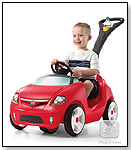 Unique modern styling and adapts to multiple terrains! Made in USA of US and imported parts. Accessories made in China. Stylish and fun design eases the transition from strollers. Adult steers with push handle. Full turn front wheels provide better maneuverability. Handle folds under for easy storage and transport. "Whisper Wheels" provide a smooth, quite ride. Caster wheel engages for easy swivel turning and retracts for riding on rough terrain. Pretend steering wheel with "beep beep" horn sounds. Large capacity under-hood storage is perfect for snacks or supplies. Cup holders for child and parent. Adult assembly required.
— Steven Levy, owner of Toy City in Keene, N.H., told TDmonthly in a March 2015 survey that the Sportster from Step 2 is his store's best-selling ride on toy. 3/30/2015 (Price: $74.99)



John Deere Backhoe Loader by KETTLER INTERNATIONAL INC.

* High impact blow molded resin
* Fully functional front loader
* Fully functional backhoe digger with stabilizer foot and safety latch
* 2 position adjustable seat to grow with child
* Front hood lifts for additional play 10/29/2014 (Price: $349.99; Age: 3 to 7) [Add to my Inquiry Basket][?]



Scoot-Around by HAPE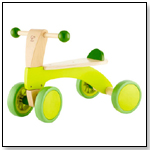 Four-wheel drive takes on new meaning with this foot-powered rider. Encourage lots of short rides to develop muscle strength and balance. As your child gains more power and confidence, increase the wheel time and distance.
Awards: 2013 - Oppenheim Toy Portfolio - Gold
— Diane Gervais, owner of Amato's Toy & Hobby in Middletown, Conn., told TDmonthly in a March 2014 survey that Hape ride-ons were best-selling ride-on toys. 3/31/2014 [Add to my Inquiry Basket][?]



Mega Bloks Jeep Ride-On (available in Classic and Pink) by MEGA BRANDS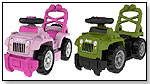 Makes real mechanical sounds. Includes10 Jeep-colored blocks. Storage under the seat. Ride along or use as push toy. Can also be used as a walker. Launch date: Fall 2013. 12/20/2012 (Price: $44.99)



Pocket Mod Euro-Style Electric Scooter by RAZOR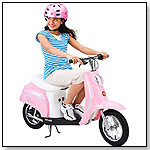 Cruise the side streets in style with this Euro-style electric scooter from Razor. Featuring a high-performance, chain-driven electric motor and a vintage-inspired body, the Pocket Mod can reach speeds of up to 15 miles per hour-plenty fast enough for a quick trip to the corner store or a fun ride in the country. The scooter also teams a pair of 12-inch pneumatic tires with a rear suspension system to ensure a comfortable ride. Other features include a retractable kickstand, variable-speed acceleration, a padded seat, and a built-in battery that travels for up to 10 miles on a single charge. 10/11/2012 (Price: $219.97) [Add to my Inquiry Basket][?]



Rocktivity Walk 'N Roll Rider, Pink by PLAYSKOOL


The Playskool Rocktivity Walk 'N Roll Rider will surprise and delight babies with more than 15 rockin' tunes and fun sounds. It converts easily from walker to ride-on, and makes music with every step and scoot. Babies will jam along as it plays tunes parents already know and love like "I Like to Move It," "Walk Like an Egyptian," "Life Is a Highway" and "Ticket to Ride." Encourages kids to be active. Dashboard has beeping horn, revving engine key and a Giraffalaff character with fun phrases. Launch date: 2012. 9/19/2012 (Price: $44.99; Age: 0 and up) [Add to my Inquiry Basket][?]



PlasmaCar Blue by PLASMART INC.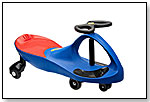 Now more than 10 years old, PlasmaCar continues to intrigue and fascinate with millions of units sole and multiple awards in over sixty countries worldwide. Just sit, put feet up, and turn the steering wheel to propel forward up to 6 mph on any smooth, flat surface. With a maximum weight capacity of 220 lbs., even parents and grandparents have experienced a giggle by taking it for a spin. Made from state-of-the-art, high-quality ABS plastics, this kid-powered, durable, ride-on vehicle comes in a variety of colors.
Awards: 2012 Parents Choice Awards Recommended, 2009 Green Parents List Check Mark, 2009 DisneyFamily.com Top Action Figures and Toys for Toddlers, 2009+2008+2005 The National Parenting Centre Seal of Approval, 2008 iParenting Media Toy Award, 2008 Fat Brain Toy Award Active Play, 2006 TIA Outdoor Toy of the Year - Specialty Toy of the Year, 2006 Oppenheim Toy Portfolio Platinum Award, 2005 Oppenheim Toy Portfolio Gold Seal Award, 2005 Dr. Toy Best Vacation Products, 2005 Creative Child Seal of Excellence, 2001 International Patent Fair, Hong Kong Gold Medal
— Mary Sisson, owner of Kazoodles in Vancouver, Wash., told TDmonthly in a Fall 2012 survey that the Plasmacar is one of her top-2 overall best selling toys. 8/2/2012 (Price: $69.95; Age: 3 and up) [Add to my Inquiry Basket][?]



Buddy Pedal Go-Kart by BERG USA, LLC

A rugged, four-wheel pedal kart with air-filled pneumatic tires and a wide wheelbase. Riders can pedal forward, backward, and brake without taking their feet off the pedals. Thanks to an adjustable seat, kids can continue to ride as they grow older. 6/22/2012 (Price: $319.00; Age: 3 to 8) [Add to my Inquiry Basket][?]



Bounce-A-Long Buddies by FABRICAS SELECTAS USA (FS-USA)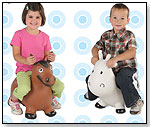 These kid-powered bouncies feature animals like Moo Moo and Trotter. Launch date: 2012. 2/13/2012 (Price: $39.99; Age: 3 and up)



Pillow Racers Dino by LITTLE TIKES INC.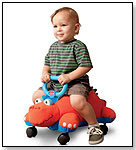 A stuffed animal, riding toy and pillow in one. The dinosaur Pillow Racer is great for scooting around indoors, and is a perfect companion for looking at a book or watching TV. Kids can sit on it, lay on it, ride on it. The wheels and bottom half detach, leaving a soft plush dino behind. Launch date: 2012. 2/12/2012 (Price: $39.99; Age: 1 to 3)



Power Wheels Fisher-Price Dune Racer Ride On by FISHER-PRICE INC.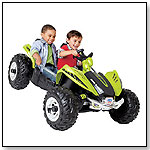 The Power Wheels Fisher-Price Dune Racer Ride On is a 2 seat, open cockpit design 12v battery operated ride on with large off road tires. This dune buggy's main feature is Monster Traction which delivers superior terrain performance versus other battery operated ride ons. The Power Wheels Fisher-Price Dune Racer Ride On drives 2.5 and 5mph forward and 2.5 mph in reverse. It also has a front storage compartment and seat belts for added play, a metal frame and nickel plated side safety bars. For enhanced appearance the product has metal plated wheels, front bumper, and shifter.
— As of 10/18/2011 this product had 4.3 out of 5 stars from 12 reviews on ToysRUs.com. Pros: Low and wide build makes it more stable than other Power Wheels vehicles; fun; two kids can ride at once. Cons: Tires are very noisy; battery does not last long. 10/19/2011 (Price: $279.99; Age: 3 to 9)



QuickSmart™ Scuttlebug Bug by SCHYLLING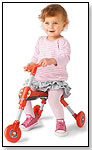 It's got three wheels on the floor and produces lots of giggles. QuickSmart Scuttle Bug's compact folding system makes it a convenient toddler ride-on. Compact and lightweight; Quiet, non-scratch wheels; Ideal inside or outside; Four friendly characters; Teaches to push and steer.
— Ari Miller from Off the Wagon in Kent, Ohio, told TDmonthly in an March 2015 survey that Scuttlebugs are their store's best-selling Ride-On toy. 9/16/2011 (Price: $49.99; Age: 1 to 3)



QuickSmart™ Scramble Bug by QUICKSMART PTY LTD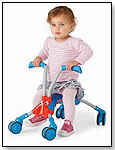 The QuickSmart Scramble Bug has four quiet wheels that move 360 degrees. Four cute characters. Folds flat to store & travel; Teaches to push and steer; Ideal inside or outside; Quiet, non-scratch wheels; Ready to roll - no assembly.
Awards: Dr. Toy's 10 Best Active Products - 2011 9/16/2011 (Price: $64.99; Age: 1 to 3) [Add to my Inquiry Basket][?]



Englacha 2-in-1 Junior X Rider by ENGLACHA USA, INC.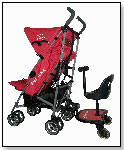 2-in-1 Junior X Rider has a seat connected with our Rider, this Rider can be used on most of strollers sold in the market. This new item is an unique Rider with a seat in the market. Launch date: September 2011. 8/2/2011 (Price: $120; Age: 1 to 3) [Add to my Inquiry Basket][?]



Radio Flyer Odyssey Wagon by RADIO FLYER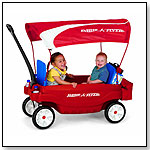 The Odyssey Wagon is a roomy luxury vehicle with several different seating configurations, a bonus cooler pack, safety belts, and easy to fold handle for transportation, just to name a few of its features. It also comes with a UV sun protection canopy, as well as an abundance of cup holders (two for the kids; two for the adults). Flip-up seats make for a comfortable ride for kids, but can also be folded flat to haul stuff around. 5/5/2011 (Price: $149.99; Age: 2 and up) [Add to my Inquiry Basket][?]



Ride-on Violette by BOIKIDO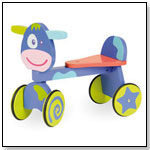 This high-quality, durable and easy-to-assemble wooden ride-on toy encourages the development of balancing skills and stimulates the imagination. It's been tested to meet European and U.S. safety standards. 12/27/2010 (Price: $59.99; Age: 1 and up) [Add to my Inquiry Basket][?]



Wheelybug Large Bee by PRINCE LIONHEART INC.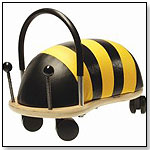 Wheely Bugs are hand-crafted ride-on toys that go backwards, forwards, sideways and in circles. They provide free movement so children can be entertained while developing gross motor skills. (

Watch Video) 9/27/2010 (Price: $69.99) [Add to my Inquiry Basket][?]



Pewi by NATIONAL SPORTING GOODS
Pewi is an innovative walker/ride-on for the toddler market. Designed for children as young as nine months old, and as a child grows with the Pewi, it transitions into a foot to floor ride-on. With specially designed caster wheels, the Pewi ensures a quiet smooth ride that is suitable for indoor and outdoor play. As a ride-on a child can easily move the Pewi in any direction. The Pewi is designed to help develop early stage balance and motor skills. For ages 9-24 months. Available in 3 colors – Red, Pink and Blue.
— Michael Ziegenhagen, owner of Playmatters in Avon, Ohio, told TDmonthly in a March 2014 survey that the Pewi was a best-selling outdoor toy. 9/15/2010 (Age: 1 to 2) [Add to my Inquiry Basket][?]



Trikke T78 Deluxe Carving Vehicle by TRIKKE TECH INC.


A blend between the T8-08 and the T78 air, it features the T8 style handlebars, black painted machined rims, animal free leather hand grips, upgraded brake cables, aluminum brake levers, bolted aluminum stem, and black foot decks. Available in two colors (green and pink). 8/23/2010 (Price: $369.99; Age: 12 and up) [Add to my Inquiry Basket][?]



Combicar by NIC TOYS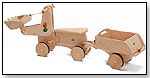 The nic CombiCar is a basic vehicle with four different set-ups. It's now also availabe with a trailer. The set-ups are very easily interchangeable. The system is suited for use inside and outside, but should be kept dry. Made of beech wood.
— "In our view, it's the best scooter toy that's ever been made," said Dean Ruggierio Smith, co-owner of JaZams in Princeton, NJ. 5/5/2010 (Price: $250.00; Age: 2 and up) [Add to my Inquiry Basket][?]



John Deere Plastic Pedal Tractor by LEARNING CURVE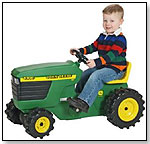 Licensed from John Deere, this authentic-looking kid's tractor features an adjustable seat, easy to reach pedals and a working steering wheel. It carries a 90-day limited warranty and weighs 22 lbs. Measurements are 38" x 19" x 22.5".
— Two retailers mentioned this tractor when asked about top-selling ride-on toys in spring 2010. The Wooden Toy in Wethersfield, Conn., sells two to three per month, Owner David Ekwall told TDmonthly. 3/30/2010 (Age: 3 and up)



3-in-1 Learning Zebra Scooter™ by VTECH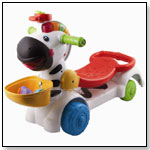 The 3-in-1 Learning Zebra Scooter grows with your child and is ideal for little ones on the go. It easily converts from riding to pushing and scooting as your infant begins to walk so the fun keeps on rolling. Lights and music entertain as infants learn colors, numbers and sounds with this versatile toy that keeps going and growing. 2/17/2010 (Price: $44.99; Age: 1 to 3)



Chopper Balance Bike by SMART GEAR LLC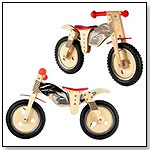 The Chopper Balance Bike from Smart Gear Toys is for children ages 2 to 5 years. This beautifully eco-friendly balance bike promotes balance, grossmotor coordination and overall gross motor skills. A great therapy tool to employ with children who have weakness in these areas. The bike comes with a comfy cushioned adjustable seat, inflatable rubber tires and a convenient built-in handle for easy carrying or hanging (if you choose to store it that way). The Chopper also features motorcycle decals to give it the appearance of an actual chopper.
— "My own daughter, who just turned four, still has some issues with pedal coordination and this bike could really help her keep up with her big brothers when we all take a ride," Jennifer Shuman, owner of 1SmartNoodle, told TDmonthly at Toy Fair 2010. 2/17/2010 [Add to my Inquiry Basket][?]



Whiplash™ by STREET SURFING LLC
The patent-pending Whiplash™ provides enough momentum to self-propel – so much so – riders' feet never need to touch the ground. The revolutionary new ride is part scooter, part Wave® (caster board) and totally fun because you can ride it like a scooter and carve and drift like The Wave®. Centered around the award-winning design of The Wave's® unique caster design and Torsion technology, Whiplash's™ flexing deck and handlebar fuse together to provide riders with a cool, side to side, whip-like ride. (

Watch Video) 2/4/2010 (Price: $79.99) [Add to my Inquiry Basket][?]



Rody Wooden Rocking Horse by TMI TOYMARKETING INTERNATIONAL INC.


Now Rody fans can rock as well as bounce. This sturdy wooden rocker can hold a child of up to 55 pounds. It's made in Italy of Scandinavian birchwood, by Lucio Londero. It measures 28" x 22". Some assembly is required. Launch date: 2010. (

Watch Video) 1/12/2010 (Price: $120.00; Age: 3 and up) [Add to my Inquiry Basket][?]



Gyrowheel by GYROBIKE INC.


Designed as an alternative to training wheels, the Gyrowheel senses imbalanced riding and recenters the bicycle once it begins to wobble. This effect is accomplished by an interior disk that spins independently of the wheel to stabilize the bike even at very low speeds. It installs quickly with a wrench and has a simple on/off button, three stability settings, rechargeable batteries, and light and sound indicators. The 12" Gyrowheel is available in black and white. Watch Demo Video; Watch Gyrowheel: Top-5 Video, Toy Fair 2010
— John MacDougall, owner of Golden Apple Learning Store in Pleasanton, Calif., was impressed with this product at Toy Fair 2010. It's "a step up from a balance bike with a gyro that keeps balance without training wheels. Tech + Bike = Perfect," he said. (

Watch Video) 1/6/2010 (Price: $115.00)



Freerider by BROOKLYN WORKSHOP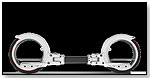 This hubless, human-powered ride-on features two wheels set in a straight line on a variable axis. The rider puts sets a foot through each wheel and self propels the Freerider. Launch date: January 2010. 12/16/2009 (Price: $150; Age: 12 and up) [Add to my Inquiry Basket][?]



EzyRoller - Pink by EZYROLLER LLC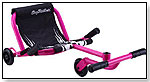 This sleek ride-on is fueled by cambering motion — the rider pushing his or her legs against the front bar, to the left and right. It has a hand brake and features an extendable design to host riders up to 6' tall. Maximum recommended weight is 150 lbs.
— Learning Tree Toys, Games & Books in Oklahoma City, Okla., sells about a dozen EzyRollers per month, Owner Patti Tepper-Rasmussen told TDmonthly in fall 2009.
— Jackie Roy, owner of Learning Resources Toy Magic in Fort Walton Beach, Fla., told TDmonthly in late 2009 that she brought in five EzyRollers on trial on sold out in a week and a half.
— Two of 37 specialty retailers cited the EzyRoller as a top-selling ride-on in spring 2010. "The EzyRoller, by far, continues to be the best," Christine Osborne of Wonder Works in Charleston, S.C., told TDmonthly in March 2010, reporting sales of a couple dozen per month.

Past Videos: WTHRA 2008 (

Watch Video) 11/3/2009 (Price: $99.95; Age: 3 and up)



Huffy Green Machine Xtreme Ride by HUFFY SPORTS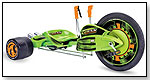 The three-wheeled Green Machine features a steel frame and two hand levers that control the rear wheels. it has oversized exhaust pipes and low-profile molded seat. 10/29/2009 (Price: $109.99; Age: 6 and up)



Denny Dog by DAYLA BABY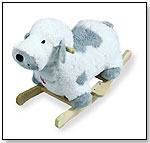 Denny the Dog features a rattle or squeak toy in one ear. Press the other and you'll activate a classical music selection. He's easily assembled and doesn't need to be taken for a walk. (

Watch Video) 10/20/2009 (Price: $89.00) [Add to my Inquiry Basket][?]



Smart Trike "Classic" by Smart Trike U.S.A. LLC
Smart Trike "Classic" is a sturdy tricycle, suitable for babies 10 months and up. The product contains a 3 in 1 concept that grows with your child, easily converting from a safe and comfortable baby tricycle to an independent tricycle. The Smart Trike Classic is equipped with a long back rest with shoulder belts, providing back support, comfort and safety. 10/7/2009 (Price: $89.99; Age: 1 to 2) [Add to my Inquiry Basket][?]



Fuzion Landshark by NEXTSPORT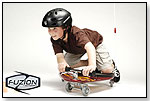 Combining the distinctive aspects of conventional kneeboarding and various wheeled products, the LandShark is designed to show off razor sharp steering and maximum maneuverability. It is ridden on the knees and powered by kicking or "pumping," so users are presented with a sleek design optimizing a low center of gravity. Launch date: September 2009. 7/23/2009 (Price: $79.99; Age: 6 to 14) [Add to my Inquiry Basket][?]



Leo Riding Lion by STEIFF NORTH AMERICA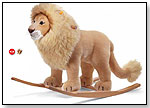 Steiff's update on the classic rocking horse, Leo Riding Lion, is made of high-quality woven fur and solid beech. With a handmade inner frame of stainless steel that can hold up to 300 lbs., this handcrafted rocker stands 28" tall and is surface washable. With a soft, full mane and loving face, Leo is marked with Steiff's signature "Button in Ear," representative of the company's trademark commitment to ultimate quality and workmanship. Launch date: September 2009. 7/7/2009 (Price: $550; Age: 3 to 8) [Add to my Inquiry Basket][?]



Lil Red Tractor by PEG PEREGO


Lil Red Tractor is a high-quality, rechargeable, battery powered mini-tractor for boys or girls. It can be driven up to 2 mph indoors or out, on semi-hard surfaces. It has a large, adjustable seat for growing legs, and on-off foot pedal, and a one-year limited warranty with a free second year extended warranty and toll-free customer service. It is made in Canada. "Lil Red Tractor is a very high quality product, powered by a rechargeable battery (included). Kids love the bright shiny red finish and it's the perfect size for use indoors or out. [It is] not distributed in big-box stores," Ken Maxwell, VP of marketing for Peg Perego, told TDmonthly. Launch date: June 2009. 6/29/2009 (Price: $169; Age: 2 to 4) [Add to my Inquiry Basket][?]



THIS BANNER IS AN AD:
---
---