---
New & Notable Toys: Teddy Bear
Check out these new and noteworthy toys.
18" Shen the Panda Adventure Kit by ZYLIE THE BEAR


Shen is Zylie the Bear's panda friend from her Adventure across China. Shen met Zylie and her silly little brother Theo in Chengdu, where he's from, and they had great fun journeying east across the country to Beijing. Shen loves rock & roll music, and is a drummer in a band about to go on tour. Shen practices martial arts, and is fascinated by other cultures, particularly their native music and instruments. Shen's Adventure Kit includes a leather jacket, cargo pants and cool t-shirt. He also has a backpack with drum sticks and a Chinese Passport, and the second book in Zylie's Adventure Series, "Zylie's Silk Road Adventure." 1/3/2013 (Price: $49.99) [Add to my Inquiry Basket][?]



Ceramic Bead Sticker Party by ALEX BRANDS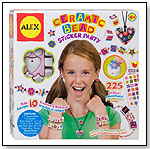 It's so easy to decorate ceramic beads with stickers. Just peel, stick and string. Includes 17 ceramic beads, 225 stickers, seed beads, 7 cords, ball chain, elastic, beading needle and easy instructions.
Awards: 2012 Dr. Toy 100 Best Toys 9/11/2012 (Price: $23.95; Age: 6 to 9) [Add to my Inquiry Basket][?]



Winter Wagner Bear by AURORA WORLD INC.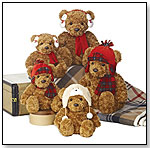 Winter Wagner bears come in two styles of 18" bears and three styles of 12" bears. These soft teddy bears wear cozy, trendy winter hats. Launch date: Fall 2011. 9/26/2011 [Add to my Inquiry Basket][?]



MONCALIN Stuffed Elephant by MONCALIN LLC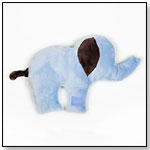 These plushy derms are meticulously designed and hand-crafted. Measures 17" x 10", and machine washable. Hypoallergenic stuffing. Polyester fiber. Made in USA. 10/21/2010 (Price: $36.00; Age: 3 and up) [Add to my Inquiry Basket][?]



Steiff Teddy Bear Ballerina Lotte in Suitcase by STEIFF NORTH AMERICA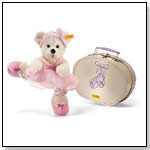 One of a charming series of 11-inch cuddly bears that comes with its own suitcase for toting about. Lotte is white with a pink chiffon tutu, pink headband, and satin slippers. She comes in an oval white carrying case that will thrill young ballerinas on the go.
Awards: Oppenheim Toy Portfolio Best Toy Award, Platinum, 2010. 10/14/2010 (Price: $42.00; Age: 4 to 8) [Add to my Inquiry Basket][?]



Nummy Yummy Bears by VERMONT TEDDY BEAR
Nummy Yummy Bears feature a flat-body design and are made with a scent created to last up to two years: watermelon, strawberry, grape, lemon or vanilla cupcake. They are made in Vermont with a lifetime guarantee. Launch date: Fall 2010. 7/7/2010 (Price: $19.95; Age: 4 to 7) [Add to my Inquiry Basket][?]



Bamboo Bears by PLANET FRED LLC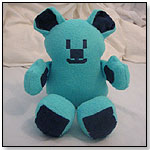 BamBoo Bears are made with soft organic materials and bright eye-catching colors to give eco-friendly a stylish new twist. BamBoo Bears are made from luxurious natural bamboo, organic cotton and hemp. They are dyed with safe, low-impact cold water dyes, and stuffed with hypo-allergenic corn-fiber stuffing. "Bamboo fiber is ideal for creating high-quality, soft, and silky fabrics. The feel of bamboo fleece is routinely described as 'soft as cashmere.' Bamboo is grown without the use of pesticides, and is naturally antimicrobial. A bamboo crop can be re-grown every 3 to 5 years, preventing deforestation. Bamboo absorbs ... 35-percent more carbon dioxide from the air than cotton," Sandra Lippard, Founder, Planet Fred, told TDmonthly. Launch date: February 14, 2010. 3/10/2010 (Price: $29.99; Age: All Ages) [Add to my Inquiry Basket][?]



Classic Teddy Bear by CHINA TOYBIZ.CN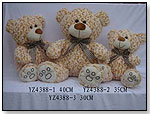 This fully stuffed teddy bear is made of new materials and comes in several sizes. Launch date: November 2009. 11/17/2009 (Price: $1.50; Age: All Ages) [Add to my Inquiry Basket][?]



Teddy Bear from Afghanistan by ONE WORLD PROJECTS INC.


In 2008, One World Projects began participating in a teddy bear distribution project in Afghanistan. For each teddy bear sold, another is donated to a child living in an orphanage or refugee camp in Afghanistan. Often, the bears are the first toy the child has ever received. The teddy bears are handmade by Children and Women Education Fund (CWEF), which started a few years ago in Afghan refugee camps to provide a source of income and instruction on women and children's rights. 7/31/2009 (Price: $28.00) [Add to my Inquiry Basket][?]



15" plush Two Tone Brown Traditional Bear by THE BEAR MILL


At 15", this plush bear takes to the stuffed teddy bear tradition. As with other The Bear Mill plush animals, The Bear Mill's line of accessories and outfits can help customize and add variety to this bear. 6/15/2009 (Price: $19.99)



Cozy Plush Beddy Bear - Microwavable by PRITTY IMPORTS LLC


"Beddy Bear is the world's first-ever fully microwavable teddy bear," CEO Ruth Hamilton of Pritty Imports told TDmonthly. He has soft fur and is filled with 100-percent natural wheat and dried lavender. He is designed to, after just two minutes in the microwave, stay warm for at least an hour, and longer if he is snuggled under the blankets. Launch date: June 2009. 5/28/2009 (Price: $19.95; Age: 3 and up) [Add to my Inquiry Basket][?]



Beverly Hills Teddy Bear Deluxe 36" Honey Belvedere Bear by StuffedAnimals.com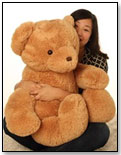 The soft & huggable line of teddy bears are made with a super plush fur that is so soft to the touch, you won't want to stop holding it! Their bodies are also filled with such soft squishy material that you will want to hug and squeeze your bear again and again. 4/10/2009 (Price: $149.95) [Add to my Inquiry Basket][?]



Orange Plush Bear by ELCO TOY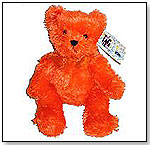 This 9.5" stuffed bear is filled with beanies. 9/30/2008 [Add to my Inquiry Basket][?]



Little Toy Bear - White Bear by SCAPERS INC.

This bear, straight from Grammy Bears' Stitchery, is unique among its fellow bear friends. It features hearts on its paws and chest and comes with membership to Bear-Beach Club. Kids can earn funscapers coupons that they can use for prizes for them and their bears. 9/30/2008 (Price: $29.99)



"Cuddles" Long Wool Teddy Bear by LAMBY


Made in Australia from Australian sheepskin, this long-wool, 18" plush bear is hand finished and comes in white and honey shades. Launch date: September 1, 2008. 6/12/2008 (Price: $249.95; Age: All Ages) [Add to my Inquiry Basket][?]



Chantilly Lane™ Text Message Bear by PBC INTERNATIONAL INC.


The 19" musical, animated plush sing "Party Started" and come dressed in hip, colorful dresses with matching "cop" hats. Text message acronyms such as "BFF" and "LOL" are printed in bright colors across the front of their tops. 5/30/2008 (Price: $24.99; Age: All Ages) [Add to my Inquiry Basket][?]



Snowbelle by BEARINGTON COLLECTION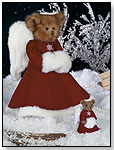 This gorgeous snow angel stands 14" tall and wears a beautiful red velvet dress with white sparkle fur trim. Little Blessing (MSRP: $6.00) stands 4 ½" tall. 5/24/2007 (Price: $23.00) [Add to my Inquiry Basket][?]



Florida Plush Collection by HERRINGTON TEDDY BEAR COMPANY
13" Sweatshirt Bear, Plush Logo Pillow, Mascot Teddy Bear, Plush Gator name 4/26/2007 [Add to my Inquiry Basket][?]



1-Inch Ultra Suede Jointed Bears by WORLD OF MINIATURE BEARS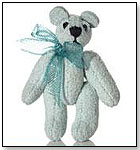 This 1"-tall versatile micro miniature bear is fully articulated (full movement) and has cute eyebrows. It can be used in a variety of settings for play, gift-giving, quilting, scrapbooking, or room box displays. It is made of ultrasuede. "Our micro-mini bear speaks to you. There is no other … handmade plush item of this quality and size on the market," Chris Nimeth, VP of sales and marketing for World of Miniature Bears, told TDmonthly. (

Watch Video) 4/13/2007 (Price: $6.95; Age: 5 and up) [Add to my Inquiry Basket][?]



Gift-Boxed Youth T-Shirts by THE MOUNTAIN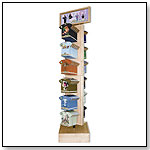 These T-shirts and hand-dyed and come packaged in an attractive and completely unique gift box. There are 300 inspired designs in 20 categories, and all are produced using water-based environmentally protective dyes and inks. This special printing process produces an image with incredible detail and gives these shirts their soft feel. "This product is completely unique, top-quality, thoroughly fun and entirely practical!" Jonathan Dancing, director of sales and marketing for The Mountain Corp., told TDmonthly. (

Watch Video) 3/1/2007 (Price: $14.95; Age: 2 to 15) [Add to my Inquiry Basket][?]



Learn-to-Dress Bearemy by KIDS PREFERRED INC.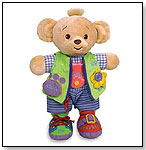 Under the Build-A-Bear Workshop license, this 12" tall plush bear has a heart inside and lets children practice how to dress and undress. Children will have so much fun zipping, snapping, toggling, tying, buckling and "Velcroing" their new best friend's clothing. 2/27/2007 (Price: $17.00; Age: 2 and up) [Add to my Inquiry Basket][?]



Unstuffed Bears by PDG GROUP, LLC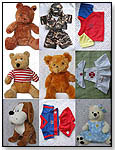 These 15" unstuffed animal skins have zippers in the back for closure. They are super soft, high quality, and feature excellent designs. The company also provides bear clothing and other accessories. Even Ke of PDG Group told TDmonthly that due to business partners in China and a warehouse in Chicago, the company is "able to supply the bear stuffing business with good quality products at very good wholesale prices and very low minimum (requirements)." 11/10/2006 (Age: 3 to Adult)



Teddy Bear — Nigel by GUND INC.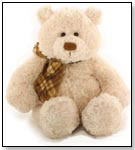 This soft, cuddly bear has a stitched cinnamon brown nose and comes with a plaid neck ribbon. It's not hard to figure out why kids want to hug this classic teddy. It's soft, cute and a favorite in Gund's popular line of plush bears.
— "Gund is our big one. It's a great company to work with," noted Jean Oliveira, store manager at Henry Bears Park in Brookline, Mass.
— "Plush products are doing very well. Gund Teddy Bears: They're well made, imaginative and traditional. They're the teddy bears our customers like," said Sallie Scott, owner of The Learning Tree in Missoula, Mont.
— According to a November 2005 Gund press release, "The American Brands Council has named Gund ... as one of America's favorite brands." 9/21/2006 (Price: $22.00) [Add to my Inquiry Basket][?]



Muffy VanderBear — Poinsettia by NORTH AMERICAN BEAR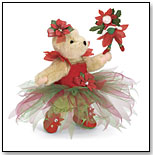 Muffy is all poinsettia perfection in her velvet and tulle confection. Satin pantaloons and jeweled felt slippers complete her floral fantasy. With her poinsettia petals, leaves, ribbons and petite poinsettia doll, there's no denying Muffy is blooming beautiful. The annual Muffy couture holiday edition is always a popular favorite and the most sought after Muffy design among avid Muffy collectors and bear fans, according to Lorene Shiraiwa North American Bear. All Muffy couture designs are boxed limited editions featuring a 7" fully-jointed Muffy in a lavish outfit complete with accessories. 5/31/2006 (Price: $50.00; Age: 3 and up) [Add to my Inquiry Basket][?]



Fuzzface by Bears of the Abbey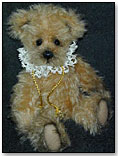 Fuzzface is 7" tall. Made from dense matted mohair with air brushed accents, and glass eyes. Fuzz face is pellet filled and is fully jointed.


4/24/2006 (Price: $149.00) [Add to my Inquiry Basket][?]




Animatronic Air Bath by TEDDY BEAR STUFFERS


We offer the Animatronic Air Bath . In the Animatronic Model, Ronnie Bear pumps the bellows and with each pump, the bellows push air through the tube making it look like Ronnie Bear is actually pumping the air and fluffing the fur. The Air bath operates on a fan and does not require an air compressor. The body is 20"x20"x33". Add 20" to top of air blower. Add 2" for wheels. Weighs 120 lbs. Shipping weight is 170 lbs. 3/21/2006 [Add to my Inquiry Basket][?]



Grab and Go Teddy Bear by KIDS JUKE BOX
Grab and Go is a patent-pending technology that allows retail locations to carry personalized products without the headaches of personalized products. Retailers can put one Teddy Bear on the shelf, and that bear comes with a software CD and connection cable. The customer purchases the bear and then goes home to complete the personalization. The end result is a teddy bear with a 50-second song, where the child's name is sung 8 times in the lyrics. This is one of the products that generated the most excitement at the 2006 Pomona toy show, said Daryl Ragsdale of Kids Juke Box. "Kids Juke Box has taken the guesswork out of personalized products," he added. 2/8/2006 (Price: $35.00; Age: 3 and up) [Add to my Inquiry Basket][?]



Bears-at-Sea Bear Bo-Sun by R. JOHN WRIGHT DOLLS INC.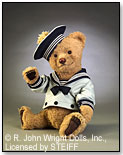 This brown alpaca plush bear stands 21". Designed with felt paw pads and resin claws, he features glass pupil eyes and a hand-painted leather nose. Dressed in traditional light blue and navy sailor garb, this is a limited edition. 2/1/2006 (Price: $750.00; Age: 12 and up) [Add to my Inquiry Basket][?]



THIS BANNER IS AN AD:
---
---