So, want to know what to stock next year? Or the year after? Cartoons = toys. That's an equation for merchandise these days. Every year more and more toys spin-off from more and more shows. So what're the kids watching, gonna watch and don't even know about yet? What's in store for your store? Here's the flash: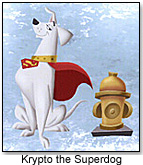 Warner Brothers Animation is unveiling a second season of their hit show "Krypto the Superdog," and with it, they're turning up the heat on toys, according to one of the producers over there. January 2006 will coincide with a second season premier on the WB, as well as a wave of action figures and plush toys hitting the shelves. The last time WB rolled out a superhero line was Teen Titans with Bandai (2003), and they were top ten selling action figures right off the bat. WB seeks to repeat this success.
A third season of "Xaolin Showdown" is in the works (I have a couple of producers in-the-know on this), and finally, because of the show's breakout numbers, a line of toys will hit the market, and hit it hard. This series has been a surprise hit, and has a building following among boys that hasn't peaked yet.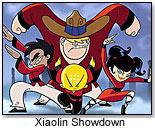 A remake of "Thundercats," that love-hate mid- '80s wonder (shhh, no one has an inkling yet, except the would-be story editor and Sander Schwartz, president of Warner Brothers Animation), is being tooled up right now at WB, with pre-production in the works, slated for airing in late 2006. No toy lines are set yet, but it's only a matter of time, as the original action figures are collectables now.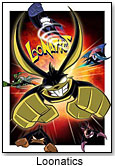 Perhaps the most anticipated new show from WB is "Loonatics," a futuristic comedy/actioner that tells the tales of the offspring of the original WB cast (Bugs, Daffy, the Tazmanian Devil), who now have superpowers and fight evil. It's a cross between "Batman" and "Animaniacs," and is going to be pushed hard in 2006. These are scion of WB's marquee characters, and in the past (Tiny Toons), the company has been very protective of anything that messes with The Rabbit. Read: they put their money where their mouth is (they are already retooling it from the original slant in order not to lose viewers who like the older versions).
"Teen Titans" is winding down, as well as the "Justice League" (not necessarily in that order). There will be a final push on both, and then … nada (they're already pulling the producers and story editors onto other shows). In the past, there's usually been a marked drop-off in sales for toys with a show on-air versus toys whose shows have been dropped. And it's usually not pretty.
According to production sources, Cartoon Network is doing more "Pet Aliens," and increasing their toy alliances, as the ratings remain strong. "The Life & Times of Juniper Lee" is doing well, and more shows are in the offing. Cartoon Network has always been runner-up behind Nickelodeon and the other children's networks in its ability to merchandise, pushing content over toys, so be alert. Cartoon Network toys have not had the strongest sales in the past (Cartoon Network-based toys seem to miss the top-10 roundups, where as Nickelodeon's are always there), and these shows don't look to be an exception.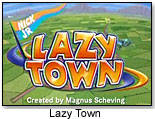 Over at Nick Jr., more "LazyTown" episodes are being negotiated, and the "LazyTown" merchandise is finally going to see the light-of-day Christmas 2005. Nick Jr. likes to wait to get a strong groundswell of viewers before they unveil their toys. Nick Jr. has historically been able to push their toy lines into the top spots ("Dora The Explorer," "Blues Clues"), and they are putting more money into "LazyTown" public relations than any previous show. Nick Jr. rules pre-school, and their toys are always marketed strongly and with good effect.
Discovery Kids has a unique new project called "Growing Up Creepy," a series about a girl who was raised by bugs (very cool bugs) who now has to face the human world at boarding school. "Discovery is on the hunt for licensees, and this looks to be a very sought-after show in the months ahead," according to Marjorie Kaplan, senior vice president and general manager of Discovery Kids.
Each of these new series will have substantial public relations pushes for their merchandise (tie-ins with sponsors like McDonalds and Burger King), which will drive the toys, as well as the fact that the very shows themselves are subtle advertisements. Past Christmases tell the tale, as "Dora The Explorer," "Yu-Gi-Oh!," "Batman," "Teletubbies," "SpongeBob" products, have all taken top spots in the list of must-haves.
Kids watch cartoons, and kids play with toys. And kids like to play with toys from their favorite cartoons. It's simple arithmetic. Stay tooned for Part II—and please: comment, comment, comment. Let me know what you want to know.