Corgi (ToyShow) is going for the die-cast crown in the United States: They have a clear vision and new management, comprising members that have previously worked together to kick-start growth in other companies. By using dynamic business practices, Corgi has plans to bring a die-cast British Invasion to America.
"In my experience, business is either growing, or it's declining, and those that think it's stable are in for a very rude awakening," David Davenport, the new general manager, the Americas for Corgi, USA, told TDmonthly Magazine. He was brought in, along with Corgi's new CEO, George Volanakis, "to more aggressively enter the North America market."
Already a die-cast icon in the United Kingdom, with their top-selling military line, rescue vehicles and even die-cast Yellow Submarines, Corgi has only recently set up business in North America. "Next year, we'll be 50 years old. The U.K.'s got a 45-year head-start on us, and we realize we can't do it with double-decker buses alone here — we need to have more North American content, and that's what we're looking to do."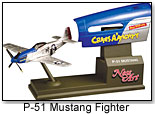 With an eye towards "shaking up the market," Davenport continued, Corgi is "developing product that is more directed to the mass market that will provide us with a better balance portfolio. We've really sort of structurally split ourselves into two divisions, the mass-market toy/collectible division, and then our specialty collectible division. We're doing some things differently within our existing lines, and also developing some new selling strategies."
Within their classic military lines (the biggest segment of their collectibles), they've gone into more painstaking historical detail and context. Davenport gives the example of a P-51 Mustang Fighter. It will have a back-story: which particular plane it was, who the pilot had been, how many "kills" it had, even to the extent of putting the correct metal figurines in the package. It's history in a box.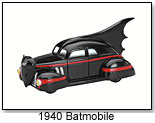 "It takes an otherwise beautiful, but somewhat static, product and it adds the human touch and puts a historical significance to it, to really kind of set it with the collector," Davenport explained.
For the mass market, they've looked to comic books. "Our DC Classic Batman was around before the ("Batman Begins") movie by many, many months, and we think it will follow the movie by years. We've got Batman product from the '30s all the way through to this millennium. A Batmobile from every decade."
Davenport has also signed up Marvel, breaking new ground. "We'll be producing very, very nicely done connoisseur quality, highly detailed, finely deco'd, metal figures. There's nothing that we've seen that would be where we stand in metal."
In addition, they've gone for lesser known franchises, including "Tales of Midnight," a comic book series which is growing fast in Britain. Davenport predicts the property will be a rising star. He added that Corgi will continue to develop their original lines more strongly.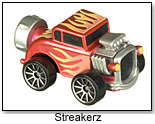 "We don't care where a great concept or great idea comes from, we'll seize it and work it," Davenport explained. "Streakerz is one of a number of products where we've taken a good concept and honed it to a level where we should have some pretty good success."
Davenport and Volanakis have been very successful in the past with other companies (increasing the business at Ertl three-fold in five years), and Corgi is a tremendous platform for them to work from. They're bridging the gap between Old World die-cast and New World content with definite goals and strategies. In October they will announce their new products — TDmonthly will be there, and so should you.
"In the end," Davenport explained with conviction, "Product is king."