Manufacturers of geographic learning devices have been adding imaginative features...

The word "geography" often conjures up images of pull-down world maps, rubber-tipped pointers and blank map quizzes. It doesn't bring to mind innovative, educational play things. Some manufacturers are trying to change that.

In an attempt to improve geography's image, manufacturers have produced everything from card games and interactive globes to puzzles and board games. Yet, whether customers spend their money and free time on these products is debatable.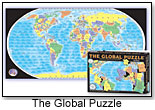 "People find learning geography a turn-off or intimidating," said Logan McKee, the store manager of the Mall of America branch of Games by James in Bloomington, Minn. "It´s hard to steer anyone who didn´t already come into the store wanting [a geography product] into buying one."
"Older kids buy puzzles, but they don´t buy puzzles with geography themes as much," said Charlene McAulay, store representative of Toy Town. Toy Town is located in the outdoorsy, river-and-mountain town of Casper, Wyo.
So who's buying the geography learning aids? Ambitious parents. They purchase those intended for younger children, still in control over which activities their children pursue.
"Of the geography toys, the floor puzzles seem to do pretty well," said McAuley. Floor puzzles are for ages 3 and up. "Parents buy them to start their kids off a little earlier. The puzzles are regular-sized, but the puzzle pieces are larger."
Manufacturers of geographic learning devices have been adding imaginative features to try to appeal to smaller children. For example, A Broader View (ToyDirectory) added a puzzle that includes 100 native animals, explained company president Roger Andresen. Replogle Globes offers inflatable globes and globes that can be written on using dry erase markers.
Geography learning devices for older children also sell, but manufacturers and retailers must overcome the negative perception about learning geography. The Green Board Games Company´s "Atlas Adventures has been selling well," said McKee. Atlas Adventures is a board game that incorporates a jigsaw puzzle and trivia elements.

"We also have Take Off! which we only started carrying last month. In terms of monthly sales, it´s done better than Atlas Adventures," said McKee. The games do seem to provide "painless education," he added.

As long as parents want their children to do well at school, geography learning devices aimed at 3- to 5-year-olds will sell. Retailers and manufacturers of devices aimed at older children will have to continue to work harder at overcoming the stigma that geography isn´t fun.

Some youth-oriented world geography learning products include:

.

AD

This 13-country game tests players´ ability to identify a country name with its flag and capital. On one card is the name of a country capital and on another is the image of a country flag. Each player takes turns flipping over a card until a capital matches a flag (or a name matches a capital, and so on). Whoever yells "snap" first takes the pile of cards. There is also a matching of the country name to capital and an outline of the country shape in its geographical region. Teachers use these games to play pairs, where all 52 cards are placed on a table and students take it in turns to turn two cards over that are from the same set. There is also a second pack (Around the World 2) and Around Europe.

.

AD

This is a brightly colored, 30" x 16.7" puzzle of the world. The 100-piece puzzle features flags of different countries. It includes a Map of the World poster.

.

AD

Kids listen to a nation´s statistical information, including its population size, music and currency, by touching the globe with an interactive pen. Students can compare information between two countries. The Explorer Globe includes a game that challenges players to find various spots on earth.

.

AD