"Little girls just love the lifelike baby dolls with the new vinyl. And if they happen to drop it, they don´t break it." —Carmen Keicher, owner of Hello Dollie Doll Shoppe

Little girls are picking up lifelike baby dolls meant for adult collectors, and they're not putting them down (see: "Top 10 Realistic Play Babies"). The super-realistic dolls are made possible by new materials for sculpting and manufacturing as well as innovative electronics. The trend has been noticed (see: "Sugar, Snails and Silicone"), and at least one manufacturer is ready to head for the mass market.

Lee Middleton Original Dolls' Breath of Life Babies are the #1-selling baby doll at the Doll & Gift Gallery in Rogers, Ariz., owner Joyce Hoover told TDmonthly Magazine. Even with a price tag of around $140, they outsell traditional baby dolls. Her #2 best sellers are Ashton-Drake Collectible's So Truly Real! dolls. Little girls account for about 60% of Hoover's lifelike baby doll buyers, and adult collectors comprise 40%.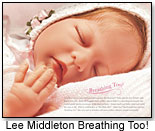 "Little girls just love the lifelike baby dolls with the new vinyl," said Carmen Keicher, owner of the 16-year-old Hello Dollie Doll Shoppe in Albuquerque, N. M. "And if they happen to drop it, they don't break it. If porcelain drops, it's gone."
Gigi Williams, co-owner of Gigi's Dolls and Sherry's Bears in Chicago, Ill., said that customers "like the realism" of the high-end lifelikes. She finds a 50/50 split between children and collectors, as does Jerree Childers of Dolls by Jerree, in Kingsport, Tenn.
"If they're taught to be careful … the dolls will last for years and years," noted Williams.
"As dolls become more lifelike, I think they'll be embraced by the community — both collectors and those who like to play," said Reyne Rice, toy trend specialist for the Toy Industry Association.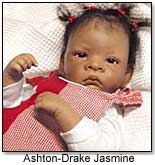 The Uneeda Doll Company must agree. They're previewing their first lifelikes at October's American International Fall Toy Show, and offering them at an "affordable" price point, Richard Flaxman, Uneeda's president, told TDmonthly. Their intended audience is little girls, who are also targeted by Lee Middletons´ Newborn Nursery dolls. (view article)
Though none of the manufacturers interviewed would provide exact figures for how many lifelike dolls they'd sold in 2005, "thousands" and "many thousands" were the most common answers. All of the manufacturers are expanding their lines and see no signs of the market slackening.
Reaction to the first Breath of Life dolls at the 2004 Toy Fair "was amazing," said Mark Putinski, vice president of marketing at Lee Middleton, in Westerville, Ohio. "We couldn't supply the demand."
In July, they previewed the new Breath of Life Breathing Too! babies at the Atlanta Gift Show. "People are astonished when they realize [the doll] is ´breathing,´ said Putinski. Breathing Too! dolls will appear in stores this month.
Most retailers surveyed carry lifelike dolls year round. Others, such as Roland Ficke, owner of Porcellana in Hamilton, Ind., finds them too high-end and only stocks them for holidays.
Sheila Michael, star artist for Blackall Associates' Masterpiece Dolls, thinks the lifelike doll market is growing. Childless adults and collectors are currently her biggest fans, but that could change, she said.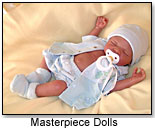 "I get people e-mailing that they want to introduce their children to doll collecting and they're not afraid to let them play with mine," Michael told TDmonthly Magazine.
Blackall has traditionally sold online and through TV shopping networks here and abroad. However, in the spring of 2005, the company opened sales of their lifelike dolls to retailers across the United States.
"Collectors who miss the offerings are now referred to retailers," said founder Shirley Blackall. The latest offering was in August; the newest dolls can be seen at the Masterpiece Dolls Web site.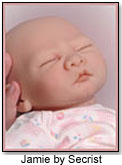 The Secrist Doll Company's first lifelike baby, Jamie, was launched in the middle of 2004. Jamie is one of two Secrist dolls that are available fully finished, as well as in kit form. Pat Secrist, co-founder, said their line of lifelike dolls is "doing well and expanding."

"It's a little more expensive to make them, so I don't know if they'll ever be mass marketed, but they probably will," concluded Michael, who's been making dolls for 20 years. "Porcelain [dolls] used to be out of sight; now anyone can afford to make them."

The following dolls appeal to collectors and careful children alike:

Created exclusively for Ashton-Drake by Toby Morgan, this 20" baby whimpers and wiggles when you give her a gentle squeeze. Made with RealTouch vinyl skin, she has hand-applied hair and tiny eyelashes, fingernails and toes. She´s dressed in a pink fleece onesie with organza ruffles and heart buttons, a tiny fleece cap and booties — just like a real baby. Sarah is the first So Truly Real baby doll that actually moves. She comes with a Certificate of Authenticity.

.

AD

One of the latest dolls sculpted by Sheila Michael for Masterpiece Dolls, this 2005 18" baby is the first Michael lifelike to have a "tushy." She comes in a white outfit with an undershirt, diaper, ID band and a pink bear rug.

.

AD

Sheila Michael sculpted this 18" baby for collectors as part of Masterpiece Dolls line. Made with a combination of silicone and vinyl, the baby's head, stomach and limbs are sewn to a soft body filled with fiber and weighted with plastic pellets to lend a real-baby feel. Her face is hand painted and she comes in a pink baby outfit.

.

AD

Available as either a "blank canvas" kit for "reborner" craftspeople or as a finished doll, Corey´s limbs and head are made of semi-translucent vinyl and attached to a soft body. Unlike other lifelike baby doll manufacturers, The Secrist Doll Company doesn´t make its babies in China; their factory rests in Michigan´s Saginaw Valley. They even manufacture their own optical-quality arcylic doll eyes. It's $139.00 for limited edition finished doll (pictured).

.

AD

Many lifelike baby dolls are made in limited editions. This 22" hollow cast silicone baby with blond hair is one of only 200. Dressed in decorated christening gowns, these babies definitely aren't recommended for children … but that doesn't mean they won't go home with one.

.

AD

Uneeda's new lifelike doll is intended for play and made with traditional materials. When asked why, Uneeda's former president, Richard Flaxman, was blunt. "I like to get a jump on the competition. And no one has done this in the mass market or in the department stores at acceptable price points," he said. He told TDmonthly that they would be "dolls that little girls can cuddle." The line will include extremely detailed 13" and 16" infants and babies of approximately 3 to 6 months in "absolutely the most beautiful baby outfits." Each size will come in three different facial types. The prototype dolls previewed at the American International Fall Toy Show in October 2005 and will be open for sale in January 2006.

.

AD

Laura Tuzio-Ross sculpted this 18" little girl for the Masterpiece Dolls line. She wears a romper outfit in orange, brown and blue tones. A gold-toned bracelet and earrings complete her outfit.

.

AD

Sculpted by Ping Lau, this baby is 12" high when seated. Her "Cuddle Me" vinyl skin is smoth and soft, just like a real baby´s. She comes dressed in a pink Satin embroidered onesie with a matching hat festooned with pompons. She´s issued in a limited edition of 3000 pieces.

.

AD