Since Groovy Girls hit Target, "We've got hundreds [of specialty retailers] that have jumped on board that hadn't carried them before." — Hugh Kennedy of Manhattan Toy Company

How do you sell a specialty item that some fear isn´t so special anymore? When the Groovy Girls hit Target last January, a number of toy shop owners and managers who'd helped build the popular Manhattan Toy Company (ToyDirectory) line felt betrayed. Though most told TDmonthly Magazine that the plush fashion dolls were "steady sellers" and Firefly´s Toys and Book Shop in Valencia, Calif. had sold out 36 new Groovy Girls in just one month, others had cut back their orders and weren't buying the company's assurances that there was nothing to worry about.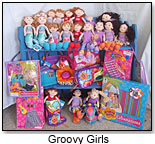 "We worked hard building that brand, and Target's reaping the benefit," said Sonya Kalajian, owner of the Toy Shop in Westford, Conn. "I've ordered very sparingly: just the new dolls and accessories."
"We've seen a huge drop off, because once they were available at Target, the market became oversaturated," said Clifford Jackson, assistant manager of toys and games at The Wizard's Chest in Denver, Colo.

"I´ve removed them," Trish Garlock, owner of Treasured Child in La Grange, Ky., said bluntly. "The license is going out to everyone. Instead, what I´ve brought in are the Only Hearts Club dolls ... "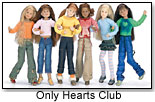 One of Manhattan Toy Company's stated purposes in releasing six Groovy Girl characters and various accessories to Target was to increase brand awareness and drive more business to specialty shops that carry the entire line of 80 to 100 products. Though none of the retailers interviewed for this article had noticed an increase in Groovy Girl traffic, Hugh Kennedy, vice president of business development for Manhattan Toy Inc., said that the company's strategy was working.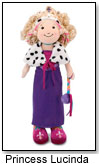 "Our Groovy Girl business is up over last year," Kennedy told TDmonthly. "Since the line went into Target in January, there have been very few specialty retailers who decided to drop Groovy Girls. We've got hundreds that have jumped on board that hadn't carried them before."
Kennedy stressed that Manhattan Toy is committed to its relationship with specialty retailers. The company provides free Groovy Girl costumes to promote the doll at store events. None of the nine small retailers interviewed by TDmonthly had used them; few even knew about them. Many were also confused about the agreement between Target and Groovy Girls.
Target will never carry the entire Groovy Girls line, Kennedy explained. New products will always appear first in the specialty stores, with a lag time of at least 6 months before being offered at Target. Most important, the Groovy Girls at Target are not cheaper versions made for a larger market; they are the same doll at the same price.
Though officials from Target were unreachable for comment, an anonymous survey of Targets across the nation this July seemed to verify Kennedy's assertions. Of 10 stores polled, eight carried up to six Groovy Girls characters. The dolls sold for $9.99 or more — the same price charged by most specialty retailers.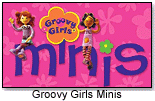 Retailers who stand by Groovy Girls are hoping that the dolls will join Thomas the Tank Engine and Playmobil as specialty items that can co-exist in the mass market. Newer products, such as the Groovy Girls Princess dolls, generate excitement. The Beach Girls were hot at Terry's Toy Box in Seattle, Wash. this summer, according to manager Meghan Block. Groovy Girl Minis are being snatched up at Izilla Toys in Seattle, Wash., said owner Jennifer Schneeweis. Jeanne Orlando, manager of The Purple Bear in Guilford, Conn., has to order Groovy Girls "every couple of weeks."
"A new Groovy Girl product line or characters or accessories are introduced and they start to pick up again," said Kevin Hart, co-owner and buyer for the Toy Store in Atlanta, Ga. "Then there's a lull, but they're always consistent. That's the good thing."