Nobody intentionally buys bombs. And what's a bomb in one store may be a boom in another. In the hopes of helping retailers find the best products for their shelves, TDmonthly Magazine surveyed 16 toy shops from coast to coast to find out which toys fell flat and which flew high in Christmas 2004.
The Bombs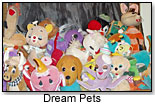 Sarah Evers, owner of Dancing Bear in Rochester, Minn. was certain that the re-issues of by Dream Pets by  Applause would set off a Beanie Baby-type craze. It didn't. What's doing well for her this year? "Everything!" she enthused.
Another nostalgic item that took a nose-dive was Lincoln Logs: Collector's Edition by K'Nex Industries Inc. This re-issue didn't move at Ralph´s Toys & Hobbies in Boise, Id., said manager Todd Golden. "They're still collecting dust," he said.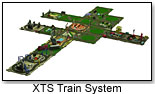 Toys that didn't work as expected were the XTS Train System by Basic Fun Inc. and Sonic FX by Hoberman. The XTS "didn't demo well" at Main Street Toy Shop in Columbus, said owner Gladys Griffin: "Little kids couldn't keep it on the track."
At The Next Generation of Stoughton in Stoughton, Wisc., owner Bobbi Dickerson was disappointed by Sonic FX. Customers may have been confused by the product, which includes a sound maker/DJ machine inside a movable strutted sphere.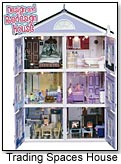 Confusion might also have been at work when Trading Spaces by B-BEL sat on the shelf at Animal Quacker Limited in Raleigh, N.C., owned by Nancy Cox. B-Bel has noted that this toy sells best when parents understand that it's really a craft kit rather than a playhouse.
The normally reliable Thomas the Tank Engine tanked out on Izilla Toys in Seattle, Wash. "I think that people who were shopping for large items went online for Thomas, which is silly because our prices are lower," said owner Jude Larene.
The Booms
Lisa Worrell, owner of The Enchanted Door in Altus, Okla., had a great Thomas the Tank Engine Christmas last year, as did Nancy Cox, owner of Animal Quacker in Raleigh, N.C. The same was true at Ralph's Toys & Hobbies, but sales have slowed down in 2005. "Part of it is competition from our big box neighbors, who are undercutting us pretty hard," said Golden.
Golden was pleasantly surprised by The Explore America Puzzles by Dowdle Folk Art. "We sold 30 of them," he said. Most retailers agreed that traditional toys not only did well at Christmas, but have continued to sell well throughout 2005.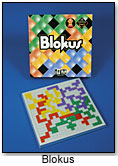 Blokus by Educational Insights Inc. (ToyDirectory) was such a hit at The Toy Chest in Cary, N.C., that owner Terry Heath says they were sold out by November. Blokus is still on the "hot products" list of most of the stores that TDmonthly surveys every month.

A good year-round seller for most stores, Ryan's Room Majestic Castle and Pirate Ship were especially popular last Christmas at Kidoodles Toys in Norman, Okla., said owner Linda Angel. Ryan's Room dollhouses were also top sellers at Abikidabra Toys in Greenville, N.C., owner Alan Carson told TDmonthly.

Going Forward

So how does one avoid getting bombed? Mary Ellen Cerney of Dear Friends and Children in Duncan, Okla., has a strategy. She advises storeowners not to over-order products that are selling well. "You should ask yourself if you really need to re-order it … or just order something different," she said. Conservative choices just might be the watchwords for a great Christmas in 2005.

What follows is more information on the products mentioned above.

This puzzle bears the sunny portrait of the harbor in Marblehead, Mass. — birthplace of the American Navy. It is classic nostalgic Americana. Eric Dowdle is a folk artist who was raised in the heart of the Western United States and memorializes the nation. His work has been displayed in many galleries and historical pageants across the country and has won many awards. His work with the Amish is internationally recognized.

.

AD

This beautiful set contains all wooden pieces stained to match those of the original Lincoln Logs. Its red chimneys and green slats rekindle memories of classic Lincoln Logs building fun. The keepsake wooden storage case is individually numbered for true collector quality.

.

AD

.

AD

Dream Pets began 50 years ago when R. Dakin & Co. began importing electronic trains from Japan. To protect the trains during their long journey to America, shippers cradled them with a half dozen or so "velveteen stuffed characters." This cute and clever "packaging" created an unexpected stir of excitement and R. Dakin & Co., now a division of Applause, LLC, began to import these original Dream Pets by the hundreds. Applause has issued 24 new Dream Pets in their first new release.

.

AD

.

AD

.

AD

This fantastic medieval castle features a working drawbridge to keep the enemy out, moveable towers, walls and staircases to create unique castle configurations. The solid wood construction lasts a lifetime, and play figures are also available for Ryan's Room sets.

.

AD