Around half of all toys are made of plastic. What if a large percentage of that plastic, PVC (polyvinyl chloride) plastic, is causing serious health problems in our children … or worse?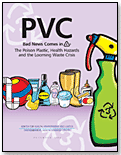 Rick Hind, legislative director, Greenpeace Toxics Campaign, explained to TDmonthly Magazine, "No step of the life cycle of PVC is without toxicity. Why risk the children? That's why we are fighting to ban it everywhere."
Many American toy companies question the need to ban PVC plastic. So do a number of scientists.
"One side has taken an all-or-nothing response, instead of a dose-response," explained Bob Krieger, a specialist in toxicology at the University of California, Riverside. "Persons who subscribe to all-or-nothing feel that any exposure is harmful — and there is abundant evidence to the contrary. There is a certain body of facts (about PVC), but it's the conclusions one comes to that make the difference. And the all-or-nothings' conclusions are inconsistent. One could take almost anything and, in isolation, show that it contains chemicals with potential toxicity."
A recent class-action lawsuit claimed that 56,000 people per year end up in the emergency room by way of acetaminophen poisoning due to misuse. "The question is," Krieger asked, "should we ban Tylenol?"
The battle over PVC is fought in the extremes: It will either cause a loss of billions of dollars to the toy industry, or health problems and death to thousands of children. How can they both be right?
The Issue in Question
PVC is the ubiquitous plastic found in most toys. It's soft, moldable and durable. It doesn't shatter into harmful shards and has been played with for more than 50 years. Because it's chlorine-based, it needs some sort of metal binder to stabilize it (e.g., cadmium, lead or organotin) and some kind of plastisizer to soften it (e.g., phthalates or citrates). These are the facts. From here on out, it's war.
In an article released June 2005 in the National Institute of Environmental Sciences journal, eight researchers studied 54 neonatal intensive care infants who were exposed to minimal to extreme PVC contact through hospital tubing, life-support systems and other apparatuses. They concluded that "intensive use of DEHP (i.e., phthlate)-containing medical devices in infants results in higher exposure to DEHP." And: "To date there are limited measurements on human exposures to phthalates, and to our knowledge, no data on whether their exposures are associated with adverse health effects."
In summary: Is there higher exposure to DEHP from PVC tubing? According to the data: Yes. Are there any adverse health effects from that higher exposure? There are no data available to answer that question.
The groups who seek to prohibit PVC, seeing that there was a definite leaching of phthalates from PVC into the babies, used this research to bolster their drive to ban PVC. "The very medical products that sustain … children´s lives also contaminate their bodies with DEHP," stated Greenpeace, backed by Health Care Without Harm. They see a danger and rightly react to it.
What does the dose-response camp conclude? "The TIA recognizes that science is a changing landscape," explained Tom Conley, president of the Toy Industry Association (TIA). "Qualitative measurements need to be made. The toy industry moves very quickly and voluntarily to safeguard, as we did with lead in 1972. But this is a rumor campaign. There is a process. There are safety standards."
Mattel uses PVC, but has replaced phthalates with citrates as a softener in toys for children 36 months and younger. "Since 1999, Mattel has invested a significant sum investigating alternatives to traditional plastic, or PVC, and at this point in time has come to the conclusion that there are no materials currently available that meet our stringent safety and performance standards," explained a source in Mattel.
But phthalates are only one of the ingredients in PVC that Greenpeace and others are worried about. There are metal binders that are needed to stabilize the chlorine in PVC. Lead is one such metal. The U.S. Consumer Product Safety Commission issued a federal register notice urging manufacturers not to use lead in PVC products. The toy industry stopped using lead as a binder and began to use organotin. Greenpeace purports that organotins are toxic, too, citing evidence found in tests on wildlife and rats.
As for dose-response, Krieger said, "Toxicity occurs when living things are exposed to excessive amounts of a chemical." What are the numbers? And what are the numbers in humans? No one yet knows.
So, Do We Ban PVC Toys?
The growing wave, with Europe leading the way, says yes. That wave is riding the very scary image of kids poisoned by their own playthings. Greenpeace makes no bones about it: chlorine chemistry is bad in all ways, shapes and forms. "It's not about 100 years of risk assessment; it's about a life cycle question," iterated Hind. "Why expose our children to needless and avoidable risks?"
But the TIA refuted this: "The Report of the Centers for Disease Control and Prevention confirms earlier research results showing that the level of the phthalate most often used in toys and children´s products (DiNP) is so minuscule as to be almost undetectable in the U.S. population studied. According to earlier studies, there is no evidence that DiNP is harmful to anyone at these exposure levels. Both the U.S. Consumer Product Safety Commission and the European Chemicals Bureau, an arm of the European Commission … have concluded that DiNP is safe for use in its current applications in toys and childcare items." The Bush Administration and the U.S. chemical industry have stated that an arbitrary ban would cost billions of dollars in lost revenue and lost jobs.
So, What is Right?
The answer is all in the interpretation and standards of proof. But when the choice is made, will it be a scientific evaluation, or an emotional one? Will it be to protect our children, or to protect our pocketbooks? Know the facts; draw your own conclusions. This war isn't over yet.