"Only recently are enough households getting to the point to justify the cost of a second computer to dedicate to their child." — Charles Hays of Digital Dimensions

As parents and teachers emphasize computer skills among preschoolers, the retail market is changing to accommodate the special needs of toddlers. Adult models are difficult, if not impossible, for a small child to use. One company has branched out and formed a special division to meet this growing demand.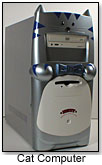 Since Digital Dimension´s beginning in 1997, this Oklahoma City designer and distributor has provided custom software and computer systems for individuals and large corporations. President Charles Hays started as a freelance Internet software developer, writing e-commerce programs and shopping cart models for customers.
"In 2001, the market for Web development software no longer offered appealing profits," Hays told TDmonthly Magazine. "I was looking for a new business angle and considered computer systems aimed at specific markets, such as gamers, business servers and home users."
He determined that these markets were crowded and offered little opportunity for those competing with established companies. About this time, his uncle asked him to build a computer system for his 2-year-old granddaughter.
"I am known in my family as the computer geek and guru and the first one any of them come to with their computer problems," Hays remarked. "After some research into computers and peripherals designed for children, it seemed there just was not a good single source. So finally, I found my retail niche and Kid-Computers was born. It was slow at first. The first few years was all about getting awareness of the company out to parents and schools."
This division has been open since 2002. His computers are designed for children between ages 2 and 8, but he´s received requests for those as young as 1. In addition to the systems, his catalog offers accessories such as monitor covers, headphones, mouse pads, microphones, speakers, cameras, cases, software and game controllers. He carries a selection of furniture for little people as well. Though he does not build the keyboards or mice, Kid-Computers is the biggest reseller for most of the companies that make them.
"There are many things to consider with each type of keyboard and mouse we offer, depending on the age and stage of computer learning the child is at, and I try to explain these differences to parents and schools," Hays commented. "We are constantly looking for new products to carry, but only those I believe in get picked. I have relationships with several manufacturers. They ask us for input on new product designs. I´m always eager to give them my two cents."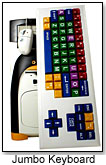 The Jumbo Keyboard is for children ages 3 to 6 who are using a computer for the first time. Keys are extra large and sturdy, with big letters that stand out. Many of the extra "fluff" keys are removed to lessen the confusion of finding the right key.
"The keyboard is laid out in QWERTY format, so they will start to learn this layout, and later when they begin typing, finding the right key won´t be so confusing," Hays explained. "There are similar keyboards that offer an ABCD layout, which we have had requests for, but I will not carry them because that type will only hinder proper typing later on."
He also offers tiny keyboard sets for small children. With smaller than standard keys, this style allows little fingers to reach the right keys for proper positioning and prevents frustration.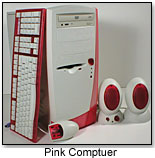 Hays´ console covers are in the shape of animals, such as a cat, dog, and penguin. "This year," he said, "the dog is beating the cat five to one."
Most of his advertising is by word of mouth. Although he sells directly to the customer, schools are his biggest buyers, since many offer computer education to younger age groups.
"Only recently are enough households getting to the point to justify the cost of a second computer to dedicate to their child," he said.
Even if educational institutions remain his primary clientele, this specialty developer will likely see increased sales as younger and younger children are taught how to use a computer. His incorporation of high technology with colorful, youthful designs gives this entrepreneur a competitive edge.

This Just In

TDmonthly Magazine has found that the market for kids´ computer keyboards is growing. Comfyware's Comfy Keyboard ($79.99) is a multi-award winning product that comes via Israel, where it is in 50% of homes with kids and computers and over 90% of day cares. Designed for infants and toddlers, thousands of hours of observation on how children interact with computers went into the creation of this imaginative take on an old standard. With more than just the basic keys (it has a telephone, roller and special musical buttons among others), it combines with the included software, EasyPC, for a total multimedia experience.