Many innovative toy manufacturers have won awards this year for creating unique designs that both educate and entertain children. Major awards include those given by Dr. Toy, iParenting Media, Oppenheim Toy Portfolio, Parents´ Choice Foundation and The National Parenting Center. Award recipients create products in all toy categories and range in company size.
The following products have been selected by one or more toy industry groups to receive a coveted award.
Fantanimals Puppets by FANNY´S PLAY HOUSE INC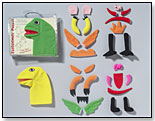 Winner of Dr.Toys 100 best children´s products and 10 best activity product, the Fantanimals Puppet consists of a basic puppet and 14 attachable parts in bright colors. The parts can be attached anywhere on the puppet to create fantastic animals. A great manipulative toy for ages 3 and up and children with special needs. Wonderful for storytelling and creative play. Machine washable, dryable, two styles available. Retail at about $18.50. 9/23/2005 (Price: $18.50) ENTER FANNY´S PLAY HOUSE INC TOYSHOW
Toppos Spinning Top by TOPPOS INC.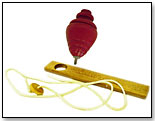 This classic back-to-basics wooden top with a new handle design gives more spinning power, and keeps the toy perfectly balanced. Wooden Toppos is sturdy, stands about 3 1/2" high and is lightweight. It´s ideal for spinning on table tops, or any smooth surface, indoors or outdoors. Nimble kids can even play "magazine catch" by spinning the toy on a magazine, then flipping it up in the air for a partner to catch on another magazine. Toppos won a Dr.Toy 100 Best Children´s Products award and a Dr. Toy 10 Best Active Products award for 2005. 9/1/2005 (Price: $10.00; Age: 6 and up)



All-Star Baseball by CADACO INC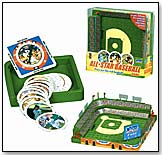 This fun game of classic baseball allows a child to play the role of Big League Manager. Real player statistics are translated into unique Player Discs. The discs are used with a spinner to reproduce realistic batting performances by favorite baseball players. All Star Baseball includes 35 discs, at-bat spinner, base runners and replica stadium with scoreboard and game storage unit. Children´s imaginations unfold as they engage in educational, hands-on play. It won a 2005 Dr. Toy award. 8/26/2005



Turtles Scrambles Squares by b. dazzle, inc.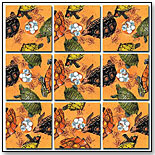 "Turtles" Scramble Squares puzzle by b. dazzle, inc. was one of 5 Scramble Squares 9-piece educational puzzles honored by The Institute for Childhood Resources in San Francisco as "Dr. Toy´s BEST VACATION Children´s Products 2005." Adults and seniors love award winning Scramble Squares puzzles at least as much as do children, teenagers and college students. Although each exquisite Scramble Squares puzzle has only nine 4" x 4" pieces, Scramble Squares puzzles are Perhaps the World's Most Challenging Puzzle. 8/26/2005 (Price: $9.99; Age: 4 and up) ENTER b. dazzle, inc. TOYSHOW



Danny First Snuggle & Play Pillows by PLAYGROUND ENTERPRISES INC./DANNY FIRST TOYS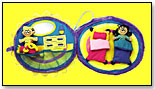 Snuggle and Play pillows are a wonderful "first toy." Fun for a child to SNUGGLE and PLAY with, each pillow opens up to a simple play activity scene. Pillows include a carry handle and vinyl travel bag. In addition to receiving an iParenting award, Snuggle and Play pillows have been named Infant/Plush "Toy Of The Year" by Creative Child magazine. 8/26/2005 (Price: $29.95; Age: 1 and up)



WaveLength by RANKUM LLC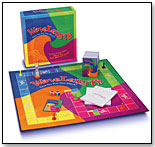 WaveLength's rules are simple. The player ranks his or her top five answers to more than 1,000 questions in multiple categories. From the top five toothpastes or daytime soap operas to the top five Steven Spielberg films or U.S. Presidents, there is a category of interest to everyone. There is no "right" or "wrong" answer. Players have to match their partners´ answers to earn points and race around the board. WaveLength is a 2005 winner of a Smart Play /Smart Toy Product of Excellence award from Dr. Toy, a National Parenting Seal of Approval, an iParenting Media Award and a Major Fun Award. 8/26/2005 (Price: $29.95; Age: 8 and up)



iMadeThat Toolbox Project by I Made That, Corp.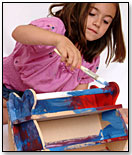 A handy and functional box for kids to fill with their favorite things, the imadethat toolbox project allows budding builders to be hip to the DIY culture with over-sized pieces, glue and wooden pegs that can be quickly and easily slid together, harmlessly hammered and painted with personality. Everything is included in the kit for a seamless start to finish project. These products won a Dr. Toy award because of how they engage kids in the hands-on project of building and creating. They empower kids and leave them feeling confident with the result – kids are so pleased with what they can do "all by themselves". 8/26/2005



BLOCO´s DRAGONS & REPTILES by ALARY GAMES, INC.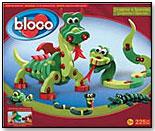 Builders seeking a new challenge will love the wild shapes, flexible feel and bold colors in this one-of-a-kind patented high-density foam construction set. The soft pieces link together to create easy flat models like snakes, or can be stacked to build far-out 3-D dragons, monsters and more. Build the illustrated designs using the step-by-step instructions or let your imagination take charge. Awards won include a National Parenting Center 2005 Seal of Approval, 2005 iParenting Media Award, Dr. Toy 2005 Smart Toy/Smart Play Award, a Creative Child Magazine 2005 Preferred Choice Award and 2005 Parents´ Choice Approved Award. The set contains 237 pieces. In addition to the Dragons & Reptiles kits, they also have a Wildcats line. Pieces can be mixed and matched to create more far-out creatures. 8/26/2005 (Age: 5 and up)



Hooded Rat by FOLKMANIS INC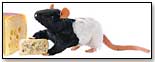 Widely popular and very friendly, the Hooded Rat is an unusual pet, but is a favorite of children and adults. In 2005, Folkmanis Puppets has created an amazingly realistic version of this peculiar pet. This 20-inch, micro-fiber plush creature has workable front paws and a long tail to flick. The realistic, two-tone color scheme and deep, black eyes give life to this pet that can easily become a real companion without any of the high-maintenance of a real pet rat. The designer´s attention to the facial details give the Hooded Rat its personality and lovability. The Hooded Rat won a 2005 Dr. Toy award. 8/26/2005 (Price: $16; Age: 3 to 12)



Parent´s Magazine® Young At Art by BATTAT INC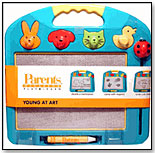 Parents Magazine Play+Learn Young at Art is a magnetic sketchboard that erases with a ladybug knob. It has animal magnets that work like rubber stamps and a magnetic pencil for drawing. The drawing board is backed with a comfortable beanbag lap desk and also has a built-in tote-along handle. It was the model candidate for an award for best travel toy. Young at Art is easily portable complete with a built-in tote handle; a beanbag lap desk that makes it ideal to bring and use on car, plane or train rides. It can be brought along to the beach or poolside. And because the screen can easily be erased, this toy never gets old as the child is free to keep on creating. 8/26/2005



Ruckus by HUBBUB, INC.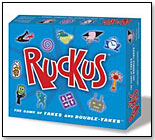 Ruckus card game is recipient of The National Parenting Center 2005 Seal of Approval, the 2005 Preferred Choice Award, and the 2005 iParenting Media Award. Ruckus is an easy-to-learn, quick-play family card game for 2 to 4 players. Part of Ruckus' charm stems from the strange and playful icons on the cards (Monkey in a Bottle, Fish Man, Pig in the Attic, etc.). Players score points by quickly matching cards in their hand to form and steal sets from other players. At the end of each round, the score is determined by adding up the number of cards in the sets(one point per card), then subtracting one point for each card that was still in a player´s hand when the round ended. Each round lasts three to four minutes, and until the final card is played, it´s anybody´s game! 8/26/2005 (Price: $9.99; Age: 7 and up)



Paper Mache by ALEX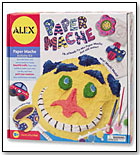 Kids can mix, mash, shape, mold and form lots of beautiful crafts out of paper mache. The material dries overnight. The next day it is ready to be decorated with accessories. This large kit comes with one pound of ready-to-mix paper mache material and everything necessary to make flowers, beads, a pencil holder, pencil toppers, finger puppets and more. The creations can then be painted with the included acrylic paints and brush. It won a Creative Child Magazine Toy of the Year Award in the Creative Craft Kits Category. 8/24/2005 (Price: $23.99; Age: 5 and up)



WEDGiTS To Go Set by IMAGABILITY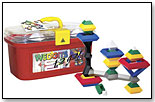 This design toy offers creative construction challenges for today´s Kids-on-theGo! Children can stack, nest, link and even lock WEDGiTS together to create creatures, structures, mechanical levers, statues and even galactic spacecraft. Packaged in its own portable, plastic carry-case, this 35-piece, educational manipulative product allows kids to create designs, structures, creatures and art-forms. 8/24/2005 (Price: $44.99; Age: 3 and up)



Write On! PRINTING DVD Tutor Kit by INCREDIBLE KID LLC.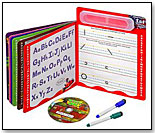 Write On! PRINTING DVD Tutor Kit is distinguished by Dr. Toy for a Smart Play Smart Toy Award because it is an innovative educational adventure series that interactively teaches young children, through play, how to print the alphabet. As verbal description is provided, so is a visual image of how each letter is drawn, actively engaging children in a learning experience. Within minutes, the child will be "playing" along, while "learning" how to print the alphabet. 8/24/2005



Birthday Gamesake by JOCAPA PRODUCTS LLC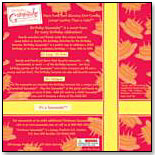 Birthday Gamesake allows family and friends the opportunity to create this personalized board game by filling out favorite memories on the enclosed gift cards. A sample card might read: "Annie swims across the pool. GREAT JOB. Roll again! Love, Dad (2005)." New cards can be added annually, creating a unique and hilarious diary of a person's life. The game includes 300 Gift Cards (to be personalized by friends and family), board, four pens, six pawns, one die and an instruction card along with directions. 8/24/2005



Crane by PLAYMOBIL INC.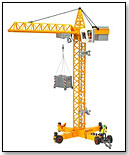 The construction worker picks up the cargo crate with the Crane and maneuvers it over to the construction site. With the cell phone, his partner notifies the team that the crate has arrived. Kids can use the controls on the base to move the Crane six different ways. Three AA batteries are required. It won an Oppenheim Toy Portfolio Platinum Award in 2005. 8/24/2005 (Price: $69.99; Age: 1 and up)



Wind Dancers by REEVES INTL INC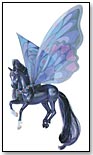 Wind Dancers, gossamer-winged horses in shimmering pearl tones, were named after winds from around the world: Sumatra, Brisa, Sirocco and Kona. With brushable manes and tails, beautifully detailed wings, and decorated bodies, the Wind Dancers each have their own unique personality and they are fun, spirited and ready for adventure! An included color booklet tells the story of the Wind Dancers. 8/24/2005 (Price: $12.99; Age: 6 and up)



Mexican Train by PUREMCO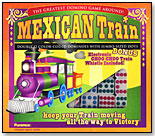 Mexican Train is a domino game for all seasons and groups. With brightly colored dominoes with jumbo spots, and a clear plastic train turntable centerpiece, 91 double 12 dominoes, eight train markers and a black, leatherette case, it´s a one-stop fun time. 8/23/2005 (Price: $14.95; Age: 6 and up)



Thumb Piano by SCHOENHUT PIANO CO., INC.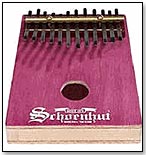 Primarily a percussion rhythm instrument, the Schoenhut Thumb Piano has 12 metal tongues or keys. Simple songs are easily tapped out using only one´s thumbs. It is tuned to the C key, and each handcrafted instrument is serialized and signed by the artist. 8/23/2005 (Price: $25.00; Age: 3 and up) ENTER SCHOENHUT PIANO CO., INC. TOYSHOW



Cosmic Blobs by SOLIDWORKS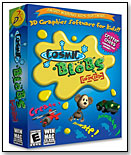 With Cosmic Blobs, kids have the power to design, manipulate and animate their own original creatures, objects and tableaus from the farthest reaches of their imagination with 3D graphics rivaling that of today´s leading computer-generated movies and cartoons. Kids can animate their Cosmic Blob creations, e-mail them to friends, print them, paste them onto a school report or import them into other applications. Cosmic Blobs was a winner of Dr. Toy´s Smart Play/Smart Toy Children´s Products for 2005. 8/23/2005 (Price: $39.99; Age: 7 to 14)



Chuckle Together! by THE MAKE BABY LAUGH! COMPANY, LLC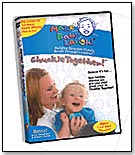 Chuckle Together! shows how laughter strengthens family bonds by featuring parents demonstrating the unique ways that they have found to make their babies laugh. The video´s soundtrack celebrates and compliments the interacting families, silly animations and other compelling video that engages and delights young children time and time again. Chuckle Together! (like Giggle Together! and Laugh Together!) includes 10 "discoveries" that show the importance of play and how laughter helps parents connect with their children. The product has won both an i-Parenting award and a Dr. Toy award. 8/23/2005 (Price: $17.99; Age: 0 to 3)



Tolo First Friends Tractor and Trailer by SMALL WORLD KIDS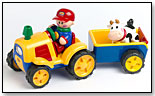 This industrious farmer is heading to town, towing his trailer and cow behind him. When kids push the seated farmer down the engine revs, lights go on, horn sounds and tractor moves. The tractor features realistic brake lights, a flashing headlight and a horn that beeps! Its soft rubber tires turn and do not scratch floors. Farmer and cow figures are removable with swiveling heads and limbs that make a fun "clicking" sound. The set is created from durable, brilliantly colored plastic. 8/23/2005 (Price: $43.99)



Time for Manners by TIME FOR MANNERS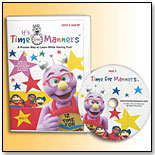 "Time for Manners" is the first in a new DVD series that teaches children about manners and social behavior — and makes learning fun! Everyday good behavior is actually demonstrated to children. They meet the puppet characters Tara and Tyler and their friend Wesley. These three are joined by Merlin Manners, a comical character who hosts the show. "Time for Manners" presents basic concepts, like saying "please" and "thank you," "you're welcome" and "excuse me." 8/23/2005 (Price: $16.95; Age: 2 and up)



Fun with Rock Painting by WALTER FOSTER PUBLISHING INC.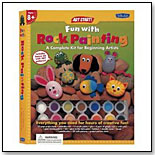 This all-in-one painting kit comes in a convenient carryall case that contains everything young artists need to start painting rocks: paints, googly eyes, a paintable rock and more. The colorful step-by-step project book guides kids through a collection of creative projects — from pet rocks to rock villages. But the fun doesn't stop there — the kit features an original CD jam-packed with more than 400 templates, providing an unending source of rock-painting inspiration. 8/23/2005 (Price: $14.95; Age: 7 and up)



The Circle Rattle by SASSY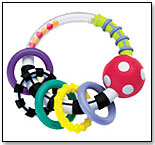 The Circle Rattle from Sassy is designed to develop thinking in babies 3 months and up by providing a feast for the senses. The rattle has been updated to include a whole new palate of bright colors and patterns. In addition, it offers soft sounds, gentle movements and a variety of bumpy, chewy, soft and solid textures to capture baby's imagination and stimulate the senses. The thin ring is sized just right for tiny hands to grasp. The Circle Rattle won an Oppenheim Toy Portfolio, Platinum Award. 8/22/2005 (Price: $3.99; Age: 0 to 3)



Make ´N´ Break by RAVENSBURGER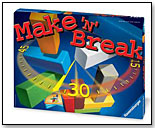 Players get 10 wooden building blocks, a timer ticking per the number rolled and a card showing players what to build in that time. When the time is up, players total the points on their completed building cards and collect tokens. After four rounds, the one with the most points is the winning builder. The game comes with an expert version as well. 8/22/2005 (Price: $29.99; Age: 5 and up)



NAMiTS Travel by NAMiTS, LLC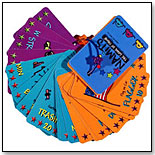 NAMiTS Travel is a modern-day version of the game of spotting items while traveling in the car, on long or short trips. Players spot the items on the cards, and score points. For example, a car with a flag is a "flagger" and worth 10 points, while a pizza delivery vehicle is a "muncher" and worth 20 points. Playing the game helps develop attention spans. The colorful, waterproof, tear proof cards are gathered on a ring, for portable fun. Dr. Toy chose NAMiTS Travel as one of the Best Vacation Products for 2005. 8/22/2005 (Price: $9.95; Age: 4 and up)



Speed Boat by LEGO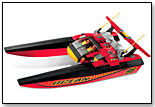 A winner of iParenting Media Awards 2005 Excellent Products, this catamaran rescue speed boat comes complete with two minifigures. Kids assemble the 107-piece speed boat themselves, which, once assembled, actually floats in water. 8/22/2005 (Price: $29.99; Age: 5 and up)



Reading Roadway USA by LEARNING RESOURCES INC.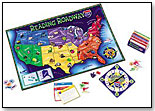 Using over 100 trivia questions relating to different geographical regions across the continental United States, this unique board game builds reading comprehension skills while educating kids about U.S. history and culture. The board game depicts a map of the United States with six differently colored regions that players move across using different colored plastic cars. Each of two to four players compete to answer reading comprehension questions, gaining game pieces shaped either like a mug, pennant, T-shirt, cap, or bumper sticker. The player that wins four game pieces and manages to make it back to his or her home region first, wins. It received a Parents' Choice Award. 8/22/2005 (Price: $19.95; Age: 8 and up)



Teaching Tees by LEARNING CREATIONS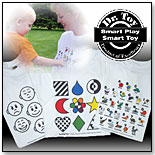 These T-shirts are designed for parents and caregivers of infants, toddlers and preschoolers to wear around the children to stimulate their curiosity and knowledge. The T-shirts are printed with visually appealing and educational graphics so that children learn from the images when their parents and caregivers wear the shirts around them. The Teaching Tees Early Learning Set includes three designs printed on high quality 100% cotton T-shirts: "Shapes, Colors and Contrasts," "Facial Expressions" and "The Alphabet." 8/22/2005 (Price: $14.95; Age: 18 and up)



Fun with Dance by KIDDIE VILLAGE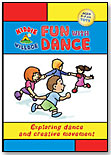 "Fun with Dance" is the first title released by Kiddie Village, a new children´s educational video company. Fun with Dance takes kids on a journey through the wonderful world of dance. It promotes learning and creativity by introducing toddlers to the joys of movement and dancing through the actions of puppets, animals, dancers and other children. The video builds body brain relationship and motor skills and introduces children to various styles of Dance. 8/22/2005 (Price: $14.99; Age: 0 to 5)



The Hush Baby CD by HUSH BABY PRODUCTS, LLC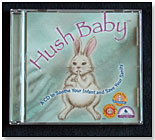 The Hush Baby CD was specifically designed to calm infants. It simultaneously plays three tracts of white noise blended with a digital wave pattern and mimics the sounds of the womb (blood flowing through mom´s body). Since a young baby´s developing neurological system is not able to tune out surrounding stimuli, the baby often becomes overwhelmed by it. White noise helps shut out these agitating triggers. The Hush Baby CD lessens the stimuli of a baby´s big new world. This award winning CD combines stimuli blockage, comforting sounds and a rhythmic device to capture baby´s attention. It is the recipient of a TNPC Seal of Approval and an IParenting Media Award. 8/22/2005 (Price: $14.99; Age: 0 to 3)



Mommy I Can´t Sleep by CAT ENTERTAINMENT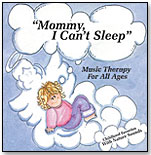 "Mommy, I Can´t Sleep" is a music CD designed by home day care
specialists to relax children. By combining the soothing sounds of nature with popular children´s songs, this CD calms children´s heartbeats and, in turn, their minds and bodies. A recipient of the National Parenting Award, "Mommy, I Can´t Sleep" includes a variety of old favorites such as "Somewhere Over The Rainbow," "Old McDonald Had a Farm" and "London Bridge." Nature sounds such as live cows, horses, ducks, birds, ocean water, streams and, of course, heart beats, have been added to augment the settling mood. 8/22/2005 (Price: $14.95; Age: All Ages)



Babar´s Book of Color by ABRAMS BOOKS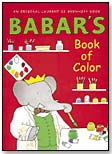 Babar introduces the colors of the world by showing different items, animals, and other things that informatively and humorously explain them in this delightful book. Babar, a beloved character who will celebrate his 80th anniversary this fall, stays contemporary year in and year out and in this book in particular offers children and parents an opportunity to introduce colors in a fun way. 8/22/2005 (Price: $15.95; Age: 5 to 9)



Nursery Tap, Hip to Toe Volume I by NURSERY TAP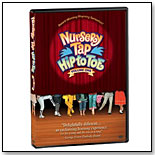 Directed and produced by award-winning actress and writer Juleen Murray Shaw, this DVD/CD set features 30 nursery rhymes set to tap, hip-hop and ballet. Each is choreographed, costumed and filmed against colorful sets to give the young child a complete sensory experience, and all are shot from the waist down, allowing viewers of all ages to imagine themselves in the rhymes. It received a George Foster Peabody Award, a 2005 Parents´ Choice "Recommended" Award, a 2005 Telly Award, a 2005 KIDS FIRST! Endorsement and the Dove Foundation Seal of Approval. 8/22/2005 (Price: $19.95; Age: 2 to 7)



Potty Time Tinkles by GOLDBERGER DOLL MFG. CO. INC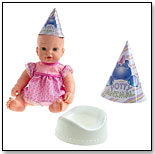 A state-of-the-art variation on the perennial favorite "drink and wet" doll, Potty Time Tinkles drinks from a bottle, "holds it" like a real child and then wets when the tummy is squeezed. This important feature is a perfect fit with modern, high-speed potty training programs, since most experts recommend using a doll for demonstrations of potty protocol. Tinkles never fails to "go" on command, unlike conventional designs that wet as soon as they drink. Potty Time Tinkles is available in a variety of clothing styles to appeal to both boys and girls and comes with a deluxe potty training set which includes a Potty Training Guide, Baby Bottle, and Progress Chart. 8/22/2005 (Price: $9.99; Age: 1 and up)



Rummikub by PRESSMAN TOY CORP.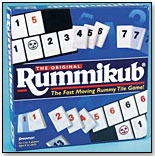 Ephraim Hertzano, a Romanian toothbrush manufacturer, originally designed this game in 1940 when playing cards had been outlawed. Originally fashioned out of Perspex airplane canopies, Hertzano later took the game to Israel where he and his family moved after World War II. In 1977, the game - played much like rummy - became the best-selling game in the United States. Today, players still take turns trying to match tiles either in consequential order or all of the same number on the playing board. 8/22/2005 (Price: $14.95; Age: 8 and up)



Geist Junior by ROSEKNOWS INC.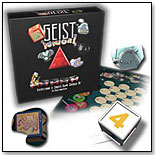 Geist Junior integrates puzzles into the game using 13 reusable stickers, each adorned with a different animal. It´s easy to learn, interactive, highly re-playable, educational and has endearing characters that children get attached to. In addition, it has a different gameplay for children of different ages to keep them challenged and to allow them to enjoy playing together. 8/22/2005 (Price: $24.95)



Travel Blokus by EDUCATIONAL INSIGHTS INC.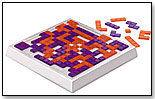 This compact two-player edition of Blokus is an on-the-go strategy game. It takes less than a minute to learn, yet has the depth to challenge both beginners and experts. Players alternate placing their game pieces on the board, pieces touching at the corners only. With one move a player can block an opponent, but open up lots of future moves. Addictive? Yes. Mind-bending strategy? Definitely! It includes a gameboard with 196 recessed squares and 42 vibrant, translucent game pieces in a storage tray. 8/22/2005 (Price: $19.99)



Bangs Made Easy by THINGS MADE EASY, INC.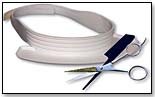 Bangs Made Easy saves parents time and money as they easily trim bangs without mess or frustration. The trimming crown has indented guidelines allowing the user to choose his or her desired length. The attached brim catches the hair clippings, keeping them out of the face and off of the floor as well as protecting the child from possible scissor injury. Bangs Made Easy patented design comfortably fits any size head using hook and loop fasteners. The guidelines allow the user to choose their desired length as well as a straight cut.
8/22/2005 (Price: $9.95; Age: 3 and up)



Picture+This by ACT GAMES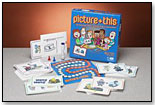 Picture+This is a picture-word guessing game where players solve picture puzzles that range from simple fun to highly challenging brain-teasers. With four categories: people, places, clichés and entertainment (television or movies), both player and clue givers select cards randomly and give their best clues to help their team solve the picture-word puzzle. The graphics for the puzzles are uniform so that as players learn the picture words they become better at solving the puzzles. 8/22/2005 (Price: $29.95; Age: 12 and up)



The Magical Monster Trap by MAGICAL MONSTER TRAP LC.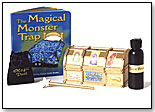 To children between the ages of 3 and 6, monsters can be real. This book and monster trap set shows kids how to catch their very own monsters. Included in the monster trap (a gold box), are monster stickers, a gold wand, a magic potion bottle and a magic dust satchel all used to convince children that they, with the help of their parents, have caught the monsters hiding under their beds. The trap has received the following awards: The Dr. Toy Award, the iParenting Media Award and the Creative Child Magazine Toy of the Year award. 8/19/2005 (Price: $24.99; Age: 3 and up)



The Ladybug Game by ZOBMONDO ENTERTAINMENT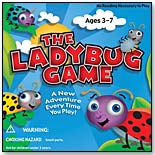 Created by six-year-old Kylie Copenhagen, who fell in love with ladybugs during a school science project, The Ladybug Game is designed for interactive play between parents and children. Players help the ladybugs find their way home after a windstorm blows them to a faraway dirt pile. Along the way, the ladybugs encounter various hazards such as tall grass, praying mantis', aphids and ants. 8/15/2005 (Price: $11.95; Age: 3 to 7)



Little Yogis Daydream DVD by Wai Lana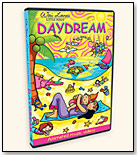 Kids fall in love with the adorable characters in Wai Lana's charming naptime cartoon. Drawing from an ancient yoga relaxation technique called Yoga Nidra, Daydream guides kids through a playful head-to-toe meditation, entertaining them as they settle down. Filled with secret waterfalls, hot air balloon rides, pink elephants, happy monkeys, and dancing butterflies, Wai Lana's beautiful Daydream is a feast for the imagination. It truly makes naptime a pleasure for kids, parents, and teachers. Wai Lana won the Dr. Toy award because her Daydream DVD is truly exceptional. It captivates and entertains kids while letting them unwind and relax for quiet time—which is crucial in an age when ADD and ADHD rates are skyrocketing. With its enchanting music and animation, Daydream is healthy fun that the whole family can feel good about. Kids and parents just love it. (Running time: Approx. 30 minutes) 8/15/2005 (Price: $12.95)



GeoPlunge by GEOPLUNGE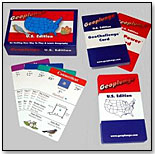 With one GeoPlunge set, kids and adults can play more than 30 different multi-award winning games, all for the price of one. Players decide which games to play based on what type of games they like or what they want to learn. A GeoPlunge set comes with three different decks of cards (98 cards in all) to give players a greater variety of games to play. The GeoPlunge deck, which is used in all of the games, consists of 50 colorful and easy to read cards, one for each state. Each GeoPlunge card includes a ton of information about the state, including the state capital; its rankings (from 1st to 50th) in size, population and statehood (i.e., when it became a state); three large cities in the state and where they are located; the states border states and where they are located; the state flower and bird and what they look like; and much more.
8/15/2005 (Price: $13.95; Age: 6 and up)



WonderChess Chess Kit for Kids by WONDERCHESS LLC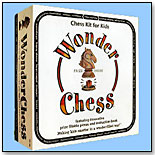 Kids love discovering small prizes inside chess pieces - that´s the magic of this kit which includes everything needed to learn and play chess. It features 32 prize-fillable chess pieces and The WonderChess Method, a 3D-illustrated book providing 10 easy and interactive lessons for kids and their caregivers. WonderReward incentive charts, WonderFiller sticker prizes and a 15" chessboard round out the fun and effectiveness. Caregivers love the fact that the WonderFiller prizes are customizable to best meet the needs and values of a particular family. And WonderFillers allow both players to experience winning. It won two awards in 2005: one from Dr. Toy and the other from Creative Child Magazine. 8/15/2005 (Price: $19.95; Age: 4 and up)



102 Camp Songs by TWIN SISTERS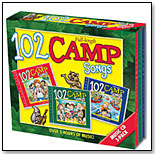 Sing, laugh, groan together with 102 Camp Songs! The nearly three hours of music features traditional favorites, nonsense songs, action songs, gross songs, and more! The 3-CD set is a great resource for the classroom, summer camp, retreats, family vacation, family camping, children´s ministry, car and bus trips, and family fun! For some, the songs bring back fond memories of summer camp or family sing-alongs. For others, the songs are exhilirating--providing an acceptable opportunity to say something gross or disgusting. For everyone, the songs result in a smile or a wrinkled-up nose! In short, 102 Camp Songs is great fun for the whole family. It won a Dr. Toy Best Vacation Children´s Products 2005. 8/15/2005



SPEED SPELL by SPEEDSPELL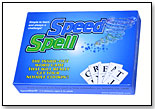 In this fast-paced game, created by Jerrilee Geist at age 9, with the assistance of mom, the players race to complete words from multiple letter groups building from the inside out. The more words you complete - or steal! - the more points you earn. The more cards left in your hand when someone goes out, the more points you lose. The rules contain several versions including the Solitaire, Switch, Molasses and the highly competitive Challenge versions. This game is both cooperative and competitive, so it will lean whichever way you choose. Jerrilee has been honored to be selected by By Kids For Kids as one of their kid inventors. The company believes it won a Dr. Toy Smart Play/Smart Play Children´s Products for 2005 award because it works exceptionally well for mixed skill levels, is so fun that you want to keep playing, and because of its mix of cooperation and competition. The greatest educational benefits are reaped as you play "out loud", naming possibilities for all that the less-skilled may not recognize. 8/15/2005



The Too Cool 4 School Scrapbook by The Bead Shop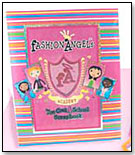 Scrap booking for tweens is all about school and best friends. The Too Cool 4 School Scrapbook is the perfect tool to keep track of friends from each of 4 years of school.? Using the enclosed supplies, each friend is highlighted on an individual information card that includes a picture and an area to add fun facts about that friend. The beautifully designed 3-ring binder also contains your school year report cards summarizing each of the 4 years covered in this scrapbook. The scrapbook won an iParenting Media Award. 8/15/2005 (Age: 8 to 12) ENTER The Bead Shop TOYSHOW



Harold Hound Teether by MAMAS & PAPAS LTD.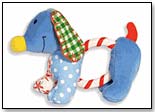 Don´t worry - he won´t bite back! Whimsically patterned Harold is a two-in-one rattle and teether. Functional and fun, new sounds, bright colors, and different textures entertain baby. This toy won an Oppenheim Toy Portfolio Platinum Award in 2005. 8/15/2005 (Age: 0 and up)



Braincandy, My 5 Senses by BRAINCANDY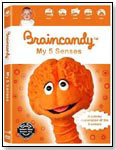 "Braincandy, My 5 Senses" is the first DVD in a series of 6, whose content focuses on young children learning about themselves as they learn about the world. Braincandy uses a creative combination of engaging puppet characters representing the five senses including Bruce Brain and "real" kids participating in sensory oriented activities, and innovative animations that show how the senses work. A variety of multi-genre, "kidified" music forms a textured backdrop that appeals to young children. This DVD/video has currently garnered eight toy industry awards including two Dr. Toy awards. Ideal for children ages 6 months to 4 years old, the DVD/video lays the foundation for independent thinking as well as social and emotional development. 8/15/2005 (Price: $19.99; Age: 0 to 4)



Lil´ Critter Concert by KIDZ DELIGHT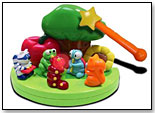 Lil´ Critter Concert is a great musical toy that will keep your preschooler entertained as they direct an orchestra. It features five bright and funny looking characters that each plays an instrument. A magical wand is included that can start or stop an instrument with a wave over the character's head. Choose to play one, two, three or all instruments at the same time. The high-quality sound makes differentiation between instruments easy to identify. This will help your child develop auditory skills as they have fun. Ten songs are included for your little conductor to sing along to. This is a wonderful product that has a lot of lasting value and builds enjoyment of music. 8/15/2005



Sculpey Party Projects (Oven-Bake Clay Party Kit) by POLYFORM PRODUCTS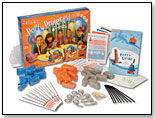 Each Party Projects activity kit is packed with all the materials and instructions needed to keep up to 8 children involved at a birthday party for an hour -- plus they get to take home three projects: a Space Alien Lutian keychain, Coilision shelf sitter and Blueper pencil topper. The kit also includes general party-giving tips, games and ideas for kid-friendly snacks like Cosmic cupcakes, Satellie Sippers, Planetary Pizzas and Fruity Flyers in the included Party Guide. Includes 24 bars of Sculpey clay. This product won the National Parenting Center´s Spring 2005 Seal of Approval, the Parents´ Choice Foundation Spring 2005 Approved Award, and the iParenting Media Awards Excellent Products Awards. 8/15/2005 (Price: $34.99)



Brain Quest by WORKMAN PUBLISHING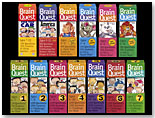 With over 24 million copies in print, Brain Quest is America´s #1 educational bestseller. It´s the game that kids love, parents trust, and teachers approve (and use every day in classrooms across the country). Twenty-one titles are available: Grades 1-7, with curriculum-based questions and answers; Early Childhood, emphasizing vocabulary, thinking skills, math, and reading; plus For the Car, America, Presidents, Black History, Hispanic America, Bathtime, and Bedtime. Brain Quest was distinguished for an award because it makes children feel good about themselves and encourages them to learn. It also makes learning fun for children, and allows parents to participate in their children´s learning. It has been around since 1992 and still sells! 8/15/2005 (Price: $10.95; Age: 2 to 14)



Creative Sand Adventures by ARTBEAT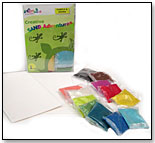 A wily pirate, a magical wizard and a fantasy castle are just three scenes of more than 50 images in ARTBEAT's Creative SandAdventures—the award-winning, no-mess remake of the family perennial "paint by numbers." Young artists easily create textured art on adhesive boards by applying their choice of 12 brilliant rainbow-hued sands, colored jewels or stick-on shapes to an ever-expanding collection of entertaining pre-scored pictures. Kids learn new art techniques while being rewarded with original designs worthy of framed display or as gifts. Kits contain sands, jewels and shapes w/ 2 canvases with easy-to-follow instructions. Creative Sand Adventures received national recognition for excellence by the iParenting Media Awards. 8/15/2005 (Price: $11.99; Age: 8 to 12)



Tub Tunes Water Flutes by RIGHT BRAIN (BIG BOING)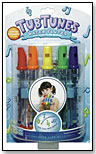 This is a real musical instrument that kids can play in the tub or anywhere there is water. Easy-to-follow color-coded waterproof music sheets can get kids playing songs in no time -- or they can improvise and create their own maritime tunes. Kids can tune each of the beautiful-sounding five flutes by adding or subtracting water. Big Boing´s Tub Tunes Flutes has won the iParenting Media Awards Excellent Products Call, Parents Magazine –Best Toys of the Year, NAPPA Honor Award, Toy Tips – Mark of Honor and Excellence and Dr toy – Best Vacation Toy. 8/15/2005 (Price: $9.99; Age: 3 to 8)



Learning Chinese and English Together by Baby IQ Language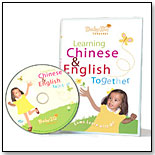 "Learning Chinese and English Together" provides a great way to introduce young children to language. Captivating, colorful images in concert with spoken and written words engage young ones and prompt them to refine and expand their language skills. The program contains three versions: Chinese and English Together, Chinese Only and English Only. The Chinese and English Together version allows the viewer to learn each word as a translation from one language to the next. Once the meaning of each word is understood, the Chinese Only and English Only versions allow the viewer to concentrate on one language at a time. It´s an innovative approach to learning language which allows the viewer to choose the method that makes learning easiest for them. The Dove Foundation gave it their highest rating and it received the 2005 Smart Play Smart Toy Product of Excellence Award from Dr. Toy. 8/12/2005 (Age: 1 and up)



Understanding Your Newborn and Infant by Simply Parenting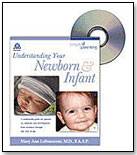 There is no shortage of how-to/advice books for new parents but this combo book/DVD set from Halo Productions/ Simply Parenting is among the best you will find. The book is very clearly written by a pediatrician and easy to read, covering the newborn period through the first birthday. The entertaining DVD that accompanies the book focuses on baby care and infant development. The two components of this set tie together nicely. Parents give high marks to the production techniques used on the DVD. Great gift set for new parents. This book and DVD set received the National Parenting Center Seal of Approval for 2005. 8/12/2005 (Price: $23)



Know A Baby® by Know A Baby, LLC



Parents can use these videos to entertain them and activate their senses. A variety of music, sounds, playful objects, shapes and motion give babies a developmental head start and parents a break. The video is the winner of the 2004 Videographers Award of Distinction, 2004 Aegis Award of Excellence Finalist, endorsed by Kids First! The National Coalition for Quality Children's Media, 2004 Communicator Award of Distinction, 2004 Telly Award Finalist, 2005 Summit Award Winner, Dr. Toy's Best Children's Vacation Products 2005, the Dove Foundation Family-Approved Seal and the Film Advisory Board Award of Excellence. Upcoming videos are Know A Baby® Goes to the Zoo and Counting with Know A Baby®. 8/4/2005 (Price: $14.99; Age: 0 and up) ENTER Know A Baby, LLC TOYSHOW



Theory Games by ALFRED PUBLISHING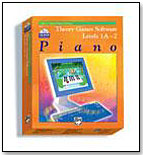 Fun games abound in this software package, designed to teach skills such as note naming, intervals, scales, music symbols and terminology. According to the Parent's Choice Web site, "All the children with whom the software was tested said that this program was a relief from sitting at the piano or memorizing study guides." It received an iParenting Media award in 2004. 8/3/2005 (Price: $19.95; Age: 7 to 16)



Music Ace Deluxe by HARMONIC VISION INC.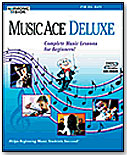 This highly recommended program offers 36 lessons and games complete with a composing function. It reinforces music lessons. The program teaches music theory, rhythm, pitch, note reading, listening and the keyboard. Music Ace has won several awards including the Dr. Toy 2005 Smart Play award. 8/3/2005 (Price: $79.95; Age: 6 and up)



INFINIFIELD® by INFINIFIELD, INC.



Infinifield is an abstract strategy game for 2 to 4 players, ages 6 to adult. Players use their creativity and imagination to build a two- or three-dimensional board from 24 blocks for every round. Then they use logic and strategy skills to chase and eliminate opponents´ pawns in a fast-paced game. Infinifield was invented and produced by an 8-year-old boy (now 10) and his father as a homeschooling project. It won a Parents´ Choice 2005 Silver Honor Award. 8/3/2005 (Price: $19.99; Age: 8 and up) ENTER INFINIFIELD, INC. TOYSHOW



Good Night, Sweet Dreams, I Love You: Now Get into Bed and Go to Sleep! by BOYS TOWN PRESS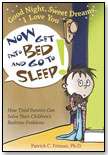 This 135-page softcover book is designed to focus on the specific problems that make it hard for their children to sleep, then gives parents options for solutions so they can find an approach that´s comfortable for them. With humor and empathy, child psychologist Dr. Patrick Friman outlines problems related to bedtime for babies though middle school kids. Good Night Sweet Dream I Love You won the National Parenting Seal of Approval. It´s written in clear and simple language, focuses on the problems and what parents can do about them, and gives parents options so they can find an approach they feel comfortable with. 8/1/2005 (Price: $10.95; Age: 18 and up)



Dr. Dot Richardson: Go For It Activity Pak by GIRLS EXPLORE LLC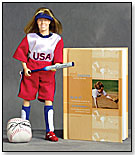 Dot Richardson, M.D., became an Olympic gold-medal shortstop in an era when people said, "Girls don't play baseball." When few women held the title "Doctor," Dot became an orthopedic surgeon. The Dot Richardson doll comes in a USA softball uniform complete with visor and cleat, and a "signed" baseball bat and ball. In an accompanying 140-page book, Dr. Richardson tells how to deal with rejection and gives girls advice on how to find their passions and follow their dreams. It also comes with an activity pak with 6 different activities for girls to complete. This toy won a Dr. Toy Smart Play Smart Toy award for 2005. 8/1/2005 (Price: $60.00; Age: 8 and up)



Learning Connections Train by LEAPFROG



This train comes with 5 cars and an engine that displays different number of objects, which match to the number on the car, reinforcing the number/object correlation. However, the magic really begins when toddlers can attach each of the cars in any order and get a different response. With 3 modes of play, toddlers are introduced to numbers, colors, animal names, animal sounds, music and other fun sounds. 7/27/2005 (Price: $24.95; Age: 1 and up)



LONPOS 101 Pyramid and Rectangle Game by Mic-O-Mic Americas, Inc.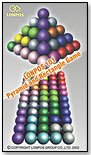 The Mic-O-Mic patented German construction toys have won numerous awards, both in Europe and, particularly, North America. The patented LONPOS 101 Pyramid and Rectangle Game from Taiwan already has won awards for Mic-O-Mic Americas Inc., including a "Dr. Toy Best Vacation Product" and an "Amazing Wisdom Merit Award" from Parent to Parent. Since it was only introduced in July, more are likely. With a possible 363,566 possible problems in one pocket sized box, this is an ideal travel game that develops brainpower, IQ, concentration, math and cognitive skills, and interpersonal skills (It´s fun to play with others to see who can finish a problem fastest). 6/28/2005 (Price: $16.99; Age: 8 and up) ENTER Mic-O-Mic Americas, Inc. TOYSHOW



Developing Early Speech by BABY CHATTERBOX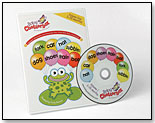 Baby Chatterbox is an entirely new line of videos designed to help teach young children, infants to 3 years old, how to speak. Volume One: Developing Early Speech combines eye-catching color, movement and, for the first time, extreme close-ups of a narrator´s mouth as she forms words. Baby Chatterbox is the only DVD that provides this up-close experience. Baby Chatterbox grabs the viewers at the beginning of the DVD and keeps them entertained throughout. The close-ups of the narrator´s mouth and use of repetition are key elements in this DVD. Babies responded well to the characters and the visuals, and stayed seated for repeated viewings. Baby Chatterbox DVD Vol. 1 won a National Parenting Center Seal of Approval Spring in 2005. 6/28/2005 (Price: $19.95; Age: 0 to 3)



PlasmaCar by PLASMART INC.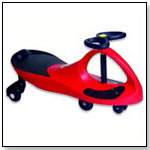 Mehgan Block, of Terri's Toy Box, credits most of the sales increase of ride-ons at her store to this new addition. Made from state-of-the-art, high-quality ABS plastics, this kid-powered, durable ride-on vehicle comes in a variety of colors. Turning the steering wheel generates the force to move the vehicle forward. It has a sleek, aerodynamic design and moves quickly over smooth, flat surfaces. It´s an Oppenheimer and Dr. Toy award winner for 2005. 6/28/2005 (Price: $69.95)



Dig Real Fossils by THE YOUNG SCIENTISTS CLUB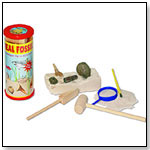 Dig Real Fossils is a simulation of a real paleontology fossil dig. Children dig for a fossilized shark tooth, brachiopod shell, amnonite shell and "squid" shell. These real, millions of years old fossils are enclosed in a "brick" and are revealed by using the supplied scraping and brush tools (similar to what real paleontologists use). Young paleontologists then take a closer look at these fossils with the enclosed magnifying glass and learn fascinating details about each fossil using the enclosed fun fact sheet. The easy-to-open tube also serves as a display case for the discovered fossils which can then be treasured for many years to come. It won the Creative Child Magazine Seal Of Excellence Award. 5/26/2005 (Price: $9.99; Age: 5 and up)



Snuggle Time with Goodnight Star Gift Set by TAGGIES, INC.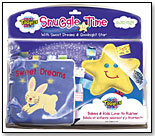 A musical plush toy is paired up with "My First Taggies(R) Book: Sweet Dreams" in this new gift set. The Goodnight Star(TM) plush toy plays lullabies. Both toy and book feature numerous tags for babies to explore. Additionally, this product won a Dr. Toy award in Dr. Toy´s Smart Play/Smart Toys Product Awards Program 2005. 4/21/2005 (Price: $29.95; Age: All Ages)



Moonjar Classic Moneybox (Retro-Tin) by MOONJAR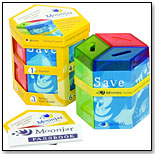 The Classic Moonjar Moneybox is a fun, new innovative way to help kids understand money. Made of three colorful, retro-tin containers and held together by a Moonjar Band. The red section is for Sharing and has lots of space for kids to place their own ideas about the people and causes they want to share with. The green section is for Spending and helps them visualize what they want to buy. The blue section is for Saving; encouraging both long and short term goals. Saving, Spending and Sharing. The Moonjar concept of SAVING, SPENDING and SHARING brings lifelong, life changing values to the families of today. This teaching tool is a hands-on, visual reminder that encourages the choices to be made with money. Moonjar has been recognized for meeting a global need with a clear uncomplicated tool. Moonjar is a positive step for financial literacy and children. This product won a National Parenting Center 2005 Seal of Approval. 4/19/2005 (Price: $24.95; Age: 4 to 12)



Retro Rocket by RADIO FLYER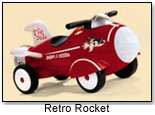 This retro-styled rocket from a well-known name offers the added fun of space sounds, vibrating motor action, and working lights. It also features a storage area under the seat.
-- This toy was included on the Parents Choice 2004 Holiday Gift Guide.
-- It was a 2005 winner of the Oppenheim Toy Portfolio Platinum Award; it was rated a "Top-Rated Big Ticket" item and a "Top-Rated Gender-Free Product."
-- This rocket was a best seller on popular sites such as Target.com in March 2005, and can be enjoyed by children 10 months and up. It was an Oppenheim Toy Portfolio Platinum Award Winner 2004 and a Parent´s Choice "Recommended" Award Winner 2004.
3/21/2005 (Price: $65.00; Age: 0 to 3)



BRATZ Sportz by MGA ENTERTAINMENT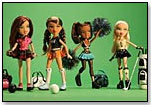 BRATZ dolls are bringing style and attitude to the world of sports this spring with BRATZ Sportz, when the girls we've come to love bring their own mojo to athletic pursuits. The girls come in four styles – Slammin' Soccer, Rockin' Cheerleadin', Groovin' Golf, and Bangin' Bowlin'. Don't let the girls' fashion sense disguise their competitive groove. They won a 2005 Dr. Toy award. 3/9/2005 (Price: $9.99; Age: 6 and up)



Story Reader by PUBLICATIONS INTERNATIONAL, LTD.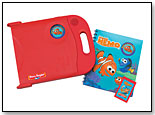 Winner of Dr. Toy's Best Vacation Products of 2005 award, Story Reader™ is the first-ever portable electronic storybook reader for kids aged three to eight, offering a fun experience that lets kids learn to love to read at their own pace. As each page is turned, a narrator reads aloud, yet the patented technology is completely invisible. The lightweight, portable design features a hinged clamshell-style unit with carrying handle. Story Reader is the nation's best-selling line of preschool books. The unit is accompanied by a book based on Disney/Pixar's "Finding Nemo". 3/8/2005 (Price: $20; Age: 3 to 8)



Working Models: The Big Break Down Truck by Mic-O-Mic Americas, Inc.



The Big Break Down Truck is the larger version of the Small Break Down Truck and is one of the company´s most complex models. Designed to challenge the builder, this model is sure to please those who want a challenge when completing a puzzle. It is recommended for advanced builders. It won a Parent to Parent Adding Wisdom Merit Award. 3/2/2005 ENTER Mic-O-Mic Americas, Inc. TOYSHOW



Driving Models: The Sports Car by Mic-O-Mic Americas, Inc.



The Sports Car is one of Mic-O-Mic Americas´ intermediate models. Durable and sturdy, it is one of the company´s more challenging construction puzzles.It won a Dr. Toy Best Vacation Toy award. 2/28/2005 ENTER Mic-O-Mic Americas, Inc. TOYSHOW



Baffle Gab™ by WORD SALT, INC.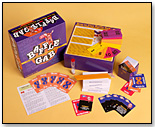 Baffle Gab™ - the fast, fun, and easy-to-play creative writing game - has been named one of iParenting Media's Best New Products of 2005. This is a laugh-out-loud game that will appeal to classroom teachers who are looking for a fun way to supplement the language arts curriculum as well as families who like to have fun while challenging their creative writing abilities. To play, each player uses five Gabby words to write a story in under one minute. The Spanish version of Baffle Gab™ will be available for the holidays. It is recommended for use by classroom teachers of Spanish as well as individuals and families who wish to practice their Spanish. In addition to The National Parenting Center´s Seal of Approval, Baffle Gab(TM) is also one of iParenting Media´s Best New Products of 2005, and most recently, we were named Creative Child Magazine´s Top Classroom Game of 2005. 2/25/2005 (Price: $29.95; Age: 8 and up) ENTER WORD SALT, INC. TOYSHOW



Tek Tag by WILD PLANET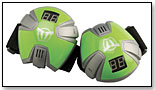 Tek Tag is a technology-enhanced game that encourages today´s computer-minded kids to engage in active physical play. Tek Tag is played using touch-sensitive sensors that intensify the game with sound effects, warning sirens and a digital display depicting the remaining time or lives left, depending on game mode. Each player wears a sensor pod on his arm and aims to score by touching his opponent´s pod while defending his own sensor. Tek Tag builds on the classic concept of tag and integrates technology that appeals to children and adults. The digital display and sound effects on Tek Tag virtually omit playground squabbles over who got tagged, making play time fun again. Tek Tag brings exercise, agility, balance and healthy physical competition back to the playground. It won an iParenting Media Awards 2005 Excellent Products. 2/15/2005 (Age: 6 and up)



Let´s Make a Splash! by BABYPRO LLC



The BabyPro "Let's Make a Splash!" video provides a charming and playful introduction to swimming, diving and surfing. Captivating images of little mouths blowing bubbles, babies splashing and children riding waves are synchronized with lively compositions from composers such as Handel, Hayden, Bach and Sousa to create a motivating introduction to water play for babies and toddlers. Curious minds are exposed to language development through the repetition of action words and phrases such as "Pull with your arms" "Splash with your hands" and "Kick with your feet." 2/15/2005 ENTER BABYPRO LLC TOYSHOW



My First Railway Set by BRIO CORPORATION



My First Railway Set is a specially designed, 15 piece set that is age appropriate for children over 18 months old. The new concept allows children to take the simple components and connect them together or play with them as stand alone pieces. Easy to connect ramp tracks allow children to explore taking their train off the tracks onto a carpeted or flat surface where the play concept is only limited by their imagination. A soft, padded house doubles as a railway tunnel to drive the train through. 2/11/2005 (Price: $35.00; Age: 1 and up)



DidYa Know ® by ON THE SPOT GAMES



This game brings people together, encourages conversation and builds a strong sense of family and community through group storytelling. Players share memories, life experiences and opinions on diverse, entertaining and edgy topics. The game takes a funny turn when players swap cards and attempt to re-tell each other's stories. DidYa Know contains one rule card and 31 story cards. It won a Dr. Toy Best Vacation Products award in 2005. 2/1/2005 (Price: $7.95; Age: 8 and up) ENTER ON THE SPOT GAMES TOYSHOW



Backyard Flyer Double Pack by KID GALAXY INC.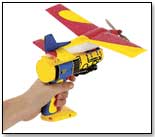 The Backyard Flyer Double Pack is a high-flying plane from Kid Galaxy that brings the wonder of flight to the backyard. The toy provides two great planes, one red and one blue, with one launcher for high-flying variety and value. The Backyard Flyer is a powered flight plane which charges on its own integrated hand-held, battery-powered launcher. Made of high-strength EPP foam, both planes are ideal for young daredevils. 1/7/2005 (Price: $20; Age: 8 and up)



My Baby Can Talk - First Signs DVD by BABY HANDS PRODUCTIONS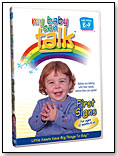 Babies can talk with their hands - before they can even speak! This educational video artfully engages both infants and their parents so they can learn to communicate with each other through sign language. Research indicates that babies who use sign language will become better adjusted, speak sooner with larger vocabularies and boast higher IQ scores than their peers. It has already won awards from Parents' Choice Foundation, the National Parenting Center, iParenting Media Awards and Kids First! Babies across the country have learned to talk with their hands instead of crying, reducing caregiver frustration and enhancing family bonding time. It is meant for babies 10 months and older. 1/6/2005 (Price: $19.95; Age: 1 and up)



My First Electronic Coloring Book by TECHNO SOURCE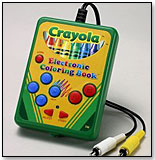 Introduce children to the world of gaming in a way that is educational, imaginative and, most importantly, fun with the electronic game based on the Crayola brand. The all-new My First Electronic Coloring Book is an easy-to-use system that plugs directly into the television. The game contains 30 activities, including coloring book, connect the dots and puzzles to color. 1/6/2005 (Price: $12.99; Age: 3 and up)



LETTERFLIP™ by OUT OF THE BOX PUBLISHING


Letterflip is the head-to-head word game that requires no paper, pencil, or table to play. All the game components are contained in specially designed "Letterflippers." These ingenious devices allow players to play in a car, outdoors, on the beach… anywhere! In Letterflip, players use clever deduction and a little luck in a quest to reveal secret words. Players take turns searching for letters within their own hidden words. The first player to uncover all of their hidden words wins the game.LETTERFLIP is the head-to-head word game that requires no paper, pencil, or table to play. All the game components are contained in specially designed "Letterflippers". These ingenious devices allow players to play in a car, outdoors, on the beach... anywhere! In LETTERFLIP players use clever deduction and a little luck in a quest to reveal secret words. Players take turns searching for letters within their own hidden words. The first player to uncover all of their hidden words wins the game. This game won a iParenting Median Awards 2005 Excellent Products Call because it´s one of very few word games that has some luck involved....which helps even the playing field! 12/27/2004 (Price: $19.99; Age: 10 and up)



3D Pool Table by ZOCKER TOYS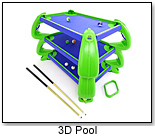 The 3D Pool Table takes pool to a new dimension by allowing balls to be able to be hit up or down the corner scoops to different playing levels. Strategy becomes very important in getting your game balls into the bottom pockets first to win the game. There are three levels, 2 cue balls, and 8 game balls (4 game balls each). With a little skill, game balls will be going up or down to different levels making the game as exciting to watch as to play. Award Winning Features include unique scoops and multi-level action that are attractive to kids, teens and adults, bringing the whole family together for game night. Strategy changes with the skill of the player adding new challenges that can keep a player interested in the 3D Pool table throughout a lifetime. 2005 Awards include iParenting, Dr. Toy and Creative Child. 12/23/2004 (Price: $129.99; Age: 8 and up)



Didi & Ditto Kindergarten by KUTOKA INTERACTIVE



This software for Windows stars two very vivid characters who guide the viewer in a world of fantasy. The first in a series of grade-based products, Didi & Ditto
(Kindergarten) proposes a complete learning package, where children practice thinking skills, literacy skills, math skills and creativity. Children can play the game as a learning adventure or choose specific skills to practice.

-- It encourages kindergarteners to learn math, language and thinking skills, and fosters creativity.
-- It was winner of the Parents' Choice Gold Award in 2004.
-- Its sales rank 263 in the general Software category on Amazon.com. 12/23/2004 (Age: 4 to 6)



My First Madeline Ragdoll by RC2 BRANDS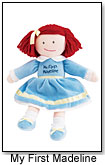 Madeline dolls are designed to grow with young girls, beginning with this classic rag doll and progressing to interactive posable dolls.
-- It was an Oppenheim Toy Portfolio Platinum Award Winner 2005 in both toddler and preschool categories.
-- It was featured in seven books, home videos, live-action movie and television episodes on the Disney channel.
-- This doll encourages younger children to join the Madeline craze with a cuddly, soft character. 12/23/2004 (Price: $12.99; Age: 3 and up)



Don´t Quote Me® - TIME For Kids by Wiggles 3D Incorporated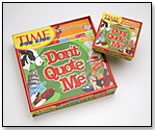 The new Don´t Quote Me - TIME For Kids Edition is an exceptional kids game that´s packed with 1,000 quotes and questions covering topics that kids know and study. Each question provides background information with interesting and fun facts that kids love. Other innovative features include a puzzle game board that players build as they go and a variety of event cards for strategy and action-packed fun! It also comes in a travel game for active friends and families on the go. It won a Dr. Toy Best Vacation Children´s Products 2005, which affirms the excellent play and learning value that the game offers to kids and families. 12/22/2004 (Price: $19.99; Age: 10 and up)



Baby Football (DVD) by TINY TOT SPORTS INC.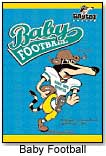 Baby Football ($16.99 DVD, $14.99 VHS) will delight infants and toddlers with stimulating colors and shapes. They´ll love watching engaging characters like "Petey Pigskin," "Herbert Helmut," and the Tiny Tot Sports Team as they punt, pass and kick. By watching their peers interact, babies and young children learn from positive role models who demonstrate good social skills, giving them the foundation for lasting friendships as they grow up. Ignite a life-long love of sports and physical fitness with this fun video series. 12/15/2004 (Age: 0 to 6) ENTER TINY TOT SPORTS INC. TOYSHOW



U GO GRL Activity Collectible Trading Cards by LocaSmarts



Finally, tween girls have collectible trading cards of their own. Each U GO GRL trading pack is comprised of eight cards from six inspiring categories, leaving an impressionable demographic with esteem-boosting, skill-building activities based on a system of collecting coins. Cards show all kinds of girls being social, creative, smart and fun. The 150-card set stars 24 different characters to which any girl can relate. U Go Grl Activity Cards have been award both the National Parenting Center 2005 Seal of Approval and the Creative Child 2005 Preferred Choice Award. 12/10/2004 (Price: $3.49)



Googolplex Game by GOOGOLPLEX GAMES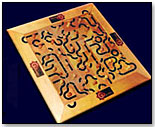 The Googolplex Game was born from sheer boredom by inventor and creator David Hallmark. An avid game and puzzle lover, Hallmark became frustrated with the typical maze games. He sought to create a game that could be played over and over and never be the same game twice. The Googolplex game board uses 36 individual moveable tiles. Players attempt to maneuver through a maze with each turn to reach the opposite corner. There are not dice, spinners, play money, or cards. In celebrating its 2nd year, Googolplex is offering discounts on all of their games, including the newest edition, Last Man Standing, in an heirloom-quality, tabletop format. Googolplex Games won the Creative Child Magazine's 2005 Toy of the Year Award. 12/9/2004 (Age: 6 and up)



Anagramania ´Junior Edition´ by KARMEL GAMES INC


Anagramania Junior Edition is an exciting and educational new word game for 2-6 players. The game is based on the ancient art of anagramming in which the letters of one or more key words in each clue are used to form an answer to the clue. Players try to solve these unique anagram-based clues in a race against each other and the clock. It has won numerous awards including an iParenting Media 20005 Award, The National Parenting Center 2005 Seal of Approval and a Parents´ Choice 2005 Approved Award. 11/29/2004 (Age: 8 and up) ENTER KARMEL GAMES INC TOYSHOW



Feet Are Not for Kicking by Free Spirit Publishing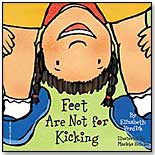 Written by Elizabeth Verdick and illustrated by Marieka Heinlen, feet are sweet —when they're walking, standing, leaping and landing. And when they're kicking balls or leaves. But not when they're kicking people! In simple words and charming full-color illustrations, this 7" x 7",book helps little ones learn to use their feet for fun, not in anger or frustration. It also includes tips for parents and caregivers on how to help toddlers be sweet with their feet. Feet Are Not for Kicking Board Book was selected because, according to Dr. Toy, it allows children to extend their imagination, resourcefulness, social interaction, problem-solving skills, and resilience. 11/8/2004 (Price: $7.95; Age: 1 and up)



Mini Mix 250 by HEXABITS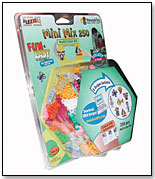 Hexabits are incredible, flexible building tiles for craft and construction. With a patented design, they weave together into imaginative and fun 2D and 3D creations. Unlike other construction toys, Hexabits are amazingly durable. As a craft: inspiring and reusable! The Mini Mix 250 is a compelling mix of assorted colors with a booklet of samples projects. Follow the designs or create your own spectacular jewelry, mosaics, or 3-D masterpieces! Easy enough for 4 yr old and intriguing enough for teens! Hexabits are one of the most innovative products on the market today. The amazing flexible Hexabits combine the imaginative fun of craft and construction while providing double the play value with their exceptional durability. Fun for boys and girls equally, great for young ones for creative play and fine motors skills, and challenging as artistic expression and complex construction for older children. Fun for the whole family! 9/1/2004 (Price: $12.95; )



Huggy Smart ABC/123 by HOORAY!



The Huggy Smart activity toy line is made from natural flocked foam rubber creating a distinct textured feel that encourages children to use their fingers and hands to explore. The Huggy Smart ABCs & 123s are a set of magnetic letters and numbers that make learning fun. Each letter and number is one-inch thick and four inches high and is brightly colored. In addition, the vowels are colored red for easy recognition. The Huggy Smart ABCs were honored with a toy award because not only are the letters an excellent learning tool but the fuzzy flocking stimulates sensory awareness. In addition, the bold colors offer color recognition and visual stimulation. 9/1/2004 (Price: $49.99; Age: 2 and up) ENTER HOORAY! TOYSHOW



I´m Learning My Phonics by KIDZUP PRODUCTIONS INC.



This teacher-created flash card kit was designed to introduce young learners to new concepts in reading and writing and to reinforce ones already learned. The use of visual, aural and tactile senses supports the development of phonemic awareness. The flash cards are color-coded for self-correction and supported by a music CD that reinforces the facts being taught. The printable work sheets are engaging, visually stimulating and perfect for enrichment, classroom practice, tutoring, home schooling or just for fun. Set includes 54 colorful two-sided cards, activity cards, a music CD and 24 work sheets printable from the CD. 9/1/2004 (Price: $18.99; Age: 5 and up)



DR. DUCK by SABABA TOYS



Sababa Toys´ re-introduction of the Fisher-Price´s classic Dr. Duck is a Dr. Toy 2005 Best Classic Toy winner. The adorable pull toy, first introduced as Dr. Doodle in 1931, represents simplicity without sacrificing elegance and functionality‹the perfect combination to inspire the imagination at any age. Resting on four wheels and standing roughly 12" tall, Dr. Duck is dressed in a dapper three-piece suit, white gloves, a black top hat, and sports a doctor´s bag. Dr. Duck bobs his head and quacks as his bill opens and closes! Dr. Duck was chosen for this award because it has continued to bring smiles to both children and adults year after year. 9/1/2004 (Price: $24.99; Age: 1 and up)



Poly-M Minipack by Poly-M



Imagine the fun kids can have with construction blocks that are flexible enough to squeeze, bend, twist - even chew. These toys are made of a special a non-toxic polyethylene for hours of worry-free fun. Poly-M toys won a prestigious Dr. Toy Smart Play Smart Toy Award for 2005. 9/1/2004 (Price: $34.50; Age: 1 to 10)



Teen Flip Flop Fun by NOODLE HEAD, INC.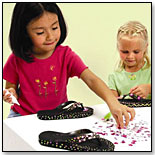 This "Decorate Your Own" Flip Flop sandal kit allows children a to paint and personalize a pair of black flip flops! The kit includes one pair of durable sandals, 3D fabric paint in fun colors, assorted jewels and sequins and waterproof glue to encourage maximum creativity and style. This product has been awarded the Dr. Toy Best Vacation Products Award because of its creative appeal, simplicity of use, and uniqueness. "The Flip Flop FunT kit offers kids the ability to express themselves with a trendy product that is popular year round." said Chris Ryan, a principal of Noodle Head, Inc. 11/12/2004 (Age: 4 and up) ENTER NOODLE HEAD, INC. TOYSHOW