Two kinds of noise must be considered when looking for a quiet toy: toy noise and kid noise.

"Children should be seen and not heard" is a rule that our culture has abandoned. My children have been seen and heard everywhere from the checkout line at the grocery store to a school basketball game as a young player stood at the free throw line to attempt a foul shot. Like most parents, I have resigned myself to their chattering at inopportune times. But I really would like to wave a magic wand and instill "company manners" for special occasions, such as religious services, airplane flights and fancy restaurants (anything without a drive-through qualifies). Toys seem the obvious solution.

Surprisingly, the ideal "company manners" toy has been elusive. Perhaps that is because I am so picky about the three qualities that this toy absolutely must have:

1. Small size.
First, the toy should fit in the average purse or diaper bag. Also, it shouldn't have more than three pieces for Mom to lose.

2. No Noise.
Two kinds of noise must be considered when looking for a quiet toy: toy noise and kid noise. Sometimes it seems as if every toy out there is equipped with electronic beeps and blips. Even the truck that seems quiet in the living room becomes deafening as it roars across a church pew.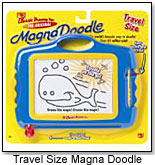 Truly silent toys don't always work, either. My son's rubber dinosaurs make no noise, even when pounded up and down on the restaurant table. The problem is, he does; he growls like a dinosaur with an enthusiasm that no one can curb.
3. Fun.
I love fun toys. I love them even more when my kids play with them — alone! — while I chat with another adult. But finding a fun "company manners" toy is like walking a tightrope: It has to be fun enough to keep them interested but not so fun that they're bouncing off the walls.
I have finally found one toy that matches my stringent requirements. The Travel-Size Magna Doodle (Ohio Art $10.99) is a dream toy that is silent, fun and flexible enough to be used by many ages. But I am always on the lookout for another toy that will help me fool my non-parent friends into thinking I actually do have three little angels.