Trouble in paradise? It looks like hard times for major toy retailers and manufacturers. Between changes in their traditional markets, corporate shake-ups and questionable communication with stockholders, some of the biggest kids on the block are facing a suddenly uncertain future.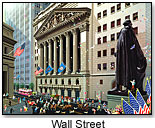 Goldman Sachs won't answer questions about it. After over 25 years as a publicly-traded company, Toys 'R Us has been purchased by three private investors. Mattel is seeing profit margins drop. Petroleum prices are driving the cost of plastic so high, companies are having to redesign their toys. And both KB Toys and F.A.O. Schwarz are busy trying to rebuild their images after emerging from bankruptcy over the past 12 months.

Are the big names now vulnerable to industry evolution and changes in the environment? What happens to the shareholders? Are the shareholders even aware of the changes in the industry? TDmonthly examines the new economics of the toy retailer from a Wall Street point of view in next month´s issue.