---
New & Notable Toys: School Supplies
Check out these new and noteworthy toys.
Exercise Poster by BARKER CREEK PUBLISHING


When we asked the researchers at National Geographic's stock photo library to help us find an image that would encourage us all to exercise, this is what they sent. How can kids make excuses not to exercise with this little guy's big, green eyes looking at them. And, he's guaranteed to make kids smile. Kids'll want to be fit and healthy when they go visit their new "personal trainer" and his furry brothers and sisters in Madagascar. Launch date: 2012. 7/30/2012 (Price: $3.99; Age: All Ages)



Designing Star Magnetic Locker Wallpaper Kit by DESIGNING STAR


Designing Star Magnetic all in one Locker Wallpaper kit comes with: 1 magnetic laser zebra printed pencil cup, 3 sheets of our fully magnetic laser zebra printed locker wallpaper, 1 Round Magnetic Gem Mirror, and 4 magnetic heart shaped clips. Our kit comes in 3 different laser printed colors — pink, purple, and silver. Available in 3 color combinations: Purple zebra, Pink zebra, and Silver zebra designs. Launch date: June 2012. 7/10/2012 (Price: $21.99; Age: 9 and up) [Add to my Inquiry Basket][?]



tie dye backpack by TOPTRENZ.COM


This back pack is tie-dyed for maximum fashion impact. Kids can use it to store their school things, for over nights and sleepovers, or their toys. Launch date: April 2012. 5/11/2012 (Price: $40.00; Age: 8 and up) [Add to my Inquiry Basket][?]



Picnic Lunchbox by NEAT-OH! INTERNATIONAL LLC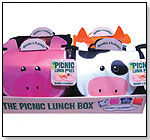 The Picnic Lunch Box™ & Placemat features four adorable themes ranging from Cats and Dogs to Pigs and Cows. With comic artwork on the exterior, unzip the lunch box to find not only lunch, but a small placemat ready and waiting. Lays flat and wipes clean with a damp cloth for spills and crumbs. A clean place to eat and an even easier lunch box to keep clean. Patented. BPA Free, Phthalate Free on every lunchbox, PVC Free, Lead Free. Sold individually or in an assortment of 4. A1510XX - Penny the Pig Lunch Box & Placemat; A1511XX - Denzel the Dog Lunch Box & Placemat; A1512XX - Clyde the Cow Lunch Box & Placemat; A1513XX - Carmen the Cat Lunch Box & Placemat. Launch date: 2012. (

Watch Video) 3/26/2012 (Price: $12.99; Age: 3 and up) [Add to my Inquiry Basket][?]



Learn A Map by ROCKFORD MAP GALLERY
This is a brand new double sided, laminated, educational desk map. Learn A Map is a terrific learning tool for children. It's easy to read and easy to use. It is double sided and laminated so it can be drawn on and easily erased. Learn A Map can be used anywhere, at home, at school, or on the road. Bulk ordering is available and there is free shipping on orders of 100 or more. Launch date: 2011. 9/16/2011 (Price: $3.95; Age: 1 and up) [Add to my Inquiry Basket][?]



Dots on Black Computer Paper by CREATIVE TEACHING PRESS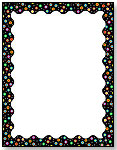 Kids can use this decorative computer paper to personalize and jazz-up newsletters, announcements, awards, writing center prompts and more! 50 8 1/2" x 11" sheets are included per package. 9/1/2010 (Price: $4.49; Age: 3 and up) [Add to my Inquiry Basket][?]



Crayola Washable Kid's Paint 10-Pack by CRAYOLA LLC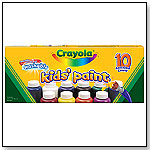 This set includes ten plastic bottles of washable paint designed for children.
— As of 8.12.10, this product had 4 out of 5 stars from 11 reviews on ToysRUs.com and was listed No. 8 in best-selling toys and games. PROS: Easy to use and store; long-lasting. CONS: Some parents questioned its quality. 8/12/2010 (Price: $5.99; Age: 3 and up)



"Squishies" Squishy Pencil Toppers by SQWISHLAND LLC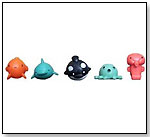 Squishlanders are fun, 3/4" rubbery animals in a plastic capsule that can be found in more than 300,000 vending machines around the world. The squishie characters were first introduced 4 years ago as Pet Friends, and more than 55 million of the little creatures have been sold since that time. Each Sqwishlander comes with a code for access to a new kid-friendly virtual world, www.Sqwishland.com.
— Squishies pencil toppers were on the top-10 best-seller list at Totally Thomas Toy Depot in San Diego in July 2010. "They are the hottest trend in Southern California as of this spring," President Cynthia Wyatt told TDmonthly. "'Regulars' and 'Rares' — they collect them all!" 7/28/2010 (Price: $3.74; Age: 5 and up) [Add to my Inquiry Basket][?]



Pencil Vase by CHINA TOYBIZ.CN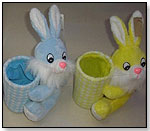 This plush rabbit is designed to store pencils and other school or office supplies. 7/28/2010 (Price: $2.50; Age: 3 and up) [Add to my Inquiry Basket][?]



Carved Wooden Animal Pens by OPTIONS INC.


These pens are carved from wood and painted in vibrant colors to depict a wide variety of fun animals.
— "We carry a ton of different animals to choose from. It's not your typical ink pen!" said Manager Katie Harris of Key West Toy Factory in Key West, Fla., of these best sellers in May 2010. 5/27/2010 (Price: $4.99) [Add to my Inquiry Basket][?]



Grotto Grip Pencil Grasp Trainer by PATHWAYS FOR LEARNING PRODUCTS INC.


The pencil grasp trainer is designed to target and activate the proper muscles for writing. It's created for both left- and right-handed writers to improve handwriting and decrease hand fatigue. The patented ergonomic grip was designed and tested by an occupational therapist with finger guard and unique angles to place and hold fingers in the proper position. It is non toxic and latex free. 5/14/2010 (Price: $5.60; Age: 4 and up) [Add to my Inquiry Basket][?]



ErgoSleek PenAgain® by PACIFIC WRITING INSTRUMENTS INC.
The ErgoSleek is the PenAgain with a polished aluminum and metal underbody that provides the perfect weight to a pen. The hand-painted body comes in four stylish high gloss colors. The pen features a subtle twist mechanism to open and close the cap, along with a laser engraved clip. 3/30/2010 (Price: $17.99) [Add to my Inquiry Basket][?]



Iwako Japanese Puzzle Erasers - Animals by BC INDUSTRIES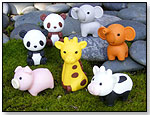 These animal erasers have removable puzzle parts so they can be taken off and reassembled. The animal collection includes elephants, panda bears, a giraffe, a cow and a pig.
— "Over the course of the last year, it was 500 to 1,000 units per week," Gage Brownell of Belmont Toys in Belmont, Mass., told TDmonthly in March 2010 about his store's sales of Iwako erasers.
— BC USA Erasers were on the top-10 best-seller list at Jillie Beans Toys & More in Westminster, Colo., in April 2010, reported Owner Valerie Elsea. "Tweeny girls and boys love them and they are easy to collect," she told TDmonthly. "They've been selling well since the fall of [2009]."
— Gwen Bowden, manager of Doodlehopper 4 Kids in Springfield, Va., told TDmonthly in a Summer 2011 survey that her best-selling collectibles are "Japanese erasers. We sell some every day - about 100 per month." (

Watch Video) 3/15/2010 [Add to my Inquiry Basket][?]



Talkatoo by ANN WILLIAMS GROUP LLC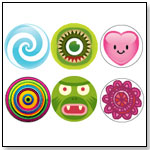 With talkatoo™ parents can share a little love with their kids whenever they're apart and wherever they go. Talkatoo™ voice recordable pendants let kids and their parents record and share sweet notes, helpful reminders or encouraging words so they can feel more connected when they're not together. They come with six different fun designs — some for boys, some for girls and even some for moms. They can be worn as a necklace or clipped to a backpack, lunchbox, belt loop, etc. Launch date: May 31, 2010. 3/10/2010 (Price: $16.99; Age: 3 and up) [Add to my Inquiry Basket][?]



CLIPIT™ Elephant Paper Clips by INTERNATIONAL ARRIVALS


This package includes 20 elephant-shaped paper clips in assorted colors. 12/2/2009 (Price: $3.95) [Add to my Inquiry Basket][?]



The JUMBO Grip by THE PENCIL GRIP INC.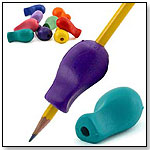 The JUMBO Grip features the same shape as The Pencil Grip to place fingers in the correct stance for gripping, for both right- and left-handed writers. It's about 40-percent bigger than The Pencil Grip, designed to offer comfort and support up to the second knuckle.
— Joan Machlis, owner of Wind Up Here in Olympia, Wash., told TDmonthly in fall 2009 that the store sells about 50 items per month by the Pencil Grip.
— ''We sell maybe 75 per month,'' Mike DiAndrea, manager of Hardware Centre, Inc., in Paoli, Pa., told TDmonthly. 11/24/2009 (Price: $2.99) [Add to my Inquiry Basket][?]



Silly Bandz - Pets by BCP IMPORTS LLC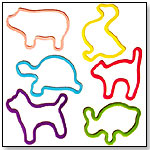 This 24-pack of colorful silicone bands features dogs, cats, ducks, turtles, rabbits and pigs that are die molded. They can be treated as traditional rubber bands and worn as bracelets but spring back into their original pet shape when not in use.
— TDmonthly first reported on the popularity of Animal Rubber Bands in 2005. That product was designed by Yumiko Ohashi and Masonar Haneda of Passkey Design and distributed in the U.S. by Eastern Accent International. Toysmith also has a very similar product that debuted at Toy Fair 2009.
— Marie Yakes, owner of the Papillon, Neb., Sweet & Sassy party and spa shop told TDmonthly in mid-November 2009 that she was eagerly awaiting her first shipment of rubber band animals, scheduled to arrive the next day. She said one of the other franchise owners was "doing $3,000 a weekend in those silly Silly Bandz. And she gets calls about them!" Yakes said the bands have been banned in Tennessee schools, so she's hoping to get some good press out of their Nebraska debut.
— Animal rubber band bracelets were listed as a top-10 best seller online by Owner David Davis of RoundTable Toys in Winterville, N.C., in January 2010. 11/12/2009 (Price: $4.95) [Add to my Inquiry Basket][?]



Animal Bands by TOYSMITH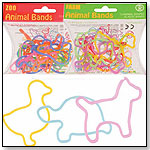 These colorful rubber bands function like traditional bands but feature fun animal shapes when not holding something together.
— "We got 270 packages on Thursday and were sold out by Saturday morning. High school, middle school and elementary school kids are all buying them," Katie Rook, owner of Be Beep A Toy Shop in Columbia, S.C., told TDmonthly in fall 2009.
— Editors Note: This item is very similar to the Animal Rubber Bands by Eastern Accent Int'l, first reported by TDmonthly in 2005. (

Watch Video) 10/6/2009 (Price: $2.50) [Add to my Inquiry Basket][?]



Windmill Tape Dispenser 3 by WONIL INDUSTRIAL CO.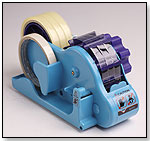 Designed for quick, simple cutting of Scotch-type tapes, this dispenser cuts large quantities of tape to a 3.8-cm length with a single rotation of the handle. It may also be used as storage for pens, scissors or name cards. The product is available in pink, light blue and yellow. Launch date: 2002. 10/5/2009 (Price: $27; Age: 4 and up)



Smencils by EDUCATIONAL INSIGHTS INC.


Made entirely out of recycled newspaper, Smencils are gourmet-scented pencils designed to retain their scents for two years. The tightly rolled newspaper is hardened around a core of No. 2 graphite, so it sharpens like a standard wood pencil. The Smencils are then soaked to infuse their fragrance, finished with an eraser and identifying sticker, and packaged in a biodegradable, corn-based plastic Freshness Tube. There are 10 scents available: Bubble Gum, Cinnamon, Tropical Blast, Grape, Cotton Candy, Very Berry, Black Cherry, Orange, Watermelon and Rootbeer. They are available assorted in packs of 10 (one of each scent) or buckets of 50 (five of each scent).
— "One kid has it, then everyone has to have it. I've been selling buckets of those things," Sherry Phipps, owner of School Crossing in Williamsburg, Va., told TDmonthly in July 2009 about why Smencils are a top seller in her store.
— Smencils are also strong sellers at Golden Apple Learning Store in Pleasanton, Calif., Owner John MacDougall told TDmonthly in summer 2009. 8/18/2009 [Add to my Inquiry Basket][?]



Caiman Basin by PLAYMOBIL INC.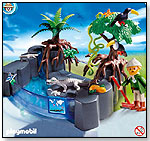 The Caiman Basin is part of Playmobil's zoo line, a wide variety of modular sets that allow children to construct a full-featured zoo of their own design. This set comes with a large caiman and two babies, their landscaped enclosure, a tree with other wildlife, and an attentive zookeeper. The enclosure has a pool that can be filled with water for more realistic play.
— "There are some customers who have to have every single piece in a theme," said Sue Hottel, co-owner of No Kidding in Mattapoisett, Mass., of what makes Playmobil her top-selling collectible item. 8/18/2009 (Price: $19.99; Age: 3 and up) [Add to my Inquiry Basket][?]



KinderCone by KINDERCONE LLC


KinderCone's namesake product is a large, colorful cone filled with inspiring and educational gifts for young children, which parents give to their children to recognize the transition from kindergarten to first grade. KinderCone's guiding principle is about inspiring young children to enjoy learning by celebrating this special milestone in their lives. KinderCones are 28" tall, handmade in Germany of sturdy box-board printed paper, and feature a limited edition design. Each KinderCone comes pre-filled with a Kinderjournal, Kalri, the plush main character of the journal, five pencils and temporary tattoos. The cones are offered in two main colors, red and bright green, and offer eight color options of the felt enclosure on top. "KinderCone is the first and only American company to re-create this concept outside of Europe," Vivian Lie, owner of KinderCone LLC, told TDmonthly. Launch date: July 15, 2009. 6/29/2009 (Price: $24.95; Age: 4 to 8) [Add to my Inquiry Basket][?]



Camp Rock PY Diaries by MONOGRAM INTERNATIONAL INC.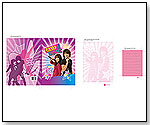 Camp Rock PY Diaries are the perfect place to write down all your hopes, fears, thoughts and dreams. Each diary comes with initial letter stickers to personalize them with name or initials. It is available in Pink - Mitchie & Shane or Grey - Group Shot. 1/6/2009 (Price: $3.25; Age: 4 to Adult) [Add to my Inquiry Basket][?]



Tumbling Worm Chair by BOBLES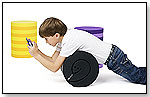 The worm chair is meant for children who have a hard time sitting still all day in school. The worm chair is flat in one end and curved in the other end, which enables children to silently (due to the material) be in movement while sitting at their desk. The idea is that the child can use the worm in different ways — to play games, for example. The Worm encourages "better posture and [and] improved learning curve," Director Mette Dyhrberg of bObles told TDmonthly. This product was a winner of a prototype exhibition at an Interior Design Show in 2008. Launch date: 2009. 11/25/2008 (Price: $159; Age: 3 and up)



North Pole Water Bottle by ARCTIC CIRCLE ENTERPRISES LLC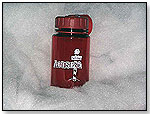 This child-sized water bottle has a connected twist-on top and a "North Pole, Alaska" snowy pole design. It makes a great stocking stuffer when filled with treats or special goodies. Launch date: 2005.
— The custom water bottle is a best-selling item at Santa Claus House in North Pole, Alaska, according to Operations Manager Susan Miller. 8/28/2008 (Price: $5.95; Age: 3 and up)



Solar System Lunch Box by CROCODILE CREEK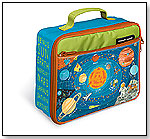 Bright colored and educational, this space-themed lunchbox from Crocodile Creek features a full-color illustration of the solar system on the zippered front pouch. The planets are named in large print on the lunch box's edge. Measuring 10" W x 7.5" H x 3" D, it can be hand washed in warm water with mild soap.
— "The best-selling is probably lunch boxes," said Gwen Bowden, manager of Doodlehopper For Kids in Springfield, Va., when asked about top-selling school supplies in July 2008.
— Of 68 retailers surveyed, 7 percent named lunch boxes as their best-selling school supply item.
— "The new pocket in the front of the lunch boxes gives kids a great place for their silverware or their snacks, and parents like them because they can be easily wiped clean, they are free from PVC and phthalates, and … they conform to all U.S. and European safety standards," Crocodile Creek's Northwest sales representative, Jeff Saad, told TDmonthly. 8/12/2008 (Price: $15.99; Age: 3 and up) [Add to my Inquiry Basket][?]



Little Hands Art Studio by ALEX BRANDS


This 13.5" x 10" wooden case holds a colorful array of 113 pieces: 32 fine tip markers, 28 colored pencils, 24 oil pastels, 20 crayons, two drawing pencils, a ruler, an eraser, a pencil sharpener, a fold-out drawing board and two easel clips. It includes drawers to hold supplies, and opens to show a fold-up easel.
— When asked about top-selling educational products, Terry Watkins, employee of Interactive Toys, Crafts and More in Cle Elum, Wash., said, "Paints and watercolors, and we sell a lot of crayons."
— "[Customers] like [art supplies] because they are educational and keep the child busy," said Donna Stone, manager of The Perfect Present in Suwanee, Ga.
— Ten percent of retailers told TDmonthly in summer 2008 that art supplies are their top-selling educational and school-supply items. 8/12/2008 (Age: 4 and up) [Add to my Inquiry Basket][?]



Counting 0-10 by SCHOOL ZONE PUBLISHING CO


This workbook includes exercises on basic early-math skills, including writing numbers, sequencing, and matching words to numerals for numbers 0 through 10. The write-in book is illustrated with fun images to interest the child and help them remember what they are learning.
— "We carry a bunch of their workbooks," Sue Banducci, owner of Games Unlimited in Danville, Calif., told TDmonthly about School Zone.
— "Math in general gets requested a lot," said Merrick Smith, owner of Piccolo Mondo in Portland, Ore., of her customers' needs in school supplies.
— Ten percent of the 68 retailers surveyed said in July 2008 that, of their educational products and school supplies, workbooks are the strongest sellers. 8/12/2008 (Price: $2.49; Age: 3 to 6)



Sumo Grip® II Pen and Pencil by SAKURA OF AMERICA


The mechanical pencil and retractable gel pens are launch Sumo Grip II retractable gel pen and mechanical pencil. Fitting venue as sumo champions inspired product. Sumo Grip II The retractable gel pen contains pigment-based gel ink that is chemical resistant, waterproof, light-fast and permanent. It prevents alterations, fading and check washing. Both the retractable pen and mechanical pencil come with sumo-sized comfort grips, eliminating hand strain. Launch date: June 7, 2008. 6/16/2008 [Add to my Inquiry Basket][?]



Barbie™ Novelty Lunch Kit by MATTEL INC.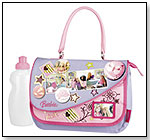 This fashionable lunch kit looks like a purse. The outside of the bag features Barbie and her pals, while the inside flap features a picture window for girls to insert their own picture.
— Baltimore, Md.'s Barston's Child's Play Owner Barbara Fineblum told TDmonthly in April 2008 that Barbie products are her best-selling licensed items.
— Helen Dean, owner of Toy Safari in Alameda, Calif., also named Barbie as one of her best-selling licensed lines.
— In April 2008, 4 percent of retailers who spoke to TDmonthly singled out Barbie as the best-selling licensed line of products in their store. 1/18/2008 [Add to my Inquiry Basket][?]



Flower Composition Books - Lavendar Chinese Flower by eeBoo corp.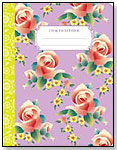 The book measures 7-1/2" x 9-3/4" and comes with 144 lined pages. The book includes a class schedule, a multiplication table, a metric conversion chart and other useful information. The back of the composition book even features a special flower poem. Other varieties in the Flower Composition line include Blue, Red and Yellow Chinese Flower. Other composition book lines include Nature and Big Book. Launch date: January 1, 2008. 12/19/2007 (Price: $10.00; Age: 3 and up) [Add to my Inquiry Basket][?]



Solar System Ruler by SAFARI LTD.®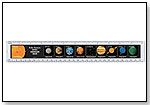 The metric conversion ruler is perfect for school. The ruler features the entire solar system and individual facts on each planet. 10/19/2007 (Price: $1.00) [Add to my Inquiry Basket][?]



2-in-1 Pencil Case - Cool by ALLERHAND LTD.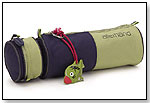 This two-piece pencil case features a large compartment to hold pencils, rulers, pens and markers, and a detachable small compartment ideal for holding money, notes or a pencil sharpener. The case is also available in variety of other colors. It measures 9" L x 3" H x 3" W. "Small essentials can finally be kept separate in this two-piece pencil roll," Cindy Ling, in sales and marketing for Allerhand Ltd., told TDmonthly. Launch date: September 2007. 8/22/2007 (Price: $14.00; Age: 3 and up) [Add to my Inquiry Basket][?]



Take Along Name Tags –Thomas and Friends by BASIC FUN INC.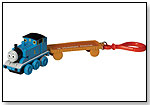 The Thomas character name tag, also available in a Percy variety, is perfect for attaching to back-to-school items, such as backpacks, lunch boxes, duffle bags and coats. Each tag features a working pull-back engine, and reads "Thomas is My Friend," with a line above where the child's name can be printed. The tag also comes with an oversized clip for ease of use. Dora the Explorer and Go Diego Go varieties are also available. 8/16/2007 (Price: $4.99)



Classroom Rewards 24 Pack Pencils by DESIGNWAY INC.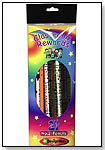 The No. 2 pencils commend different achievements, stating "Attendance Award," "Honor Roll," "Accelerated Reader" and more. Each bag contains 24 pencils. Launch date: 2002. 8/16/2007 (Price: $3.99; Age: 4 and up) [Add to my Inquiry Basket][?]



100 3" x 5" Study Buddies by HYGLOSS PRODUCTS INC.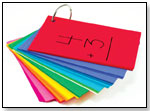 Perfect as speech cards or as card for studying equations or vocabulary, these versatile, brightly colored note cards come with a book ring for easy organization. On-the-go studying is now more convenient and fun than ever. The sturdy card stock is acid free and fade resistant. Launch date: January 2006. 8/15/2007 (Price: $3.69; Age: 5 and up) [Add to my Inquiry Basket][?]



EZ Fold – Now I Know My ABCs by SCRIBBLE MATS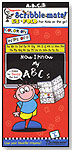 These 4-1/4" x 9" mats unfold like a map in three easy steps. The mats are durable and spill resistant, and its signature Color On Wipe Off surface allows for endless play. Each EZ Fold comes complete with four non-toxic crayons. EZ Fold is available in nine other varieties, including Travel Fun, Under the Sea, Fun Numbers, U.S.A. and more. This product is a Dr. Toy Best Vacation Toy Award winner. Launch date: March 2006. (

Watch Video) 8/13/2007 (Price: $6.00; Age: 3 and up) [Add to my Inquiry Basket][?]



Robot & Rocket Magnets by COELACANTH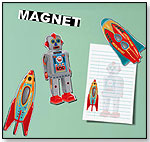 Robot & Rocket Magnets offer an attractive way to post kids' chore lists, photos and art on the refrigerator. Launch date: September 1, 2007. 8/9/2007 (Price: $3.50; Age: 4 and up) [Add to my Inquiry Basket][?]



Rainbow Stamp Pad by MELISSA & DOUG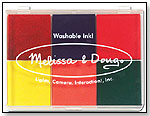 Containing washable, non-toxic, and child-friendly ink, the Rainbow Stamp Pad from Melissa & Doug will help kids stamp in style. It features six bright colors and is sure to be a valuable and stylish addition to a kid's arsenal of creative supplies. The pad measures 6.5" x 5".
— "Melissa and Doug art supplies — the price is very good. I can imagine parents saying, okay, we'll get a few packs of...the big Rainbow stamp pad for $5.00 — for younger children. They will be big," said Sue Cooke, owner of Mother Goose in Litchfield, Conn. 8/7/2007 (Price: $4.95; Age: 3 and up)



Robot Pencil Sharpener by KIKKERLAND DESIGN INC.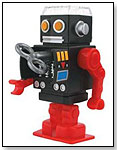 Kikkerland has scoured the globe and worked with the best designers worldwide to develop its distinctive and whimsical take on modern life and design. It's how they've come up with this fascinating winding robot that sharpens pencils and keeps the shavings in its head. Pencils can be sharpened by either winding up the little guy or by using the key. Now, even pencil sharpening doesn't have to be dull or routine. 8/2/2007 (Price: $4.95) [Add to my Inquiry Basket][?]



Rulers & Patriots by RICH FROG INDUSTRIES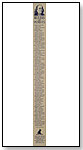 This 12" ruler includes inches and centimeters on one side and chronologies of famous people on the other. "They are great for use in class for measurement and drawing straight lines as well as inspiring children (and adults) to think about some of the famous people listed on the other side," John Gallagher of Rich Frog Industries told TDmonthly. Launch date: July 2007. 7/26/2007 (Price: $1.50; Age: 10 and up) [Add to my Inquiry Basket][?]



24-ct. Connector Markers by FABER-CASTELL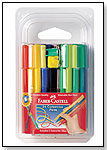 The new design for the Faber-Castell markers features an end cap that lets kids snap together the markers and draw with multiple colors in their hand. Now kids can draw or write with their favorite colors all at once. Also new are the connecting clips that let kids build shapes with the swoop of their hands. The non-toxic markers contain washable inks and are ACMI-approved safe for children.
— "It's probably some of the markers [from] Faber Castell," said Lori Lind, owner of Brainwaves Toy Shop in Narragansett, R.I., when asked by TDmonthly for popular school supply items with her customers.
— Lind said she sells about 10 units a month of the Faber-Castell markers. Nine of 45 retailers said that markers, pencils, erasers, pads or other drawing-related products are the hottest-selling school supply items in their stores.
— "The Connector Markers have a unique end cap design that lets you snap together the markers and draw or write with multiple colors," said Heather Lambert-Shemo, children's brand manager for Faber-Castell. "The connector clips that come in each package let you build all kinds of wonderful shapes." 7/23/2007 (Price: $11.49) [Add to my Inquiry Basket][?]



Froggy Fun Lunch Box by BAZOONGI KIDS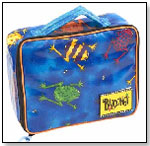 Lunch Boxes from Bazoongi make lunch on the go fun for both kids and parents. This lunch box, which measures 10" x 8" x 4", is made of a waterproof material that's easy to clean inside and out. The shell fabric is 100-percent laminated cotton, while the lining fabric is PVC. Other Bazoongi lunch box themes include Lil' Ladybug, All Star Sports and Princess Toss.
— Lunch boxes from Bazoongi are among the best-selling school supply items at Doodlehopper 4 Kids in Springfield, Va., Manager Gwen Bowden told TDmonthly in summer 2007.
— Bowden said she sells one lunch box a week from January to June, and four a week from June to September. Five of 45 retailers who spoke to TDmonthly cited lunch boxes as among the best-selling school supply items in their stores.
— "The bright colors and tropical theme are attractive and distinctive. The handle has a convenient snap to allow the child to attach it to his/her backpack to aid in transporting," said Bob Muniz, vice president for Bazoongi Kids. 7/23/2007 (Price: $15.99; Age: 3 and up) [Add to my Inquiry Basket][?]



8 Stick Beeswax Crayons - Tin Case by STOCKMAR


Stockmar wax crayons meet the highest artistic standards. Through the addition of pure beeswax as a binding agent, the light-resistant pigments display their purity and full brilliance. The wax allows the colors to be used in a wider range than any other coloring material. The wax itself contains natural transparency and the lack of additives enhances the color value. The eight stick markers in a tin case are paper wrapped, come with one scraper and measure 83mm x 12mm fully packaged.
— "Beeswax crayons are our best-selling art supply. The manufacturer is Stockmar," said Anita Demetropoulos, owner of Island Treasure Toys in Yarmouth, Maine.
— Two of 45 retailers who spoke to TDmonthly in summer 2007 said Stockmar crayons and pencils are favored school supply items.
— Both retailers citing the Stockmar brand were located in the Northeast. 7/23/2007 (Price: $12.99) [Add to my Inquiry Basket][?]



Soccer Lunch Bag by Wildkin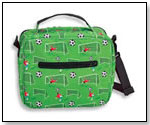 The Soccer Lunch Bag comes with durable exterior polyester fabric, a detachable shoulder strap, an interior mesh pocket with Velcro closure for a cold pack, and an interior elastic strap with Velcro for a beverage container. The interior is made of washable fabric and the exterior has a zippered compartment. The lunch bag measures 10 1/2" x 9" x 3.5" and complies with 16 CFR 1303 for lead content. It's safe, durable and full of functional features.
— "I'm real excited about Wildkin — the red and green soccer backpacks and lunch packs. We're ready to bring in a shipment for back to school," said Kate Tanner, owner of Kidstop Toys & Books in Scottsdale, Ariz.
— Two of 45 retailers who spoke with TDmonthly specifically cited lunch bags from Wildkin as best-selling school supply items in their stores.
— "We make products with themes that both the parents and kids can relate to," said Peter Hart, president of Wildkin Inc. 7/23/2007 (Price: $12.95)



Hello Kitty Backpack: Boutique by SANRIO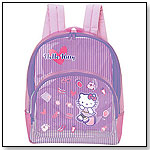 The Hello Kitty clear vinyl backpack is for kids who need to have everything in plain sight without opening the bag. The clear front pocket allows for easy viewing and access to smaller supplies. The backpack measures 14.25" x 11.75" x 4.25".
— "I don't do school supplies but the closest would probably be Sanrio: Hello Kitty — things for back to school and some backpacks," said Peter Scott, owner of Perfect Toy in Avon, Conn. He told TDmonthly he sells about 100 units a month of Sanrio year round.
— Six of 45 retailers said in summer 2007 that Sanrio is among the bestsellers in school supplies, with the Hello Kitty line being most prominent.
— "As unfortunate as it is, the clear backpack is extremely important because of safety issues in schools today. This one is easy for kids and parents to agree upon," said Andrea Sobel, vice president of marketing at Sanrio. 7/23/2007 (Price: $28.00) [Add to my Inquiry Basket][?]



Qee Sushi Calculator by Toy2R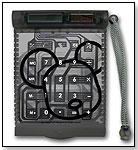 This calculator, from the Qee Style Collection, comes with a matching 1.5" tall Qee Bear. Designer Alan Yip has created the world's first flexible calculator that can be rolled up for easy transport and storage. The calculator measures 100mm x 135mm x 17mm and is available in transparent black or white. Launch date: Fall 2007. 7/20/2007 (Price: $19.99) [Add to my Inquiry Basket][?]



THIS BANNER IS AN AD:
---
---