Tools:







New & Notable Toys: Costumes and Accessories
Check out these new and noteworthy toys.
Disney Frozen Elsa Musical Light up Dress by CREATIVE DESIGNS INTERNATIONAL LTD.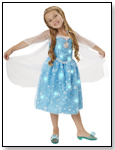 She'll look enchanting in Elsa's dress from Disney's Frozen! This beautiful Elsa dress features magical motion-activated lights and music! Watch her twirl as the dress lights up and begins to play Elsa's iconic song "Let It Go!" Elsa's dress also features sparkling fabric with a beautiful snowflake glitter print, the perfect addition to her dress up collection. 9/30/2015 (Price: $34.99; Age: 3 and up) [Add to my Inquiry Basket][?]



Scandinavian Princess by LITTLE ADVENTURES LLC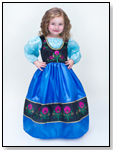 Let your little one dress up like her favorite heroine princess in this unique dress. The gathered inset, china silk sleeves and intricate gold trim frame the black velvet bodice. The royal blue skirt features a black border consisting of sparkly ruffled tulips. The dress is adorned with a gold sequined hem along the bottom of the skirt. To complete this winter story purchase the Scandinavian Princess and her sister the Ice Princess. Features:: clothing quality fabrics; machine washable. Stretchy, soft and very comfortable. Sizes: S-XL
— Peg Scholtes, owner of Capitol Kids LTD in Madison, Wis., told TDmonthly in a December 2014 interview that the Scandinavian Princess costume is one of their best-selling Halloween toys, due to the popularity of Frozen. 12/30/2014 (Price: $29.99) [Add to my Inquiry Basket][?]



Nina by JUST PRETEND KIDS (a division of Wyla, Inc.)
For little fairies as bold and beautiful as our designs, the Nina collection boasts vibrant single color tutus with beautifully finished edges and just the right amount of sparkle! Matching wings and wands add to the magical ensemble that will have your little one playing, dreaming and just pretending. 4/3/2013 [Add to my Inquiry Basket][?]



Woodsman Hat and Cape by FAIRY FINERY


Award winning! The start of many a story begins right here!

Robin Hood, Magician, Royalty, Wizard, Superhero - All need a great cape like this! Fairy Finery believes capes are the versatile start of imaginative playtime. Made of washable, soft poly suede, closes with Velcro at neck for easy wear and safety. The full hood has a tassel to finish it in style.
Colors: Forest Green, Brown, Black, Red. 11/5/2012 [Add to my Inquiry Basket][?]



The Amazing Spider-Man Electronic Hero FX Mask by HASBRO INC.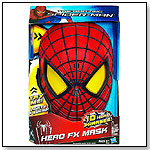 Imagine Spider-Man adventures at a whole new level with this electronic Hero FX Mask. Kids'll feel just like their favorite web-crawling hero in this detailed superhero mask with incredible glowing eyes. The web-slinging sounds and 10 different Spider-Man phrases make kids look and sound like him. 8/20/2012 (Price: $22.99; Age: 5 to 8) [Add to my Inquiry Basket][?]



Mist Lily Dress by CREATIVE EDUCATION OF CANADA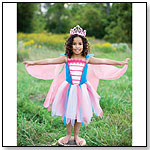 This fairy dress comes complete with glittery wings which are attached. The top is made with blue velour spandex and it has an insert of pink glitter netting adorned with organza ruffle. The skirt showcases petals made with blue and pink glitter netting. The underlayer is made with blue and magenta tulle, and stiff fuchsia organza for volume. The underskirt is made with pink lining to prevent scratching. Launch date: May 2012. 5/11/2012 (Price: $33.99; Age: 4 to 6) [Add to my Inquiry Basket][?]



Captain Charlie Pirate Costume by HABA USA/HABERMAASS CORP.


Captain Charlie sets sails and heads off on his big journey. Equipped with the jacket, belt, hat and beard children quickly transform into brave pirates. An enemy ship ahoy! Captain Charlie whips his sword out and prepares the fetters for his prisoners. Together with his parrot he has many exciting adventures on the high seas. (

Watch Video) 3/26/2012 (Age: 3 to 6) [Add to my Inquiry Basket][?]



Astronaut Space Pack by AEROMAX INC.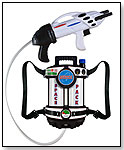 What a blast kids will have when they can shoot aliens (or next-door buddies) with a 30-foot blast of water? This space pack holds a liter of water and can shoot water in two directions at once, or choose the more traditional single straight-on stream. Strap on the space pack – on top of other space gear or while still wearing pajamas -- and have a blast indoors or out. Like all Aeromax products, attention to detail is paramount with pretend pressure and instrument panels along with adjustable black straps. The modestly priced shooter can be played with or without water for priceless galactic role-playing. Watch more videos: Toy Fair 2012. (

Watch Video) 1/12/2012 (Price: $15.95; Age: 5 and up) [Add to my Inquiry Basket][?]



V for Vendetta Mask by RUBIE'S COSTUME COMPANY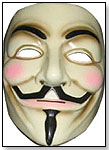 The product is a Face mask based on the V for Vendetta movie. The white plastic mask fits most teens to adults.
— As of 10/10/2011 this product had 4.2 out of 5 stars from 138 reviews on Amazon.com. Pros: Good replica of mask from V for Vendetta. Cons: Several reviewers said the item was flimsy and scratched easily; a bit large for kids. 10/10/2011 (Price: $9.99; Age: 8 to 13) [Add to my Inquiry Basket][?]



Roaring Ruzlow Costume by MANHATTAN TOY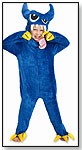 Children can transform into a colorful monster with these fuzzy costumes. The collection includes three different vibrant plush monster costumes: orange, blue and green. Every monster costume also has a coordinating monster friend. Launch date: January 2011. 1/26/2011 (Price: $45.00; Age: 3 and up) [Add to my Inquiry Basket][?]



Dress Up Clothes by THE BLUE LADYBUG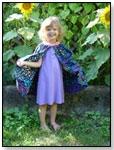 These capes and wings help children explore their creativity as they pretend to be wizards, dragons, fairies, princesses and more. Ranging in size from toddler to child, these dress up clothes allow children to play out many stories and fantasies as they play. The bright colors and initricate designs enhance their imaginative play. All these dress up clothes are made of natural fibers and are machine washable to be used over and over again. 12/16/2010 (Age: 3 to 10) [Add to my Inquiry Basket][?]



Fan Stamp Instant Press-On Face Paint - Disney Characters by FAN STAMP, LLC.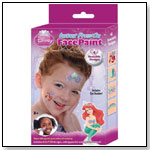 Fan Stamp's Disney Face Art takes dress-up and playtime invites for increased imaginative options. For parties or everyday fun, Fan Stamp allows children to enhance their role-play experience with Disney characters they love. Designs are 100% mineral make-up, hypo allergenic and sweat and water resistant. Designs are reusable, include glitter, apply in seconds and wipe off easily.
Awards: National Parenting Center Seal of Approval 2010 11/5/2010 (Price: $12.95; Age: 3 to 12) [Add to my Inquiry Basket][?]



QT Comfy Panda by COSTUME EVOLUTION INC.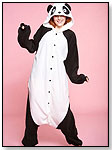 This panda costume is designed to be warm and comfortable. The QT Comfy comes in multiple animal versions. (

Watch Video) 8/11/2010 (Price: $59.99) [Add to my Inquiry Basket][?]



Striped Christmas Tree Hat by BZANY LLC


This novelty hat is made of 100-percent cotton velvet and has a foam interior for durability and support. "BZany hats are unique and adjustable. The inner velcro and elastic strap makes it easy to change the size of the hat to fit either children or adults," BZany Operations Manager Sara Henig told TDmonthly. 5/20/2010 (Price: $15.99; Age: 3 and up)



Shark Hat by JACOBSON HAT CO INC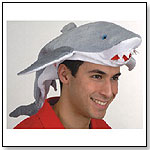 This hat from Jacobson Hats makes a ferocious statement with a bright red, wide-open mouth of shark teeth. The wearable plush shark is modeled after a Great White, and could be used in pretend play games, puppet shows, or any time when a situation needs a little silliness.
— "Jacobson Hats sell well," said Gage Brownell, manager of Belmont Toys in Belmont, Mass., when asked about his top-selling dress-up items during TDmonthly's March 2010 survey of 37 specialty retailers. 3/29/2010 (Age: 3 and up) [Add to my Inquiry Basket][?]



HouseHaunters Incredible Man Trapped in Gorilla Cage Costume by HOUSEHAUNTERS


This one-person costume is made to create a scene wherever it goes. The wearer appears to be trapped in a bamboo cage being carried by a full-grown gorilla. "This is the first year [it's] offered anywhere for under $1,000. And it attracts LOADS of attention," Brian Kelly, President, HouseHaunters, told TDmonthly. It won 1st place (most creative) at the Maplewood Halloween festival in New Jersey in 2008. Launch date: May 2010. 12/28/2009 (Price: $149.00; Age: 17 and up)



Handerpants by ACCOUTREMENTS

These 95-percent cotton, 5-percent spandex, fingerless gloves have the look and feel of men's briefs. They can be slipped on underneath gloves for extra warmth and protection from chaffing, or worn on their own as a vaguely inappropriate fashion statement. Launch date: January 28, 2010. 12/16/2009 (Price: $11.95; Age: 5 and up)



Indian Boy by BEASTLY BUDDIES


This chestnut suede-like (100% rayon) 2-piece outfit features authentic looking trim on bodices and a head piece. (

Watch Video) 12/10/2009 (Price: $67.00) [Add to my Inquiry Basket][?]



Music Box Ballerina by A WISH COME TRUE


This lovely dress features velvet leotard and tulle skirt. It comes in aqua or pink. (

Watch Video) 12/10/2009 [Add to my Inquiry Basket][?]



Musical Waltz Ballet Set by ACTING OUT


The set includes: musical skirt, a soft lavender feather boa and two purple satin wristlets with streamers. All pieces in set are placed in an oversized pink organza bag. The Musical skirt plays the world's most famous waltz, "The Blue Danube" composed by Johann Strauss, Jr. Music device is hidden within an interior front pocket. Press on for music and it continues with motion, encouraging movement and creativity. The skirt is two tones of purple adorned with sparkles and a bow. It is lined with satin for itch free wear. Elastic waistband provides easy dressing and can be worn by children from size 3 – 6. As with all Acting Out styles, waistband is completely finished ensuring comfort and long lasting wear ability. 10/20/2009 (Price: $36.00; Age: 3 to 6)



Mermaid Set by IMAGINATION CREATIONS INC.


This light blue mermaid set features a two-piece swimsuit and mermaid fins. (

Watch Video) 10/12/2009 [Add to my Inquiry Basket][?]



Pastel Scarf Rounds by ARTS EDUCATION IDEAS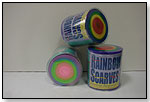 This set includes six 27" square, 100-percent washable nylon scarves in a plastic container and includes an information insert. It features the following colors: medium blue, lime green, yellow, peach and pink. This product may be used for birthday gifts, party favors or slumber parties. Launch date: 1996. 10/5/2009 (Price: $12.00; Age: All Ages) [Add to my Inquiry Basket][?]



My Princess Academy — Princess Pettiskirt - Lilac with Teal Trim by ALMAR SALES COMPANY INC.


Fancy, fabulous and perfect for Princess dress up time! This lacy Pettiskirt is a dream come true for little girls. Made from yards of fluffy soft polyester chiffon, a gathered satin elastic waistband and tied with a deluxe satin ribbon. Available in one size - skirt is 11 inches long with expandable waist 15"-28". 8/28/2009 (Price: $32.00) [Add to my Inquiry Basket][?]



Baby Costume - Frankenstein by MULLINS SQUARE


The hood of this Frankenstein costume for babies features a forehead scar, bolts, felt hair and a heightened head — to store all those brains. The poly/cotton blend jacket and pants have jagged edges, and the pants have an elastic waist. "Our costumes are easy to wear for the children and for parents to dress! Adorable, fun, exciting and unusual costume characters are well made so that younger siblings will be able to wear them also," Eugenie Torres, designer for Mullins Square, told TDmonthly. Launch date: March 15, 2009. 8/6/2009 (Price: $25.00; Age: 1 to 2) [Add to my Inquiry Basket][?]



Little Hero Capes by LITTLE HERO CAPES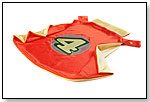 Little Hero Capes are designed to empower a child's imagination and expand his adventures. The fully lined capes are made from high-quality materials with high-quality sewing and have a SUPER design placed prominently on the back. The capes feature a snap closure so a child can easily spring into action when he or she hears the call. Each cape also has a collar, which may be placed upward for a more mysterious look. "Each Little Hero Cape, mask, and pair of power cuffs is artisan crafted in the United States," Allison Faunce, owner of Little Hero Capes, told TDmonthly. Launch date: October 2, 2008. 7/30/2009 (Price: $42.00; Age: 2 to 12) [Add to my Inquiry Basket][?]



Catalog Request Form
THIS BANNER IS AN AD:
---
---