The tendency children have to imitate their older siblings or parents is not a new phenomenon. Whether nurturing baby dolls, playing dress-up or putting on make-up, it is a known fact that children are always trying to act older than their age. Appealing to a child's desire to want what is marketed to the older crowd, a number of companies have incorporated practical, grown-up traits into their products. More than just another trend in marketing, these products aim to teach children concepts they can build upon, like organization, respect and care for one's self and belongings.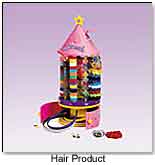 Daynin Dashefsky, president and owner of Deico Products, saw an opportunity to teach her children organizational skills while accessorizing. Deico's Hair, Nail and Jewelry Care'rousels help children develop some of the organizational skills they'll need throughout life. Dashefsky says the Care'rousels fall into a new category of products designed to be "organizational toys…that teach kids how to take care of their things in a fun and beautiful way." Being an organized individual can simplify one's life on all levels, and Dashefsky says that teaching children this at a young age can benefit them later. "Our hope is that it will carry over into other areas of their lives," she says. Deico even has a page on its website called 2 Cool Tips that lists handy advice that mothers and daughters can share to become more organized.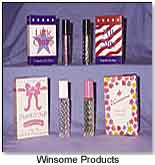 Mary Vail, creator and owner of Winsome Fragrance Company, developed four fragrances to be used by children ranging in ages from infant through 14 years. These products are available at high-end stores like Nordstrom, which normally carry cosmetic and fragrance lines for adults. However, the light, fresh fragrances (Little Champ®; All Star™; Sweet & Soft® and Winsome®) in roll-on, spill-proof bottles are created for boys and girls who want to "smell grown up." Children don't have to wait until they are in their teens to learn how to apply a fragrance. "It's packaged so that [children] can use it themselves," says Vail.
Parents appreciate the Winsome line because it keeps children from getting into their adult fragrances, which are sometimes too strong and too expensive for pretend play. It also gives children an appropriately mature sense of style. "When kids get dressed up, they feel really great with the finishing touch of their own fragrance," Vail says.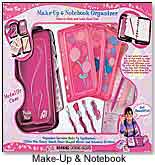 Imperial Toys' Petite Miss product line helps young girls look good while planning out their day with the Make Up Notebook. The personal scheduler has three pages of eye shadow, blush and lip gloss that clip into the planner. A glitter pen, emery board and heart-shaped mirror also fit into the notebook for a complete "organizer for the girl who likes to keep track of her schedule and get glamorous." The Make Up Notebook retails for $9.99 and a deluxe, gift set retails for $11.99.