There are a lot of creative products in the infant/preschool media sector (books, CDs, DVDs). There are even some innovative products that take traditional pieces of media even further, with a sense of creativity and imagination. To begin, let's start with a good, old-fashioned book.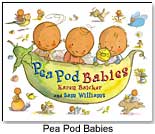 Author Karen Baicker and illustrator Sam Williams team up once again with their latest release, "Pea Pod Babies" ($15.95; ages 6 months-4 years) from Handprint Books. The three characters, Sweet Pea, Snap Pea and Snow Pea, live with their mom in a cozy garden nursery. Nestled in a pod on a vine, they're surrounded by the loving "neighbor ladies," the grandmother-type mature plants in the nursery. Written in a whimsical rhyming pattern, the story tells of the Peas' adventures when they jump out of their pod.
Intelligent Babies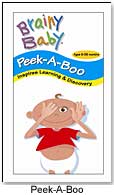 Babies and toddlers will delight in eye-catching visuals, silly faces, rhymes and music and games of "Peek-a-Boo" ($15.95 VHS, $19.95 DVD; ages 6 months-3 years) in Brainy Baby's (ToyShow) new educational DVD. "Peek-a-Boo" nurtures the many milestones achieved at this tender age – object permanence, communication skills, cause and effect, language development and many other skills. The DVD contains additional interactive learning activities including a storybook, parent guide and printable coloring book.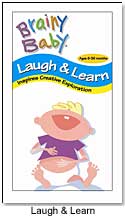 The first few years of life are a critical time for brain development, and "Laugh & Learn" ($15.95 VHS, $19.95 DVD; ages 6 months-3 years), also by Brainy Baby, helps stimulate learning in babies and toddlers. The program features silly faces, matching games and music, while nurturing a child's critical skills like problem solving, listening skills, classifying objects and concept awareness. The DVD contains bonus features to further encourage interactive learning, such as a printable coloring book, parent guide, and storybook.
Sweet Sounds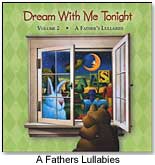 Songwriter and music producer Lanny Sherwin and singer Gene Miller created the 15 tracks featured in "Dream With me Tonight, Vol. 2 – A Father's Lullabies" ($12.98; ages 0-6), on Sandman Records (ToyDirectory). What's especially unique about this lullaby compilation is that it expresses the feelings of a father-child relationship.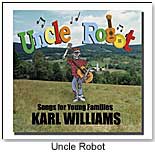 Singer/Songwriter Karl Williams releases his CD, "Uncle Robot: Songs for Young Families" ($14.95; 3-11 years), on Greene St. Records. (ToyDirectory) Williams' music has a folksy sound with acoustic guitar and harmonica accompaniment, as well as other rhythm instruments. The songs celebrate the many joys and milestones of childhood, including the arrival of a new baby, first words, first steps, a lullaby, potty training, shoe tying and other themes common to the childhoods of many.

Don't Watch – Interact!

InteracTV ($39.99; ages 3 years and up) by Fisher Price is a DVD system that allows children to interact with their favorite TV shows. The whole package contains the InteracTV unit, an InteracTV controller, a bonus DVD and three activity cards featuring footage and game play from "Sesame Street," "Dora the Explorer" and "SpongeBob SquarePants." Other titles available, but sold separately include "Blue's Clues" and "Barney" ($15 each). Simply place the InteracTV DVD into the player and place one of three activity cards into the controller. The footage from the show will begin to play and the characters invite the children to interact. The wireless controller enables children to answer questions by pressing corresponding icons displayed on the card graphics. The questions are randomly programmed so each will be a unique experience when a child plays the DVD with the activity card.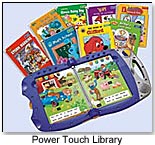 PowerTouch Library ($14.99 per book; ages 3-8 years) by Fisher Price helps children learn to read through electronic books, with new titles that include SpongeBob SquarePants, Jimmy Neutron, Fairly Odd Parents and the Berenstein Bears. In addition, there are new School Skills books that explore fun topics like Science, Dinosaurs, Reading , and Parts of Speech.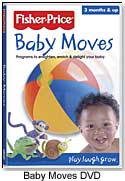 Teaming up with Lions Gate Family Home Entertainment, Fisher Price introduces its latest releases from their Baby Development Collection ($12.98 VHS, $14.98 DVD; ages 0-12 months), a series of DVDs designed to entertain and stimulate development in infants. The two new titles are "Baby Moves" and "Nature Baby", featuring three central characters, the puppets Taa, Dee and Ed, along with scenes of happy, playful babies. Added bonuses include "playgroup" and "developmental milestone" segments. "Baby Moves" helps a child's physical progress and self-discovery, encouraging movement like reaching, kicking and crawling. "Nature Baby" takes baby through the beauty of the changing seasons.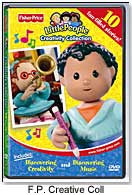 In conjunction with Lions Gate Family Home Entertainment, the Little People Collection from Fisher Price comes out with two new programs, "Friendship Collection" and "Creativity Collection" ($9.98 VHS, $12.98 DVD; ages 2-5 years). Each presents 10 short episodes, featuring the clay-mation characters. The "Friendship Collection" episodes introduce the Little People characters and teaches children the importance of being a good friend. The "Creativity Collection" explores not only the characters' artistic talents, but also encourages problem solving and teamwork.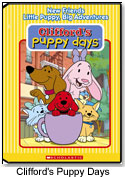 Join Clifford, Emily Elizabeth and their friends in the adventures they shared before Clifford became everyone's favorite Big Red Dog, in the new series, "Clifford's Puppy Days," distributed by Lions Gate Family Home Entertainment. The two new programs, entitled "New Friends," and "Little Puppy, Big Adventures," are each broken down into four short episodes for a total of eight delightful stories about Clifford. The VHS comes in two separate videos ($9.98 each; ages 3 years and up), and the DVD ($14.98; ages 3 years and up) comes in a single package.
Farm-tastic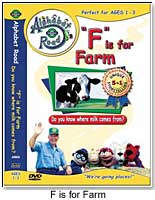 The GoBabies puppets visit a real dairy farm in "'F' is for Farm – Do You Know Where Milk Comes From?" ($14.99 VHS, $19.99 DVD; ages 1-4 years) Farm-related words, such as cow, barn, and tractor are introduced with the help of the puppet characters, real life footage of the objects and animals, and the word written out. Winner of Parents magazine's "Parents' Choice" Awards, this program encourages interactive learning through seeing, singing, sign language and a Q&A section.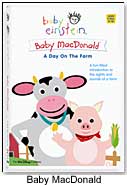 The latest from the Baby Einstein (ToyDirectory) series is "Baby MacDonald: A Day on the Farm" ($14.99 VHS, $19.99 DVD; ages 9 months and up). Classical music, "folk-fiddle" and old favorite songs like "Old MacDonald Had a Farm" and "Farmer in the Dell" set the tone for the real-world images and the Baby Einstein puppets and toys.
Sing Along
To commemorate the upcoming 35th anniversary of Sesame Street, Sesame Workshop, in conjunction with Sony Wonder, have produced "What's the Name of That Song?" ($9.98 VHS, $12.98 DVD; ages 2 years and up), a series of songs sung by a host of celebrities and show's characters. Celebrity appearances include The Dixie Chicks, Queen Latifah, REM, Diana Krall, Katie Couric, Conan O'Brien, Ben Stiller and many more. Centered around the storyline of Super Grover on a mission to unite the world with just one song, the 50-minute video features 17 familiar tunes that encourage children to learn letters and numbers. The DVD package includes a board book with muppet photos and song lyrics.

Big Red Pal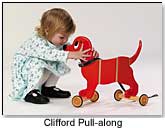 From Pamela Drake Inc. ´s award-winning Applepie product line , the Clifford wooden pull-toy is the pet every child will want. Clifford wiggles back and forth as children pull him along by his leash. Even the youngest of children can take their puppy for a safe walk with this finely crafted and brightly painted famous red dog. (ages 12 months and up; $30)
The Care Bears
The Care Bears will be keeping babies company in a number of different ways. Baby Boom has several infant bedding and room décor sets. The ABC Bears 4-piece bedding set ($59.99) includes a sheet, interactive headboard, bumper and comforter. To complement the bedding set, is an accessory set ($19.99), including a crib skirt, diaper stacker and receiving blanket. And to make baby's room complete is décor for walls and windows. Wall art ($14.99) and a mobile ($24.99) create a warm, stimulating environment and window valances ($16.99) add to the feeling.
Care Bears Plush Chairs by ABC Development make the room décor theme complete. Creating a comfy lounge with Love-A-Lot Bear, Bedtime Bear, Funshine Bear, or Tenderheart Bear , these plush chairs are completely cushioned without any plastic.
Prestige has an assortment of products for infants, available in three Care Bear characters. The Press Light Up is a plush character that attaches by clamp to a stroller or car seat. When the bear's belly is pressed, its cheeks light up. Prestige also makes plush rattles, musical pull toys and pacifiers in Care Bear likeness.
The Care Bears Umbrella Stroller by Kolcraft shields baby from harsh sun rays with an adjustable canopy. The stroller unfolds easily and has shock absorbing front swivel wheels, and also includes a mesh bag for storage. The Care Bears Deluxe Tender Vibes Bouncer has 2-speeds and tender vibrations for a calming affect. The bouncer comes with ten nursery rhymes that can be turned off with motion activation by the baby and a mobile with 3D toys. A removable neck roll makes naptime easy, along with a reclining feature. Kolcrafts Care Bears Deluxe High Chair lets children eat in style, with three reclining settings, a mesh basket to hold toys and other items, and a second tray for snacking. For safety there are five point restraints, and for convenience there is also a rear shelf and towel holders.