The field of popular collectibles has exploded thanks to auction websites like eBay.com. In spite of a recent surge in modern collectibles, such as action figures and die cast toys, there are still a large number of collectibles that fall into traditional categories, such as tin toys, watches and dolls.
A Tin Tribute to the Sport of Kings
Only the most amazing tin toys of yesteryears get the Schylling treatment.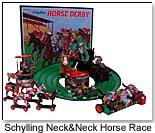 In 2004 Jack Schylling´s company motivated by its motto of "creating the future through reviving the past," began its new Equestrian line of collectible toys. The flagship model is The Horse Race Derby ($39.99, ages 8+), a tin wind-up toy that has four Thoroughbreds, individually numbered, running for the roses on a 12" diameter track. The pari-mutuel crowd can also take the sprint route with The Neck & Neck Horse Race ($29.99, ages 8+), a replica that was chosen for the Schylling Tin Collectors Series.
Sensational Horse Sense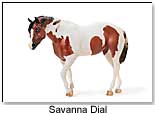 When today´s Southern Belle was but a chime in her daddy´s ear, she probably played with Breyer Model Horses. The horse model of Savanna Dial ($50, ages 8+), still as winsome as ever, will be the next prized addition to the collection. Breyer Animal Creations celebrates the famous Rose Parade American paint mare´s induction into the American Indian Horse Registry´s Supreme Hall of Fame with this limited edition model available only in 2004. Horse-loving girls have nothing on sailor boys. Breyer´s parent company, Reeves International, has improved its wood and plastic Bosun Boats ($50, ages 8+) with a contemporary logo on 25 new designs in surfer toes-on-the-nose colors.
Rare in Detail, Abundant in Delight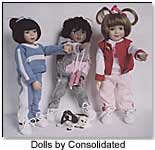 Dolls by Consolidated (DBC) (ToyDirectory) proves that collectors don´t have to spend over a $100 for a limited-edition doll designed by a noted artist. Its dolls retail for $34.99 and are designed by Michele R. Severino, who has worked with singer Marie Osmond and star doll makers Robert Tonner and Seymour Mann. DBC offers Caucasian, Asian and African-American full-vinyl dolls, all 11" tall, proportionately built and multi-jointed, with a choice of trendy, sporty or party clothes. Linda Loredo, DBC´s vice president of marketing, said, "Each doll has a Certificate of Authenticity and name tag and is enclosed in a beautiful window trunk box, which can be used for display or carrying." Since the small company doesn´t produce a high volume of dolls, they are cherished collectibles by sheer quantity as well as quality.
Part Seuss, Part Zeus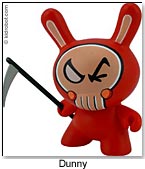 Dunny figures ($5.95, ages 13+), designed by graffitists, cartoonists, couture designers and other artists, inspire a collector´s mania emanating from Kidrobot´s galleries in New York City and San Francisco . Figures in previous series have seen their value appreciate as high as $400 on online auction sites. The latest 20" Dunny Series 1 figures are by 12 different artists from NYC, Los Angeles, SF and the United Kingdom . Those in the new blind assortment series are packed with a blister card created by the Dunny´s artist, and some of them come with such accessories as ice cream cones, and spray cans on sticks and sickles.
Laughing at Time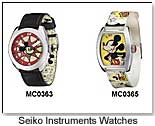 Seiko Instruments, Inc. (SII) has unveiled a broad line of watches with scenes from classic Walt Disney comics strips reproduced on a round or rounded square dial in a metal case and either side of their leather or silicon (jelly) straps. Disney cast includes Cinderella, Alice in Wonderland , Snow White, Dumbo, Pinocchio, vintage Mickey Mouse and Donald Duck . Each in the Comics Watch collection retails for $45 and comes in a collectible tin. For kids 3 and up, SII creates digital watches, including the highly prized Barbie Lady Bug Watch ($6.99), whose wings fold open to reveal the time.
A Splendid Watch for the Best Picture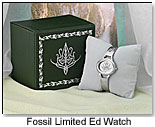 Fossil pays tribute to "Lord of the Rings" Queen Arwen with this 2,000 limited edition Elvish Ladies Watch ($115) with a bracelet band. This timepiece´s metal case and band are engraved with vines of the Elfin woods. Upon the metal dial, a green second hand sweeps over an engraving of the pendant that symbolize Arwen´s undying love for Aragorn.
Overwhelming Realism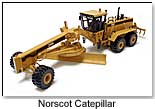 Every new Norscot (ToyDirectory) die-cast model takes realism to the next level. The 1:50 scale Caterpillar 24H Motor Grader ($79.95) is 12-5/8" long and every ounce of its two pounds takes its cue from the 68-ton real thing. Norscot´s land leviathan features a drawbar, circle and mold board that really move, true rod steering, highly detailed hoses, grab rails and hydraulic lines and a blade like the original.
Horrifying Horsepower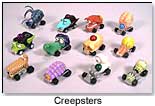 Straight from Dr. Creep´s lair comes Release 1 of Playing Mantis´ (ToyShow) Creepsters die-cast vehicles . The six sinister cars are Brain Storm, Goober Gear, Bone Head , Sting Thing, Eye-Beam and FrankenRod. They go grille to grille with their friendly counterparts Go-Go Gobblin, Webmaster, Hyde N. Seek, Nitro Stalker , Mouth Off, and Sock It. Each tiny vehicle features glow-in-the-dark detailing and retails for $1.49, well within the budgets of many kids, ages 4 and up. Two Creepster play sets, Skull Hide Out ($19.99) and Screamin´ Jaw Jumper ($9.99) are scheduled to release in late 2004.