---
New & Notable Toys: Party Goods
Check out these new and noteworthy toys.
Make - a - Mask by MUDPUPPY PRESS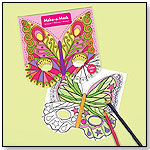 Make a mask, not a mess. Have some Mudpuppy's Make-a-Masks on hand for a creative activity at any children's party or gathering. Just add some crayons, markers, or paint and let the fun begin. Each tablet has 20 tear-off paper masks ready to be colored in. 5 each of 4 designs. 20 paper masks in 4 designs. Pre-cut eyeholes. Pre-cut colored elastic for attaching masks included. Sold in shrinkwrapped 7" square (18 cm) books. Printed with nontoxic soy-based inks. Recommended for children age 4+. Launch date: May 2012. 5/21/2012 (Price: $10.00; Age: 4 to 12) [Add to my Inquiry Basket][?]



Calafant Pirate Party Set Add-On Kit by CREATIVE TOYSHOP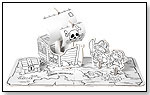 Add-on for the Calafant party set. This kit includes 1 playmat, 1 pirate ship and 2 pirate dolls. Made from recycled cardboard. Launch date: September 2011. 8/29/2011 (Price: $7.99; Age: 3 to 7) [Add to my Inquiry Basket][?]



Organic Cotton Birthday Crown by SILLYCREATURES.COM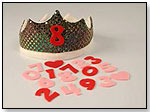 These reusable machine-washable crowns will last for many years. Just replace the right birthday number. Felt numbers 0 to 9 included. Organic Cotton fleece lining is soft and comfy for little heads and is free from harmful chemicals. Adjustable hook and loop closure fits most children. Can be also used for dress-up play or as a fashionable accessory. Any felt shape can be attached to the front. 5/11/2011 (Price: $24.99) [Add to my Inquiry Basket][?]



Domo Party Lights by DARK HORSE COMICS, INC.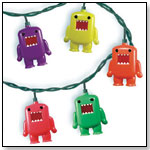 Users can brighten up any festivities with these lively Domo Party Lights, featuring five brilliant colors of the character Domo. Each set includes a 12' string, with 10 bright lights. 10/18/2010 (Price: $14.99; Age: 13 and up) [Add to my Inquiry Basket][?]



BadaBada Christmas Bingo by BadaBadaBingo Fun Games Co! LLC


In this holiday party game, the first player to get five of the same yuletide images in a row wins. The game comes complete with 20 full-color cards, 390 snowflake markers, caller chips, a master call sheet and instructions. 6/16/2010 (Price: $11.95; Age: 6 and up)



Le Boomb! Counter Display by MAYFAIR GAMES INC.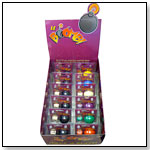 Some of the fun and frivolous uses found for this game are determining the starting player, or deciding who is going to pay for snacks, or dinner. It can be played with a large group of people to spark a bedlam of humor. Le Boomb!™ is available from any of Mayfair's distributors or directly from Mayfair. Each Le Boomb! ™ is presented in a small clamshell that may be placed on a shelf, or peg hooked, depending upon your needs. The rules are tiny and fit on the back of the information header card inside each clamshell. As a side note, the bomb opens like an Easter Egg and the die can be stored within. Le Boomb! ™ is packed in a display box of 12 pieces featuring seven colors. Each display contains six black Le Boomb! and one each of six other colors: Blue, Red, Green, Yellow, White and Purple. Launch date: December 2009. 2/11/2010 (Price: $54.00; Age: 13 and up) [Add to my Inquiry Basket][?]



Morph-O-Scopes Party Fun Pack - Halloween by OOZ & OZ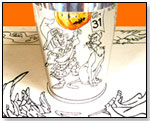 This no-stress optical illusion coloring activity captivates all ages, has global appeal, and is ideal for mixed boy and girl groups. The activity is easy to assemble, totally child safe, and made in the USA. Each Party Fun Pack for 8 Children contains eight morphed placemat coloring pages with colorable borders, eight Morph-O-Scope mirror decoders, and eight bonus morph activities. Activity time is about 30 to 45 minutes. Retail cost per child is about $2. The Halloween Party Fun Pack meets or exceeds all U.S. safety standards. Princess Pony and Pirate themes are also available. 2/24/2009 (Price: $15.99; Age: 5 to 14)



Flying Wish Paper™ by HUX CREATIVE LLC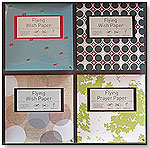 Flying Wish Paper is a wishing kit for birthdays, holidays, weddings ... anything from a prayer meeting to a bachelorette party. Just write a wish on the special paper, shape it into a tube, and light the top. The wish burns down and, at the last second, dramatically rises into the sky. Write it, light it, watch it fly! It comes with 50 sheets of Flying Wish Paper, 25 platform cards, pencils, matches and instructions. Launch date: August 8, 2008. (

Watch Video) 12/12/2008 (Price: $15.00) [Add to my Inquiry Basket][?]



Finger Puppets Party Crackers by ROBIN REED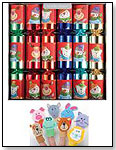 Each party cracker in this set of six contains a finger puppet along with a paper party hat and a joke. The wrapping is decorated with Christmas-type hats and scarves. "The gifts inside these crackers are unique to this type of product," Betty Roland of Robin Reed told TDmonthly. "Normally, they have a novelty gift such as a horn, small ball or balloon. Christmas Crackers have been an English tradition for over 155 years." 7/31/2007 (Age: 6 to 10) [Add to my Inquiry Basket][?]



Time for Tea by OUT OF THE BOX PARTY LLC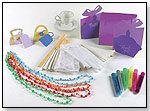 With this party set, little girls can put on their fancy lace gloves, sip some tea and cool off with their own hand-painted fan. This party box is a little girl's dream, and participants can have their teddy bears or favorite dolls join in on the fun. A 4-pack and 8-pack ($44.95) are available. "Our products … rely heavily on the imagination of children. We believe our parties are just the foundation for authentic play time. Our themes give the children an idea and some tools; the rest is up to them," Co-founder Kim Mack of Out of the Box Party told TDmonthly. Launch date: November 2006. 4/23/2007 (Price: $25.95; Age: 3 to 10)



Crazy Chemistry Party Kit by SCIENCE WIZ / NORMAN & GLOBUS INC.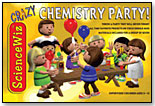 Throw a party they will never forget. ScienceWiz's Crazy Chemistry Party Kit is the perfect addition to any child's party. Your child and six friends will have the chance to capture CO2 explosions, make candles, have a bulging penny contest, play the upside down water trick and have a sink or float balloon event. A time tested favorite from the ScienceWiz camps. (

Watch Video) 4/27/2006 (Price: $8.50; Age: 5 to 10) [Add to my Inquiry Basket][?]



Drink More by INVITING COMPANY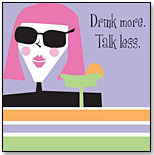 This slick cocktail napkin bears the image of a pink-haired lady with black sunglasses telling the reader, "Drink more. Talk less." The artful design is in slightly bright pastel colors. It is 25 cm. by 25 cm. and comes in a 20 count package. One unit contains 12 packages. 3/7/2006 (Price: $51.00; )



Gift Enclosures by PINX A CARD CO. INC.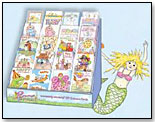 Customers can wrap their gifts in style, when topping them off with these adorable foldover gift enclosures. Styles include pirates, puppies and pink elephants. They're printed on recycled paper. A dozen come in a pack. They're new for 2006. 2/22/2006 (Price: $4.80)



Air-compressed Party Popper by MINE USA LLC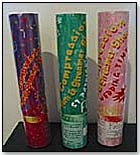 The Air-compressed Party Popper ejects a colorful metallic surge of streamers and confetti into the air that can reach 20 to 60 feet high; often used as safe daytime "fireworks" without the sparks or fire! 8/12/2005 [Add to my Inquiry Basket][?]



Infletters® by INFLETTERS CO.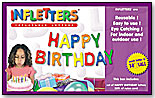 Infletters® are inflatable letters and numbers used to personalize any event. Each figure is 14" tall and available in five colors. Made from PVC plastic, Infletters® are designed to be reusable. Each piece features a valve for inflating and a tab for mounting. Nylon cord is included for hanging them indoors or outside. Infletters® are available both individually and in pre-assembled sets, like HAPPY BIRTHDAY, CONGRATULATIONS, HAPPY HALLOWEEN and WELCOME HOME. (

Watch Video) 4/19/2005 [Add to my Inquiry Basket][?]



My Face Painting Palette by GRAFTOBIAN LTD.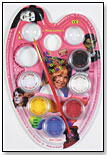 Memorable parties, carnivals, fairs and festivals offer face painting for children and even adventurous adults. Keep face painting supplies handy with My Face Painting Palette. It contains everything needed for a perfect event - the top five colors of Disguise Stix Face Paint, Opalescent Face Painting Glitter, and #4 Round Face Painting Brush - all on a sturdy palette that features an extra spot for more color, glitter or water, as well as two color mixing dimples. Also makes an ideal gift to spark a special party activity. - Aire Norell 12/22/2004 [Add to my Inquiry Basket][?]



Rainbow Pallet by SNAZAROO

This pallet comes in eight imagination-inspiring colors: white, black, bright red, bright orange, bright yellow, grass green, sky blue, and bright pink. In addition, it comes with a face painting sponge, brush and 16-page face painting guide. Each kit has enough materials to easily paint 50 full faces. 12/21/2004 (Price: $14.99)



THIS BANNER IS AN AD:
---
---