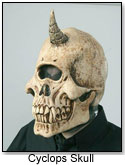 "Treat people like you would want to be treated. Life is very short. I want to have a scary good time!"

This is the life philosophy of Chuck Jarman, owner and designer of Bump in the Night Productions, a costume supplier based in Vallejo, Calif. For Jarman, a boyhood obsession with monsters turned into a lucrative career. His fascination with horror movies began at the age of 15 and helped inspire a career in costume design.

"I always wanted to be able to make these amazing costumes and monster faces I was watching," Jarman says.

Jarman began training at 24, apprenticing with Mario Chiodo, an Oakland-based mask maker. At Chiodo's studios, Jarman was the "fix-it" guy, performing sculpting, molding, and painting tasks. After 10 years with Chiodo, the well-trained Jarman found his calling.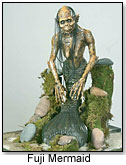 "After being in the Halloween industry for a while and being a Halloween monster collector myself – and not being happy with the stuff I saw from the season – I decided to put out items I wanted to buy," he says.

He opened Bump in the Night Productions with three of his closest friends, with the goal of designing unique costumes borne from the imagination.

This year's new masks are a sneak peek into this vibrant imagination. Jarman and his creative team have recently introduced the Fuji Mermaid, a human-fish creature prop with long, stringy hair and Wednesday 13, a pale, white devil mask with red horns and eyes. Additionally, customers can purchase for the first time Shock Waves, a mummy-like mask with goggles; Laughing Sal, a demented looking clown; and the Cyclops Skull, a one-eyed skull mask with a single horn.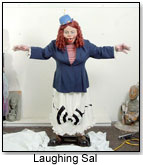 Jarman, chief designer, begins mask construction with illustrations. After he has put down on paper a solid design, he takes the concept to clay. From there, the design goes to the mold room to have a plaster cast made of it. Finally, his brainchild goes to the finishing room for the hair and detail work.

This process has created the likes of Apron of Flesh, a collage of mutilated faces (set on an apron), and the It´s Alive baby, a creepy puppet from Larry Cohen's 1974 movie, both of which were sold out in 2004 but which are back with a vengeance this year.

This year he has over 5,000 wholesale and retail customers. He sells to haunters, mom-and-pop shops, Morris Costumes and Spencer Gifts, among others. Additionally, his international market is growing in response to advertisements and word of mouth, with customers in the United Kingdom, Canada and Japan.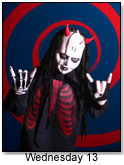 The company is busy year round with special orders for independent films, movie-monster collectors, and specialty shops, like Rubie´s Costume Company.

"Our new line this year is really cool!" Jarman remarks. "I think we have some really weird and bizarre items that are different from what you would see anywhere else. Things from the circus sideshow and infants that you wouldn´t want to breast feed! Our goal is to bring something different to the table every year."

Though Halloween is half a year away, it's never too early for a macabre makeover.