---
RFID Technology Creeps Into the Toy Box
Radio Frequency Identification, otherwise known as RFID, is a nearly 30-year old technology beginning to pop its head into practical use. Toy retailers have begun to use the technology's similarity to the bar code to track products, while manufacturers are utilizing the technology to create a new generation of interactive toys.



Like a bar code, RFID utilizes automatic identification to track products, but differentiates itself in its use of radio frequency technology. An RFID tag, which consists of a microchip and antenna, transmits identification information to a reader, which converts the radio waves from the RFID tag into digital information which is then processed by computers.

As anyone who has been to a supermarket knows, bar codes must be presented directly to a scanner to be read. RFID tags, on the other hand, if within range of a reader (depending on frequency, typically within one to 10 feet), can be read, and identify a unique product – not merely the manufacturer and product which bar codes identify.

One of the biggest players utilizing this burgeoning technology is mass retailer Wal-Mart. In 2003, the company issued a directive to its largest suppliers, including Kraft Foods and Procter & Gamble, to include RFID tags on shipments sent to seven Dallas-based Wal-Mart stores.

"As RFID provides more visibility of freight through the supply chain, Wal-Mart and its suppliers are able to make better ordering decisions," notes Wal-Mart spokeswoman Christi Gallagher. "For Wal-Mart customers, better product availability is the number one benefit. Down the road, we can see benefits related to returns, recalls, warranties and battling counterfeit products, including pharmaceuticals."

RFID technology has the potential to improve inventory administration and hence cut costs, upwards of $1 billion, according to some experts.

An additional 104 Wal-Mart stores and 36 Sam's Club stores are RFID-enabled and will begin utilizing the technology in full force in 2005. American retailers Albertson's, Best Buy and Target, as well as European chains Metro and Tesco, have also begun to utilize RFID technology in tracking merchandise.

Though neither Toys 'R Us nor other major toy retailers have announced plans to use RFID in the near future, "eventually all major retailers will use RFID," according to Mark Roberti, founder and editor of RFID Journal.

Says Wal-Mart's Gallagher, "The time to introduce RFID solutions into the retail industry has come. Adoption is gathering momentum, and RFID will become pivotal in driving changes in the supply chain to reduce cost and enable companies to both keep prices as low as possible and deliver an improved service."

RFID in Toys

Manufacturers like Little Tikes, Mattel and Hasbro are also utilizing the technology, embedding tags in products to enhance interactive features.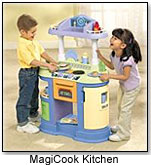 Little Tikes'

MagiCook Kitchen

comes with pretend food embedded with RFID tags that can be read by sensors on the stovetop, which then respond with the appropriate comment in three languages (English, French, and Spanish). The kitchen comes with five food items and 100 phrases, but additional food accessory packs can be added to increase the responses to 700 phrases.

The

Cookin´ Fun Interactive Kitchen

is for "budding gadgetphiles," according to the Little Tikes' Web site. There´s the same RFID technology, but the Cookin´ Fun kitchen is focused on the tools of cooking, like the microwave and coffeemaker, all of which make realistic sounds when the motion detectors are triggered. It comes with 13 kitchen accessories, with additional accessories sold separately, like the

Cookin´ Fun Blender

for making pretend smoothies.

Additionallly,

Mattel

's

Serafina

is an interactive animatronic pet which is wired to sing and play when the doll's DVD is activated, thanks to an RFID tag embedded in its skin.

Hasbro

first released an RFID product in 1999, with its "

Star Wars: Episode 1 – The Phantom Menace"

action figures.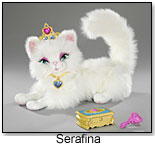 "Every product can be made smarter, more interactive by embedding RFID in one way or another," Roberti notes. "Toy companies are taking advantage of RFID to provide a level of interactivity that was never possible before. This will only accelerate as RFID technology matures and becomes less expensive."



Costs of Smartness



The question then becomes "smarter in what sense?" The new generation of toys that utilize RFID technology may be more interactive than those of the past, but there is a cost to this intelligence, according to some parents.

Blogs on the Web site Popgadget speak of a loss of privacy if RFID tags are embedded in products like toys.

"Talk about a horrifying way to program an unsuspecting generation to accept loss of privacy as an everyday occurrence!" one anonymous user writes. "With the very real threat of RFID technology being used as skin implants for everything from job site access to making sure our children get on the right bus, someone must scream out 'STOP!'"

Some cry murder at the potential that an RFID tag implanted in a toy could track a toy and, in extension, it's user's whereabouts. Others fear that an RFID tag embedded in a high-value product, like an expensive toy, could serve as an indicator to a thief of whom to rob.

Yet the dangers connected to RFID tags used in toys to augment their interactive qualities, at this point, appears much ado about nothing – the product of paranoia and nothing else. A toy is just a toy, and a talking toy is, well, just a smarter toy.

Writes one user, Jason, "This is the most innocent use of RFID tags possible. No one is tracking anything or anyone with this application, nor is it training anyone to accept such tracking. It´s a technique to make toys smarter."


THIS BANNER IS AN AD:
---
---