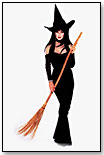 Though most people would be likely to peg Christmas as the most important holiday in terms of consumer spending, many would be surprised to discover that Halloween comes in second.

"We first picked up on that statistic in the last year," said Mark Schmidt, head representative for the 21st Halloween, Costume and Party Show. "It's been growing over time but it's now clearly on everyone's radar screen."

The annual trade show, held this year on March 4-8 in the Donald E. Stephens Convention Center in Rosemont, Ill., had Schmidt hoping to reflect Halloween's growing importance in buyer diversity.

"I think we're working harder to market to a wider group of people," said Mark Schmidt, the show's head representative. "We're learning that virtually everyone has some stake in Halloween and seasonal items. We're trying to reach out to those niche markets."

As a 7 billion dollar industry, it's clear to see why so many different markets would want to be a part of the Halloween and costume facet. Schmidt said that this year, even some zoos are trying to get involved. "You get almost no sector of the retail economy that doesn't do something retail or party related. Even drug stores."

Though the main exhibitors were balloon retailers, costume shops, haunted hay rides and gift shops, there were also at least 500 representatives in the "general merchandise stores" category. Over 1,000 exhibitors signed up to be a part of the show, with companies like AmScan, which deals in party goods, reserving over 50 booths, and California Costume Collect, a chain of costume stores based in Los Angeles, following close behind with 20 booths. There were also over 400 attendees representing at least 172 foreign countries, a number which is up from last year.

The show had made additional efforts to market to buyers specifically by sending out different mailers for retailers interested in different aspects of the show. "This is really three shows in one," Schmidt said. "We have the Halloween focus, we have the party of paper focus, then we have the haunted attractions focus. We've worked very hard to make sure each of those three areas of the show has an equal footing. "If you're the party industry, the mailer you got had a party looking feel too it. If you were the Halloween part, yours had a darker, more sinister look to it."

As a treat for Halloween enthusiasts from all sides of the industry, Elvira, Mistress of the Dark, hosted this year's festivities. "She brings headliner quality to the Halloween portion of the show," Schmidt said.