For Generation Xers, baby boomers and their ancestors, pretend play primarily consisted of digging into parents' closets and attic trunks to drag out baggy old sport coats, crushed hats and oversized high-heeled shoes. These days, pretend play has become a royal affair.
Fantastic pretend play products are offered by a number of companies, all with creative clothing lines, fortresses, tents, play areas, and accessories which encourage children to use their imagination. Clothing items are generally made for ages 2-12.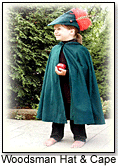 Susan Berns, president of Fairy Finery (ToyShow), sees great things in the area of pretend play. "Pretend Play allows a child to bring something of himself to the play experience," Berns said. "The child can write his or her own script or story. If you give a child a cape, that child may become a knight, or a queen, or a wizard, or a princess, or a vampire."

Fairy Finery offers just what the little fairy princess and knight in shining armor are looking for - a wide assortment of colorful boa dresses ($24.50-52.00), skirts, wings, wands ($8.00), and capes for the fairies and ladies in waiting; and coat of arms tabards ($42.00) and Robin Hood suits (Woodsman Hat, $16.00; capes, $18.00 - 42.00) for the miniature medieval men.

Another great way to enter the wonderful world of imagination is through the Toddler Teepee's front door. This versatile teepee called Bee's Knee's, ($61.50) stands over four feet tall and is almost four feet wide at its base. Not only is it useable inside and out, but this splinter-proof, flame-retardent PVC product folds out and installs immediately.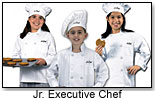 Aeromax (ToyShow), an Illinois-based company, offers a number of "get real gear" dress up items for children. For children who want to be Dale Earnhardt, Aeromax has a ready-made Junior Champion Racing Suit ($49.95). Their Junior Space Explorer outfit ($49.95) will have children ready for NASA training and comes with two great options - the Junior Astronaut Space Helmet, a space helmet ($37.95) with a spring-loaded retractable shield and microphone, and the Inflatable Space Shuttle ($39.95). The Junior Firefighter and Junior Executive Chef dress-up items ($54.95-59.95) are also very popular.

According to Aeromax Publicist Lisa Orman, while pretend play is high on just about every child's list, it's equally as important to parents. "Parents love dress up because it is the perfect tool for a child to explore their imagination. It forces them to get creative and play! It's non-directed, open-ended play time. It feels like a healthy antidote to all the screen time they have."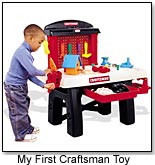 Aeromax President Mark Levine looks forward to offering new pretend play products to the market in the spring of 2005. "I think what consumers and retailers are going to have a lot of fun with is the introduction of 10 of our 19 styles available in our newest size: 18 months," Levine said of his toddler diaper-snap products. "Kids are doing everything at an earlier age in these times. Our desire to build kids' self esteem becomes more effective the earlier we begin."

For the budding handyman, Little Tikes (ToyShow) offers My First Craftsman Toy Workbench ($79.95). Children will enjoy using the durable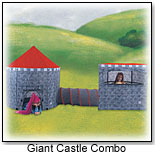 hammer, saw, screwdriver, and other tools atop the workbench to fashion their own creations. It comes with a birdhouse the children build. Other optional accessories include the My First Craftsman Wet-Dry Vac and Circular Saw ($14.95 - 19.95)

Children will enjoy tunneling their way though a number of soft tube structures and tents ($88.99 and up) from Pacific Playtents (ToyShow). These tunnels and tents come in a variety of sizes and shapes, but there's no denying they'll feed a child's imagination while providing hours of entertainment.